"Channel 5"

Hey, it's another (mostly) found footage episode! We open with Tom, Ginny, and other survivors discussing her plan for the future. They optimistically boast about how they're here to help and be the key to the future. Cut to the present, where Al says "it's not the truth" before slamming the TV onto the ground.
Time for our heroes to make a new documentary, this time focused on "the truth" of what's actually going on out there. Charlie's optimistic they'll find a forever home while Morgan tends to Grace, who's doing better. He admits he hasn't told her what he planned on, but she seems to have a good idea. During Tom's interview, Janice appears and he runs over to embrace her. Hey, she's the girl Wes saved a few episodes ago!
Wes admits he first thought the documentary was bullshit but has now come around. Meanwhile, Grace and Daniel teach Charlie how to play guitar and Grace says she hopes she'll stay alive long enough for their settlement. Later, Dwight kills a walker from one of the original western towns and John suggests that could be the settlement they've been searching for. Suddenly, Charlie calls out for June to run over and help Grace, who has passed out.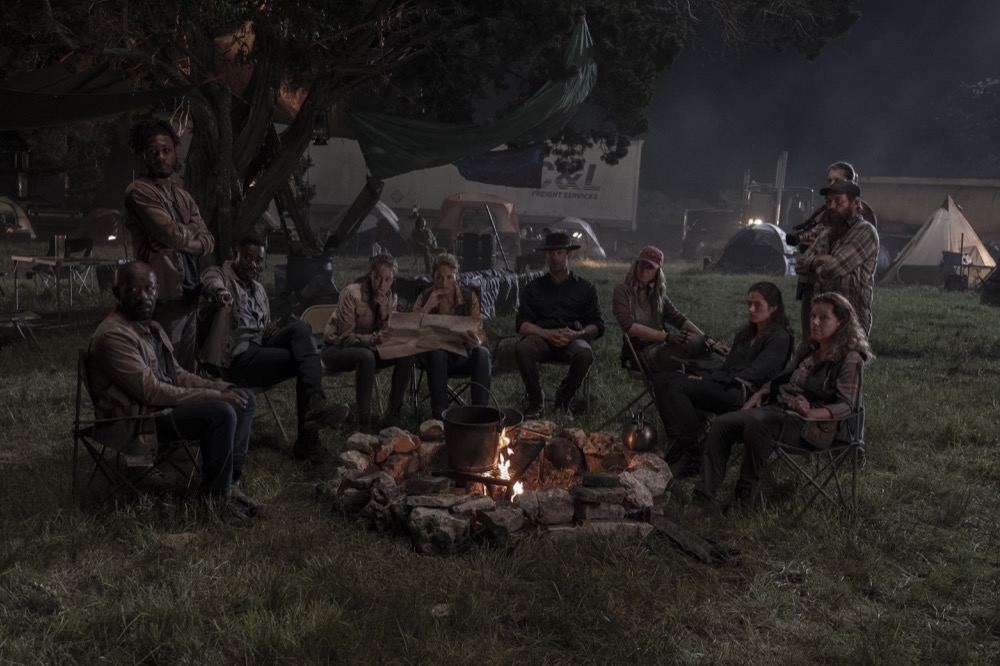 June uses an ultrasound on Grace but admits her medical knowledge only goes so far. John asks Al if Grace and Morgan have a thing and she says she thinks so. Remembering how short life can be, John secretly asks June to marry him once they get to the Gulch. Meanwhile, Al and Alicia find meds at a hospital for Grace, which finally wakes her up. Grace asks Morgan what's up and he again deflects. We then see half the characters telling the camera that Ginny wouldn't have gone out of her way to save them like Morgan and the gang have.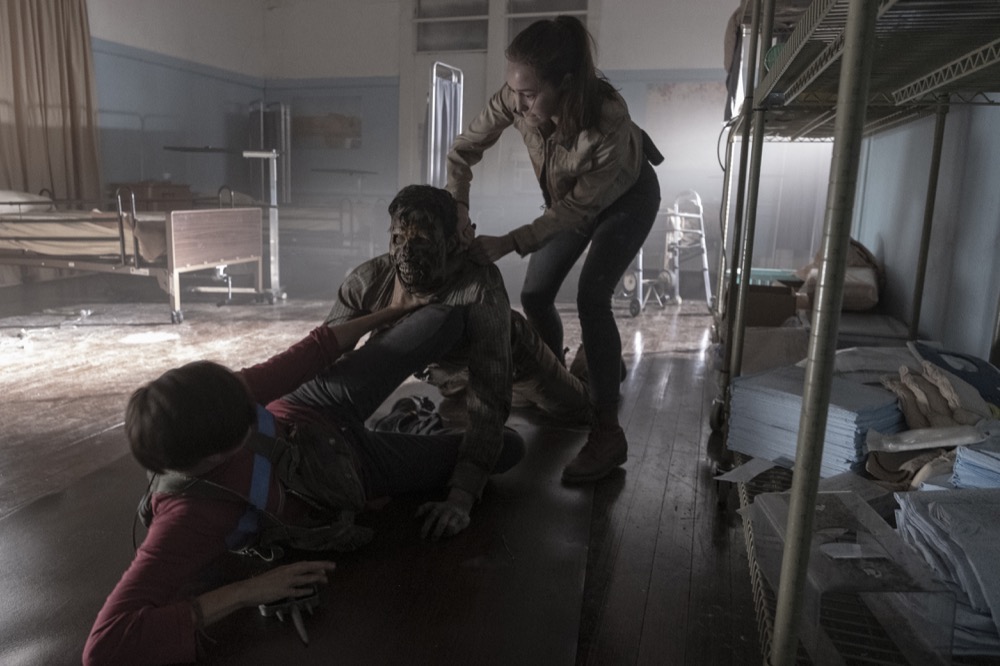 Later, the gang realizes their semi is too heavy to make it across the bridge. The wires start to snap so Morgan instructs everyone to cross the bridge without the cars. Ginny drives up in a Jeep and offers to help, explaining she's been following them and can't believe they used extra resources to help Grace. She turns to Dwight and tells him that one of her people broke bread with Sherry a couple of months ago and that he should trust her since he didn't reveal Sherry's name in the doc. Dwight points his gun at her but Morgan talks him down.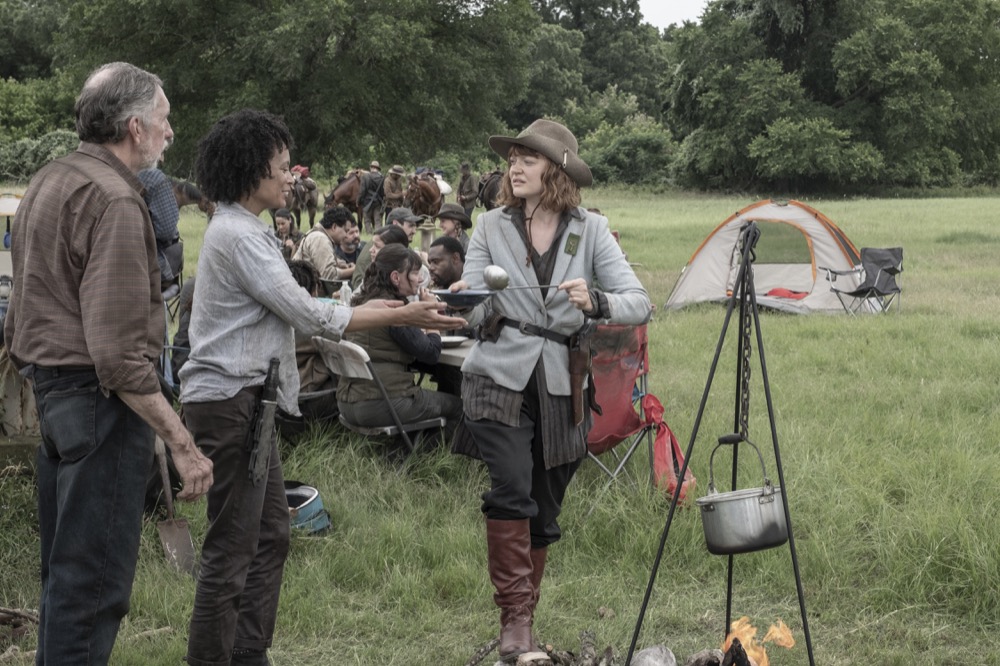 Ginny tells Morgan's group they can join her if they want, but no one steps forward. Strand mocks her, which leads Ginny to get her people to shoot their guns in the air so walkers will find them. She reminds them to give her a holler and then drives away. Walkers appear and Morgan kicks his plan into high gear.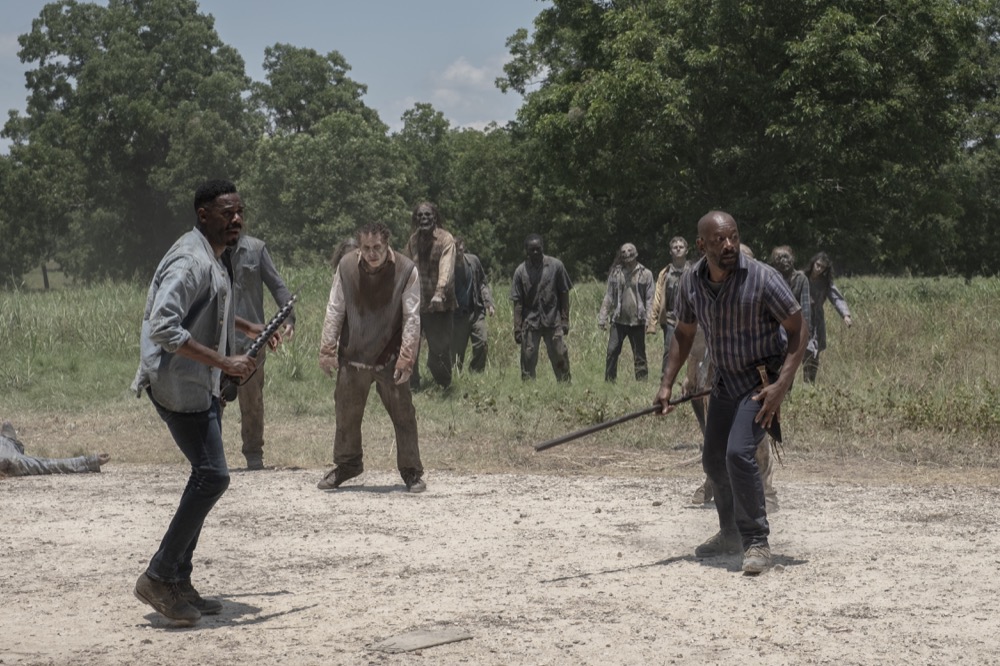 Everyone works hastily to move the resources across the bridge while Morgan, Strand, and Al handle the walkers. When more arrive, Morgan is forced to move everyone across. Tom trips while recording as the semi falls through the bridge. He laughs at his good fortune until the bridge under him collapses too. Later, Al edits the footage until the batteries die. In the woods, Jacob asks Janice if she wants him to say a few words about Tom, but she says not until they make it to the settlement. Shortly after, she tells everyone Tom wanted them to "finish it," and Morgan agrees that's what they should do.

On their walk, Wes promises Alicia he'll paint with her when they reach the settlement. John then asks Rabbi Jacob if he does weddings and he says he can. Morgan eavesdrops and suggests instead of making it a secret, they make a big deal out of it. John agrees and asks Morgan to be his best man. A little later, Daniel tells Morgan "if there's things to say, you should say them."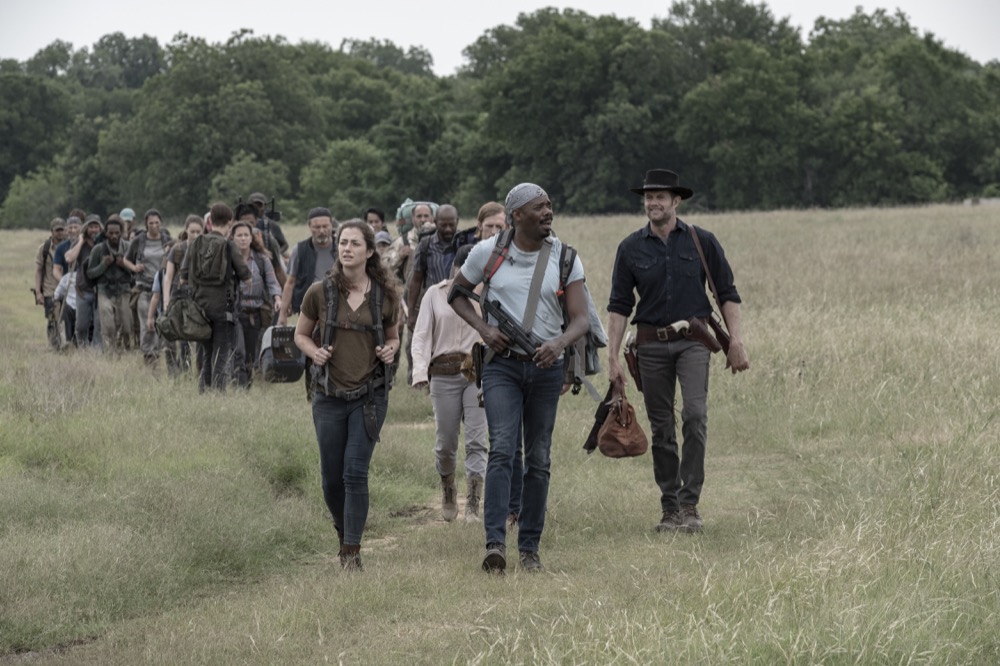 Eventually, they find a billboard for the Gulch. Morgan catches up with Grace and nearly tells her but she stops him. "I don't want to make things harder," she says. Finally, they make it to the gulch, which is of course overrun with walkers. Most of them seem defeated, but Strand suggests there is a way. Al turns her camera off but Strand tells her to keep rolling to show the truth. Morgan asks if anyone has any ideas but they don't. Most agree they have to call Ginny but Dwight won't stand for it and leaves. Morgan apologizes to Janice and then radios Ginny for help.
---
What did you think of this season's penultimate episode? How do you think the finale will wrap up next week? Tell us in the comments!