"Leave What You Don't"

Flashback: Logan responds to a distress call from a woman named Serena, who's trapped by walkers at a supply station by mile marker 65. With his truck out of gas he calls Clayton to help, but when he doesn't respond Logan is forced to sprint the rest of the way. Eventually, he finds what's left of Serena getting devoured by walkers. He kills them and collapses outside, where he spots five survivors on horseback. A woman named Virginia (or "Ginny") tells Logan she's been keeping tabs on him and shares his vision.
In the present, we catch up with Luciana, Wendell, Annie, Dylan, and Max, who have a well-greased operation going at the oil fields. Suddenly, Logan and his crew burst through their gate and jump out of the truck. Logan looks at the oil and tells Luciana, "We need all of this."
Elsewhere, Alicia and Strand receive a distress call from a survivor. Alicia radios June, who tells her to help them while they head to the oil field. Meanwhile, Logan forces Luciana and the gang on their knees Negan-style while he burns Clayton's journals. He asks Luciana to show him how make the gas but she refuses. So, he radios the man Dwight let free, who quickly gets ambushed by Dwight and Sarah.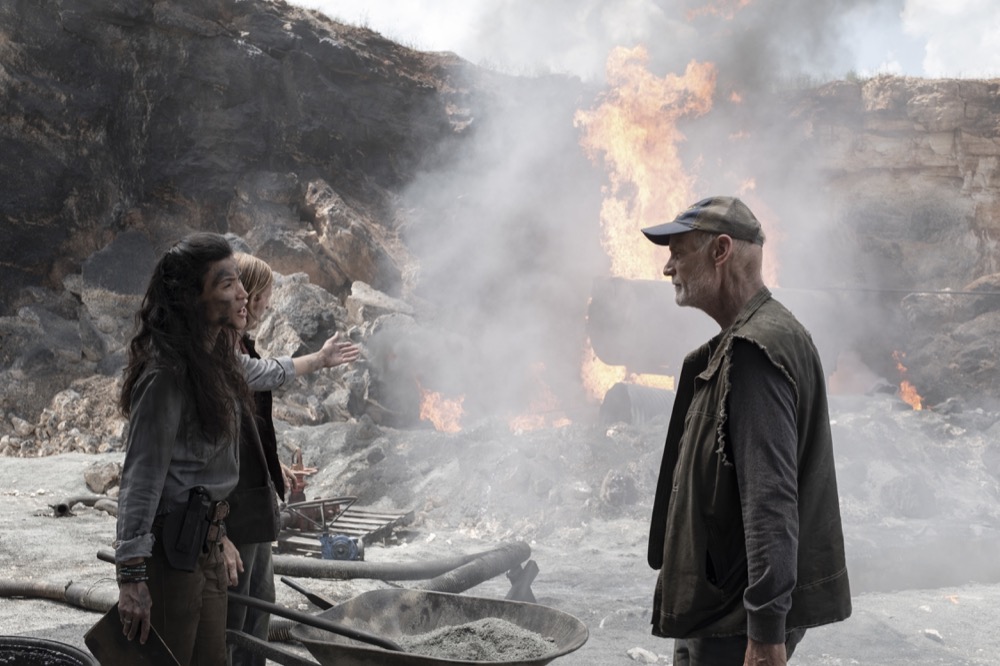 Dwight and Sarah trojan horse their way into the oil field with the man's truck and hold Logan at gunpoint. John shoots the walker carousel from afar and radios Logan that he better not try anything. Unshaken, Logan calls John's bluff and says he knows they don't have the guts to kill him. He offers to let the kids go if Sarah and Dwight agree to work for him. Sarah asks for a car and he obliges, so she instructs Annie and the kids to return to the caravan.
On the road, Strand and Alicia's car runs out of the gas and they're forced to run to the survivor. Hey, that happened in Logan's flashback! Speaking of, Logan tells Sarah and Wendell if they hadn't stolen Clayton's rig then Serena would have lived and none of this oil stuff would have happened. Sarah radios them that they all have to leave because walkers are beginning to arrive.
That night, John picks off the walkers but some still manage to fall off the cliff and crawl. As the fire and walker herd grows larger, June again pleads with them to leave. Logan's people beg to leave but he refuses, so they decide to bail. As Dwight and the others head out Sarah decides to save Logan. She drags him into a trailer and he says they're screwed.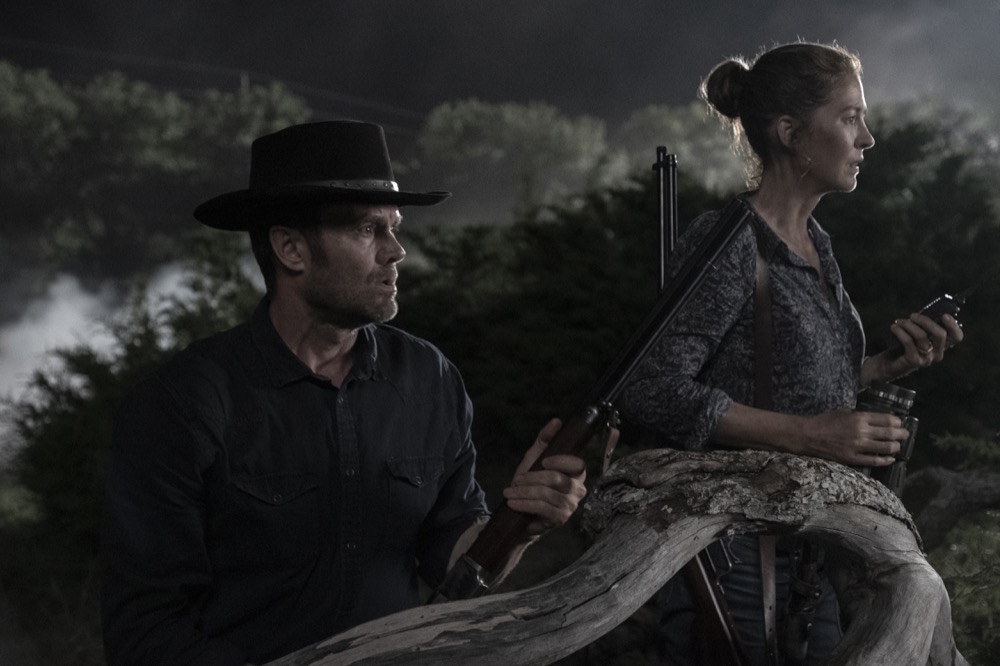 Suddenly, the woman Alicia and Strand are trying to save radios them to say she's trapped at mile marker 65. "You've gotta be shittin' me," Logan says. He picks up the call and tells the woman to grab the gun with one bullet on the floor and kill herself. The walkers break through and Logan hears a gunshot on the other end. You think it's the woman but then more shots ring out – it's Wes. He grabs the radio and tells them he wanted to pay Alicia's favor forward. On the hill, Jacob, Annie, and Tess arrive to help. Sarah reminds Logan that their way isn't so bad.
The next morning, Alicia and Strand finally arrive at the station and reunite with Wes and the woman. She warns them they have to leave before the people she ran away from find her. Alicia assures her she's with them now. Back at the field, everyone reunites with Logan until Doris and his people hold them up at gunpoint. He tells everyone to put their guns down and explains how he wants to continue Clayton's message after all. Suddenly, Logan and his people are viciously shot and killed from afar. It's Ginny and her gang of horsemen.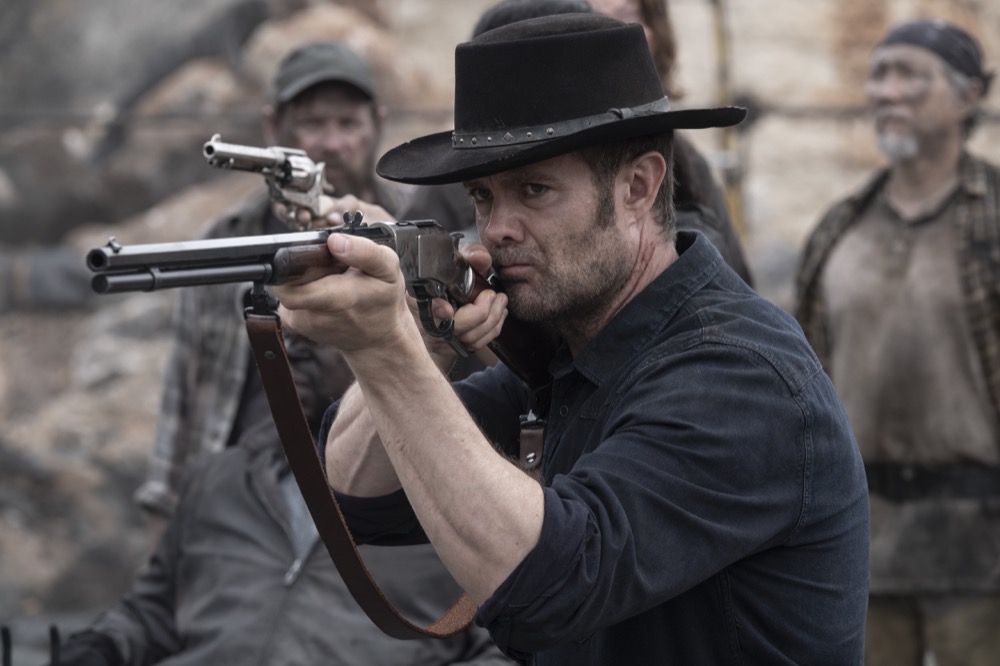 Ginny reveals she's been watching them and suggests they could all help each other. She tells Dwight they can help him find Sherry, June her settlement, and Sarah and Wendell their brewery all in exchange for keeping the oil fields running. They shoot down her deal so she orders her people to prepare to kill them. Luciana offers to stay to help them make it if she lets her friends go. Ginny agrees and tells everyone her offer's still on the table when they want to take it.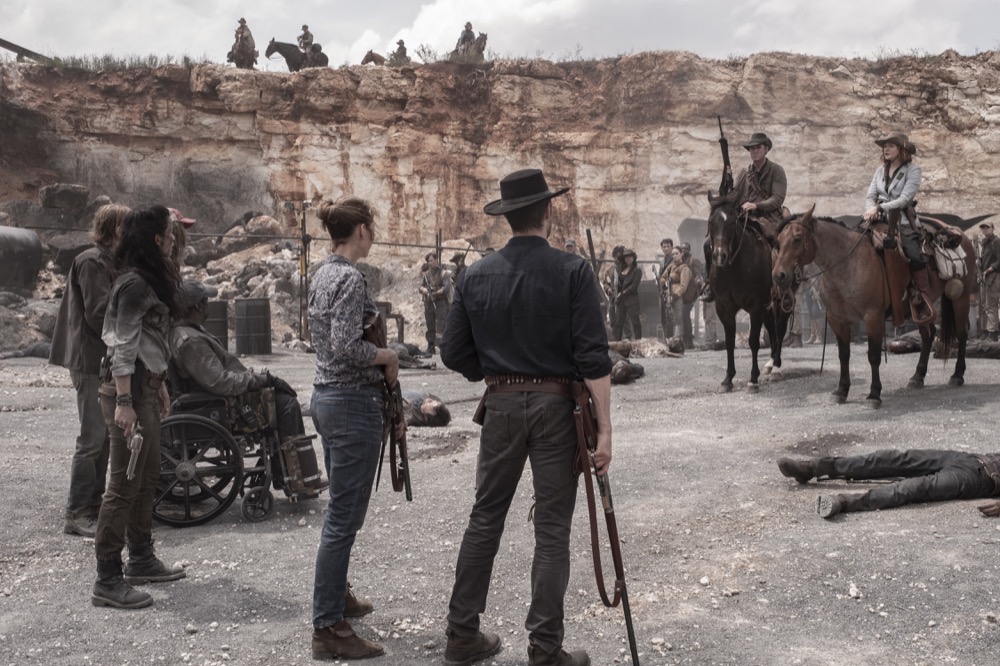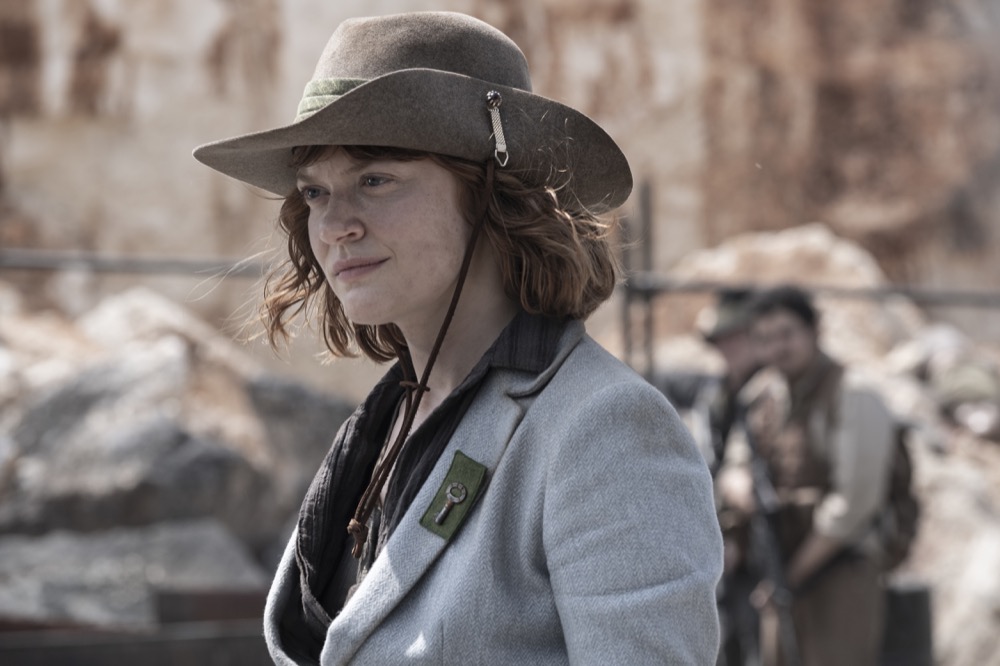 ---
What did you think of this week's shocking episode of Fear? Let us know in the comments!