"210 Words Per Minute"
A man named Charles radios Morgan and the gang to say he saw their video and wants them to come to the mall he's holed up in to kill him, since he's been bitten. At the mall, Dwight cuts down a walker with his axe and leads Morgan and Grace inside. "It's like before," Morgan says. They search for the man from the radio but only find a herd of walkers on the ground level. Suddenly, Grace passes out and Morgan tells Dwight to find a first aid kit.
Elsewhere, Daniel and Skidmark find fresh bullet rounds by a gas station. We then see he's leading a caravan of survivors around to find Logan. Back at the mall, Grace finally comes to and explains she could have feinted because of a cold…or radiation. Dwight shows up to update them on Daniel's finding and warn Logan could be nearby. Morgan instructs Dwight to return to the caravan to bring trucks so they can load up while Grace decides she'll stay behind and help. Before he leaves, Dwight agrees to grab water for her.
Outside the mall, Dwight reminds Morgan what it's like to be on the other side of taking people's stuff and asks how he thinks this will end for them. Morgan hopes Logan will recognize the good they're doing, but Dwight knows this morality won't be enough. Inside, Grace listens to "A Tale of Two Cities" on 2x speed on her iPod as she prepares to find the survivor. Morgan stops her, and Grace admits she wanted to get to the urgent care downstairs to know if she really had radiation poisoning. She asks him to help her get to the generator and she'll do the rest; Morgan agrees.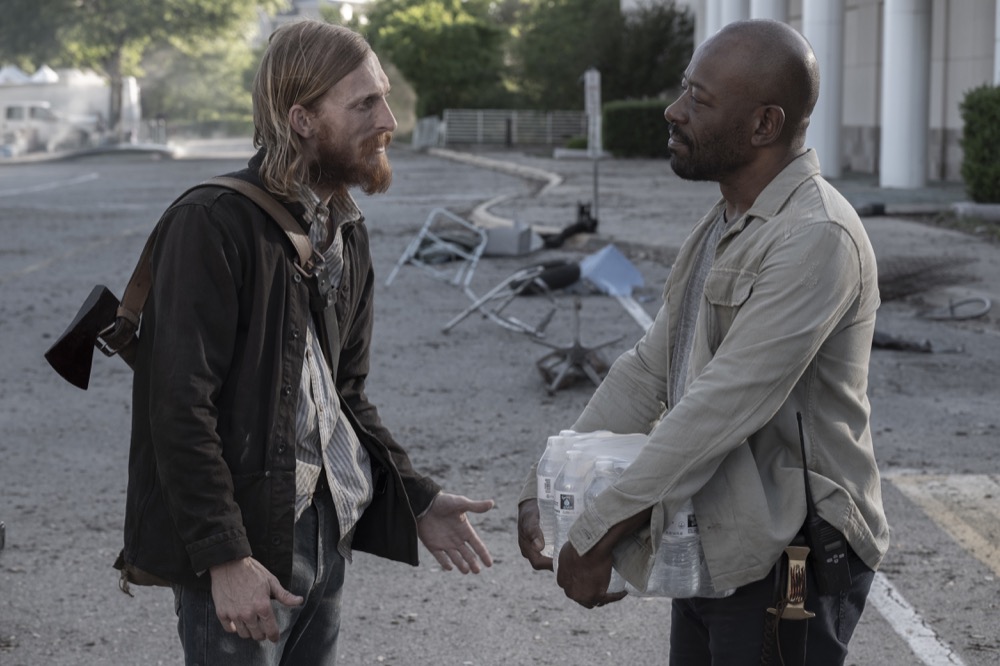 On the road, Dwight gets held up at gunpoint while taking a leak. The man confirms he works with Logan and Dwight admits he wanted him to follow him. The man pistol whips him and takes him away. Back in the mall, Morgan uses a toy car to draw away the walkers while he and Grace try to get to the generator. As they make their way down, Grace walks toward a walker she believes to be the guy on the radio. She's wrong and is forced to kill it as she and Morgan up in a store. Morgan assures her Dwight will rescue them tomorrow.
Dwight gets threatened by Logan's man but Dwight interrupts him and reveals he knows how this works. He pistol whips him but Dwight recovers and tells the man he won't tell him where the oil fields are, reminding him he's been through much worse. Back at the mall, Morgan and Grace bond over her past and she reiterates how scared she is about the radiation. Suddenly, the walkers begin cracking the glass on the door and they're forced to move.
Logan's man returns to Dwight and tells him he's been thinking about what he said, calling him by his name. Dwight asks how he knows his name and the man replies that he found one of the tapes mentioning him. The man pulls out Sherry's letters and starts to burn them one by one. Dwight lunges at him but the man pulls his gun. A walker distracts him, which allows Dwight to throw him to the ground, take his gun, and knock him out.
While traversing the dark corridors of the mall, Grace saves Morgan from a walker attack. He then tells her about his son Dwayne, who had a similar RC car. "I've always been a kind of serious guy, except with him," Morgan says. After another bonding sesh, the two turn on the generator and the mall roars to life. They lift the gate on the clinic, which causes the alarm to sound and a new horde of walkers to chase them. Morgan gets attacked by one on an escalator and Grace saves him yet again. They kill walkers one by one as they climb the stairs until Grace finds a way to reverse it. They break into the security room and finally turn off the alarm. Grace grabs the keys as Morgan notices their radio friend in the red jacket on one of the monitors. He's still alive.
Dwight walks the man to a clearing and the man asks him to get it over with. Dwight tells him he was given a second chance and he's paying it forward by giving him one as well. He unties the man and tells him to make a choice. Morgan and Grace find Chuck on the roof and he tells him he still wants to be buried under the stars, despite it being a cloudy night. Grace takes out a kids toy which projects stars on an overhang, which he appreciates.
The next day, Grace and Morgan bury Chuck and return to the mall for medical care. Grace decides she doesn't actually want to know her diagnosis because she wants hope. The two then ride the indoor Merry-Go-Round. Finally, Dwight and the others bring the caravan to the mall. And Daniel asks Morgan if there's a Cinnabon. There's not, and plus it would be gross.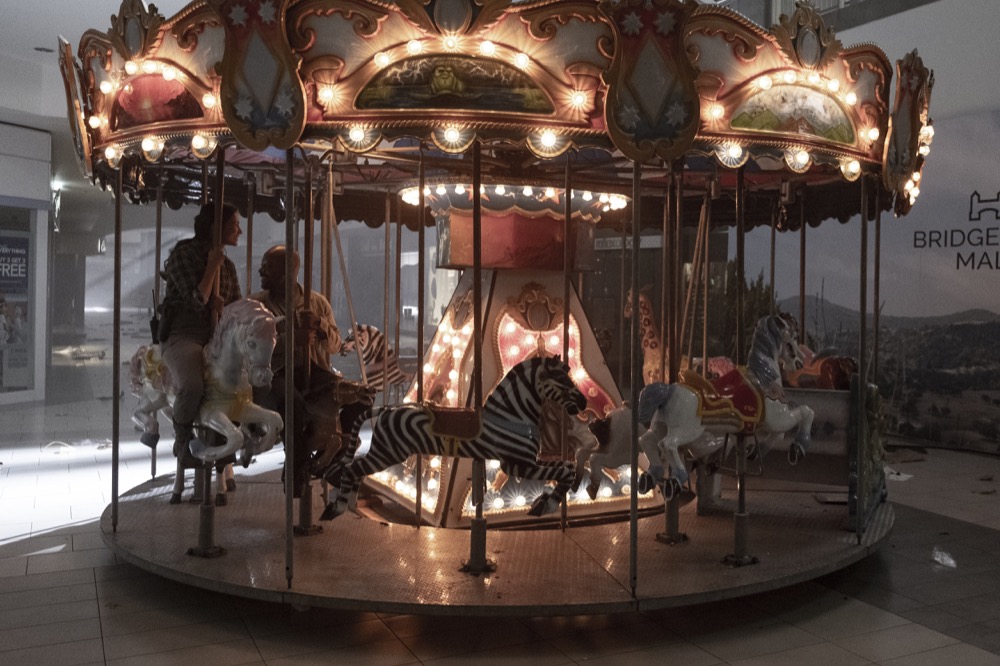 Dwight updates them on his run-in while one of their people tells them they could settle in at a ranch they passed on the road. They agree and the gang begins loading the mall supplies into their trucks. Daniel finally cuts Dwight's hair and beard, revealing a version of him we haven't seen since The Walking Dead Season 6. Grace switches her audio book to normal speed, signaling she's finally enjoying her life. Later, Morgan tells Grace he's not going with her because he has to help Al. They separately sheds tears as he drives off.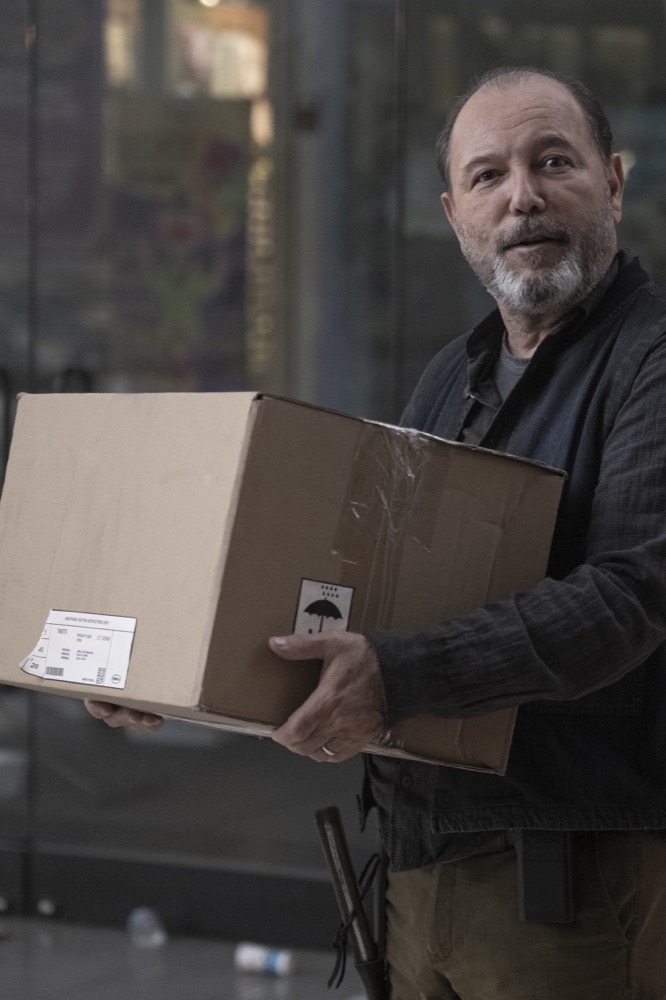 ---
What did you think of this episode? Let us know in the comments!