LEVEL 52 STATUE – LEE AND CLEM SKETCH REVEAL


Back in January we let you know that we were teaming up with Level 52 to create a new statue inspired by TELLTALE'S THE WALKING DEAD. We also announced that everyone who received the Guardian Pack or Signature Pack of Telltale's The Walking Dead: The Definitive Series will be receiving this statue for free.
We're still hard at work and wanted to give you a status update, as well as your first peek at Level 52's rough design progress.
Right now the artists are using the game's files and reference art to create the sketch of what the statue will look like. For this statue, we decided to revisit Lee and Clementine but looking at them through different points in time. We see Lee from season 1 with his back against a wall about to kick wholesale ass with a freshly killed walker at his feet. On the other side of the wall is Clementine at the same spot but many years later, in her full Season 4 costume and wielding Marlon's compound bow.
We wanted to give you a look at how the design process develops, so here's a quick look at how the statue came along.
Here's a little from the artist, Brandon Cahoe:
Who are you, and what's your job at Level 52?
My name is Brandon Cahoe, I'm one of the founders and owners of Level52 Studios. My main role at Level52 is art direction and concept art. But since we're a pretty small team we all wear a lot of hats when it comes to the work we do. So I ended up doing a bit everything for awhile.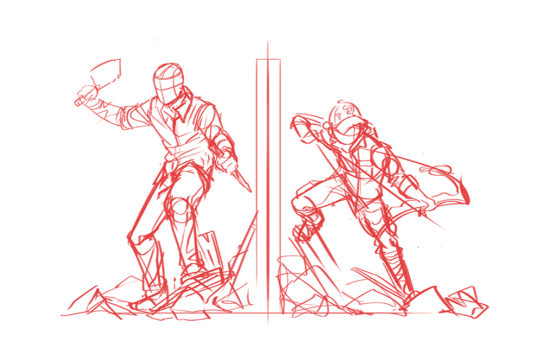 Had you played the TELLTALE WALKING DEAD games before? If so, what did you think of them? Did you have any favorite characters?
I'm a huge fan of THE WALKING DEAD series in general so for TELLTALE'S THE WALKING DEAD I loved what bit I did play through. Character-wise I like Clementine. Doing the research into this project I got to experience and see her grow into a very strong character. I like seeing characters grow in this way.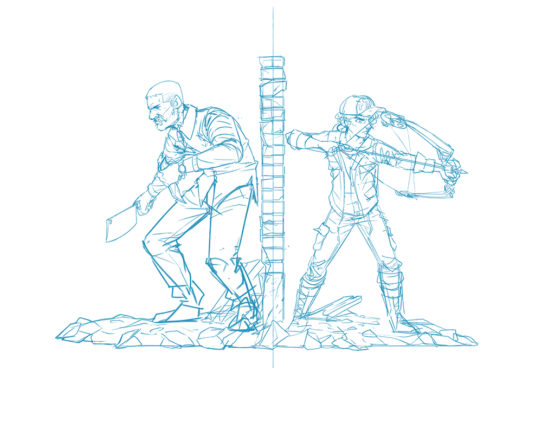 Where does sketching fit into the timeline of Level 52's statue design process?
Almost every project we start we need initial sketching done for the idea to get going. So at the start of a project, I do a lot of quick sketches that are like scribbles, they don't make a lot of sense to anyone but me. But I do a lot of this just to fill a page to have some rough ideas of what I think the shapes and overall feeling should be. I work and refine a few of these scribbles into readable sketches. Eventually, those sketches get turned into a more polished concept.

What sort of inspiration do you seek out before you start your sketching?
I study the subject matter of the project a lot. If it's a game, I watch the trailer. I watch playthroughs of the game if it's already released. I'll also play the game myself even if it's just for a bit so I can feel the world of the game. I also collect a lot of references while I do these things and compile them for later use. If it's just a personal sketch I like to think back when I was kid playing Super Nintendo and pull a lot of inspirations from the games I played then. Nostalgia plays a big part in what I draw in my free time.

What feelings or emotions are you trying to convey with this work?
In general, I like to try to express how the subject matter would be feeling in the situation they are placed in. For THE WALKING DEAD piece, I really wanted to convey the struggle and the sense of ready to fight to live from both Lee and Clem.

How do you like to work? Are you headphones on, locked in vs. quiet cozy space, etc.
I like to put on music or a youtube video. When it's a video I try to put on things that I like to do besides drawing. Lately, it's a lot of C# programming lessons. But I actually find myself getting so into working on a project that the music or video that I had on has ended awhile ago. And I'm just sitting in silence with headphones on. They almost become like a blanket where I feel comfortable and focused.

What considerations go into sketching for a statue that you wouldn't use in other mediums?
When designing a statue you always want to think about how the characters are posed. I originally come from doing concept art for games. When you do a concept for games you don't normally have to think about the pose of a character. So as an artist that normally draws characters just standing there with no action, it took a while to get comfortable and break that habit. You want to work that pose in with the subject's personality and how they would move. It plays a big part in the whole piece's composition. And a statue where the characters are actually doing something makes the piece feel more like a scene from the game/movie/show. It just makes it a bit more worth owning something like that.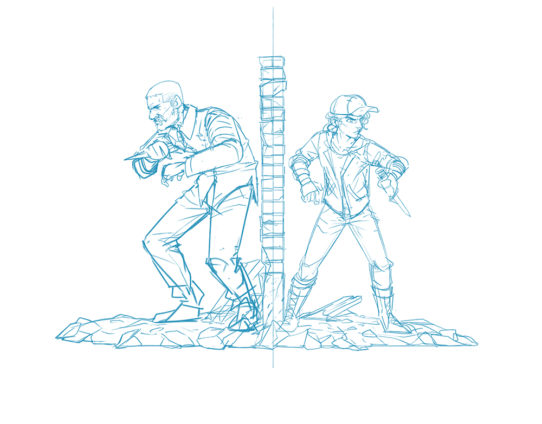 What's your weapon of choice in the zombie apocalypse?
I would say a baseball bat. As a kid, I use to hit rocks for hours into the ocean with an aluminium bat, for literally no reason other than it was something to do. One day the bat finally busted open and all the foam filling came out. It made me feel really accomplished. I think I would like to see that happen after a handful of zombie kills.
---
Now we're moving on to the 3D modeling and painting. We'll have some more reports and behind the scenes looks into the statue's progress as we reach the next phase, so keep an eye on Skybound's social media for updates!