Flashback: Sarah Barnes picks up a grilled cheese for a much younger Kyle. As she hands it to him in the car outside the restaurant cashier get briefly possessed and calmly stabs her hand through the receipt spike. More evidence that this demonic entity has been around Kyle his entire life. Flash forward to the present, Chief Giles inspects a restaurant with his gun drawn. The man he's searching for runs past him and jumps over the barbed wire fence outside, unfazed by the damage it has on his skin. Giles shoots at him but the man gets away.
Kyle drives his daughter Amber back to Rome and finds Reverend Anderson at the burned remains of the trailer. Kyle tells him they tried leaving town but they were confronted as far as two states away, so they decided to return. A police officer arrives to shoo them away, explaining it's still a crime scene.
Kyle and Amber head to Giles' house, where Kyle sits down with Megan. He apologizes for keeping here there and asks if she remembers anything about murdering her husband. She doesn't respond. Back in town, the Rev goes to see Trisha, who's hanging missing signs of her son Aaron (who we last saw burning in the trailer fire). She asks Rev to help her find him and he agrees. Amber sits down with Holly by the dock, but Holly ignores her. Kyle calls her back and reminds her that Holly will need a lot of understanding from them. He tells her he's leaving for a bit but to take care of herself.
Giles visits Mayor Owen to seek help about the fugitive he lost the other night, but Owen isn't interested in giving resources to a "trespasser." While the Rev puts up missing posters, Kyle meets with Chief Giles by the lake. Kyle tells him he's looking for Sidney and Giles says good luck. He then tells Kyle about the fugitive and how strange it is how none of the people they found tied up in that warehouse were reported missing. "Makes you wonder how far this thing goes," Giles says.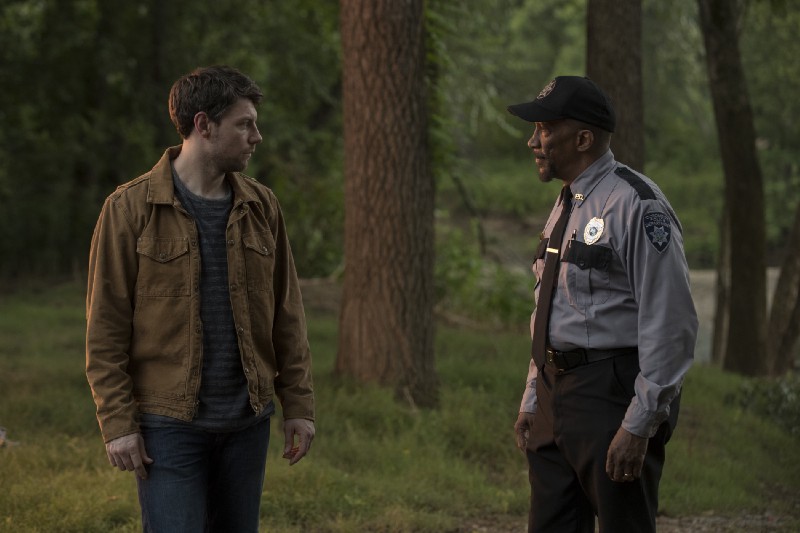 Anderson follows signs through the woods to a creepy-looking church. He walks up to find a congregation happily singing "What Wondrous Love is This" and then makes eye contact with a woman among them. That night, Kyle visits Ogden to inquire about Sidney. He points a gun at Kyle and tells him Sidney took his wife and truck and left. Kyle asks why help gather the people in the warehouse if he's not one of them and he says to help his wife. He mentions having a list of their names before putting the gun to his throat. Kyle tries to stop him but Ogden fires and starts bleeding out as Kyle begs him to give him the names.
Back at the lake house Giles' wife leaves and instructs Amber not to open the door for anyone. Once she leaves, Amber visits Megan and asks about the black thing that overtook her. At the woods in the church, the woman steps aside from the service to talk to Rev, encouraging him to return. Meanwhile, Amber finds Holly in the attic and asks what she's doing up there. Holly tells her she's hiding from her because she made her mom sick.
The Reverend meets up with Kyle, who tells him Ogden managed to give him all the names on the list except one…Joshua. They go inside Joshua's house, who tells them s his parents left with the white-haired man and what Kyle did to him should land him in jail. Kyle asks where Sidney took his dad. Elsewhere, Giles arrives at the burned trailer where they find a body. Back at the house Joshua's mother Betsy arrives and after some arguing Kyle grabs her face and burns it. Unfortunately, Kyle's unable to exorcise the demons and he declares she's too far gone. He tells Anderson to watch her while he leaves to find Sidney.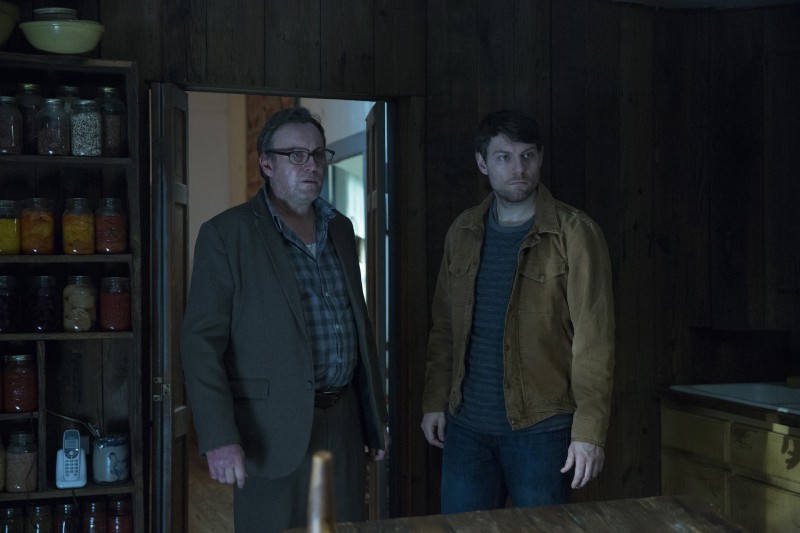 Kyle arrives at a shack nearby and finds Joshua's father lurking in the shadows. Kyle encourages him to return to his family but the father, clearly afflicted, tells him, "You haven't saved anybody Outcast, you just delayed the inevitable." The father attacks him repeatedly and tries to take Kyle's soul until he's shot from behind. It's Giles, and he's with the Rev and Betsy. The Rev asks if the man lost his affliction but Betsy explains once they're possessed there's no going back.
Kyle returns to the lake house to check on the girls. Giles' wife is horrified by his injuries and Kyle explains he and Giles are going to tell the police that Mark killed himself to get Megan off the hook. Suddenly, Megan shows up and tells Kyle she won't let him disrespect Mark's memory by suggesting he abandoned his family.
The next morning, Anderson asks Chief Giles to arrest him for burning down Sidney's trailer and killing Aaron inside. Giles is reluctant but Anderson threatens to go to the state police if he doesn't. Kyle takes Amber to visit his mother Sarah in the hospital. The doctor informs him she's dying and to make any preparations he needs to. While Anderson sits in a cell, Betsy drives Joshua away with Giles on their tail.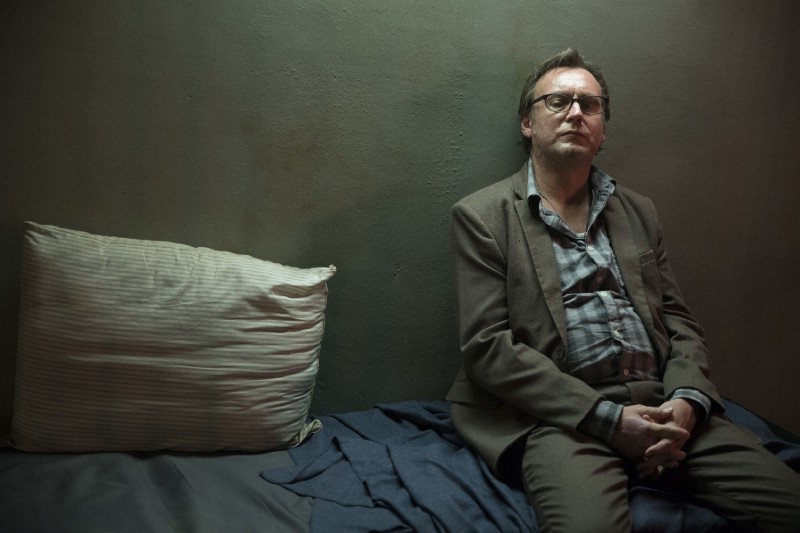 ---
What did you think of the Season 2 Premiere of Outcast? Tell us in the comments!