A cop discovers Mark in an overturned truck in the woods – it's clear it was staged. Meanwhile, Chief Giles bursts into Peter's house with Kyle to interrogate his wife Evelyn on Sidney's location. Kyle grabs her arm to burn her skin but she yells she doesn't know where Sidney is. Giles presses a gun to Peter's head while Kyle cuts his arm and threatens to drip his blood her. She gives in and reveals Sidney has an accomplice and hasn't been seen for days. After seeing enough, Kyle storms out and tells Giles there has to be another way. Elsewhere, a very sick-looking Sidney takes medicine after coughing up black goo.
At the jail a kid, Jason, is brought into the cell adjacent to Reverend Anderson's – it's clear something's wrong with him. At the lake house Megan hallucinates seeing Mark's blood on the her hands and starts scrubbing vigorously. Amber catches her and tells her breakfast is ready. Kyle shows up at the morgue to grab Mark's personal belongings. After saying goodbye, the cuts open a burned body full of black goo.
Owen confronts Giles about breaking into Peter's house without a warrant and putting a gun to his head. Giles explains it's to check on a lead to Sidney, who he explains kidnapped Kyle and his daughter a few days ago. Owen then asks about Anderson in prison for arson and Giles says he's a person of interest. He pushes back that things like this don't happen in Rome, but Giles counters that things like this happen everywhere.
Patricia visits Anderson in jail to ask if she can help but he confesses he might have accidentally killed her son Aaron in an attempt to burn Sidney. She steps back in horror before telling him she'll never forgive him for this. Jason laughs at the situation and calls it, "some stone cold shit."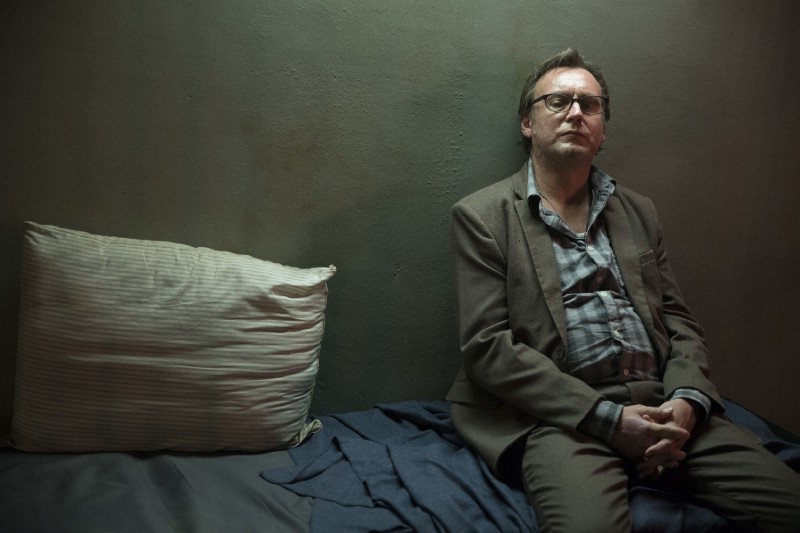 Kyle brings over Mark's belongings to Megan at the lake house and tells her all of his arrangements have been taken care of. She cries as she recalls the night she killed him and Kyle assures her that there was something in her that made her do that. She tells him there's no fixing this. Back at the jail Anderson asks Jason what's wrong with him, but he won't say.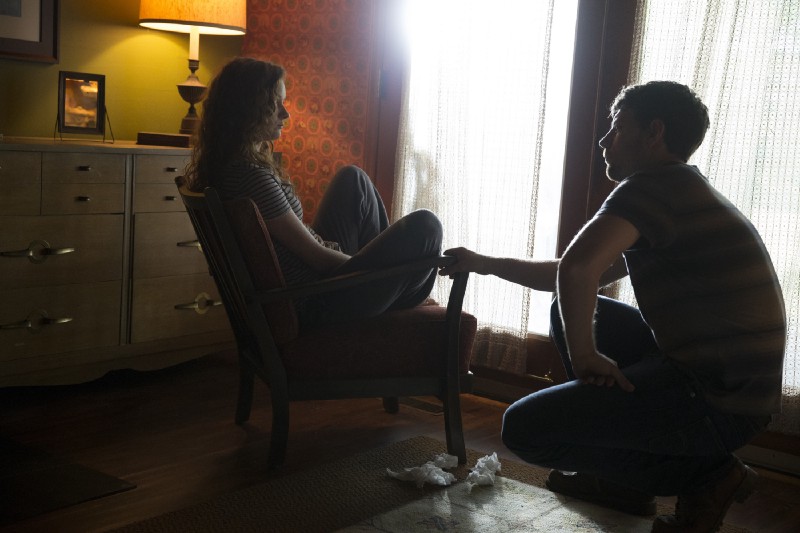 Kyle checks up on Amber at the dock and she asks if Mark died because of them. He says it's not and Amber says she doesn't want to stay in the lake house alone anymore. Kyle tells her to stick it out a little longer but Amber says she's scared the monster in Megan will return.
Meanwhile, Sidney turns up at the morgue to inspect the burned body. He finds the black goo and leaves. Back in jail Jason reveals to Anderson he likes doing drugs and there is no God. He then yells out in pain and collapses on the floor, convulsing until he's still. A few moments later Jason rises up possessed and tells Anderson Kyle isn't here to save him. He charges at the jail bars, gets knocked down, and keeps trying until he breaks his bones and knocks himself out.
Kyle returns to the remains of Sidney's burned trailer and finds prescription bottles and an IV bag. That leads him to the hospital, where he checks on his mother, who's in a different room. The doctor informs him that she has multi-organ system failure and she has months or days left to live. He asks Kyle if he's been resting and eating enough before prescribing him a sleep medication to help. Kyle's skeptical about his intentions and gets face-to-face with him before the doctor excuses himself.
Later, Kyle waits outside as the doctor gets in his car. Rose calls to tell him Amber's run off when suddenly Kyle notices the doctor's trunk is open. He gets off the phone and the doctor starts wailing on Kyle's car with a crowbar. Fortunately for Kyle he's able to get away. Meanwhile, Anderson tells Giles about Jason while Giles reveals that he didn't in fact kill Aaron – the body they found was of a woman in some ritualistic murder. Giles releases him and holds out his Bible to take, but Anderson walks away.
Kyle finds Amber walking alone on the road – she tells him she misses her mom and wants to be a family again. While a mysterious man takes the charred body of the woman away from the morgue, Megan gets emotional looking through Mark's belongings at the lake house. She walks outside on the dock as Mark's body gets cremated elsewhere. Megan jumps in the water and sinks down, remembering the times with Mark and her daughter. She tries swimming back to the surface but passes out and is taken from behind.
Elsewhere, the doctor meets with Sidney to tell him he did enough to scare Kyle away. Sidney says when the merge is complete he'll know what it actually means to suffer. The doctor then turns to treat Aaron, who is alive but severely burned from the trailer fire. "You're going to be all right," Sidney whispers to him.
---
What did you think of the episode? Let us know in the comments!