Welcome to the first edition of OFF TOPIC WEDNESDAY, the recurring feature with a name that absolutely does not roll of your tongue in any way, shape, or form. This is going to be a place for us to talk about other Skybound comics, games, shows, movies, whatever. And probably other stuff too. It is literally off-topic from The Walking Dead. The idea being that our super-awesome, super-involved TWD fans MIGHT actually dig some of the other stuff we do, but they just might not have heard of it yet. Or maybe you just want to know what we're up to.
So two things: one, BIRTHRIGHT Volume 3 is out today. This book is kind of a personal favorite of mine, even amongst Skybound titles. I think it's such a smart idea. For those that don't know: young Mikey and his dad are playing catch at the park when Mikey vanishes. A year goes by. Mikey's father is suspected of murder. The family falls apart. And then… Mikey returns. Not as the boy he was but a full-grown, BADASS, sword-wielding Conan-looking mother f***er. The story of where he's been, how he's aged, and why he's back are what keep me completely glued to this series.
Today I posted a comparison of the inked vs colored pages of the first 4 pages of Volume 3. Definitely check that out, and then come buy a volume or three in our shop. 😉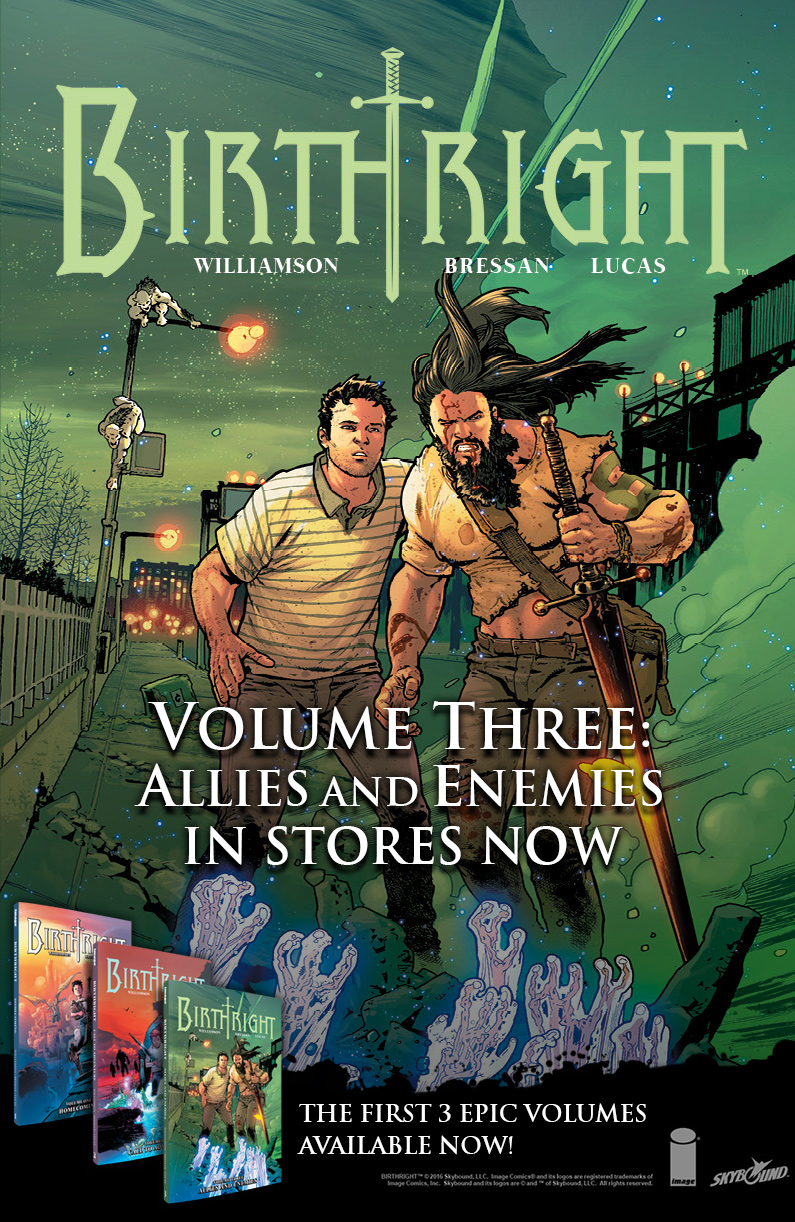 Ok so that's number one. Number two is that we've moved! Skybound went from our small office in LA to a MUCH larger office in LA. And with a bigger office comes much bigger things! We're super excited and we'll give you guys a peek at the new space on Periscope soon! In the meantime keep following us on Twitter @Skybound or Facebook for the latest on all sorts of cool projects. It's seriously mind-boggling all the stuff we're up to.
OH WAIT! Three things! We launched OutcastOfficial.com! GO CHECK IT OUT!
So over to you! What are you guys digging lately? You all see CIVIL WAR last weekend? Did you pick up UNCHARTED 4? Get as off-topic as you want in the comment section!
Off-Topic Song of the week: