We are excited to launch the Invincible Trainee Program at Skybound Animation. Our paid 4-month trainee program aims to provide new voices in animation a chance to hone their skills and contribute to our 2D animated series, Invincible. These creatives will receive hands-on experience working directly within the teams that bring our powerful, compelling superhero story to life.
We are looking for talented creatives to fill out our first class of trainees, candidates eager to tackle new challenges and level up their skills by embedding with a real world production environment. The pilot cohort of our Invincible Trainee Program takes place in early 2023, providing a full-time job for 4 months at our animation hub in Los Angeles, California.
Like the Guardians of the Globe, Skybound Animation has built a diverse super team of talented storyboard artists, designers, and editors – and has a special focus on identifying new and underrepresented voices in the animation industry.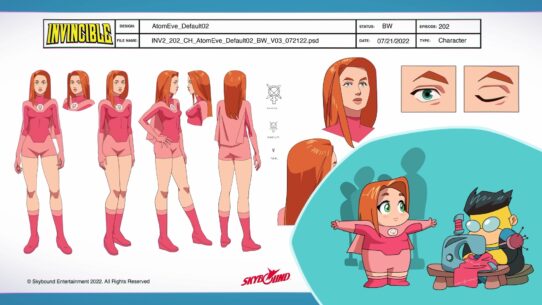 Application and Program Dates:
Application Deadline: March 3, 2023

Interviewing applicants: March 2023

Planned Program Dates:  March 2023 – June 2023

We are looking for individuals to work with Design and Editorial teams. In the future, we hope to expand our trainee program to additional aspects of animation production. 
ELIGIBILITY FOR INVINCIBLE TRAINEE PROGRAM:
Must be 18 years of age or older.

Must be available to work full-time (40 hours/week) at our Animation office in North Hollywood, California. We are unable to sponsor work visas for this program.

Must have less than 12 months of professional experience working in Animation roles.

Each role has unique job responsibilities, application requirements, and submission guidelines. Please check out the specific listing for additional details:

We look forward to receiving applications from candidates!

For a cheeky reminder of what exactly goes into producing Invincible, listen to Mark in our Season 2 Teaser:
 
If you have specific questions about the program, you can reach out to TraineeProgram@skybound.com. Please note: we may not be able to reply to all messages, and can't provide status updates about individual applications.