"The Big Scary U"
This episode gives us a look inside The Sanctuary right before, during, and after the events of Rick's attack. Gregory, who's getting pampered at The Sanctuary, reveals his plan to convince The Hilltop members to join them. Skeptical of his real power, Negan asks why he was unaware Maggie led 'his' people to Alexandria to join the fight against him. Frustrated, Gregory claims he let a fox in the hen house but his people still belong to him. Simon suggests if Gregory's plan fails they'll just kill everyone at The Hilltop. Infuriated, Negan challenges him and asserts the way forward is to "kill the right people in the wrongest way possible." Suddenly, they hear Rick's group outside.
Flash forward to Negan and Father Gabriel back in the trailer. Negan attacks him but decides not to kill him. As they wait out the walkers, Negan blames Rick for getting Glenn and Abraham killed and Father Gabriel says he's here to take Negan's confession.
Back to the present: Rick and Daryl interrogate the driver of the gun truck they attacked. He falsely tells them Ezekiel, Jerry, and Carol are all dead along with his own people. He dies and Rick sticks a knife in his skull.
Back to the trailer – Father Gabriel reveals he became a priest to help people through difficult times. Negan said he too, helps his people, who would be nothing without him. He's right, because inside The Sanctuary, some of Negan's top brass assumes he's dead and can't agree on a plan to combat the walkers. Eugene suggests they lead the Saviors out and Simon agrees, adding if they can't do it, he will. Shortly after, Eugene thanks Dwight for standing up for him.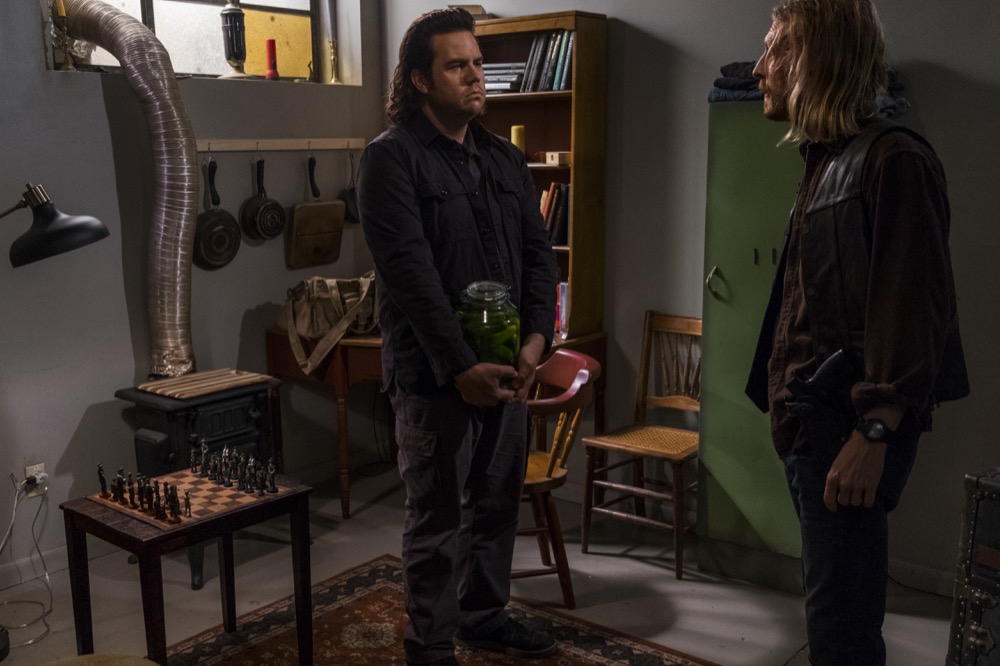 Walkers begin to penetrate the trailer but Negan thinks they should wait it out. Gabriel confesses he was part of the satellite camp attack and asks Negan to actually confess to him in case they die. Gabriel asks him about treating his people like slaves but Negan counters it's an economy and everyone gets fed. Gabe asks about pressuring women to marry him but Negan says those women made a choice. Gabriel presses on and asks if there was a wife before the outbreak. Negan tightens the grip on Lucille and Gabriel takes the opportunity to grab his gun, but Negan knocks him down. He hits him with Lucille and tells him it's time to go.
Rick and Daryl take the Saviors' weapons from the overturned truck and plan their next moves. Daryl suggests they blow a hole in The Sanctuary but Rick argues there's workers and children in there. "It's our world, not theirs!" Daryl shouts. When Rick argues Daryl socks him in the face. They wrestle on the ground until Daryl almost chokes him out – Rick's saved when a car behind them explodes. They settle down and go their separate ways; Rick on foot and Daryl on his bike.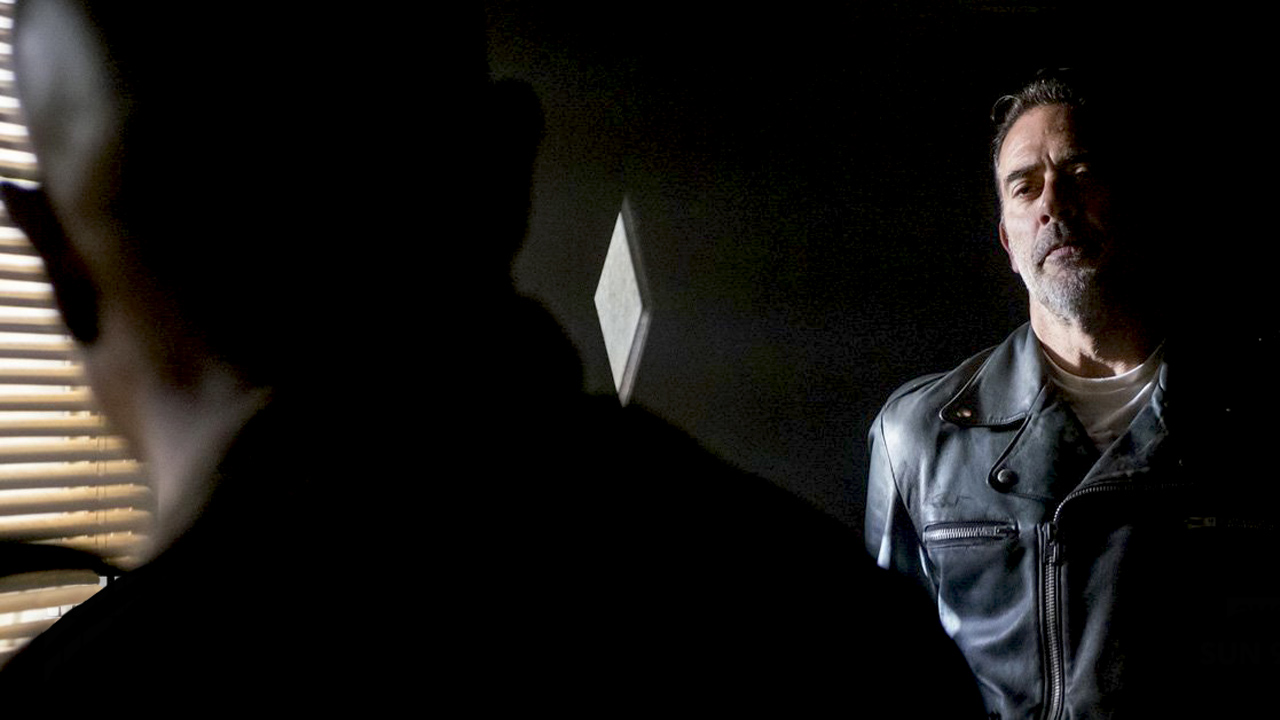 Negan grabs a walker and suggests they cover themselves in the guts to survive. Gabriel recalls the time he cowered from his congregation and said that won't happen this time. Respecting his confession, Negan tells Gabriel about his first wife before the apocalypse. He admits lying and cheating on her while she was sick, and when she turned he was too weak to put her down. Gabriel forgives him, Negan punches him in the face, and together they cover themselves in walker guts. Negan opens the door to let them in and they go completely incognito among them. They trek outside but the walkers are onto them. Together they fight them off but quickly become overwhelmed.
The Sanctuary loses power and the workers crowd the upstairs. Simon tries ordering them back down but they become rowdy, demanding where Negan is until Regina shoots one of them, exclaiming, "I am Negan!" On cue, Negan arrives with Gabriel, forcing all of them to kneel. Shortly after, Simon and the others tell Negan the guns used against them were their own, meaning there's a rat among their ranks.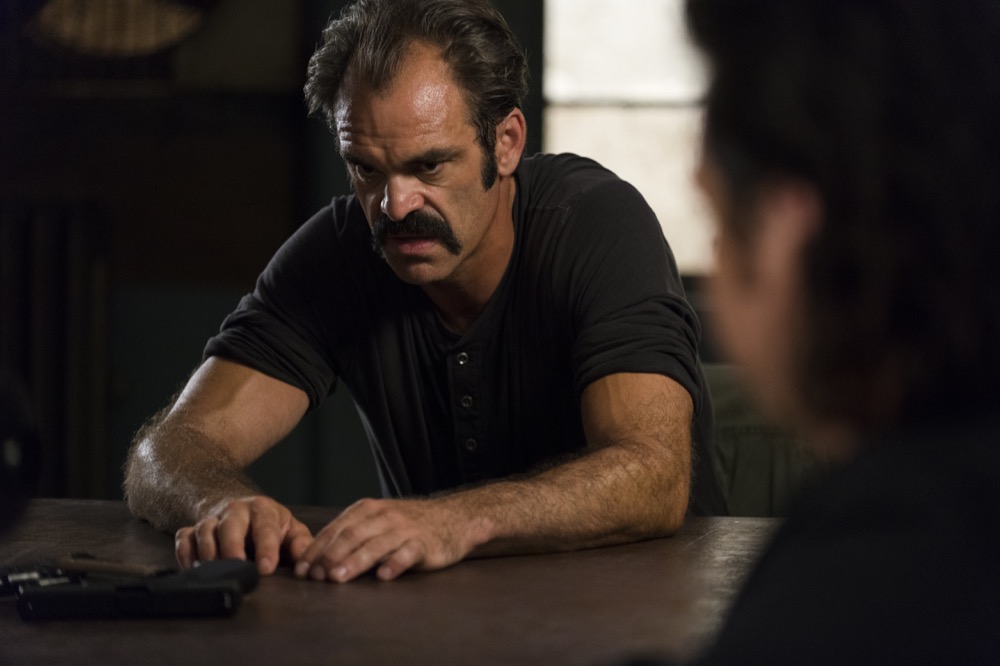 After the meeting Negan promises Eugene if he solves the walker problem he will make him 'very very happy.' (He also promises to kill him if he fails – so no pressure). Eugene then visits Gabriel to welcome him but finds him in a closet sweating profusely. Alarmed, he insists he sees Dr. Carson. Gabriel tells him they have to get Carson out of there to help Maggie. Elsewhere, Rick witnesses a helicopter flying overhead. Later, he's spotted by what looks like one of Jadis' people.
---
What did YOU think of the episode? Let us know in the comments!