"The Key"
Negan visits Dwight to thank him for returning home. Dwight's not sure if Negan knows about his double-crossing so he continues to play coy. It seems like Negan knows something, but he allows him to feel safe. Outside, The Saviors coat their weapons in walker guts and Simon instructs them to hurt but not kill the people of The Hilltop with them. "Let them turn," he says.
Daryl tells Rick he's sorry about going rogue and attacking The Sanctuary and that they'll keep fighting until he's ready. Rick says he is ready, despite the grief he's keeping in following Carl's death. Meanwhile, Simon hits the road with Dwight and casts doubt at Negan's Hilltop plan.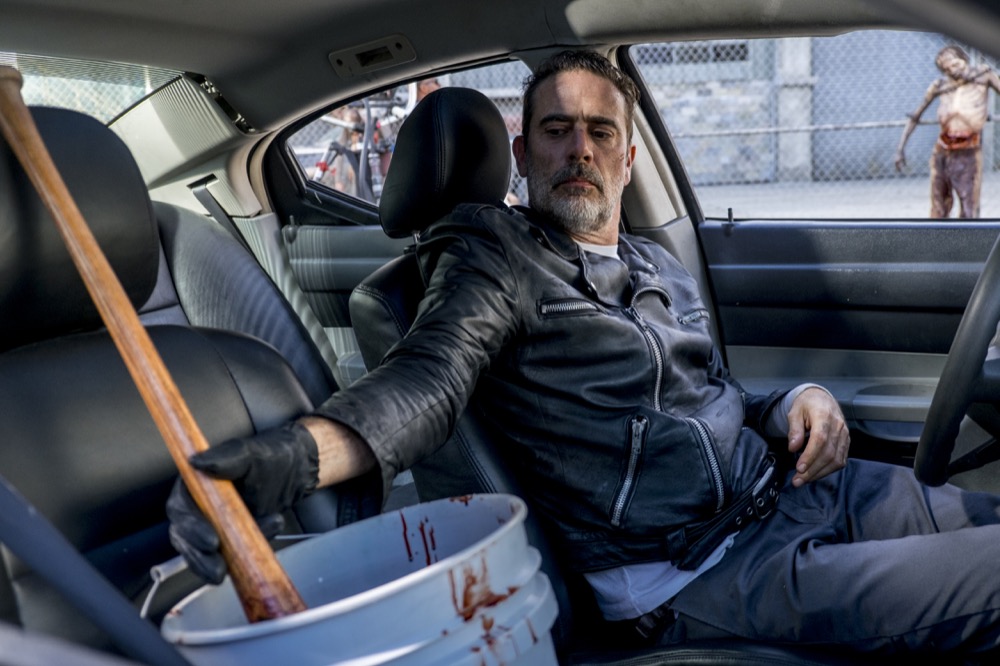 Back at The Hilltop Rosita spots a crate with a note in it right outside their gates. The note instructs them to fill the crate with food or phonograph records in return for a key to their future. Despite their skepticism, they decide to check it out. Elsewhere, Rick plans an ambush on Negan and the Saviors' trip to The Hilltop. Rick T-bones Negan's car and chases him through an abandoned town. Simon takes the opportunity to rally the Saviors and improvise a new plan. Just outside of town Rick fires at Negan's overturned car. Somehow, Negan escapes inside a building with Rick hot on his tail. Rick corners him on a stairwell and causes him to fall down the bannister.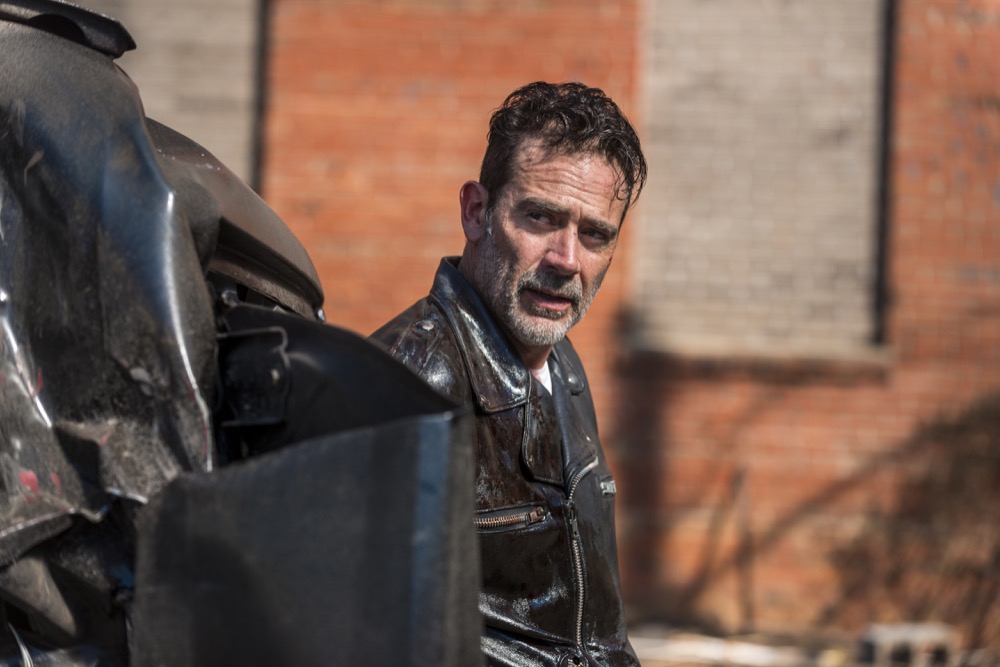 Down the road from The Hilltop Maggie and her crew meet the mysterious folks who left them the crate. An older lady with short blonde hair and a pantsuit hops out of a van and introduces herself as Georgie. She's joined by her two female guards Hilda and Midge. Georgie politely requests the records the note mentioned. Rosita and Enid flank them at gunpoint and they pat them down them for weapons. "I come bearing knowledge to trade," Georgie calmly informs Maggie. Maggie's still skeptical, but Georgie promises they can trust her. She then decides that Georgie is coming back with her to The Hilltop.
Simon, who seems to have an agenda, asks Dwight what happens if Negan's killed. He assumes that he would take over and asks Dwight to be his hypothetical second-in-command. Dwight scoffs at the suggestion, but Simon is dead serious. Nearby, Negan searches for Lucille while getting hunted by Rick. He yells out that if Rick and his allies decide to bow down to him again all is forgiven. Rick asks why he should trust him considering what he did to Jadis' people (Negan is still oblivious the extent of Simon's mission). Rick then finds Lucille.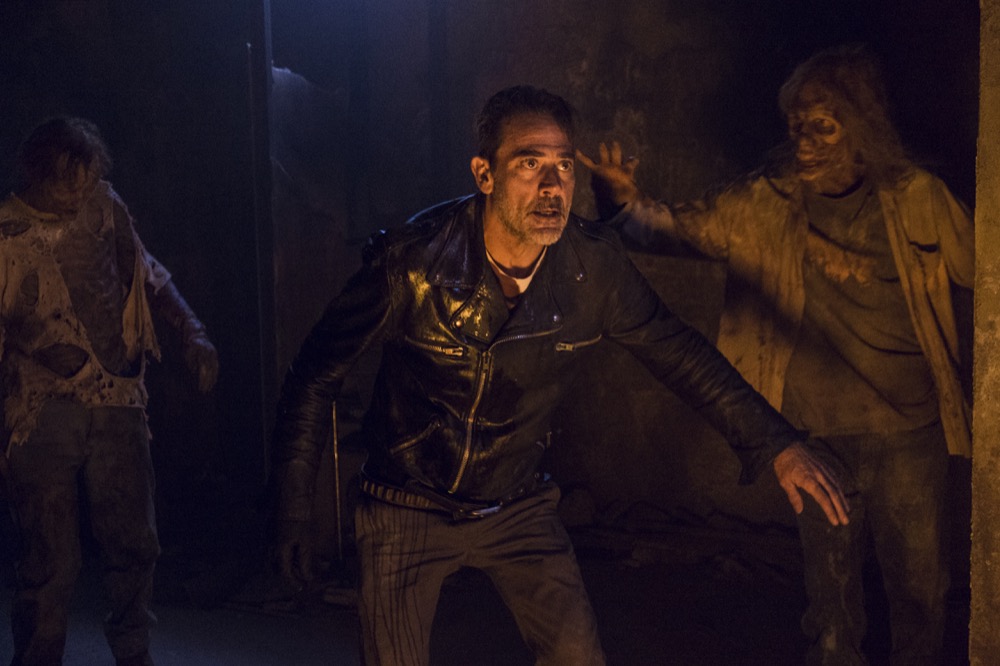 Simon presses Dwight on his allegiance to Negan, suggesting the war isn't worth it and they should branch out to other locations. Suddenly, they discover Negan's overturned car covered in blood (from the walker gut bucket he brought). Simon's desperate for him to be dead and suggests they return to The Sanctuary as the new leaders. Dwight takes a long drag from his cigarette and flicks it onto the car – lighting it on fire and effectively answering Simon's question.
Elsewhere, Rick yells to Negan that he can't save anyone, including his bat. He then lights Lucille on fire and gets tackled by Negan. The two wrestle while walkers pour in. The walkers catch on fire and overwhelm the two of them. Negan retrieves Lucille and the two of them battle back the walkers.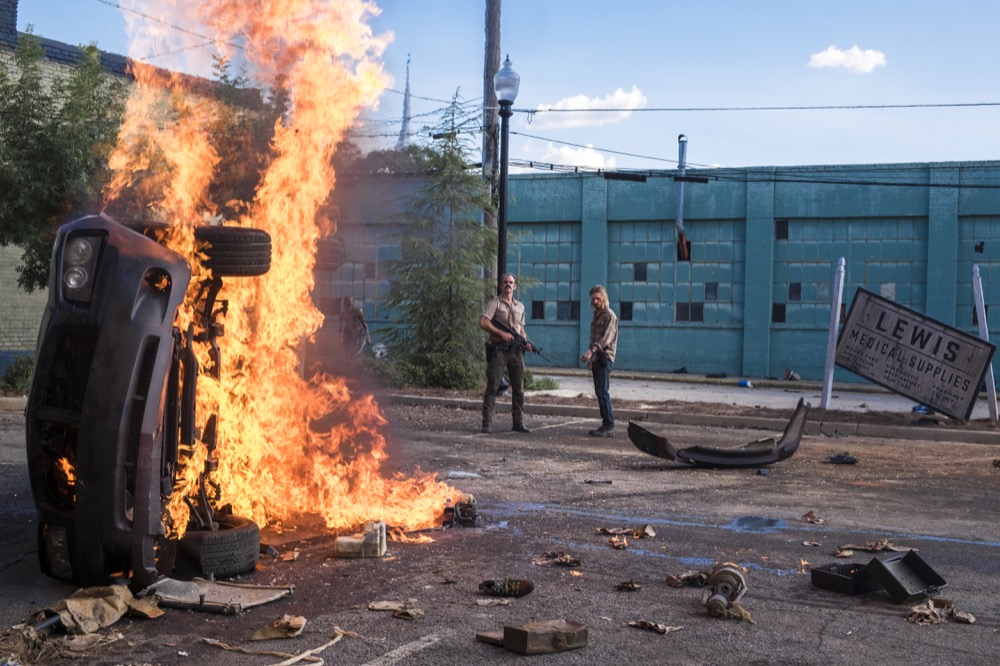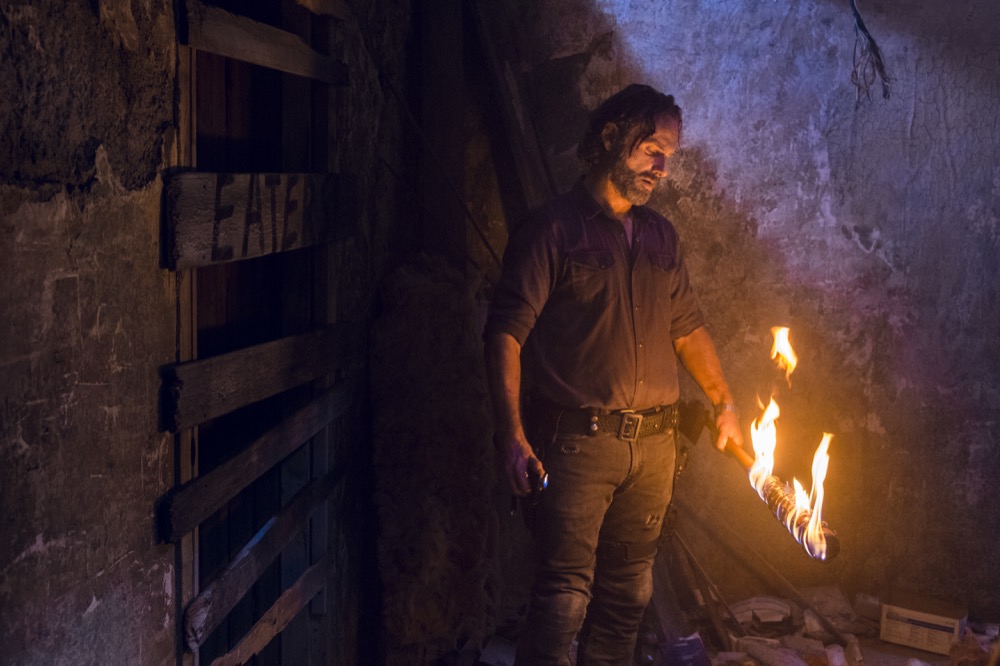 Back at The Hilltop, Maggie, Enid, and Michonne debate what to do about Georgie. Enid thinks they should take their stuff while Michonne tells her to step back. They decide to comply with the deal, and Maggie hands her a crate of records. Georgie then changes the deal – saying she'll now exchange food since they appear they need it. She then hands Maggie a book called "A Key To A Future," which includes instructions on farming and other community building techniques. She then tells Maggie to "build this place up" and she expects the crates to be filled when she returns. Maggie smiles and seems happy for once that something good happened. Georgie and her team leave and then Enid confesses to Michonne she killed Natania.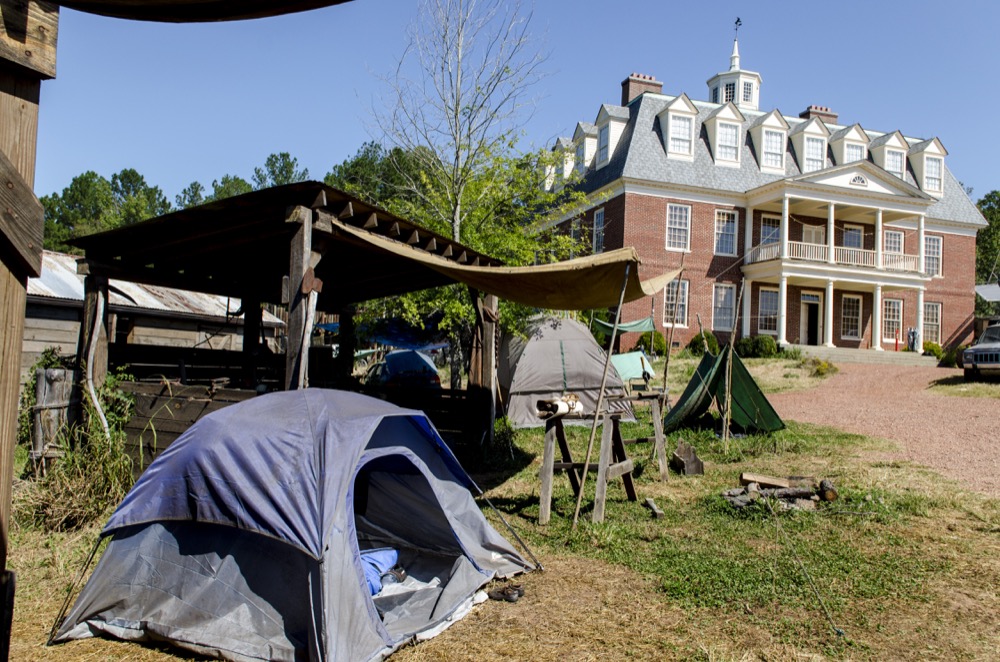 Simon and Dwight inform the Saviors that Negan's gone. He then affirms they're all Negan and they need to now expunge Rick's people once and for all. Elsewhere, Negan wakes up in a moving car to find Jadis holding him at gunpoint. He laughs and she knocks him out.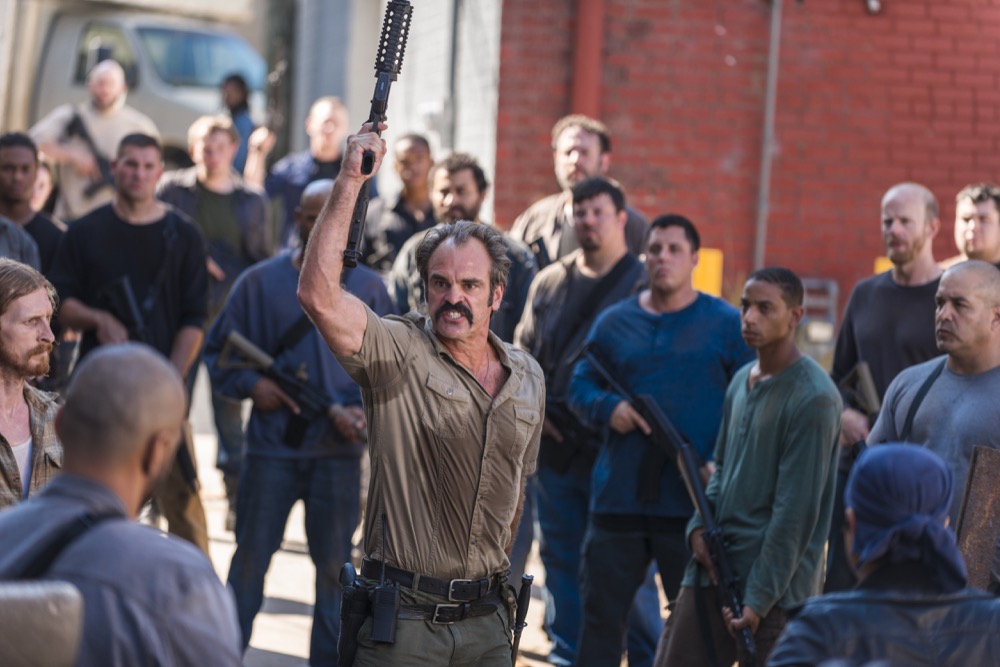 ---
What did you think of this action-packed episode? Do you think Georgie could be a certain major comic character? And is Simon now in charge? Let us know in the comments!