"Mercy"
It's the calm before the storm. Rick, Maggie, and Ezekiel deliver an inspiring speech reminding their people they have a right to the world. As we see the communities prepare for battle, Rick experiences a trippy dream-like sequence where he's an old man – it's still not clear if it's real or not. Carl tries to help a hungry stranger at a gas station, but Rick scares him away. Carl's upset but Rick warns him he could have been a Savior. Meanwhile, Dwight sends a secret message to Daryl that reads "Tomorrow" while Tara and Carol wait out a walker horde on a bridge. Rick experiences another flash forward of him as an old man, this time waking up in a bed.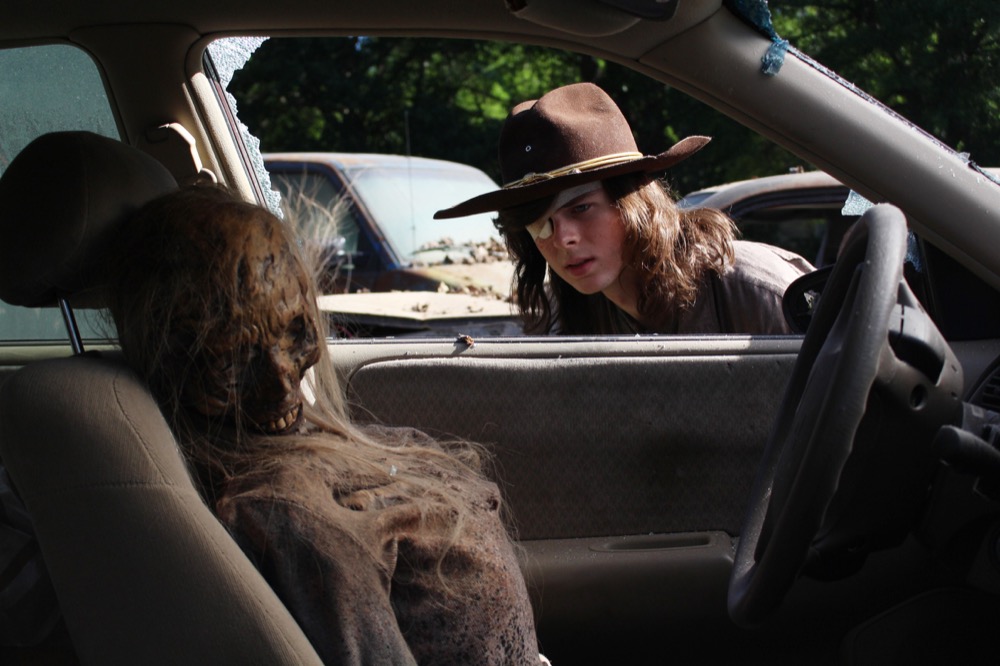 Back in Alexandria Rick laments the upcoming battle with Father Gabriel, who's surprisingly prepared for it. He bids farewell to Michonne and Carl while he and a fleet of armored cars depart Alexandria. A bit later Rick robs a Savior who threatens him and his family. Rick lets him get eaten by a walker and now with the lookout clear. he signals the rest of his team to move through.
Rick and his crew meet up with Ezekiel, Maggie, Jesus, Gabriel, and others. Ezekiel promises victory and Rick reminds Maggie how proud he is of her for leading The Hilltop. Elsewhere, Tara, Morgan, Carol, and Daryl blow up a car to lure a horde of walkers down the road. Rick's group arrives at The Sanctuary and fires collective warning shots meant to draw out Negan. Rick experiences more of his dream, where he now walks around his kitchen and greets an older looking Michonne and Carl.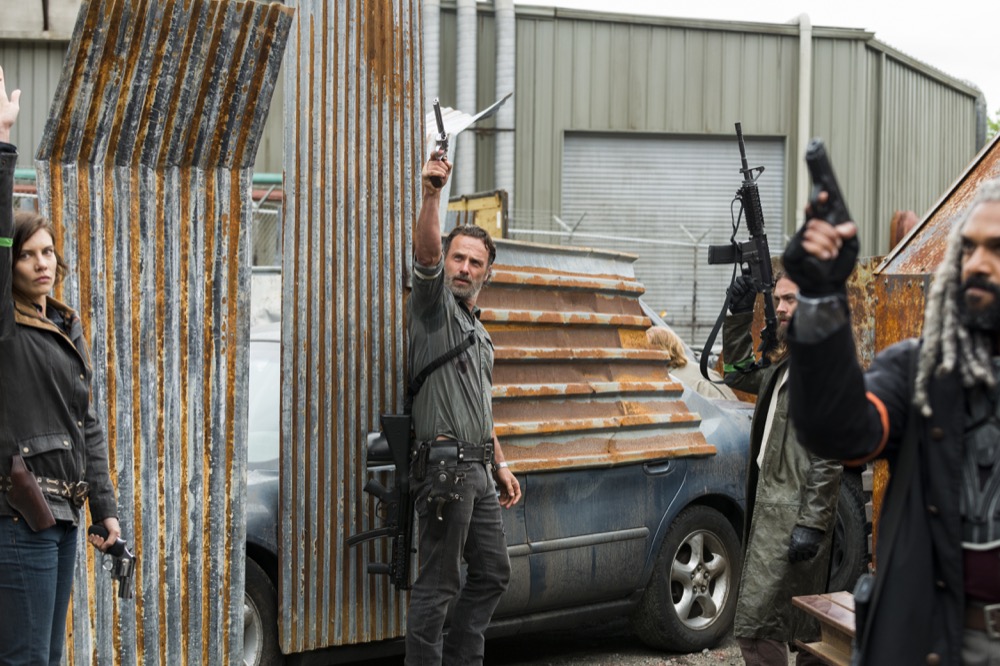 Negan emerges from his home amused and tells Rick and his group there's no need to open fire over an ego-measuring contest. Rick offers peace in exchange for surrender. Negan questions if Rick has the numbers to pull this off and then brings out Gregory, who asks The Hilltop to join the Saviors or risk getting kicked out of the colony. Not one person comes forward and Jesus yells, "The Hilltop stands with Maggie!" Shocked and disgusted that Gregory tricked them, Negan tells Simon to kick him off the balcony.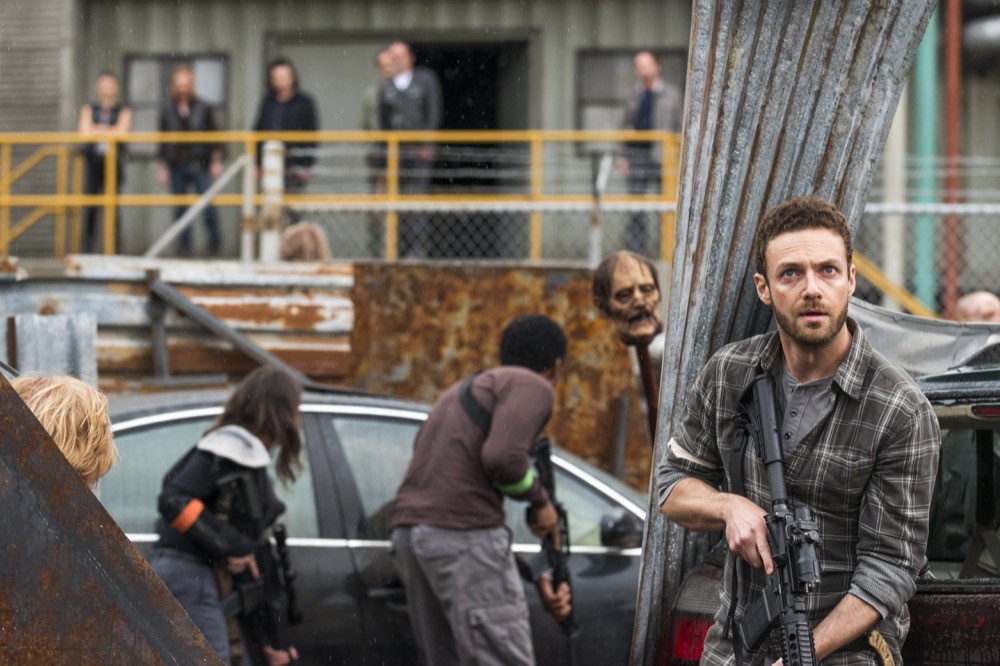 While all this is playing out Daryl, Carol, Morgan, and Tara tripwire traveling Saviors nearby, blowing up their cars. Negan hears the commotion while Rick and his group open fire at The Sanctuary, causing Negan and The Saviors to retreat inside. Some of Rick's group blare the car horns while Daryl blazes an explosive path for the walkers toward The Sanctuary. The allied group ignites the RV by the fence. Rick almost kills Negan but Gabriel takes him as the walkers close in. Gregory runs out and steals Gabriel's ride and leaves. Elsewhere, Carl returns to the gas station to give food to the survivor he found earlier.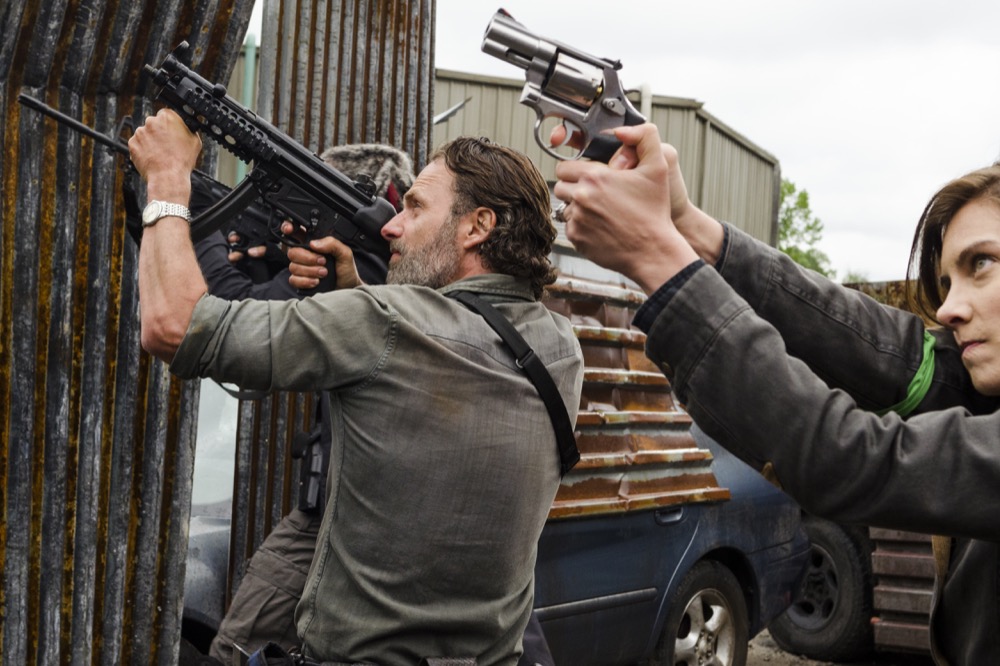 In the aftermath of The Sanctuary attack, Rick reunites with Daryl while Carol and Ezekiel embark on their own mission. Walkers infiltrate The Sanctuary while Gabriel tries to find a way out. He holes up in a trailer and finds Negan, who delivers the infamous shitting pants line from the trailer. We get one final Rick vision, where we see Judith as a six-year-old. Michonne tells him his people are gearing up for a festival. We cut back to Rick giving another speech, where he promises his people they've already won.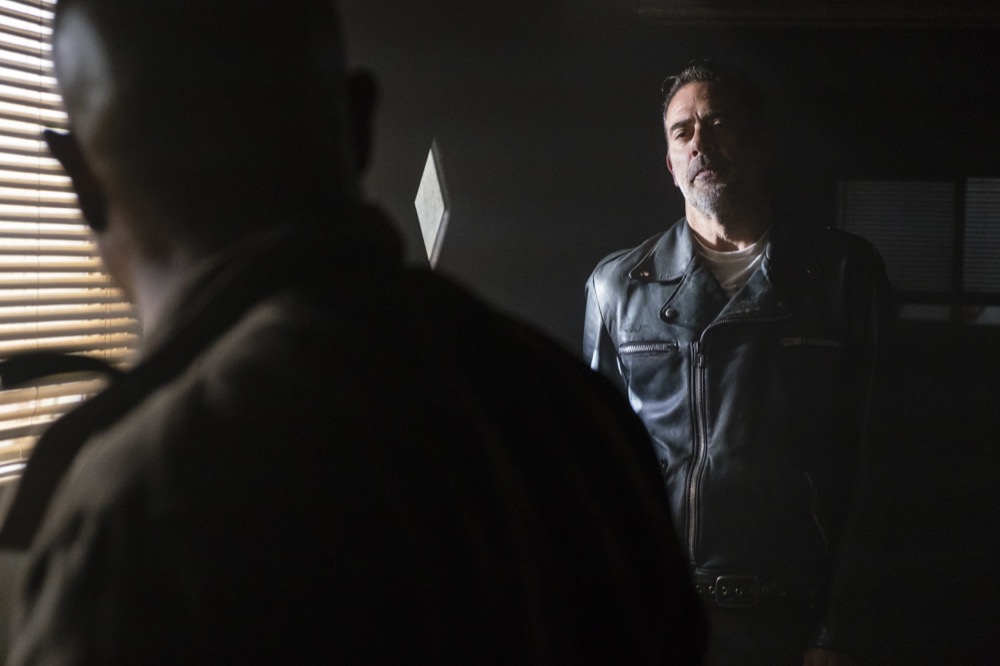 ---
What did YOU think of the Season 8 Premiere of The Walking Dead? Tell us in the comments!