"Scars"
Moments after Rick's disappearance, Michonne walks to the bridge and digs up his gun. A few months later, Michonne, now very pregnant with RJ, returns and runs into Daryl. He tells her he followed the river to the ocean and didn't see Rick. Michonne asks when he's going to return to Alexandria and he said when he "finds something."
Michonne cleans Rick's gun and puts it in a box marked "Judith." Flash forward to current time: Daryl, Henry, Lydia, and Connie arrive at Alexandria's gates. Michonne's skeptical of Lydia but Daryl assures her she's on their side. Flashback to another time strangers arrived at Alexandria – one of them is Michonne's old classmate Jocelyn. In current time, Henry gets his leg worked on by one of the town doctors. Daryl tells Michonne they should head to Kingdom soon.
In the past, Jocelyn becomes manic and tells Michonne she needs to get back to "them." Michonne calms her down and tells her she'll help. Later, Michonne, Gabe, Rosita, and Eugene follow Joselyn to a factory where they find kids hiding out. In the present, Michonne tells Lydia she's done things to protect this place that she's not proud of. She suggests that Lydia could make this place a lot safer if she just walked away. Sitting by the lake, Judith tells Daryl she's happy he helped Lydia and suggests they could all defeat the Whisperers if they came together – it's what her dad would have done.
Michonne tells Jocelyn she's impressed with the kids' hunting skills and Jocelyn tells her the kids are capable of anything (ominous). In the current timeline, Daryl, Henry, and Lydia leave for Kingdom at night. Michonne tells Daryl Jude's still mad at her so he suggests he tell her the truth. "That's not just a little kid you got there," he says. Michonne stares at her sewer manhole cover, which is bolted shut. In the past, Michonne and some other Alexandrians discover Jocelyn and their children are gone, along with their food supply and guns. They find one of the Alexandrians shot in the head and then Michonne sees the manhole cover wide open.
FLASHBACK: Michonne sits down to dinner with Judith and RJ. But later, Michonne discovers Judith's not in her room. She visits Negan and asks if he's seen her (he hasn't). Frustrated, she demands to know what Judith talks to him about. He says homework, stories about Rick, and how she's as much of a badass as Carl was. He also says she he shoots straight with her, and maybe if Michonne did she same she'd know where she is.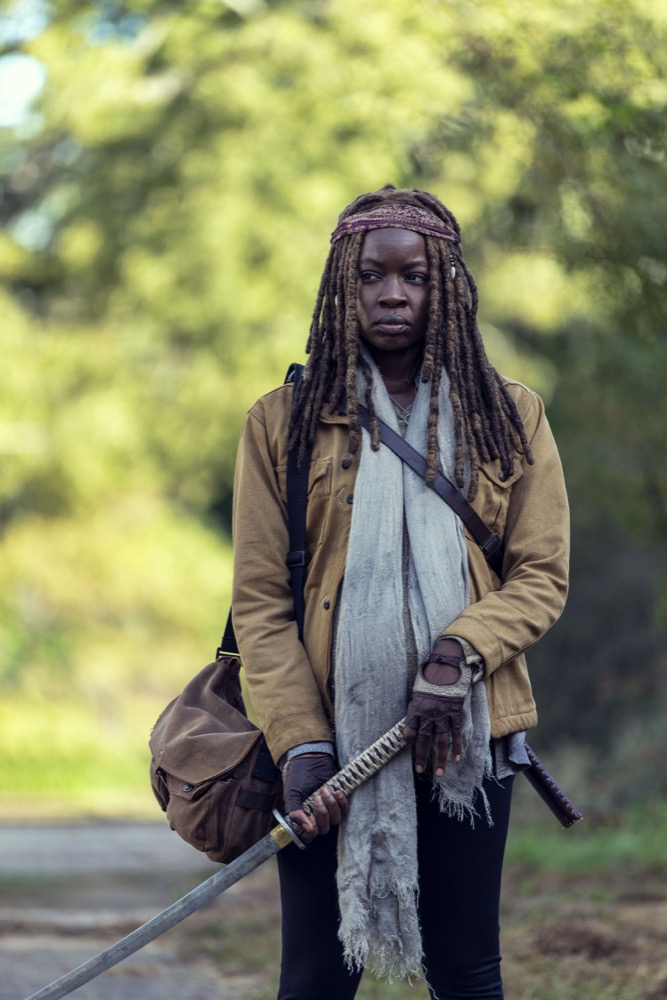 She asks if he told her what he did to Glenn and Abraham, and he says he did. He reveals Judith hates that she's not letting Magna's people in and things should be like Carl wanted them to be. Infuriated, Michonne yells that Judith is her daughter, and Negan reminds her that means she'll take matters into her own hands. Michonne rushes back home and finds a note from Judith saying she had to go to help their friends. In the past, Daryl joins Michonne in her mission to find Judith and the missing Alexandrians. Michonne laments how stupid she was to trust her old friend, but Daryl reminds her some people have too much evil in their heart.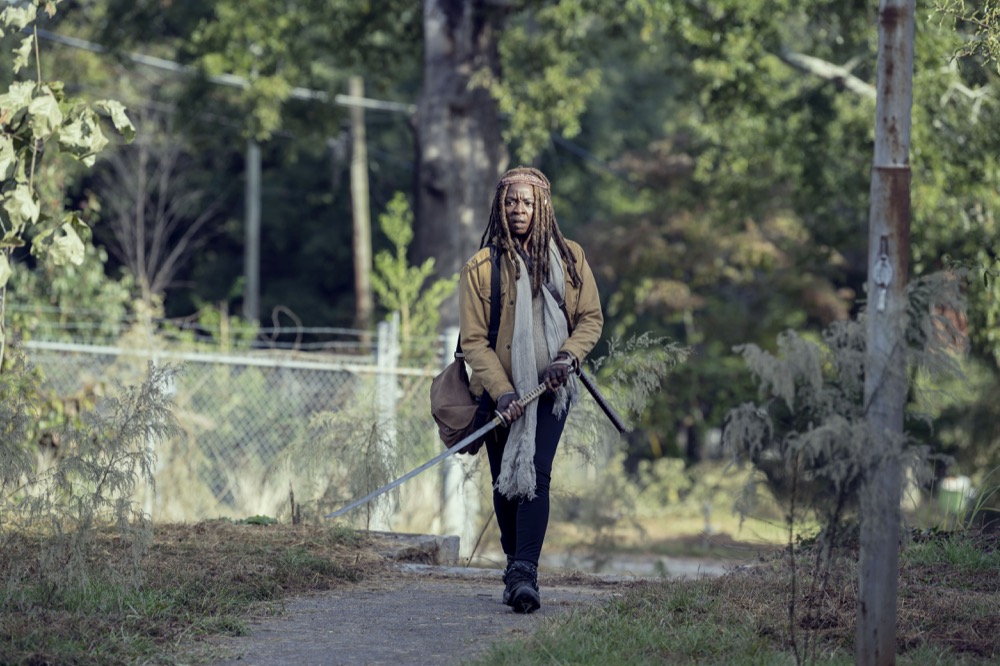 A short time later, Michonne and Daryl spot one Jocelyn's kids outside of an abandoned school. They chase him until they're met by all of the kids (minus Judith) In a hallway. One of them shoots Daryl in the shoulder with an arrow while the another knocks Michonne unconscious. They wake up bloodied and tied to a pipe. One of the boys, Linus, painfully brands an iron X on Daryl and Jocelyn tells Michonne the kids can't be soft. Linus then brands Michonne as she shrieks in pain.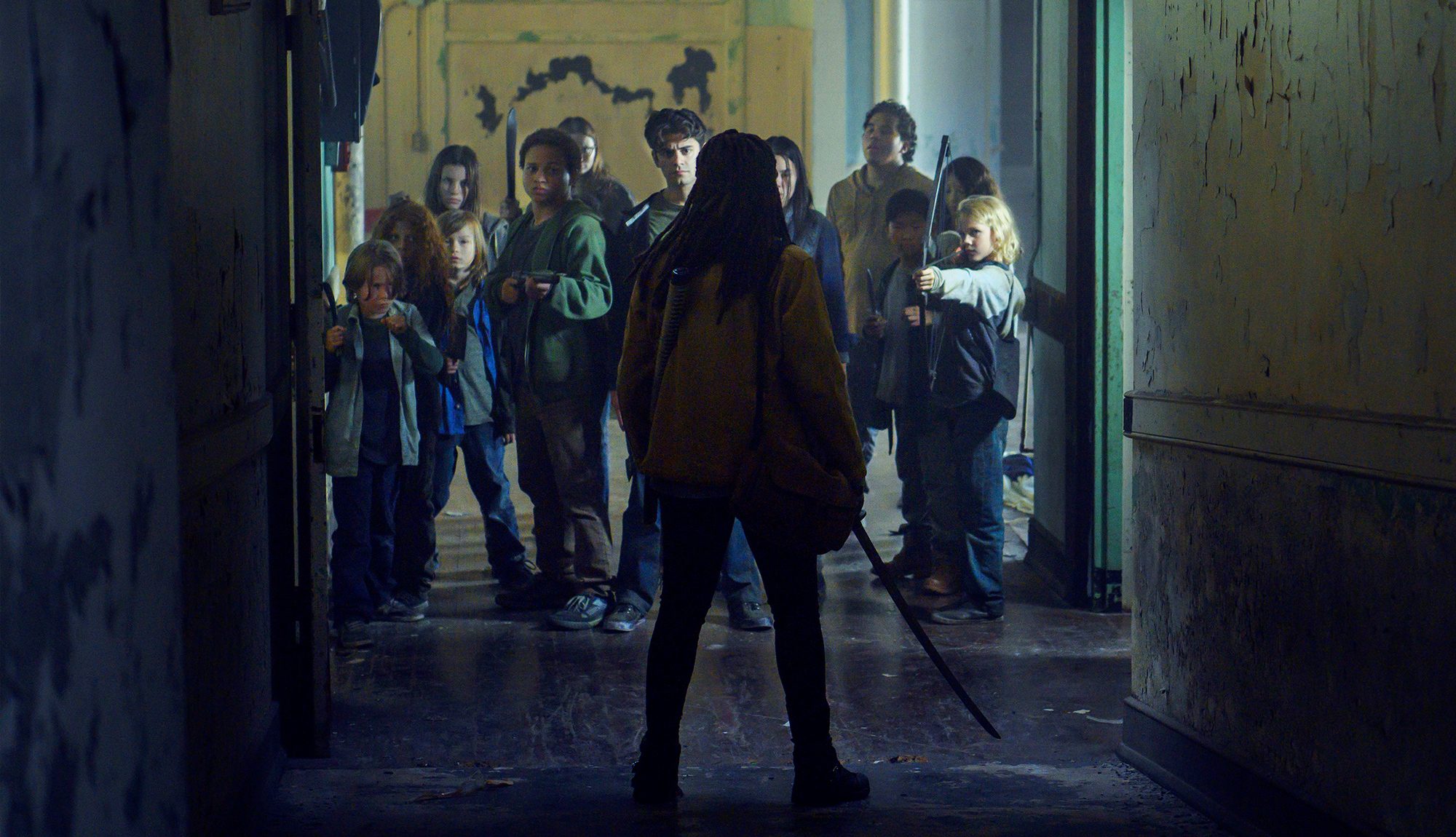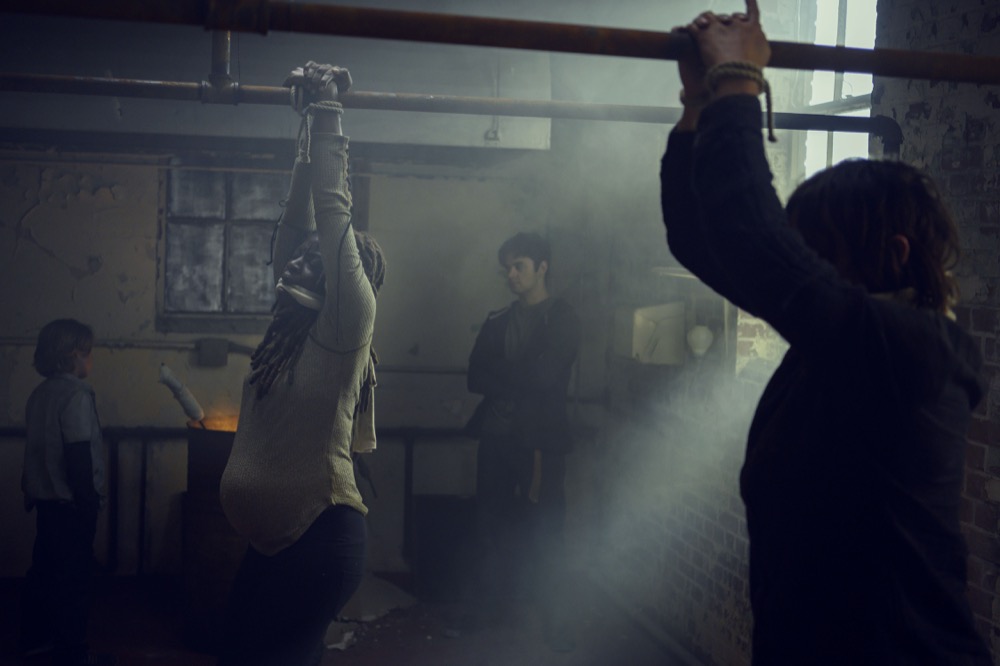 Daryl and Michonne eventually break free and split up. Michonne runs into Jocelyn in the hallway and demands to know where Judith and the rest of the kids are. As they argue a young girl points Michonne's own katana at her. Jocelyn leaves the girl and Linus to kill her. Armed only with a pipe, Michonne shoves the girl and says she doesn't want to kill them. Linus cuts Michonne's stomach with a knife and Michonne screams. She grabs her katana as the kids flee.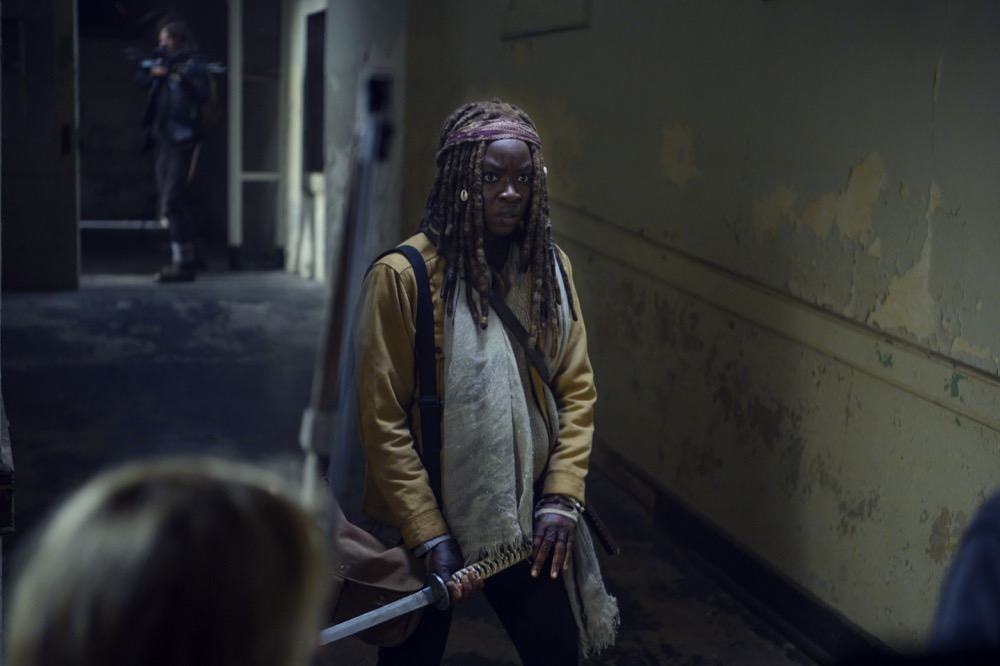 Michonne finds an exit and is immediately bludgeoned with a wooden plank by Jocelyn. Michonne summons the strength to stab her in her leg and then chest, killing her. Michonne gets up and tells the kids they can all return to Alexandria, but the older kid instructs the kids to kill the Alexandrians as he deals with her. She's forced to kill the boy as the other kids close in. Michonne begs the kids to stop but they all attack her and she's forced to kill them one by one. As this plays out, we also see Michonne in the present similarly cutting through walkers to find and protect Judith.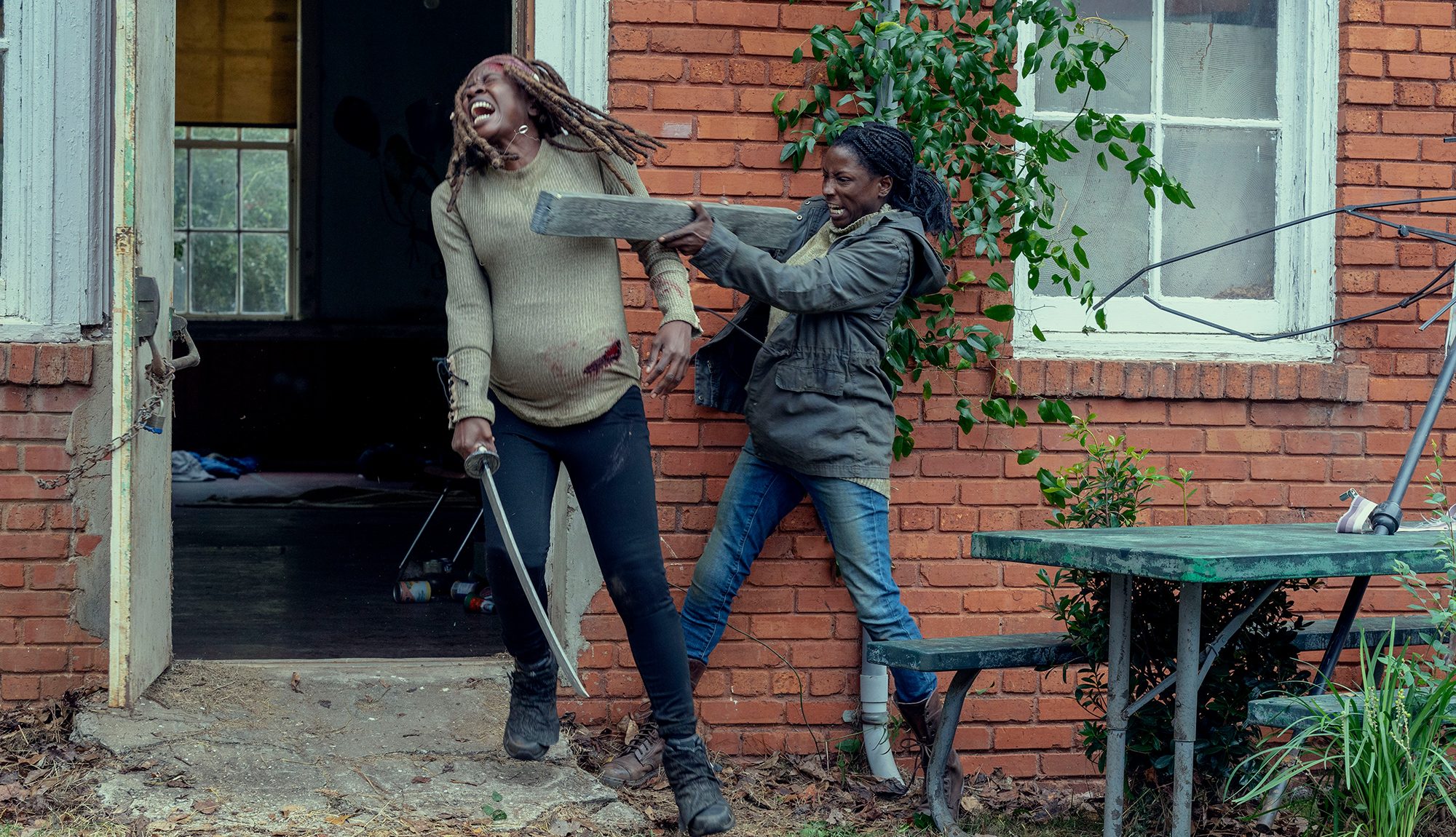 Michonne is forced to MURDER all of the kids until one remains. Seeing all of his friends dead, Linus drops his weapon down and runs away. Daryl emerges from the school as Judith emerges from the trailer. Michonne and Judith embrace, finally reunited. In the present, Michonne also finds Judith, who she saves from a walker. She recalls the story about how she saved her from the kids. Judith tells her she remembers how the children were nice to her but Jocelyn was bad. She then tells Michonne that loving someone means keeping them safe and asks why they stopped loving Daryl, Maggie, Carol, and the King. Michonne says they haven't, and the two hug.
Michonne and Daryl return to Alexandria with the kids as the parents rush up to greet them. Back in the present, Michonne tells Judith how she changed Alexandria's mission to protect their own so she can keep her kids safe. But she admits she was wrong, and that they have to protect the people they love. The two ride off towards Kingdom and pick up Daryl, Connie, Henry, and Lydia along the way. Later, two whisperers watch as they arrive at Kingdom. "We should tell Alpha," one says.
---
WHEW, that was emotional! What did YOU guys think of this episode? Best of the season? Darkest one since 701? We want to hear ALL your reactions in the comments below!