"Guardians"
Finally reunited, Alpha takes no time questioning Lydia about her time at Hilltop. She talks about their farmland, supplies, and weapons, but leaves out their dealings with other communities like Kingdom. Alpha's disappointed over her lack of intel so Lydia asks if that's the only reason she came for her. "What a stupid question," Alpha says.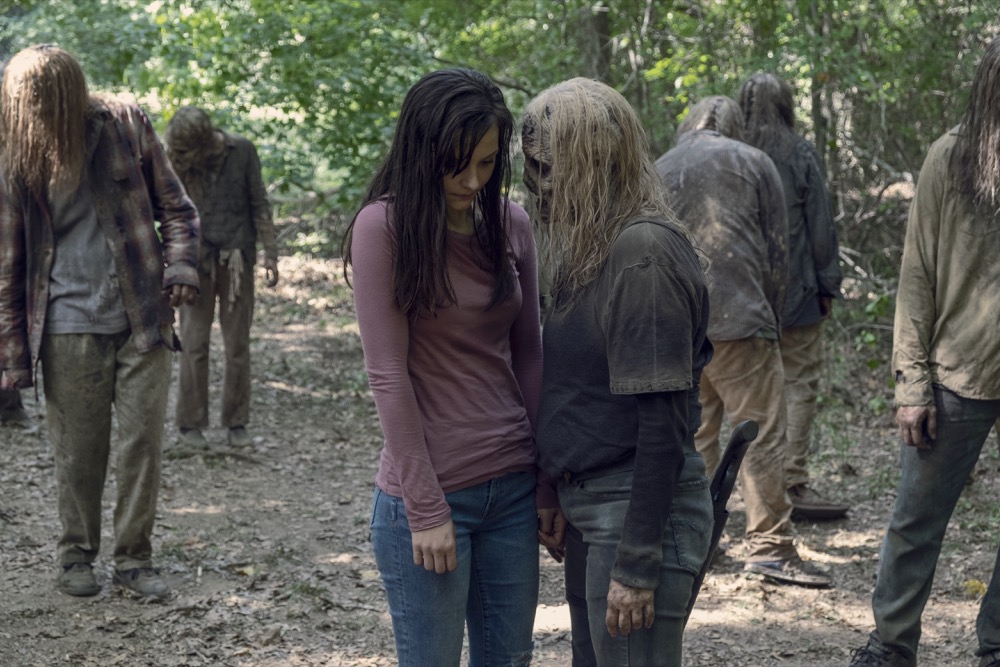 In Alexandria, an irate Michonne scolds her council for keeping her in the dark about their radio mission. Gabe argues they should be more open to new communities but Aaron reminds Gabe about the Whisperers and how they should trust Michonne's discretion. Siddiq argues that Michonne's not always right and her decision to cut ties with The Kingdom proves it. Michonne draws a hard line and asserts she's not willing to sacrifice her people to save the Kingdom. Later, Gabriel briefly laments his problems at the council with Rosita. He doesn't elaborate so she brings up her pregnancy, saying she wants him to stay despite carrying Siddiq's baby.
Elsewhere, Henry catches up with Lydia and the Whisperers and watches them from a close distance. A Whisperer asks him to put down his staff but Henry knocks him out. A giant Whisperer, Beta, grabs Henry from behind and tosses him in front of Alpha. He says he's been tracking Henry for a while, but Henry's been tracking them for longer. Alpha questions him as Beta threatens to break his arm. Henry relents and reveals he came alone to get Lydia. She calls him stupid and cold cocks him in the face. Alpha laughs and decides to bring Henry along.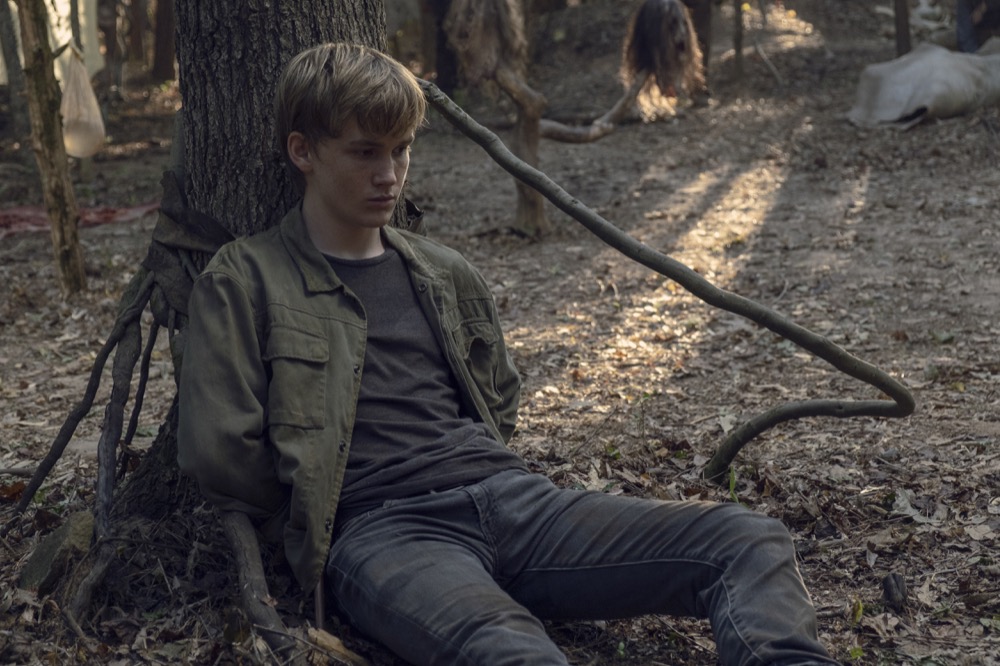 Back at Alexandria Eugene shows Gabe his risk/reward calculations if he should stay with Rosita or not. Gabe brushes it off but Eugene warns him he'd be a fool to let her go. Back in the woods Alpha asks Lydia why she didn't mention Henry and she says he wasn't worth mentioning. Alpha reminds her that this guy just risked his life to save her, so she must be lying. They arrive at the Whisperer camp, which is full of people not wearing their walker skins. Alpha instructs Beta to get Lydia a new skin.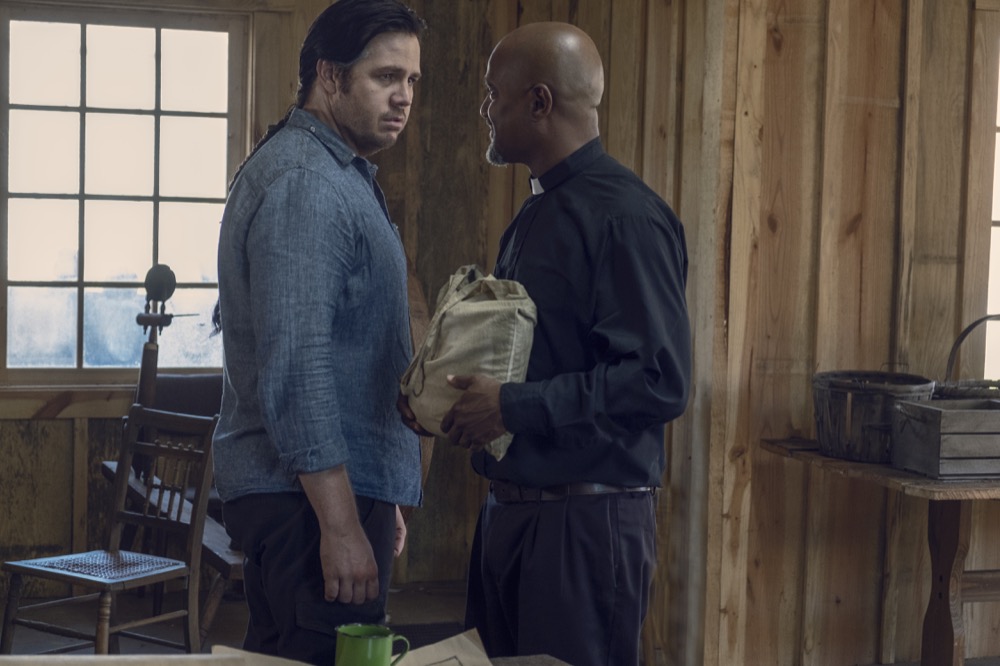 Michonne visits Negan at his cell to ask why he came back. He tells her how he could have bashed everyone's head in at their homes but chose not to. Michonne surmises he actually tried to give the outside world a shot but was spit back out when he found nothing. He confirms her theory and suggests she start trusting him if she doesn't plan to kill him. She's not buying it but he suggests he could help with her counsel problems. She shuts that down, too and then sees Judith watching them from his cell window.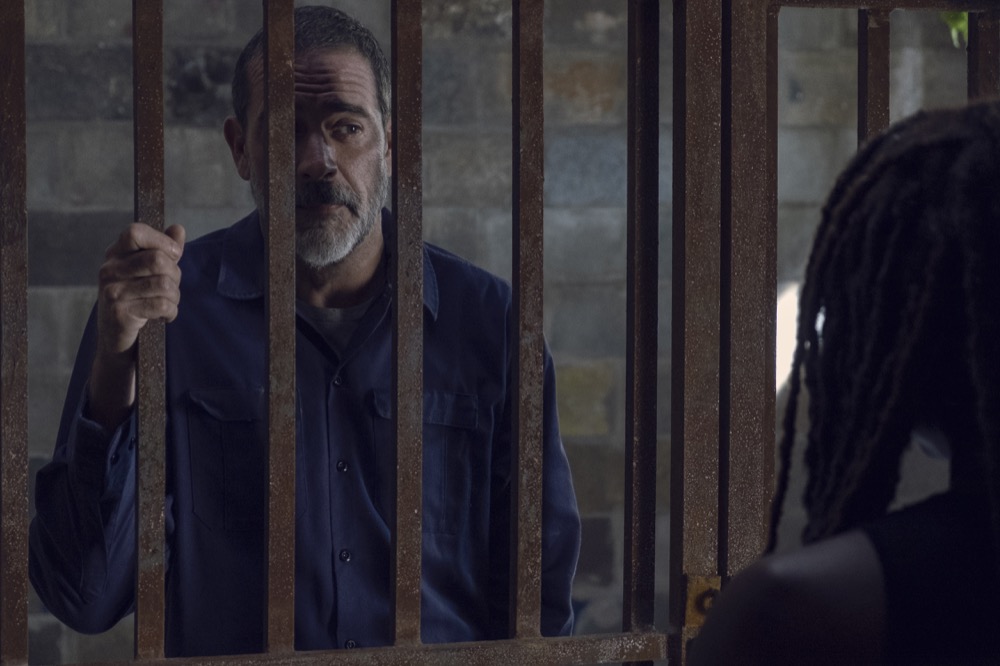 Connie and Daryl hunt for Henry and realize that the Whisperers caught up with him. Nearby, Beta skins a walker head to use for Lydia's mask. Alpha taunts Henry when two of her own approach her to question why they gave up two people for her daughter. "I don't like that math," the man whispers. Alpha reminds them she did it for intel. Still, the man issues a challenge for her leadership role. Alpha laughs in his face and Beta grabs the man from behind and holds a long knife to his throat. "You're changing the rules again," the man says calmly.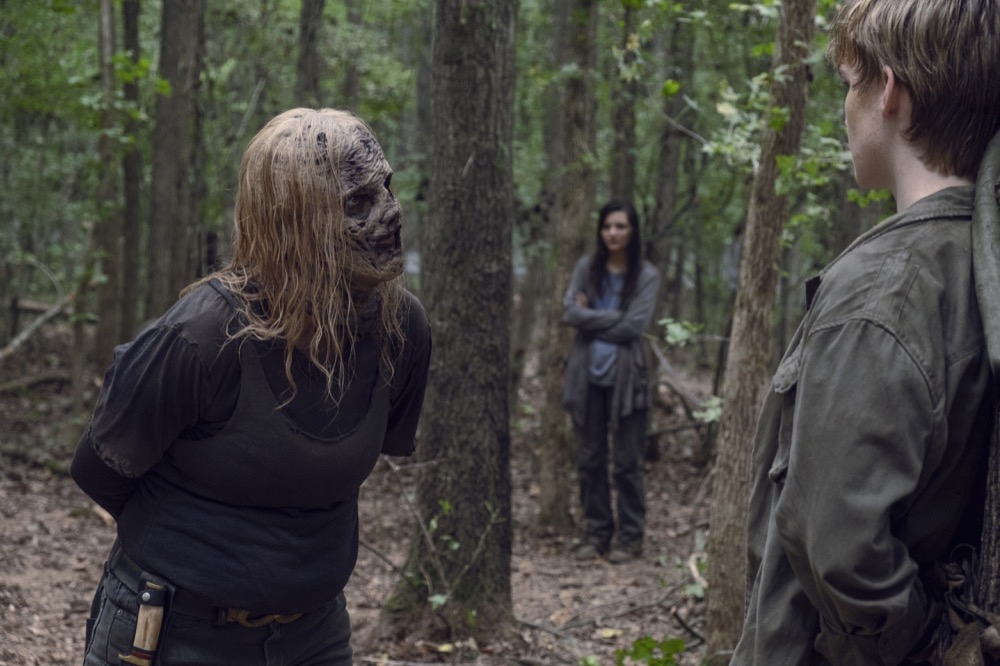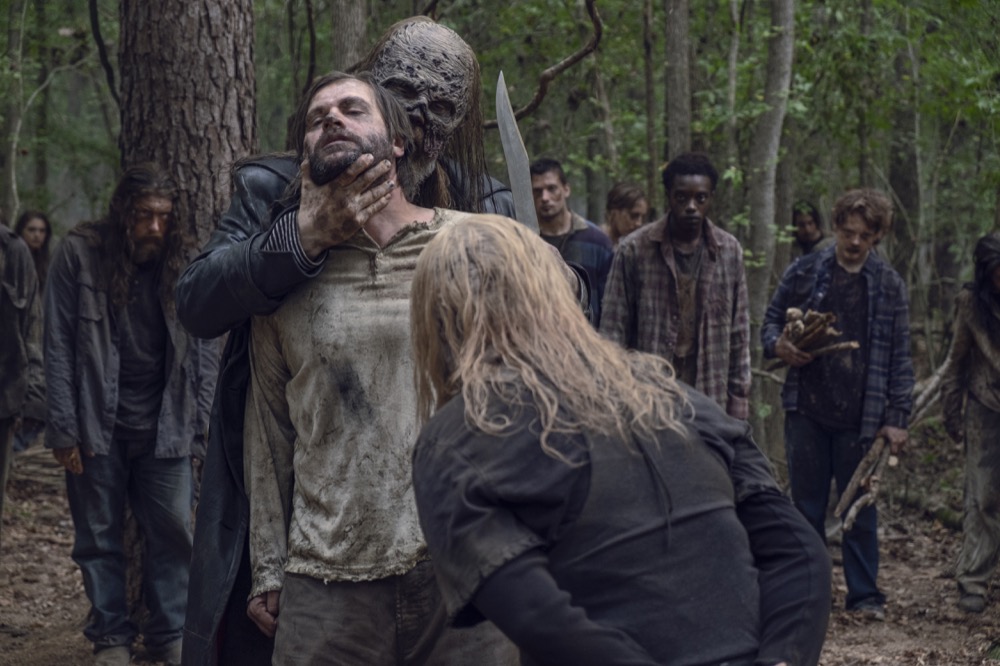 Alpha confirms he has the right to challenge her position, but she has the right to defend it. She then turns her attention to a woman and suggests it's actually her who wants to be Alpha, not the man. The woman tells Alpha she failed everyone by putting them in danger. Alpha tells the woman that her people voluntarily follow her because she keeps them safe. Alpha wraps a wire around the woman's neck until her head pops off. Alpha holds it up to her people as Henry looks on in horror. Alpha hands the head over to the man, tells him crying is for the weak, and stabs him in the gut.
Michonne questions Judith on why she was spying on her earlier. Judith says she was actually there to see Negan, revealing she sometimes talks to him out of sympathy. Michonne calmly explains why that's a bad idea but Judith argues he actually listens to her. Michonne firmly demands she not go near him because he's a monster and if he got out he would continue to be a monster. Judith reminds her he DID get out and wasn't a monster, proving he has changed. Michonne says people don't change and Judith responds, "You did." Speechless, Michonne sends her to her room.
At the Whisperer camp Lydia shows Henry she still has the necklace he gave her, signaling she secretly supports him. Alpha tells Beta about the time before the apocalypse when she hit Lydia hard for almost suffocating in a dry-cleaning bag. She tells him you have to do whatever it takes to protect what you love. "We need to be ready when they come for the boy," Beta says. They both agree Henry can be useful and they need to find out if Lydia truly has feelings for him. The Whisperers draw actual walkers to the bodies of the couple they killed as Daryl and Connie watch nearby.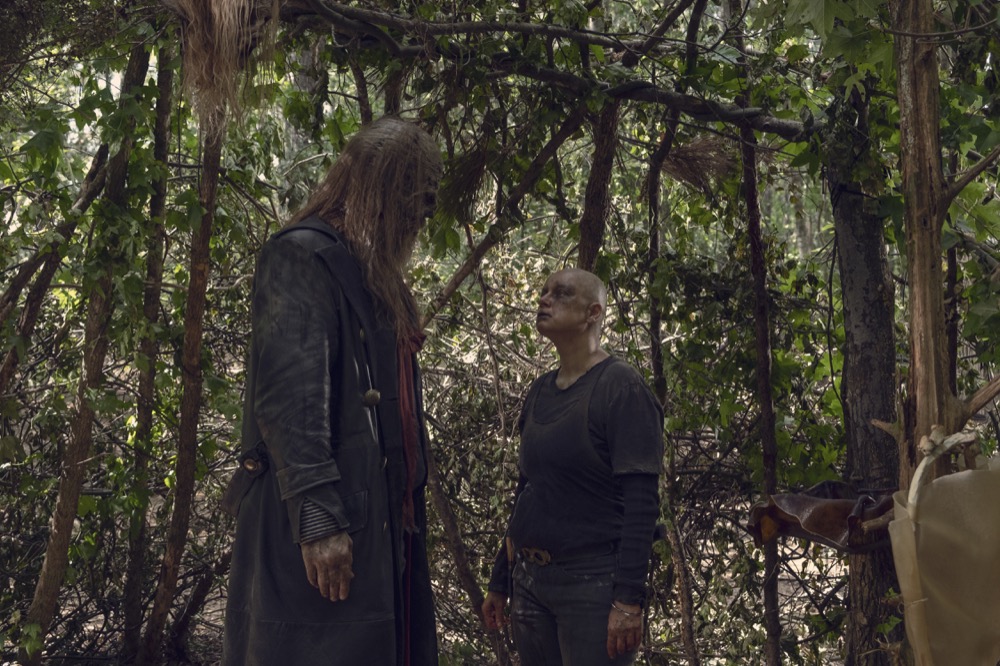 Gabriel follows Eugene's advice and visits Rosita to talk things over. Michonne then talks to Aaron to announce she has decided to let the council send a delegation to the Kingdom's fair. Aaron pushes back but Michonne says the people should be allowed to decide for themselves. "I hope we don't regret this," Aaron says. Later, Alexandria prepares a caravan of food and supplies to send to the Kingdom for the fair.
That night, Beta takes Henry to Alpha. She makes Lydia pick up a knife and tells her to kill Henry with it to prove what side she's on. Lydia begins to cry as she approaches Henry. Alpha warns her not to be weak like her father, and that if she doesn't kill him Beta will kill them both. Suddenly, a small herd of walkers show up and begin eating the unmasked Whisperers. Alpha and the others quickly put on their masks and Henry tells Lydia they have to go. Daryl and Connie arrive disguised as Whisperers to rescue Henry. They grab Henry, who grabs Lydia, and together the four of them escape.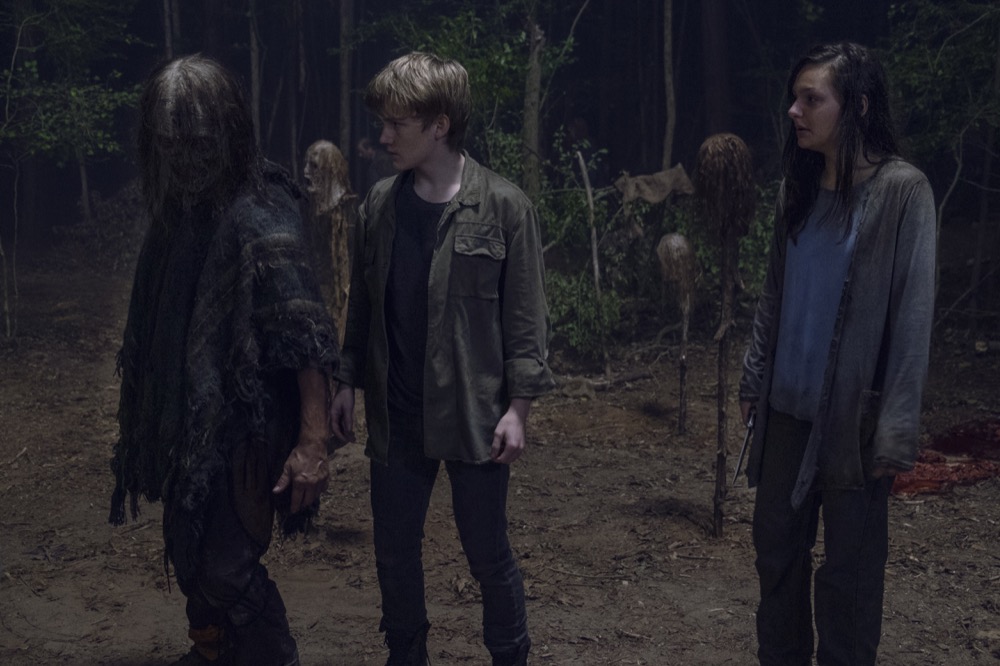 ---
What did you think of this week's new Walking Dead? Since the ending differed from the comics what do you predict will happen next? Let us know in the comments and make sure to check out our comic/show comparisons!