We're doing yet ANOTHER fan mailbag to answer all your burning questions before Sunday's finale. We grouped similar questions together so you can feel like we addressed it. As always, we cannot spoil the show, but we CAN give you hints and deny certain conspiracy theories. So *Phil DeFranco voice* let's just jump into it (please don't sue us).
---
Daryl & Carol Update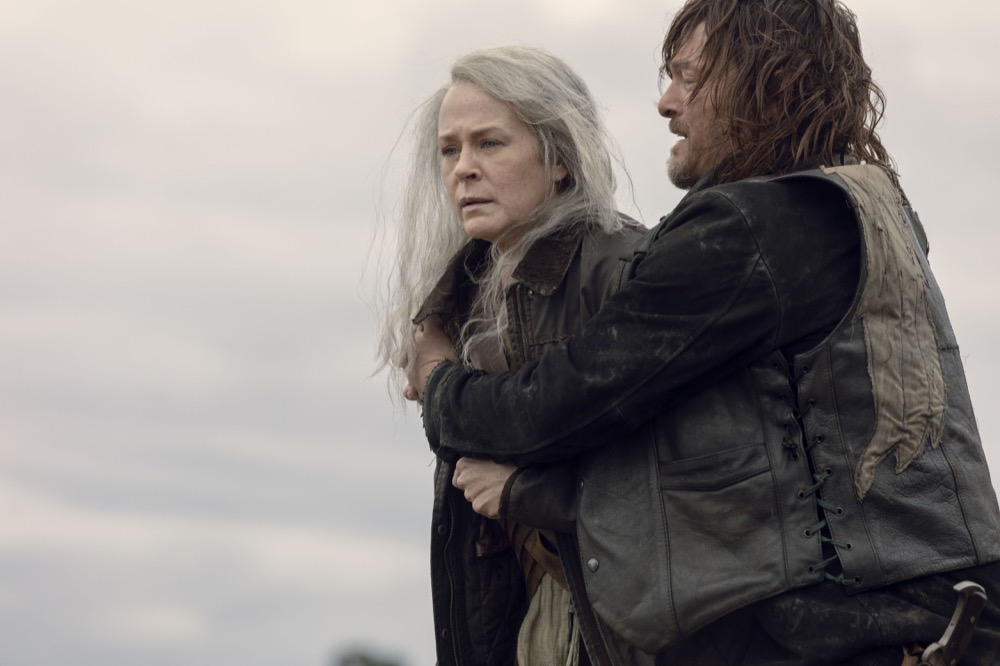 Can you tell me anything good about our faves Carol & Daryl!!! Please ??? pic.twitter.com/t3WvJaZMMj

— ? Marlène Laplume ? (@Mariloune) March 28, 2019
We really can't spoil anything, but there will definitely be moments with Daryl and Carol in the finale (like this one) that will have you guys talking. Speaking of…
Will we get a lot of Daryl and Carol interaction? ?

— Elinor Engström (@NonaMithla) March 28, 2019
Yes. And…
I was thinking that Lydia may be a sort of closure for both Carol and Daryl…it all began with a girl, Sophia,who unfortunately couldn't be saved,and it will end with another girl,Lydia,who hopefully they will keep safe.
Just a thought I was having.

— MarziaMelissaStan (@MarziaMel) March 28, 2019
Hmmm!
Should we keep an eye on this particular scene? pic.twitter.com/H7e6QdNPDd

— MarziaMelissaStan (@MarziaMel) March 28, 2019
??‍♂️
---
Daryl & Ezekiel Update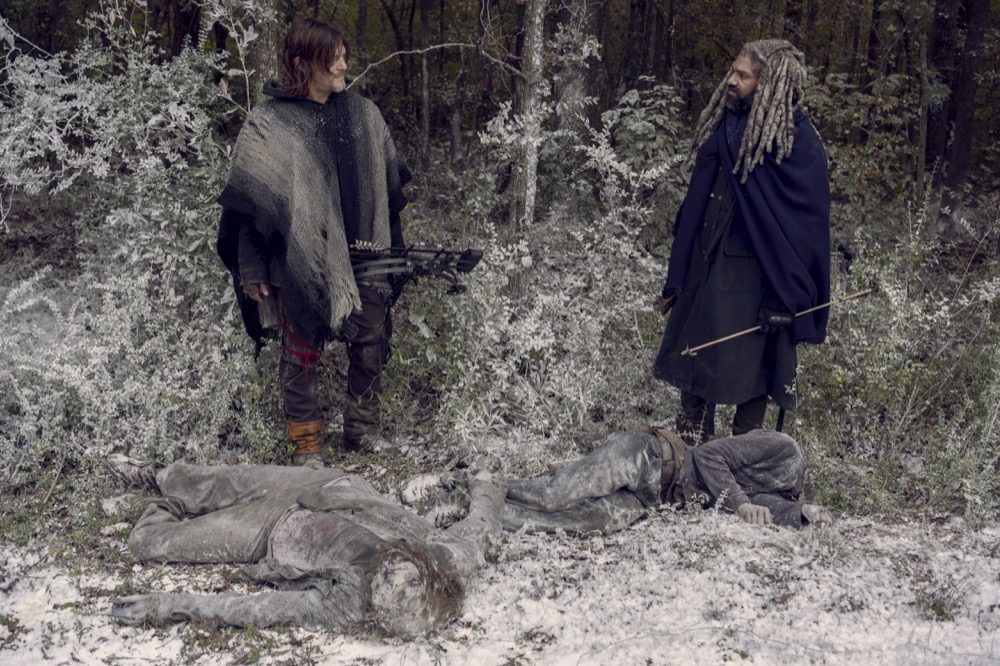 This photo of Daryl and Ezekiel?? What's going to happened ?… pic.twitter.com/pqMTJfJGdM

— Zainap?? Norman and Melissa ❤ (@ZainapMcReedus) March 28, 2019
Whew boy, don't want to spoil that either.
are Daryl and Ezekiel going to talk about Carol?

— MarziaMelissaStan (@MarziaMel) March 28, 2019
You'll have to wait and see!
---
The Henry Effect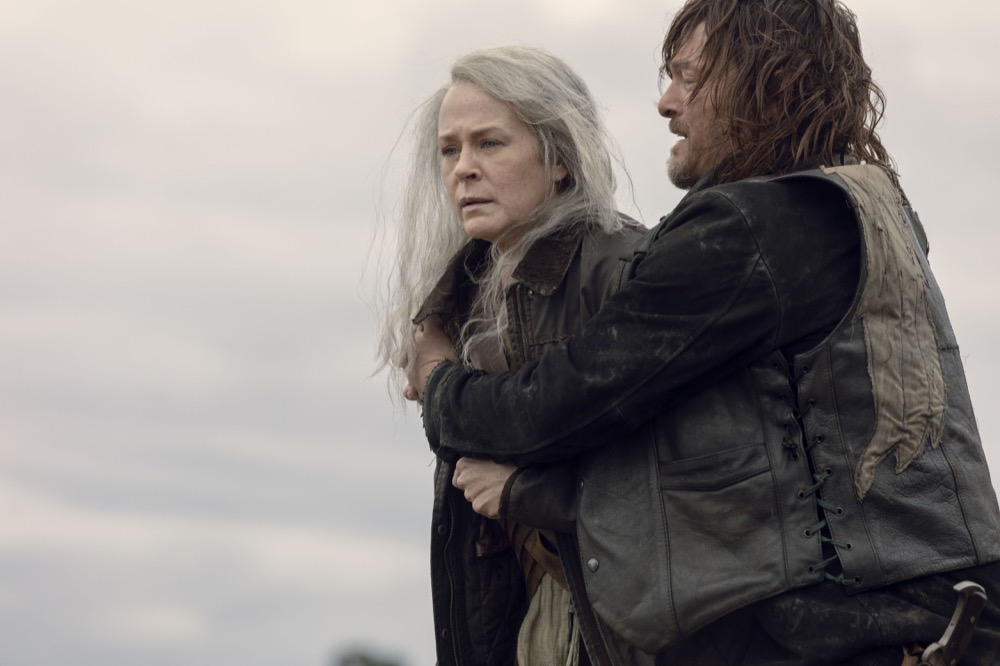 Nicotero clearly said that Henry dies for a purpose regarding his relationship with Carol, Daryl and Ezekiel. What do you have to add about this?

— ? Marlène Laplume ? (@Mariloune) March 28, 2019
Here's what we can say: Henry's death will obviously affect Carol and Ezekiel the most – but you'll see Carol suffer from it more in Sunday's finale. That's not to take anything away from Zeke, people deal with loss in different ways. And every lost kid doesn't make it any easier for Carol, and this latest death will greatly inform her next decisions.
---
More Connie and Daryl?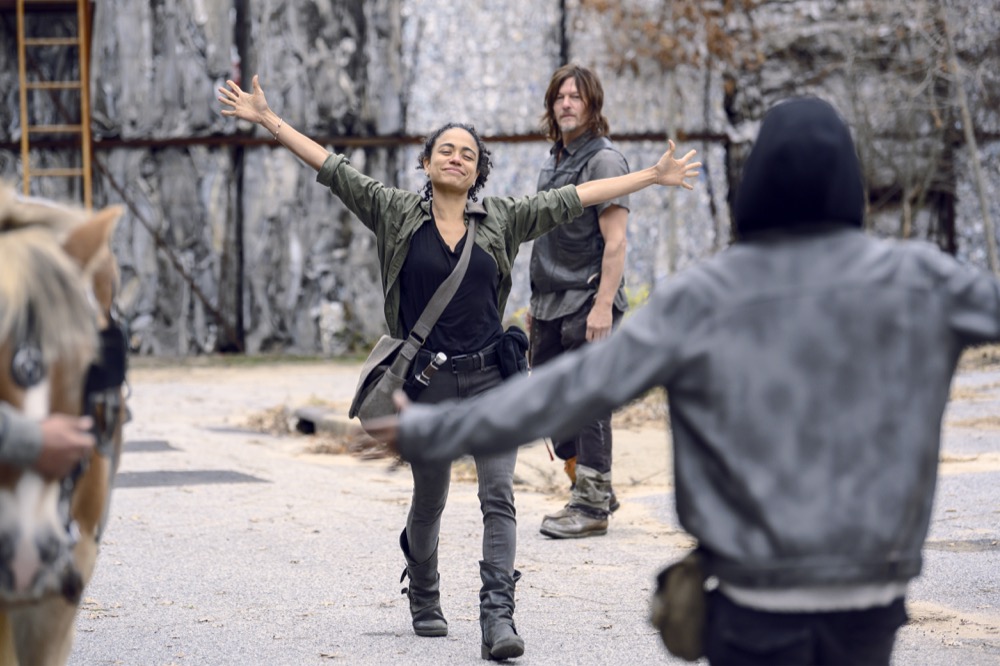 Will Connie and Daryl get a scene together?

— USS Donnie (@UssDonnie) March 28, 2019
Will we see Connie and Daryl interacting int the finale?

— Mary (@MaryNyanKitty) March 28, 2019
Will Connie and Daryl get together?
VERY IMPORTANT QUESTION BECAUSE I SHIP DONNIE

— iloveunicorns124 (@ElizabethM0405) March 28, 2019
Damn, you guys are really out here for Donnie (and we're not mad at it, they're cute). Don't expect much this week, though.
Some more context on Donnie in general – Connie actress Lauren Ridloff was recently asked by TV Guide about a potential relationship with Daryl and she said "I don't know," Ridloff said. "I can say that they definitely have a lot in common. They both don't really speak that much. And they both are very strong leaders. They both are very loyal. They will do anything to protect the people that they care about. So I think they definitely have those things in common. Friends or more than that? Who knows! You'll just have to keep watching."
And to answer another question…
What about Lydia and Daryl? How are They gonna be moving forward?

— Anya7890 (@Anyaof7890) March 28, 2019
Lydia will struggle to find her place in a post-pikes world. She's away from her people, the guy she was closest to just got murdered, and half of the community probably judges her. As for Daryl, he'll also have to weigh if he belongs at Hilltop, Alexandria, or back in the wilderness.
Is Daryl asexual?

— BIG HEADACHE (@sbduman) March 28, 2019
It's possible! As far as we know he hasn't been romantically involved with anyone since the apocalypse started. But also – see Lauren's comment above.
---
The Grimes Sibs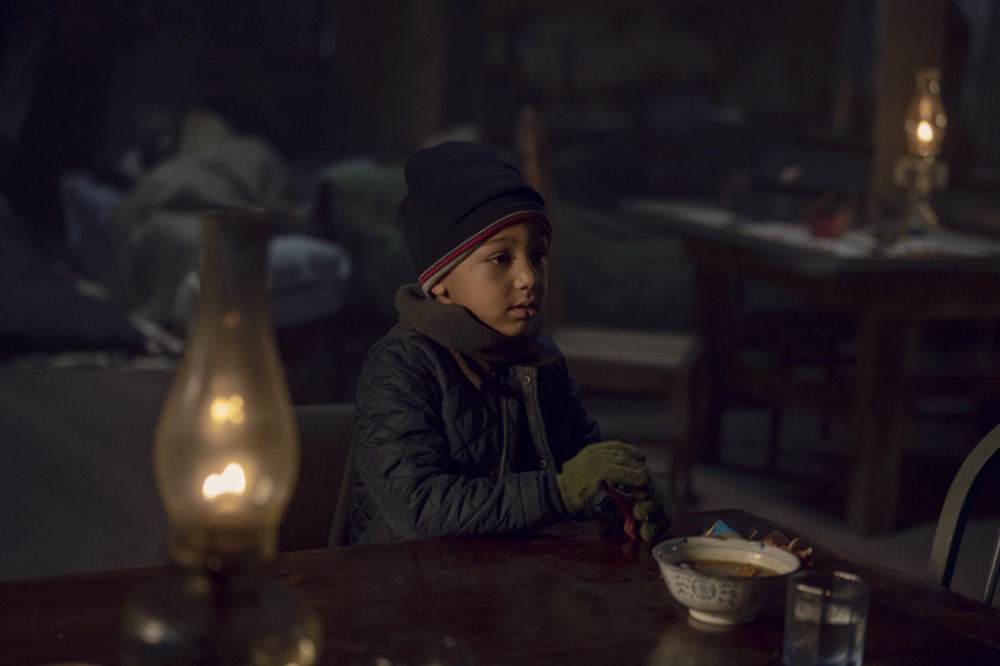 are we gonna see judith and rj building a snowman

— danii ? | fan account (@michonnesokoye) March 28, 2019
Snowman? Not sure. But a snowball fight? Maybe!
can we get more rj scenes?

— kayla (@thegrimesonly) March 28, 2019
Sure! You'll get your fill on Sunday.
Are they being protected and kept warm? Because they better be! pic.twitter.com/TsHT6jdXFO

— sugar loves the Grimes Fam | Fan Account ? (@teamrichonne) March 28, 2019
They're definitely being protected and kept warm. But that's not to say they won't be in danger, either.
---
ANOTHER Time Jump?!
The new time jump is a small one?

— Zainap?? Norman and Melissa ❤ (@ZainapMcReedus) March 28, 2019
Yes, as you can see in the picture above Rosita is a lot more pregnant than she was in 915. So although it's not a major time jump, it's safe to say we've skipped ahead a couple of months since the pikes.
---
Return of Henry?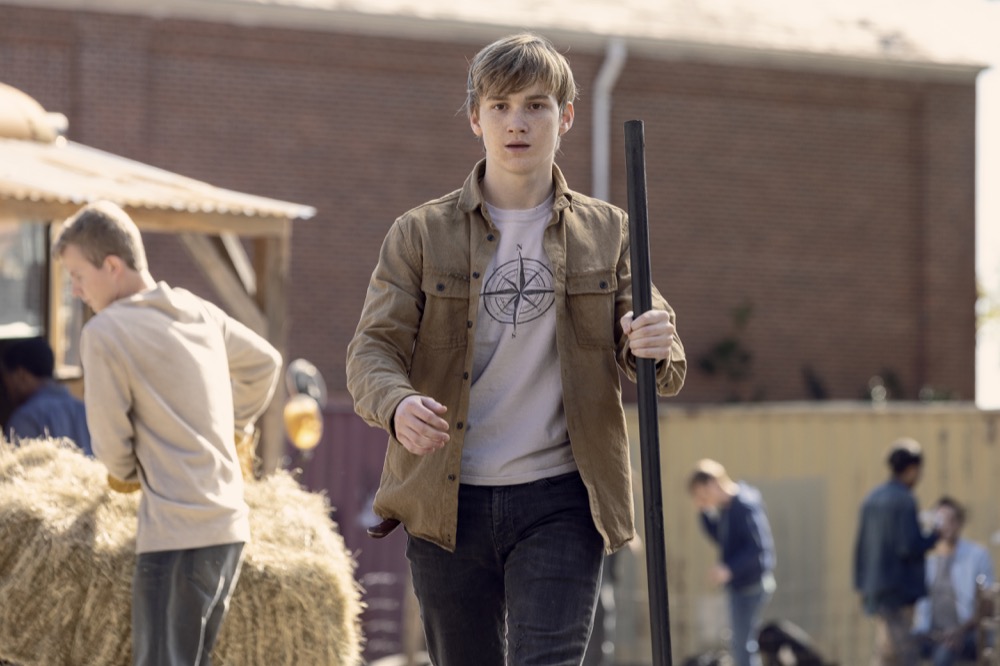 can u glue henry's head back on, i miss him

— shannon (@fgsmaynards) March 28, 2019
Working on it, but as you can imagine, it's a mess.
---
Carol Assassin Part 2?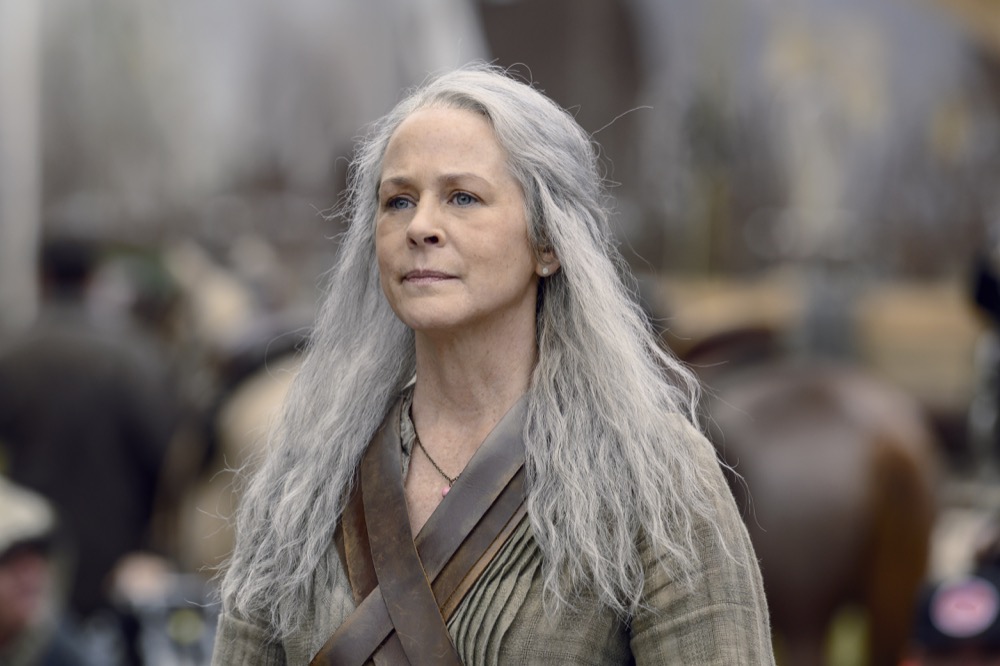 Does Carol cut her hair, go rogue, and infiltrate the whisperers to take them out from within?

— Jennnnn ? (@ZedWordJen) March 28, 2019
As we've seen from *checks notes* every season, Carol's certainly capable of going 0-Rambo in a second. But as you can see in the images from this week's episode, we're more focused on the journey to Hilltop. Though who knows!
---
How Is Winter Coming?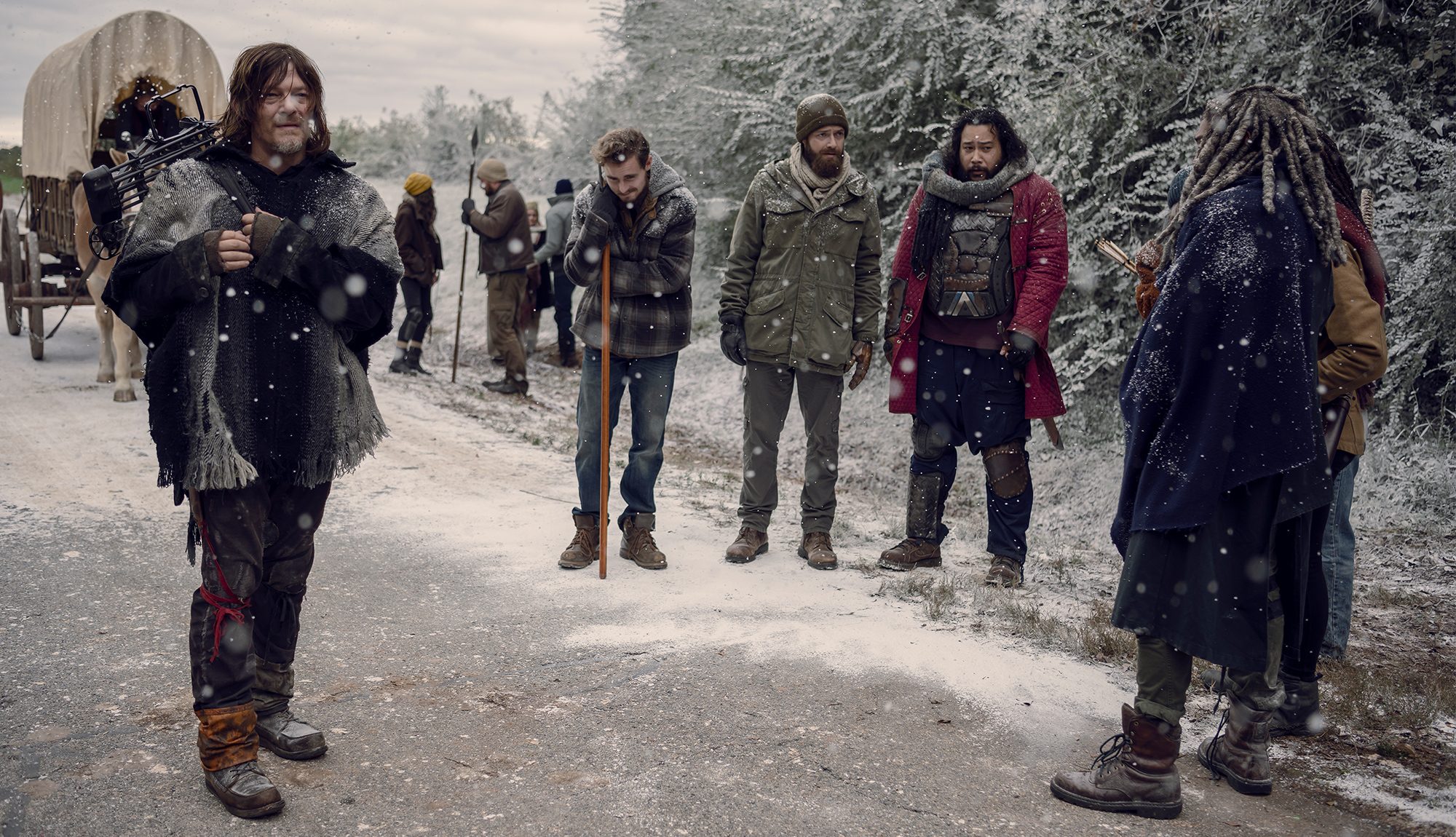 How did they film all the winter scenes?

— Jennnnn ? (@ZedWordJen) March 28, 2019
I'm sure you'll find out on Talking Dead/BTS features released next week, but mostly it was a mix of outdoor locations and in-studio set designs. It's actually really awesome when you see it behind the scenes. Also –
how's aaron doing? i already know the answer but still

— river (@aarondaryls) March 28, 2019
Aaron's good, but he's really cold. Please send him a blanket.
---
Princess Casting?
Who would you like to see play as The Princess because I have a feeling that she will debut in the next season #TWDFamily pic.twitter.com/pDqpt598b4

— Julian Cannon?@AwesomeCon 2019 (@julianexcalibur) March 28, 2019
Hm, we don't want to tip our hat on who would make a great a Princess because if someone else gets cast then we'll look like jerks. And also, don't hold your breath on seeing her next season. While it's entirely possible she could show up, typically each season covers 20 issues of comics. So if we're at Issue 144, and Princess was introduced in 171, it could stand to reason we might not see her until Season 11 (knock on wood). But then again, who knows! Who would YOU like to see rock the pink sweater and spear?
---
Maggie Update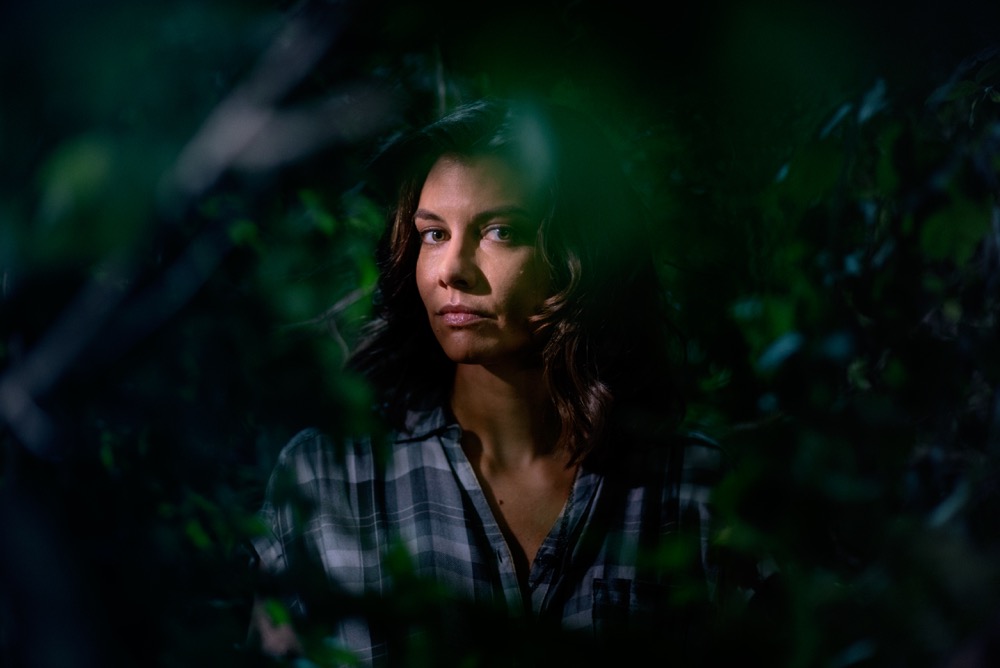 Maggie how is she and Hershel Jr? I WANT THIS ANSWERED

— lauren's carla (@inspiringcohan) March 28, 2019
Maggie and baby Hershel (who has to be almost 7 now) are doing well last time we checked. They're still wherever Georgie is and hopefully we'll get an update on them next season. Nothing new outside of that.
---
Show Catching Up?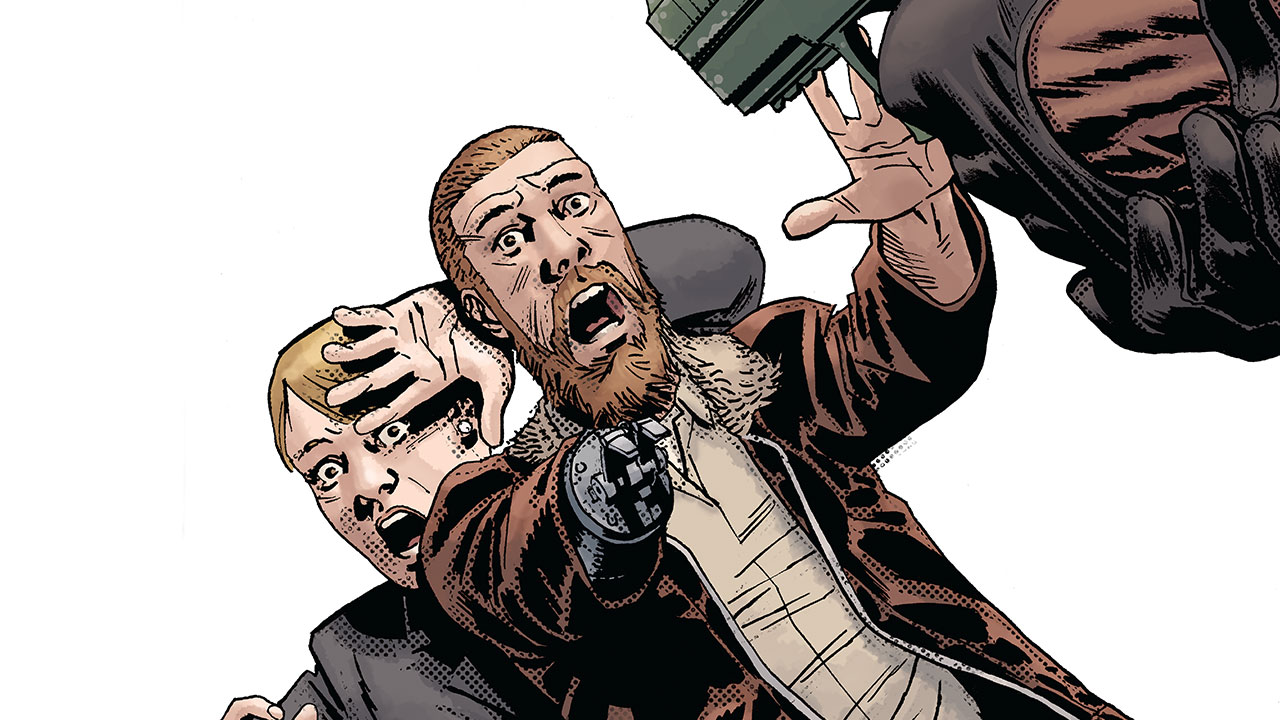 Is there a chance that the show could overtake the comics considering at this point theres a mere 40+ issue difference in the stories now?

— what (@be___human) March 28, 2019
I seriously doubt the show will ever catch up/surpass the comics. Currently, the show is at least two seasons behind the comics, so the show would have to skip over a lot of story to do so.
---
Negan Update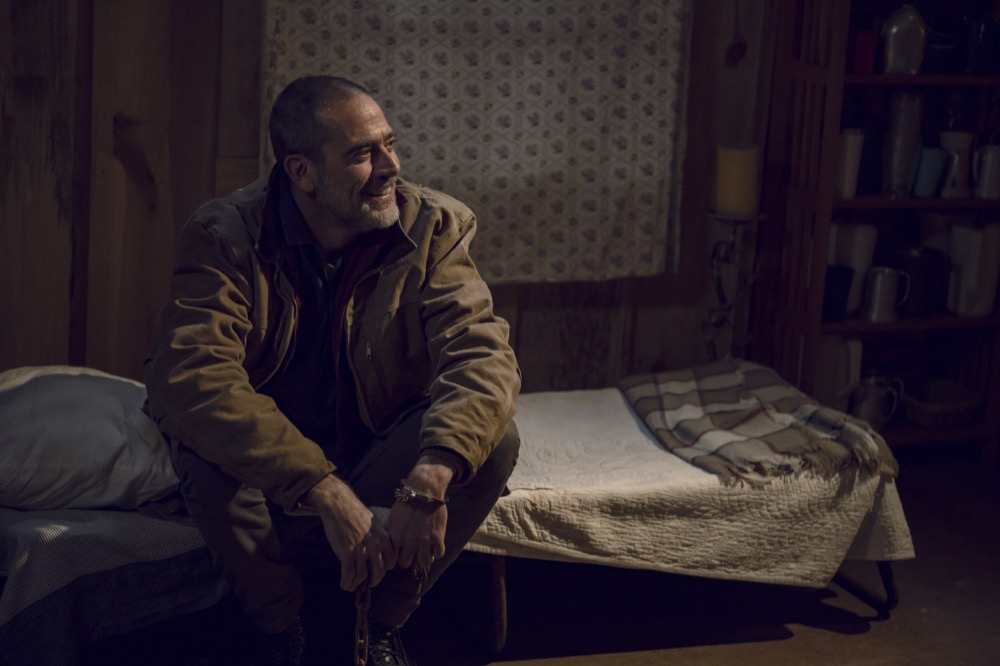 Whats happening with Negan? Is he going to follow his comic arc?

— Anu (@AnulovesCarol) March 28, 2019
Negan's great – he actually has a lot of amazing moments in the finale. None of them come from the comics, but that doesn't mean they're completely veering off his arc from the source material. In fact, his story this season has mostly stayed in line with the comics, and could set up some fabulous moments in Season 10.
Are we going to see more of negan and Judith?

— Y.Selvi (@Fangirl20032) March 28, 2019
Very possible.
---
Stranger Danger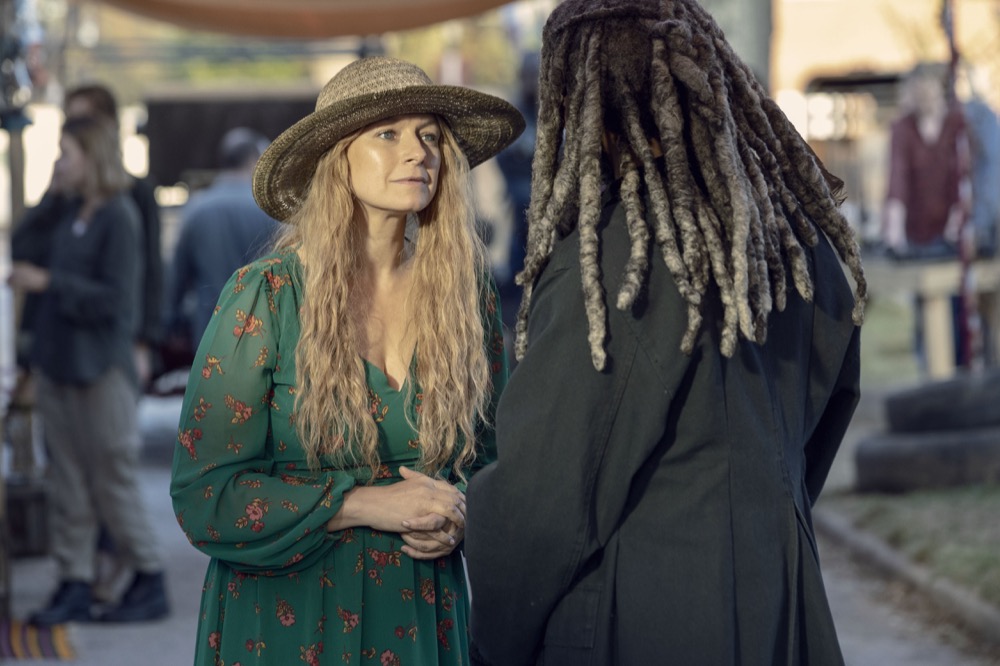 Does Ezekiel know who Debbie was now? Will someone teach him stranger danger?

— Shana*of House Silver ??‍???‍♂️???? (@Palehorse25302) March 28, 2019
Sigh, yes. It's like he said – they should have never gotten to the point where he knew so few people that she could slip in undetected. Lesson learned.
---
More Crossovers?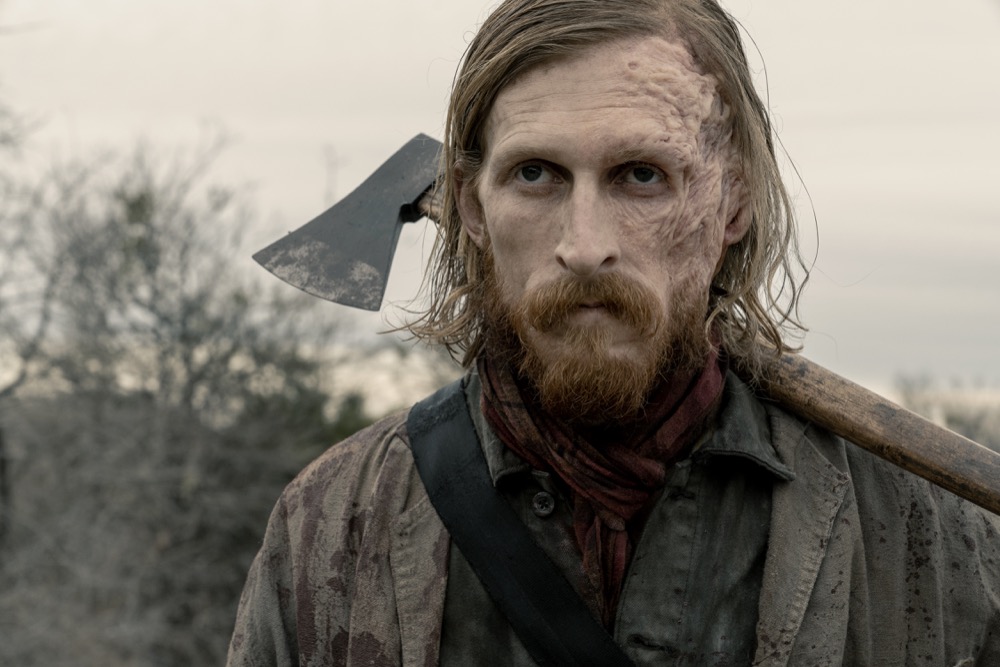 TWD and FTWD more crossover?

— Zainap?? Norman and Melissa ❤ (@ZainapMcReedus) March 28, 2019
???
---
Rapid Fire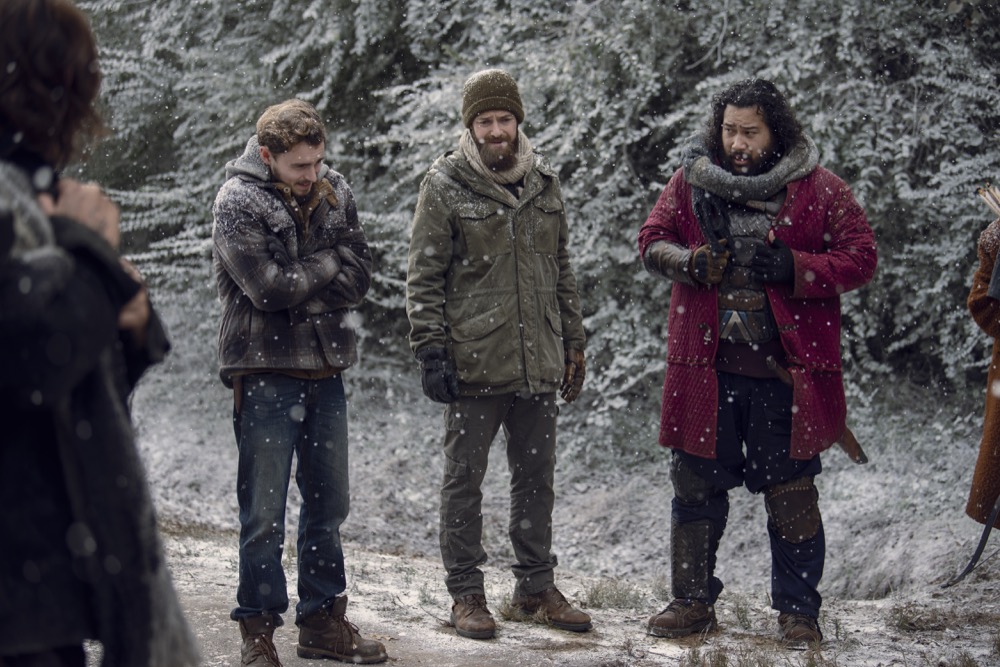 1. Are we gonna get another time jump?
2. Can you clarify what the beef was between Michonne and the Hilltop? What did she do to keep them alive that they hated her so much for?
3. Are the B characters going to get more development to make up for all of the A stars leaving?

— Noetta Harjo ? (@NettaBear13) March 29, 2019
1. Yes, see above.
2. Michonne prioritized her own community over others following the Jocelyn incident. Judith helped her realize they all need each other and that she shouldn't distrust her friends.
3. With dozens of characters in the show it's hard to keep up with everyone, but yes, you will probably see more attention paid to other characters moving forward.
could we expect to see polaroids carl took with judith in 809 again at any point in the show?

— grace loves carl and rj (@carlsrositas) March 28, 2019
Doubt it.
Are we gonna see Ezekiel's reaction on Henry and Alden's reaction on Enid?

— Mikey (@Mikey10578248) March 28, 2019
Unlikely at this point.
Will Carol kill alpha? Or do we get another season on whispers

— Ron fowler (@rjack9982) March 28, 2019
That would be a fun twist on her fate in the comics, but we couldn't confirm that even if we knew. And don't expect the Whisperers to go away any time soon.
Are they going to tell us soon where Heath is? I feel like no one cares anymore ???‍♀️

— Thorina (@pxstelink) March 28, 2019
Angela Kang already confirmed he's at the helicopter community. Or at least he was when Rick was taken.
---
Emotional Distress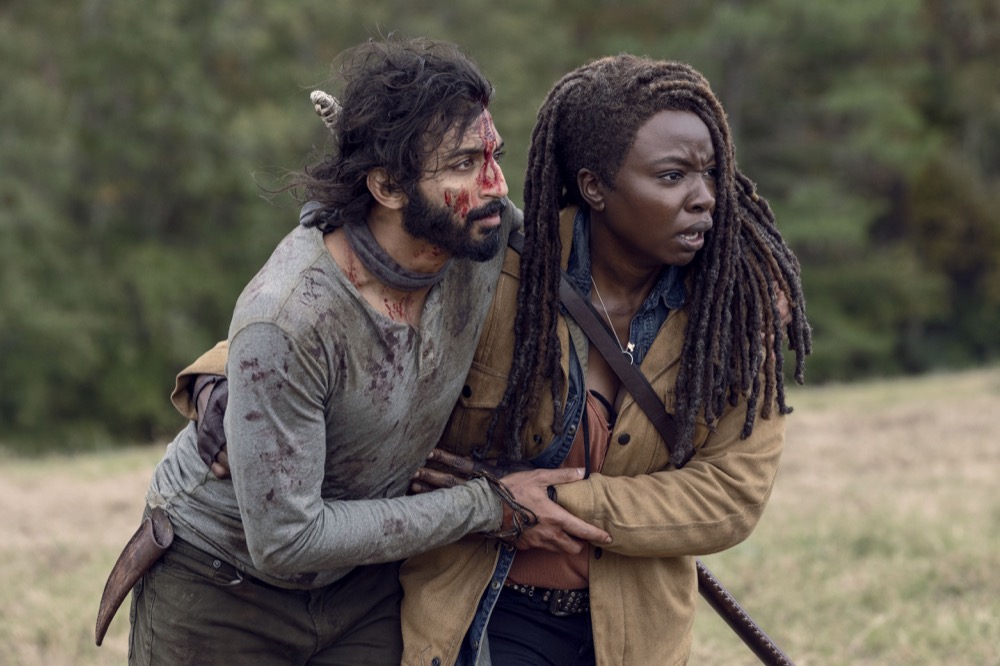 can i sue this franchise for literally ruining my@life all i can think about are the pikes and the barn scene and it makes my skin crawl and i feel sick because of how these characters died help

— nicole rhee misses henry (@twdhenry) March 28, 2019
Please forward all mail to Woodbury.
---
Barking Up The Right Tree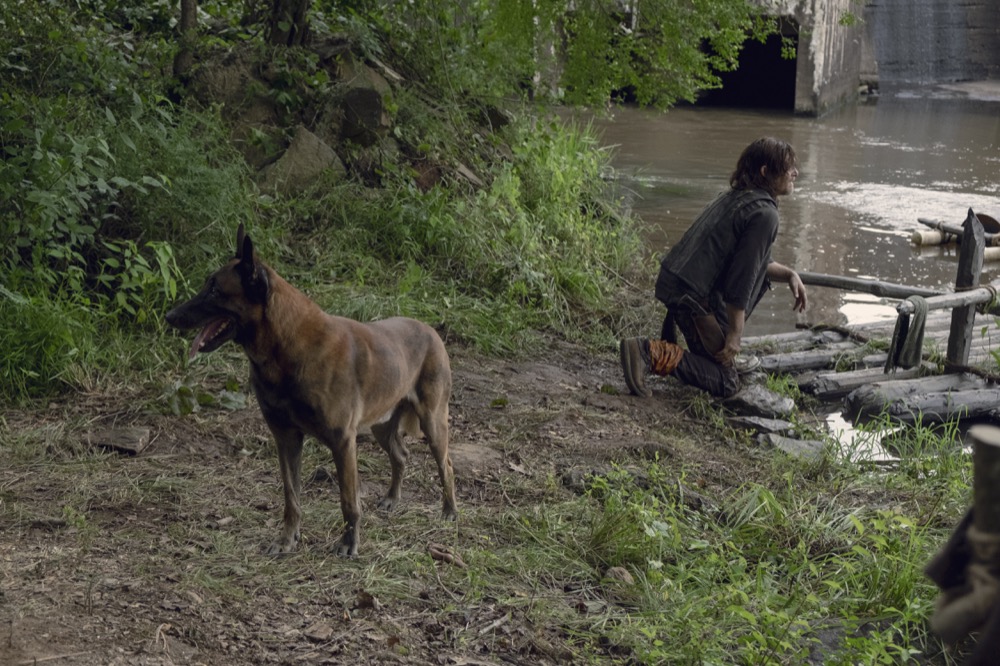 Does Daryl pick up after Dog or does Dog pick up after Daryl?

— Brandon Davis (@BrandonDavisBD) March 29, 2019
Excellent question, Brandon from Comicbook.com. The answer is both.
---
Grady Memorial Update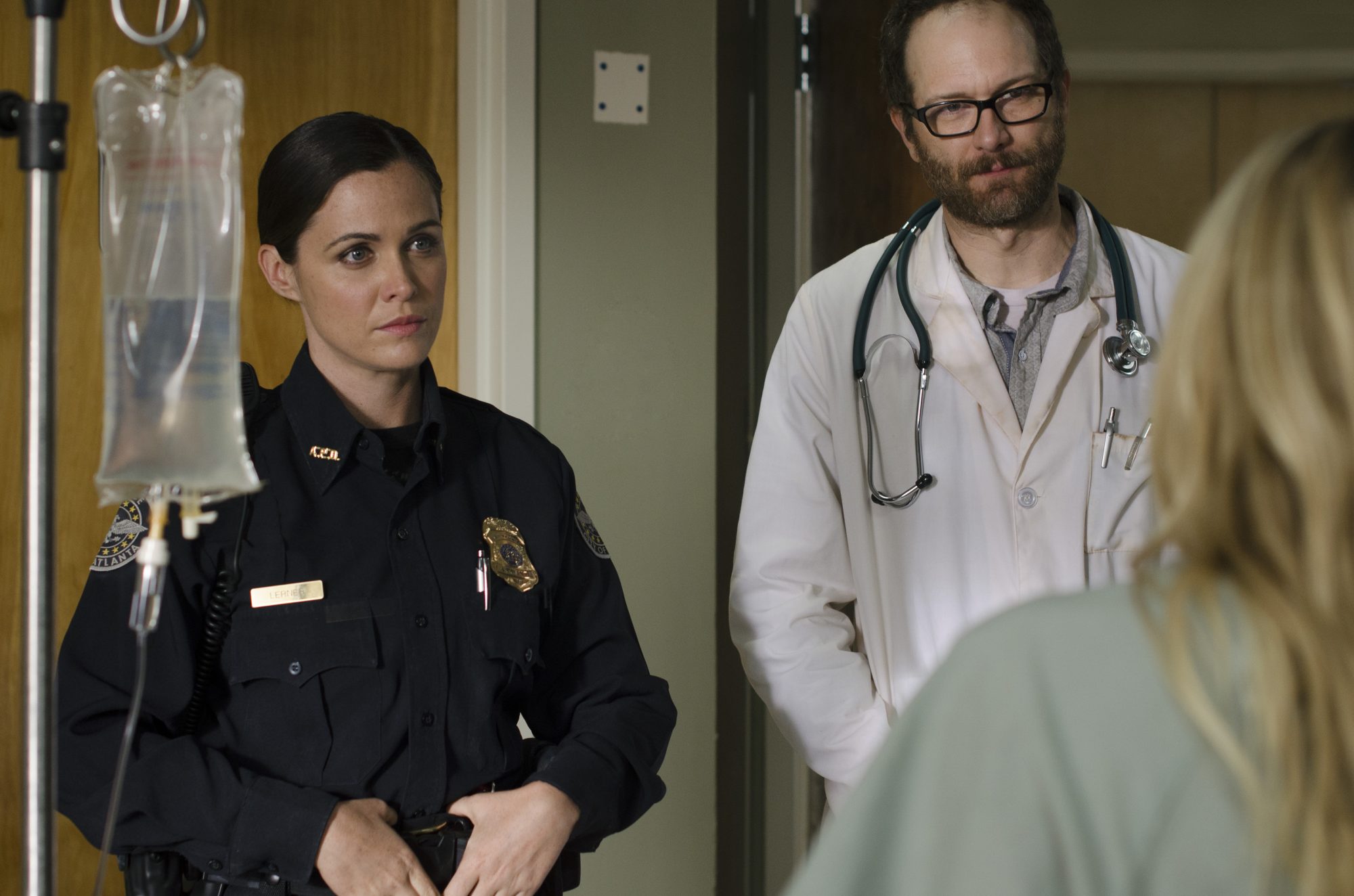 What happened to the remaining Hospital staff at Grady Memorial?

— The Bearded Dragon (@MasontheBearded) March 28, 2019
Dr. Edwards, Amanda, Licari, and Bello wrote, produced, and performed in an off-broadway apocalyptic musical called Mammalton, which tells the story of mammals taking over and forming their own democracy following the collapse of society. The hit singles are "Stay Alive," "The Dead Commandments," and "The Gory of Tonight (Reprise)."
---
And that wraps up our last mailbag before Sunday's Season Finale! Catch us next week for a post-mortem mailbag and then monthly editions throughout the year. Hope we answered all your questions!