It's no secret that The Walking Dead logo has been decaying since Season 2. But with Season 9 on the horizon, AMC revealed a new logo for the suddenly hopeful zombie drama. Seen above, the new Walking Dead logo is brighter, greener, and more full of life than any previous year. Kirsten Acuna from INSIDER provided a visual example and interview to explain the new look:
Some were wondering about #TheWalkingDead's new logo. Confirmed w/ AMC it WILL be the logo viewers see on the show's opening credits this season. Showrunner Angela Kang gave us a short explainer on the logo change and what it means #TWDFamily ❤️ https://t.co/IJcYZo82Sx pic.twitter.com/oNjlCVWCNw

— Kirsten (@KirstenAcuna) September 6, 2018
New showrunner Angela Kang sat down with Acuna to discuss the change. "In previous seasons, the logo in the main titles was gradually decaying along with the world and the zombies in the show," Kang said. "The solid stone letters overgrown with greenery in the season 9 logo reflects the fact that we're jumping into a new chapter of the story where our characters are rebuilding and nature is thriving — for better and worse."
Season 9 will reflect the post-All Out War storyline from The Walking Dead comics called "A New Beginning." Like the comics, the show will experience a time jump, an influx of new heroes and villains, as well as complete community rebuilds. Despite our survivors' progress, the logo indicates that nature will be taking over more than ever this season. Our characters will have to embrace pre-industrial technologies and farming techniques to ensure their survival.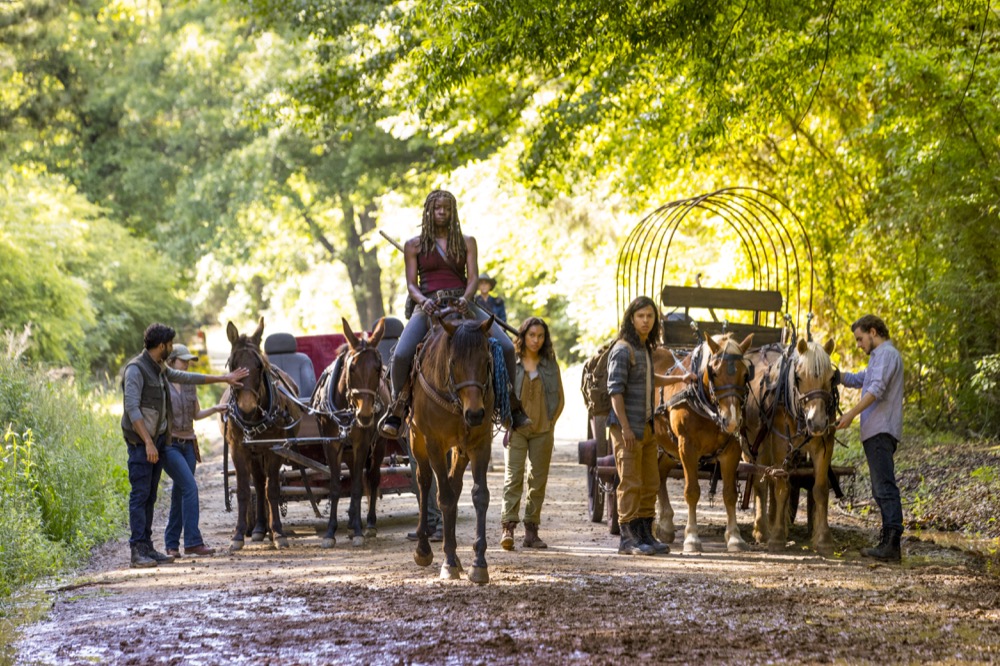 Kang expanded on the new world with TheWrap back in July. "(The Season shows) just how much the world around them is starting to degrade, like you know, the man-made things of the world. The buildings, the infrastructure, it's all changing and nature is kind of taking back over in some ways, and that's going to create a lot of interesting challenges for our people to overcome in the course of the season."
She also told Entertainment Weekly, "We are going into a period where a lot of the things that we've seen in previous seasons have broken down, so they've got these horses and carriages that are being drawn around instead of cars. Things are lit with oil lamps. People are using different kinds of weaponry. There's a real grittiness to it that I think will be fun and fresh for the viewers."
---
Want more from The Walking Dead Season 9 before it's October 7th premiere? Then check out the new character portraits, key art, and teaser trailer released this week.