We've optioned Frederik Pohl's classic sci-fi novel, GATEWAY for development as a tv show! This is super exciting news and we're very proud to be working on this new project. Check out the full press release below and check back here for more info on development soon!
---
SCI-FI CLASSIC NOVEL 'GATEWAY' BY FREDERIK POHL OPTIONED FOR TELEVSION DEVELOPMENT WITH SKYBOUND ENTERTAINMENT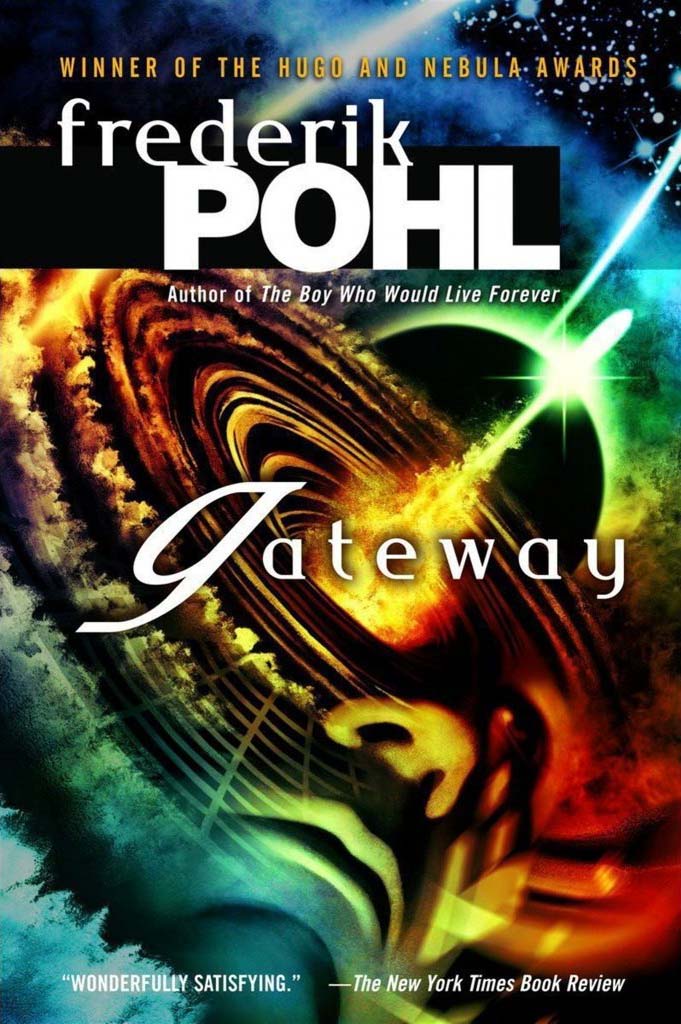 LOS ANGELES, CA (September 27, 2017) – Mutliplatform Entertainment company Skybound Entertainment, commonly known for genre properties (The Walking Dead franchise, Outcast, Invincible), has optioned Frederik Pohl's 1977 science fiction novel Gateway for television development. Skybound has the ability to develop the five stories that follow Gateway, which together complete the Heeche Saga, for television as well.
Skybound's film and television team will produce the project, with Frederik Pohl IV attached as a creative consultant. Frederik Pohl IV is the co-executor of the Frederik Pohl estate alongside Dr. Elizabeth Anne Hull, the widow of Frederik Pohl. The estate is represented by Curtis Brown Ltd.
"Working on one of the seminal works of science fiction is an honor and a privilege," said Skybound CEO David Alpert. "I have had these books on my shelf for over 30 years, so getting to work on them is a dream come true."
Gateway follows the story of Robinette Stetley Broadhead, a poor miner traveling to an abandoned alien space station in search of a life better than the one he knows on a barren and overcrowded planet Earth. Though the prospect of returning with untold riches is significant, his chance of death is even higher. Gateway is the first of six novels that make up the Heechee Saga, named after the fictional Heeche alien race created by Pohl. Considered an influential piece of science fiction, Gateway is a Nebula and Hugo award-winning book.
"Dr. Hull and I are excited that Frederik Pohl's Gateway has found a home at Skybound," said Frederik Pohl IV. "Their long interest in my father's work and their insight into it give us confidence that they are the perfect people to bring the Heechee Saga to a massive audience."
Additional projects in Skybound's pipeline include a remake of the 1981 fantasy/horror classic American Werewolf in London, and the adaptation of Robert Kirkman's second-longest running comic book series, Invincible. Both titles are being developed for film at Universal. Upcoming television projects include Robert Kirkman's Secret History of Comics, a docu-series for AMC, and Five Year, a pre-apocalyptic story about a family living under threat of a deadly meteor headed toward Earth, which is being produced across various markets globally. Skybound also recently partnered with streaming service Amazon for a first-look television deal across all Skybound properties.
About Skybound Entertainment:
Founded in 2010, Skybound Entertainment is a multiplatform entertainment company that houses projects ranging from television, film, digital content, comics, interactive gaming, and live events.
Skybound Entertainment is responsible for such television hits including The Walking Dead, Fear the Walking Dead and Outcast. Moving into the digital content space, Skybound produced the first-ever narrative VR series, Gone, for Samsung's Milk VR platform and in 2017 will produce VR horror series Lies Within, which is the first project out of Skybound's partnership with interactive theatrical company Delusion. Skyboud recently announced the film adaptation of Robert Kirkman's second-longest running comic series Invincible, with Seth Rogen and Evan Goldberg attached to direct, write, and produce the movie for Universal.
Additional newly announced Skybound projects include Five Year, Mastermind and Robert Kirkman's Secret History of Comics.