Hey, did you catch that Breaking Bad reference in Sunday's Fear the Walking Dead? WELL DID YA?! If you didn't, then we'll explain. It happens when Madison and Walker arrive at the trading post in search for water and a familiar tune plays overhead. The song is "Negro y Azul," the iconic 4th wall-breaking song used at the opening of Breaking Bad Season 2, Episode 7.
The song specifically describes a "gringo boss" named Heisenberg who embarrasses a Mexican drug cartel with his high quality blue crystal meth. "That homie's already dead, he just doesn't know it yet," the refrain repeats. Here's the video as a reminder: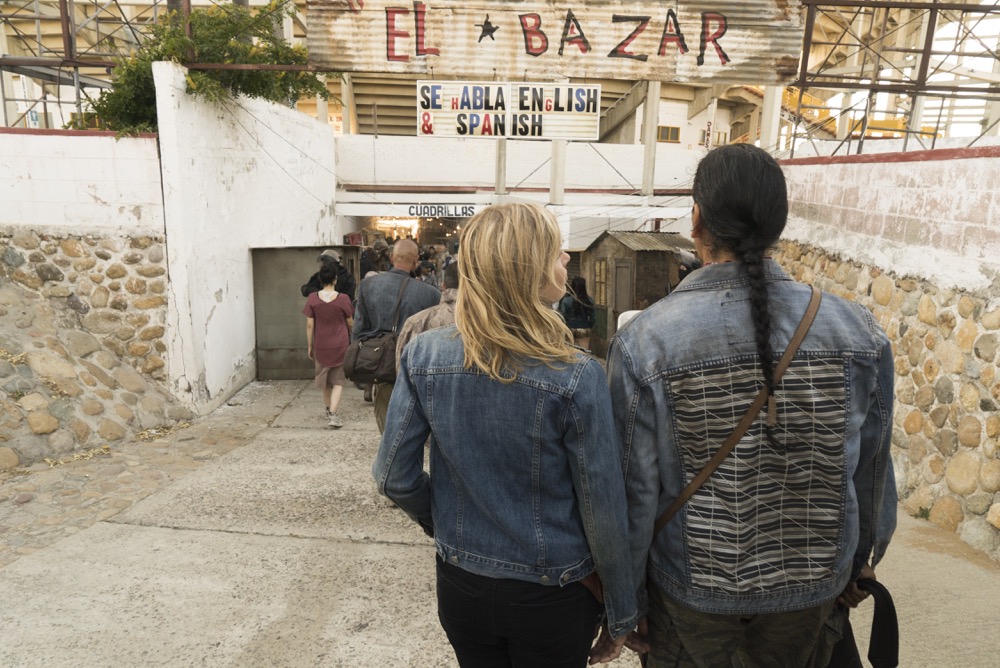 The Hollywood Reporter asked showrunner Dave Erickson if that was an intentional homage to the hit show, which also aired on AMC. "That's absolutely right," Erickson admitted. "I tried to be subtle with it. That was probably the moment when I fell the most deeply in love with Breaking Bad, when they did that cold open music video. As we were looking for pieces to incorporate into this world, it had the right vibe to it. It's a gentle nod of admiration and adoration to Vince Gilligan."
So there you have it! Sound off in the comments if you think they should make more Breaking Bad references in this show. New episodes of Fear the Walking Dead's third season air Sundays on AMC @ 9PM. Catch the trailer for next week's episode here.