"Minotaur"
The great migration has begun! Walker returns to the ranch with a caravan of his people and supplies to begin the takeover process. Troy shows them around and Walker reminds them his people now own everything as payback for taking their land. Later, Nick and Troy bond while Alicia warns Madison to tread lightly with Taka. Meanwhile at the Gonzales Dam, Daniel searches a group of survivors for Ofelia, who he still hopes is alive. That night, Jake and Walker together encourage their new joint community to embrace each other and stray from fear.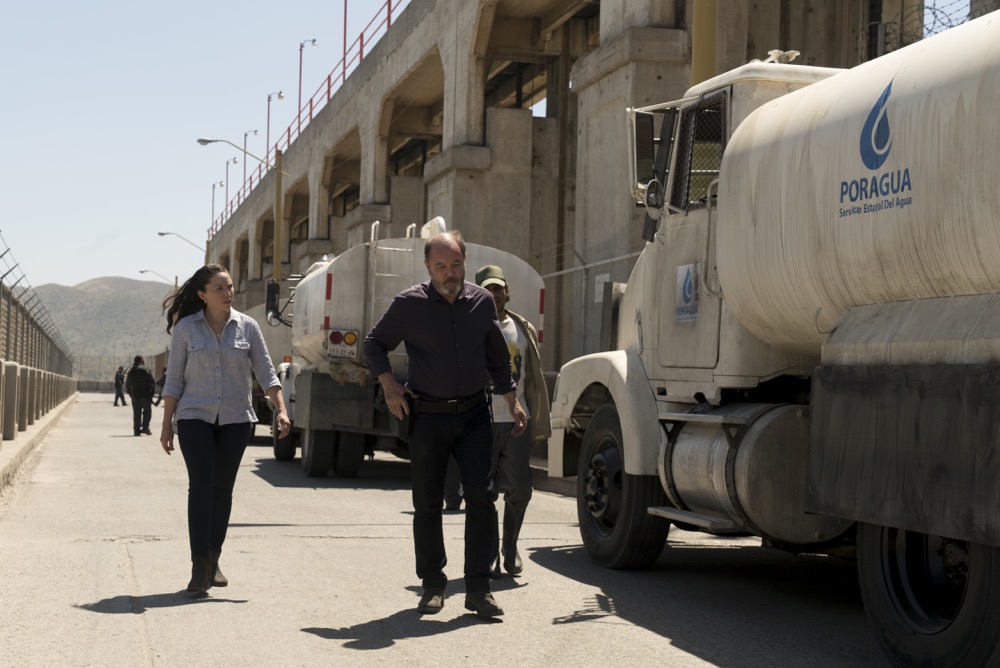 The next day one of the ranchers (Terrance) attempts to murder one of Walker's people but accidentally shoots one of his own instead. The would-have-been victim chokes him until Walker breaks it up. Furious, Walker demands Jake and his people surrender their weapons, and Madison makes him comply to maintain the peace.
That night the militia begin confiscating weapons until they reach Troy. He's not obeying and pulls a gun on Walker and his men, demanding they leave. Walker instructs his men to surround the place while Nick stays inside to cool him off. Troy ignores him so Madison tries calming him down. Troy claims giving up their weapons would mean "total surrender." Suddenly, Walker and his men open fire into the house and it quickly turns into a shootout. Troy sacrifices his hand to save Nick from a knife-wielding attacker and the two retreat upstairs. Nick laments that it's over and Troy confesses he's not afraid to die.
As Walker's men close in Nick begs Troy to surrender, but he says it's too late for that. Out of options, Nick wrestles him to the ground and yells out they surrender. They separate and with only a few moments left Nick confesses he killed Jeremiah. Beside himself, Troy lays down his weapon as Walker's people storm in.
Daniel and his people receive a ton of backlash while distributing water to survivors. One stands up to them and accuses them of taking the dam for themselves. The crowd agrees and quickly turns rowdy, causing Lola to get injured and the rest to retreat.
The next day, Madison and Walker decide they must exile Troy. Walker proposes the same be done for Nick but Madison argues it was Nick that made him surrender. Jake breaks the news to Troy, who accepts it but requests Madison escort him out. They agree and Troy is loaded onto a truck with a bag on his head while Nick is placed in a hot box as punishment.
Madison drives Troy far outside the ranch with one of Walker's men, Claw, as security. Claw cuts him free and Troy drives his knife into his leg and then his neck, killing him. Madison draws her gun but is reluctant to shoot him. Troy disarms and grabs her, reminding Madison he doesn't surrender. She head-butts him, retrieves her gun, and he finally gives up and walks away.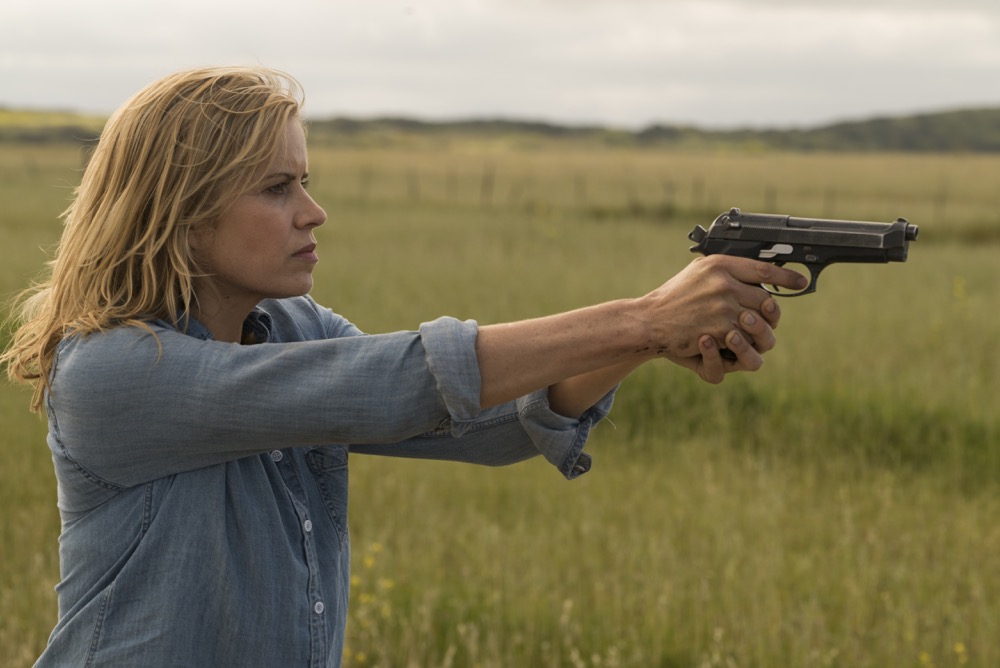 ---
"The Diviner"
Nick hallucinates seeing Troy in his hot box while Walker and Madison inform the community leaders of their plans to leave the camp in search for more water. Madison explains the community must ration while they're away. She then privately tells Alicia they only have a couple of weeks of water left and if things get dicey to grab Nick and leave.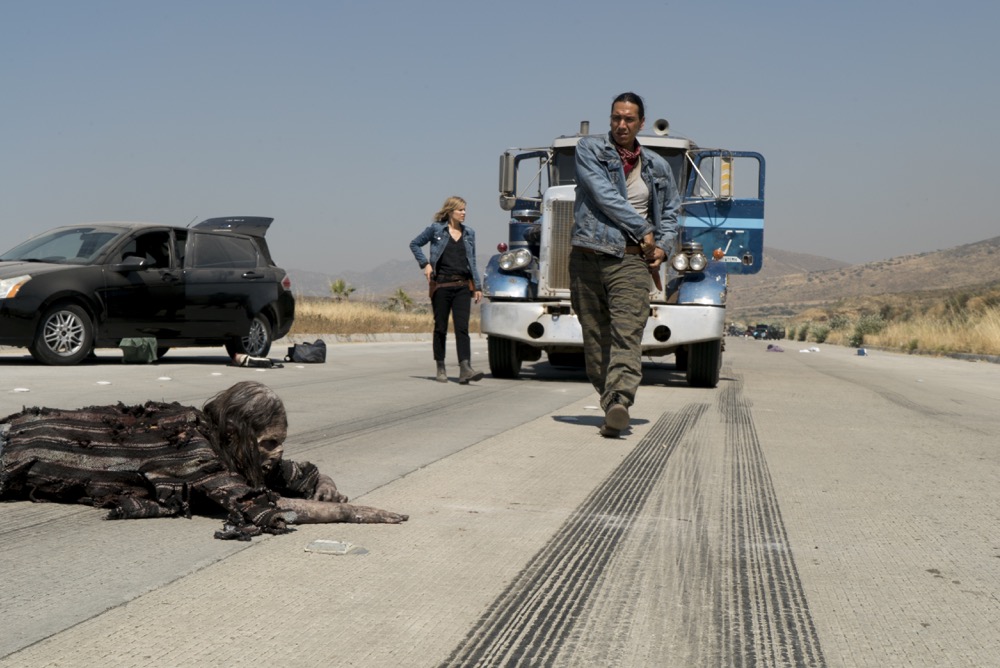 Nick's finally released from the box and Alicia brings him in to care for him. That night, Alicia assures the community she and Jake can help lead them during the rationing. The militia men visit Nick to express their reluctance to cooperate and suggest they fight back against Walker's people.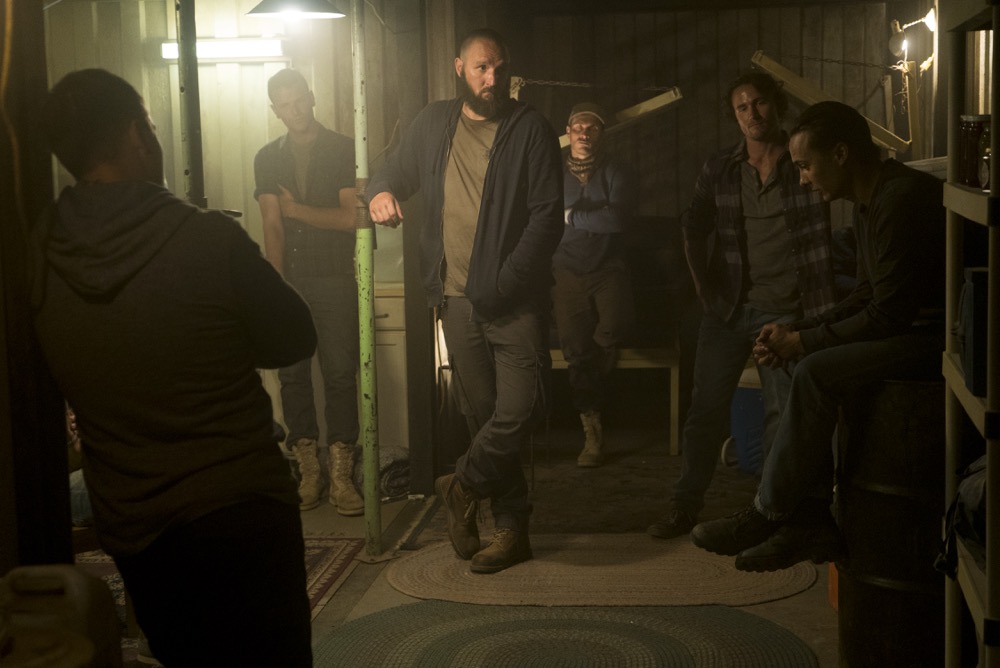 Madison and Walker arrive at Plaza de Toros and exchange Madison's walkie-talkie for credits. They enter an arena-converted-market bustling with survivors. That night, Alicia and Ofelia bicker over their people stealing rations. Ofelia suggests she worry about her own people first. Meanwhile, the militia secretly convenes with their people to discuss overthrowing their new neighbors.
Madison and Walker negotiate a trade for water when Strand is carried in nearby. Madison tries interfering and the mix-up scares off the water trader from the deal. Madison, Strand, and eventually Walker attack the men and escape to Strand's hiding spot. Once they're safe, Madison grills Strand on his troubles and he explains they can't leave.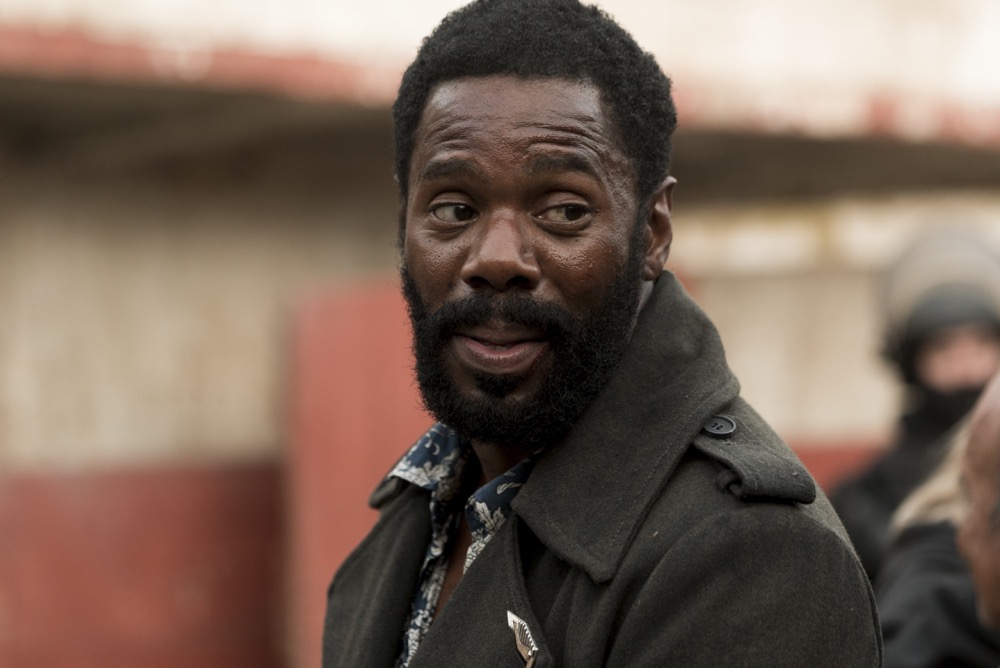 The next day Alicia catches a woman stealing water and their argument gives way to a fight among both communities. Alicia reveals how short on water the ranch is, which causes even more chaos until Crazy Dog shoots a gun to break it up. He squares up with Nick and then leaves. Madison tells Strand about Travis and he comforts her until Walker is dragged in by market security – they want Strand. They sentence him to be chained outside to pay off his debt, which he does. After surviving the night Strand is set by Madison, who pays off his debt with the gold Walker had brought for water. Walker's furious but she assures him Strand's dam could solve all their problems.
Back at the ranch, Nick stops a battle between communities before it can even start by helping Alicia and the natives dig a new well. Crazy Dog realizes Nick is nothing like Troy and decides to put down his weapons and help. There might be some hope for peace, after all.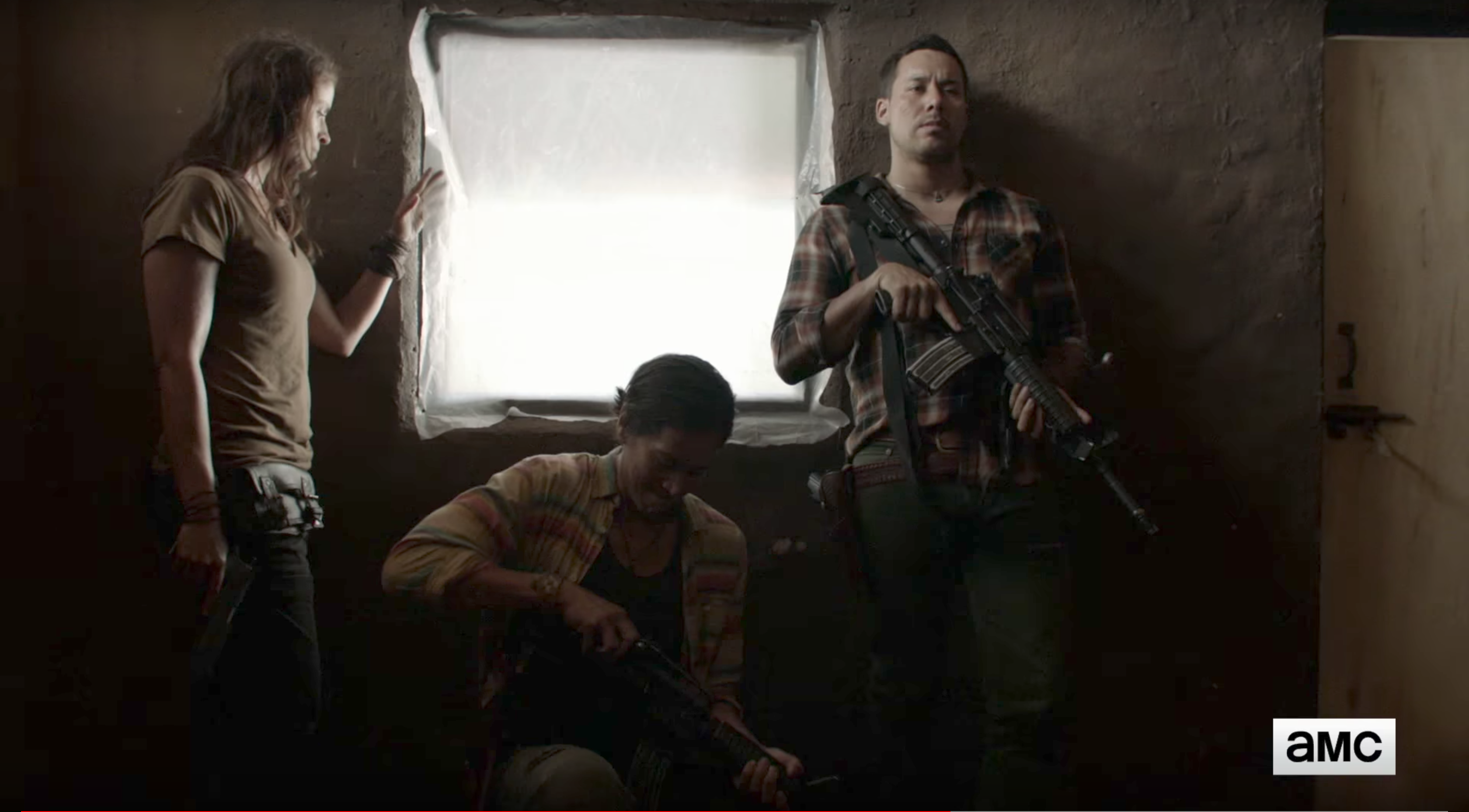 ---
Tell us what YOU thought of the Mid-Season Premiere in the comments!