As Director of Brand, Editorial, Arune Singh brings his limitless passion for comic-book storytelling to all of Skybound's books. He also draws on decades of experience in the comics industry. In the following interview — the first in a series celebrating APIDA (Asian Pacific Islander Desi American) Heritage Month —  Arune chats with us about his journey from comics journalist to one of the industry's top marketing maestros…
What's your origin story?
The short version is this: I thought I did everything not to work in comics and it turned out I did all the things that made this such a perfect career for me over the past twenty-three years.
The longer version is that I loved comics all my life growing up in Toronto, but was convinced I had a career in politics or business ahead of me until my first day at the University of Minnesota in 2000…when I realized I had no interest in business, dropped out before convocation, and was reminded I was in the country on a student visa so I couldn't do much for money.
Thankfully I found a way around that thanks to a very understanding family and a whole lotta good luck, starting with the folks at IGN hiring me to be their DC Comics columnist in their Sci-Fi vertical. While it was unpaid, it did allow me to write albeit now necessitating the purchase of comics, which led to me asking my local comic shop (Mind's Eye Comics) if I could work there each week for the employee discount plus some store credit.
I soon got that work visa and moved from IGN to CBR, where I became a staff writer while also working a full-time job in retail, the latter of which I assumed might be my long-term career as I moved from sales to customer service to loss prevention.
Comics journalism in the early 2000s was a much different beast than it is today, for better and for worse, but it allowed me not only to meet some idols but also make some lifelong friends and give back to the business I loved so much.
So when I went back to college in 2005 and became a certified EMT, I was sure I had found my calling – it remains one of the most fulfilling jobs ever (for the few shifts I worked) and I was convinced I would be a paramedic firefighter, thus completing my arc of leaving my business ambitions behind for the public service I always dreamed of doing (and had hoped to do in the US NAVY, but was medically disqualified).
Unfortunately, in Fall 2006 I contracted a serious illness that left me hospitalized and with side effects that I couldn't return to school, but helped unlock some answers about my health and necessitated some major surgery (AKA a Thymectomy). Realizing my life was about to change, I visited NYC and happened to meet some incredible folks at Marvel who offered me a job.
From there I headed up comms at Marvel for the comics division and later helped launch Marvel Television, then had a short stint at Syfy and went on to head up marketing at BOOM! Studios for four years.
How did you come to work at Skybound?
In 2020, I got a call from Robert Kirkman – who I've now known for over 20 years – and he asked me if I was interested in joining the team in a newly created role to support the comics division.
When Robert calls, you answer – and when the job interviews put you in front of folks like David Alpert, Ian Howe, Dan Murray, Jon Goldman, Sean Mackiewicz, Do Duong, Garima Sharma, and Shawn Kirkham, then you say "yes" when Skybound makes the offer.
What do you like best about working for Skybound?
The people, bar none.
I've worked with a lot of great people in other places, but this is a company of some of the finest professionals and human beings I've ever met.
In particular, working with the Editorial Brand team of Morgan Perry, Sarah Clements, and Kevin Bides is a career highlight.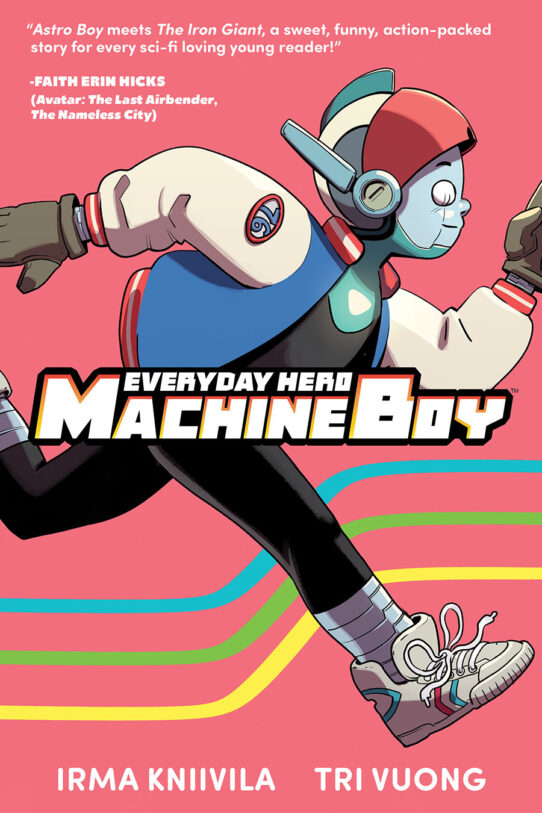 What Skybound project are you proudest of?
I've had the honor of working on a lot of great projects at Skybound and if I had to choose a favorite memory, it would be the launch of our Skybound Comet imprint in 2022.
All three launch books – Clementine by Tillie Walden, Sea Serpent's Heir by Mairghread Scott and Everyday Hero Machine Boy – comprise everything I love about comics, with a focus on bringing the joy of reading to younger audiences.
Working on that launch not only brought me closer to a lot of co-workers like Editorial Director Alex "Coach" Antone, but also allowed me to meet some truly exceptional creators, go on tour with them to multiple cities, and work closely with partners like the ALA GNCRT to bring these amazing comics to readers all over the nation.
That's the best part of working in comics – getting them into the hands of readers.
Do you have any other favorite Skybound titles?
It started as an Image Comics series, but Invincible was a "holy shit" book from the day it launched – first by bringing that vibe to superhero comics and then of course the big Omni-Man reveal.
I think I'd forget someone if I tried to name every book I love, but I do want to call out Everyday Hero Machine Boy by Tri Vuong and Irma Kniviila as one of my favorite graphic novels of all time. It makes me feel so profoundly seen that I wish I had this book as a kid to help me find my place in the world.
The truth is that Skybound just doesn't make bad comics – pound for pound, I think the Editorial team here delivers truly incomparable storytelling.
What other pop culture do you nerd out over?
I have two big weaknesses in storytelling: Big Feelings and Big Robots.
When it comes to feelings, I've been a lifelong fan of daytime soap operas, especially General Hospital and the ABC lineup from back in the day. That also explains my love of shows like The Vampire Diaries, The Originals and so much else that mixes genre with capital F feelings.
And in the world of feelings, I think pro wrestling might be the coolest artform on the planet. It takes everything I love about superheroes, combat sports, and soap opera, and combines them into an incomparable experience. You can't watch the Bloodline storyline play out in WWE right now without being enraptured, especially when Sami Zayn is tugging at your heartstrings.
But when it comes to Big Robots, nothing beats anime for me – from Gundam to Neon Genesis Evangelion to Escaflowne, there's something incredibly resonant to me exploring big emotions through conflict with even bigger mechs. The Witch from Mercury is airing right now and might be the perfect encapsulation of what I want from a giant robot series, so I'd highly recommend folks check it out to discover why "Happy Birthday" is the saddest song of all.
And, let's be honest, few things look cooler than the Cyclone motorcycle in Robotech. If that doesn't make you all excited in the deepest reaches of your soul, then I dunno what to say.
Do you have any advice for someone considering a career in your field?
Whether you're interested in comics or any other field, I would recommend you reconsider your definition of "failure."
As I mentioned a bit earlier, my life is kind of marked by what we could call "failure" – I didn't become Prime Minister of Canada (yes, this was a dream); I was medically disqualified from the military despite my appeals; I didn't get to work more shifts as an EMT; and really nothing went the way I expected because of severe health crises that robbed me of my choices.
But it was those "failures" that led me to NYC to work for Marvel in 2007 and made me the right person for the right moment when I met my most important co-worker – Michelle Marasigan, the woman who would become my wife a few years later.
And if I hadn't lost out on all those things I wanted, I wouldn't have gotten the one thing I needed most – Michelle.
Sometimes life takes you in the directions you don't expect and it's okay for things not to work out the way you didn't expect because that's not failure.
Don't focus on the times you get knocked down – focus on getting back up and taking the next step, even if you fall down again.
Because each step brings you closer to something much better.