It seems like most every superhero fan is in love with Invincible these days. To which we say, "Well, of course!" Amazon's hit adult animated series, based on Robert Kirkman's bestselling comic, is packed with great drama, compelling characters, brilliantly choreographed action scenes, and the best voice cast of any animated series around. Now, the multitude of Invincible fans can look forward to the first behind-the-scenes book devoted to the show — The Art of Invincible Season 1. Here's the official deets as well as an advance look at the book's cover…
Today Skybound announced the upcoming release of The Art of Invincible Season 1, the official behind-the-scenes companion to Prime Video's hit animated series Invincible. The new hardcover, continuing Skybound's celebration of Invincible's 20th Anniversary, will be available everywhere books are sold in November 2023.
The Art of Invincible Season 1 features exclusive character, background, and vehicle designs, key art, and more! This volume takes fans behind the scenes and includes interviews with key creatives, including Invincible comic creators Robert Kirkman and Cory Walker.
"Like many others, Invincible inspired me with its unique visual style, emotionally complex characters, and dynamic worldbuilding, so it's been exciting to peek behind the curtain of the show's development through this book!" said Bixie Mathieu, Editor, Skybound Entertainment. "We've worked closely with the creators to capture the passion and excitement of the creative process as they developed everything from the endearing characters to the gory twists."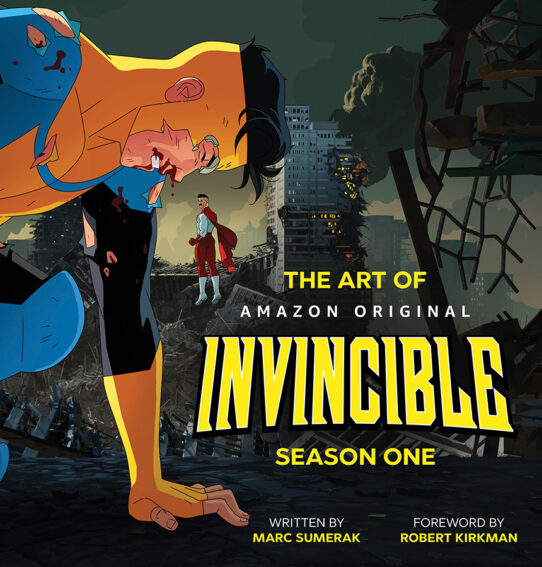 Created by Robert Kirkman and Cory Walker, Invincible #1 debuted to critical acclaim on January 22, 2003. Soon after, they were joined by artist and contributing creator Ryan Ottley. Throughout its fifteen-year run, Invincible not only continued for a historic 144-issues but also spawned multiple spin-off series' and even an inter-company crossover with a certain friendly neighborhood superhero. In 2021, the Invincible animated series arrived on Prime Video and quickly became one of the most popular new streaming series of the year, earning praise worldwide for its fresh storytelling. With a second season set on the horizon and new comic book projects to be announced, Invincible remains a cornerstone of the pop culture landscape that continues to grow in popularity every year.
This book release joins an exciting slate of Invincible product drops celebrating the 20th anniversary of the comic's release. In Summer 2023, fans will discover Invincible Vol.1 (New Edition), collecting the Invincible comic book series from the very beginning in an all-new 6"x9" graphic novel format with stunning new covers from Cory Walker & Dave McCaig. Plus, dive into more of this exciting world with the Invincible Universe Compendium, collecting Invincible Presents: Atom Eve #1-2, Invincible Presents: Atom Eve & Rex Splode #1-3, Guarding The Globe (Vol 1) #1-6, Guarding The Globe (Vol. 2) #1-6, and Invincible Universe #1-12 in an all-new format. This is your chance to go beyond the adventures of Invincible and Omni-Man to learn about your favorite – or soon to be favorite – superheroes in a single edition.
The Art of Invincible Season 1 (Diamond Code MAY230119; ISBN: 978-1-5343-9909-9 | SRP: $39.99)
will be available at comic book shops and digital platforms including Amazon Kindle, Apple Books, comiXology, and Google Play on Wednesday, November 1, 2023, and everywhere books are sold on Tuesday, November 7, 2023.
INVINCIBLE™ © 2023 Robert Kirkman, LLC & Cory Walker. SKYBOUND and all related images are owned by Skybound, LLC. IMAGE COMICS and all related images are owned by Image Comics, Inc. All rights reserved.