If you've got a thirst for YA graphic novels packed with high adventure on the high seas, then you've probably already devoured the first book in writer Mairghread Scott's Sea Serpent's Heir trilogy. Chronicling the adventures of a young woman wrestling with a monstrous legacy and a buccaneer mother, the second volume, Sea Serpent's Heir Book Two: Black Wave, arrives in September. To launch the first in a series of interviews on Skybound.com celebrating Women's History Month, we sat down with the comics and animation creator to discuss the inspiration behind her epic. And to find out what fans can expect from the coming Black Wave…
How did Sea Serpent's Heir Begin?
There's that classic Disney story of the girl who wants to go on a big adventure. I really wanted to flip that story on its head. When you meet Aella, she's a young girl who's in the middle of nowhere and wants to go on a grand adventure, find her first love, and become super important in the world.
Then she discovers that she's the reincarnation of an ancient sea serpent that's supposed to destroy the planet. She does meet a boy that she gets a crush on, but he is a knight sent to kill her before she destroys the world. [Laughs.] She does go on a grand adventure, discovering that everyone in her small town is part of the pirate crew of her mother, who turns out to be the most famous pirate on the seas. So it becomes this sort of fun, rollicking, almost pseudo road trip, with her mom trying to protect her from her enemies.
Aella is desperately trying to not be someone who's going to destroy the world. That really leads us into our second book, which I feel is where the story starts to get really special. Things go badly. [Laughs.]
In Book Two, the "black wave" is what happens when everyone expects you to do the wrong thing. When everyone expects your worst, what do you do with that? When everyone who believed in you, turns on you. It's really the story of just how hard it is when you're young and you have all those expectations on you – to fail – or the temptation to give into your worst expectations. Aella essentially decides to embrace the darkest parts of herself and avenge her mother and ends up going to war against Bashir, the guy that she liked in the first book.
It's really special to me because I feel like there are a lot of stories of the young person who becomes a hero and saves the day. This story is a lot messier. It was important for me to tell a story about a kid who's a lot messier and who makes mistakes and gets hurt and hurts other people. And how to come back from that, when perfect is off the table.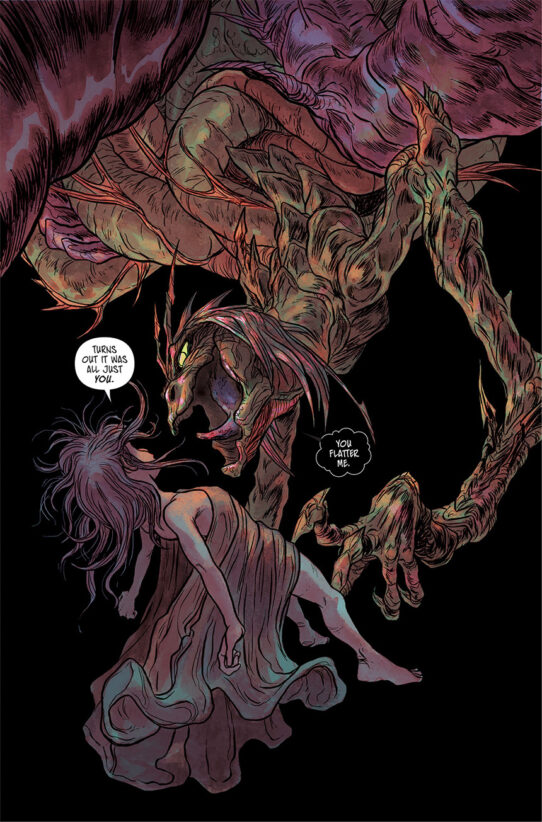 Book One was fearless in its irreverence. The only religion in the book is a violent one, and the protagonist's mother tells her she would have aborted her if she was a human.
All of the books will be banned in Florida. [Laughs.] I think one of the interesting things is that it was really important to me that the Church of First Light isn't necessarily wrong, or at least they have a leg to stand on. At the end of the first book, Aella does destroy a whole town. But there's a big theme in the book about when is prophecy governed by fate and when is prophecy governed by expectation. There's a hard truth in this book for Aella, for Bashir, for a lot of the characters. Essentially their fear drives them to their worst selves. Their expectation that other people will behave badly drives them. They're so convinced that the other person has given up on them and betrayed them they're practically going to war against each other.
That was really important for me, that they're not wrong. Bad things happen in this book, and bad things don't happen for no reason. But how much are you willing to go along with what you assume is gonna happen and how much are you willing to fight against fate?
How long has this saga been living in your mind?
I've always been a fan of big epic stories. One of the beautiful things about comics is that you can paint these sketches of other places and other worlds, as you roll along, that the audience can fill in later. And Pablo Tunica's art brings so much character to everything he draws.
I wanted a story that, especially for young readers, felt like they could put in their own stories for years to come. This is a playground they could play in all on their own and have their own adventures. Honestly, I hadn't been thinking about this story until I was pregnant with my first child. I was so sure that he was gonna be a girl. So sure I was gonna have a girl. It just didn't occur to me until I found out that he was a boy.
It shocked me, how many expectations I had. I didn't grow up with boys. I didn't know what to do. I was sure I knew how to be a good mom to a little girl. I had no idea how to be a good mom to a little boy. That sparked this idea of what would you do as a parent if your child was expected to be the worst thing. What do you do as a child if everyone expects you to be the worst thing ever? That was the start of the idea. It also went the way it often goes for me, where I pitched four ideas and this was the fourth. [Laughs.]
Growing up, there's a lot of pressure on kids. There's just a sense that once something goes wrong, it's all over, you know? I really wanted to explore that in this book. It really kind of became a tale of these young people having to decide what they think is right and wrong versus what they're told is right.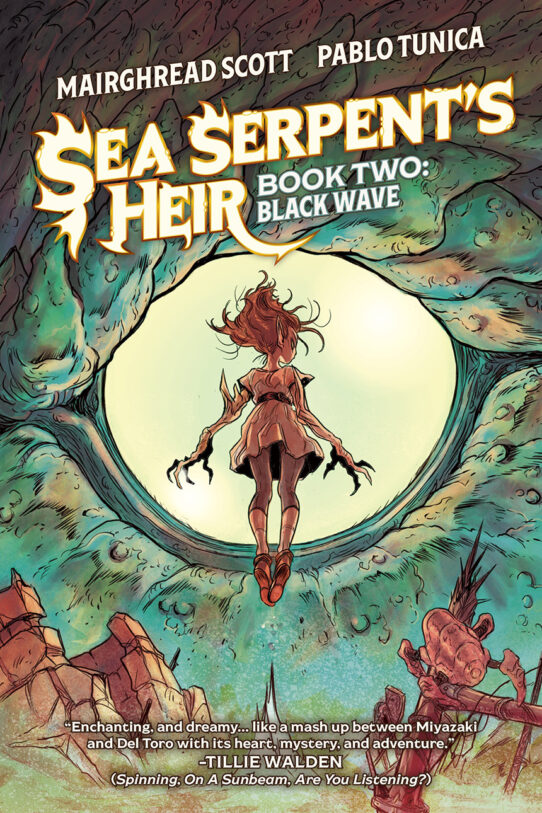 What else can you tell us about the second book?
In the second book our characters go to war. The third book is really about how to end this war. There's the idea that to escape the prophecy, they're gonna have to go back and deal the prophecy that started this whole cycle of misery.
One of the things that I really like about this story is that I didn't originally pitch this as a YA book. I've never written this specifically to be YA. So it was really important to me that in this book we sort of took the gloves off of what Aella's story could be. We wanted these characters to feel as raw and big as growing up feels for anyone. Even if you're not prophesied to destroy the world.