This weekend's New York Comic Con offered plenty of goodies for Skybound fans. Not least among them was an hour-long panel on Saturday with Skybound Founder Robert Kirkman, celebrating the 20th Anniversary of The Walking Dead and Invincible. Yesterday, we shared with you the highlights of Kirkman's on-stage discussion. And today, we've got coverage of Kirkman's candid Q&A with fans at NYCC 2023! Enjoy…
On the possibility of doing more Invincible comics…
If we were to do more Invincible in comic form, it would be a story where we find an individual character, maybe explore a pocket of the Invincible Universe that wasn't really explored. I don't want to ever do anything that detracts from the 144-issue run that we did… Ryan and I had an absolute blast [when] we did this thing called Skybound X #25. That was an anthology, and Ryan Ottley and I did a new 8-page story that featured Battle Beast that took place immediately after Invincible 19. So if you missed that, it's out there somewhere. Ryan and I had a lot of fun on that and it's possible that Ryan and I may work again together someday. Maybe it's on something Invincible related. Probably not. But we'll see.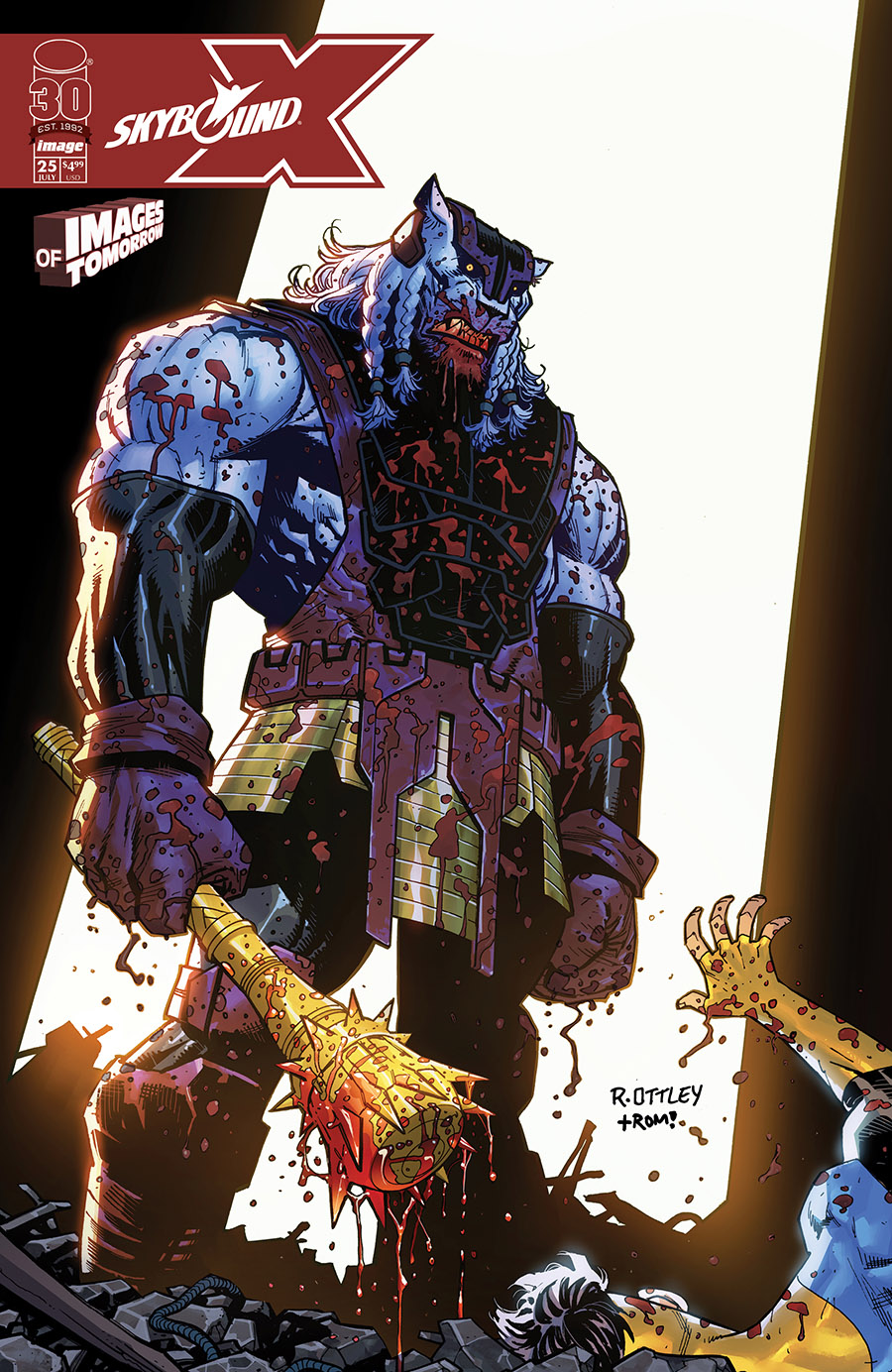 On knowing Invincible Season 1 was a massive hit and that the anticipation for Season 2 is at fever pitch…
It has been kind of awesome. It takes a really long time to do animation, as I'm sure you can all see. Working on the scripts, building the production team, getting animatics back, and working on the Atom Eve special, we're doing all this stuff behind the scenes, and it's been almost non-stop work for the last three years. And every step of the way, you guys have said, "Can we have it? Can we have it?"
The first two or three months of that, after Season 1, I was like, "Well, this is gonna die down. It's gonna be really unfortunate. And then we're just gonna have to rebuild the audience when Season 2 is finally ready." And it hasn't happened. We hear from Amazon that people just continually watch the show, which gives us…so much power. [Laughs.] So keep doing that.
Sometimes they'll be like, "Can you maybe tweak…?" And I'll be like, "How many people are watching? Shut up." So thank you so much. You guys have really pushed us every step of the way over this long period. We know, while we're doing this work, that you guys are anxious to see it; and because you're always commenting on different things and giving us different indications about what you really love about Season 1, it's helped fuel the momentum of what we're doing in Season 2 in a really cool way.
I'm just so happy that on November 3rd, we're finally going to get to share it with you. You guys are really going to like it.
On when he decided to end the Invincible comic…
I didn't have an ending in mind the entire time. Both Invincible and Walking Dead were written to be open ended, and so the endings just kind of emerged in the writing process. In much the same way Vince Gilligan talks about Breaking Bad, but not as good. [Laughs.] I think around issue 110 of Invincible, I was trying to come up with like a new engine because we had done a big storyline that had capped off a big element that had been the driving force of the series up to that point. And I didn't have that engine driving the story anymore. So I was like, "Okay, I need to come up with a new engine or some new element to the story to keep propelling things." So that there's something that every issue is working towards. From issue 1, everything was working towards that moment.
I was trying to find that new moment, and just as an exercise, I was like, "If I wanted to end the series, what would I work towards?" So I started writing the book, working to a conclusion, but I wasn't necessarily planning to end the book then. I was like, "This will get me even further, and then I'll just keep going."
I've said in many interviews I wanted to cap Walking Dead off and like have a complete story, but Invincible is a superhero thing, and superhero comics continue until the end. So I wanted Invincible to continue until people hated it. I wanted to be an old man sitting in an armchair –
which I kinda am [laughs] – going, "What are these kids doing with Invincible? These stories suck. What's going on?" And, theoretically, it would just be because I was an old, out-of-touch man, and they actually were good comics. But I wanted to feel that, like what I imagined Stan Lee felt in the later days reading an Avengers comic.
So that was the goal. Then as I was working towards that ending, I started thinking, "Oh, I really like this. This is a really emotional way to end the story." When I came up with what's on the final page, I was like, "This brings it all together in a really cool way." I started to realize, "I can't go past this." Invincible had been about being playing against type, the entire run. It was always taking familiar superhero tropes and turning them on their ear. So I thought, "What better way to end this series than to actually have a definitive ending? Unlike every other superhero story." Yeah, I wrote myself into that corner.
Maybe two years before that, Ryan Ottley was like, "I don't know if I want to draw this book for the rest of my life. I've been drawing this book for 15 years, and I know nothing else, and I'd like to go outside one day." [Laughs.] Comic-book drawing is a labor intensive, never-ending job that takes up every day of your life and is very difficult. I had to be sympathetic, and I was like, "Okay, well, I got this ending planned…" He was like, "Cool, when is it?" And I was like, "Two years." And he was like, "OK…"
But then Cory was able to come in and do one of those final arcs, and it gave Ryan a little bit of breathing room so that he didn't die. [Laughs.]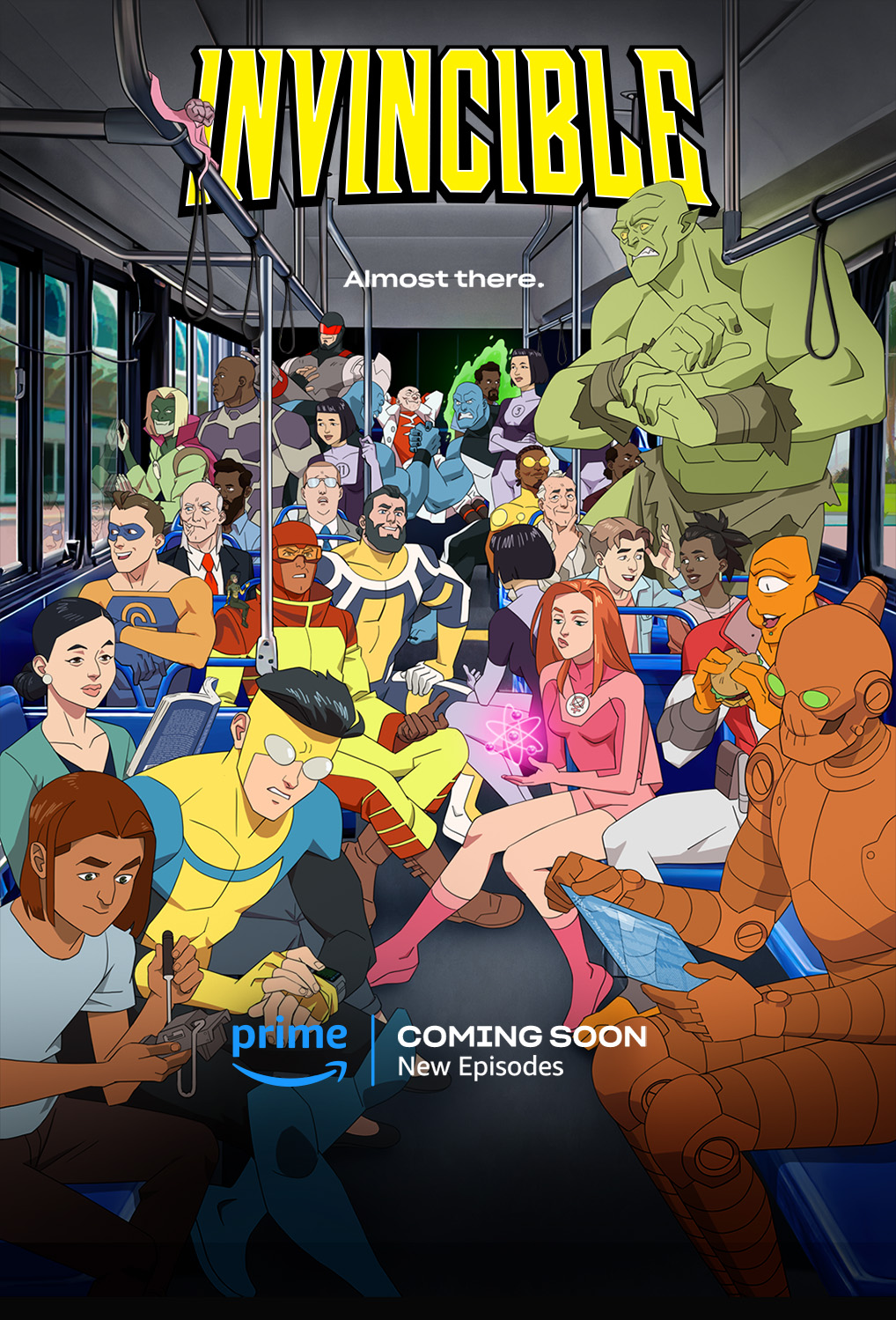 On deciding to adapt Invincible into an animated TV series…
There's different calculations that go into live-action versus animation, especially in series form. We are developing Invincible in live-action as a movie, and that is a very long process. There's a lot of figuring out how we are going to achieve the things that we want to achieve in live-action. That's a lot of work.
When it comes to doing it in series form, it would be almost impossible to do the number of seasons on a live-action television budget. There's a lot of scenes in The Boys that take place in war rooms. Invincible is not that show.
Invincible is at the bottom of the ocean. It's on the surface of the moon. It's out in deep space. It's knocking buildings down. So we knew that in series form it would work best in animation. That was the main driver to make a good animated show.
On characters he'd like to explore further in the Invincible universe…
I love the character Best Tiger. He was mostly in the Invincible Universe series that Phil Hester and Todd Nauck did. So I didn't get to spend a lot of time with that character, and I'd love to do some more stuff with him. But other than that… There's a lot of stuff coming in the show. It's awesome to me that the show started as soon as the Invincible comic book ended, because I moved right into that, and I haven't missed these characters in any way. It's been neat.
On writing Invincible and The Walking Dead at the same time…
Doing both of these books concurrently for a good 15, 16-year period, I think it's the only way I was able to do them both. Because I would work on Walking Dead and I would find myself getting kind of depressed. Then I would work on Invincible and I would not be, but I'd get kind of tired. Then I would go into Walking Dead, and then get sad again, and bounce back and forth. I'd love to say that I was professional enough to write six issues of Walking Dead and six issues of Invincible; and be able to schedule things where I could spend quality time on both books. But I'm not. So I would sometimes write Invincible and Walking Dead in the same day.
Or I'd finish an issue of Walking Dead and I'd immediately write an issue of Invincible. I was bouncing back and forth constantly the entire time. This is not a lie – Ryan would get a script where Invincible would be punching a guy through a wall and it would say, "Rick punches a guy through a wall." [Laughs.] They just knew what I meant.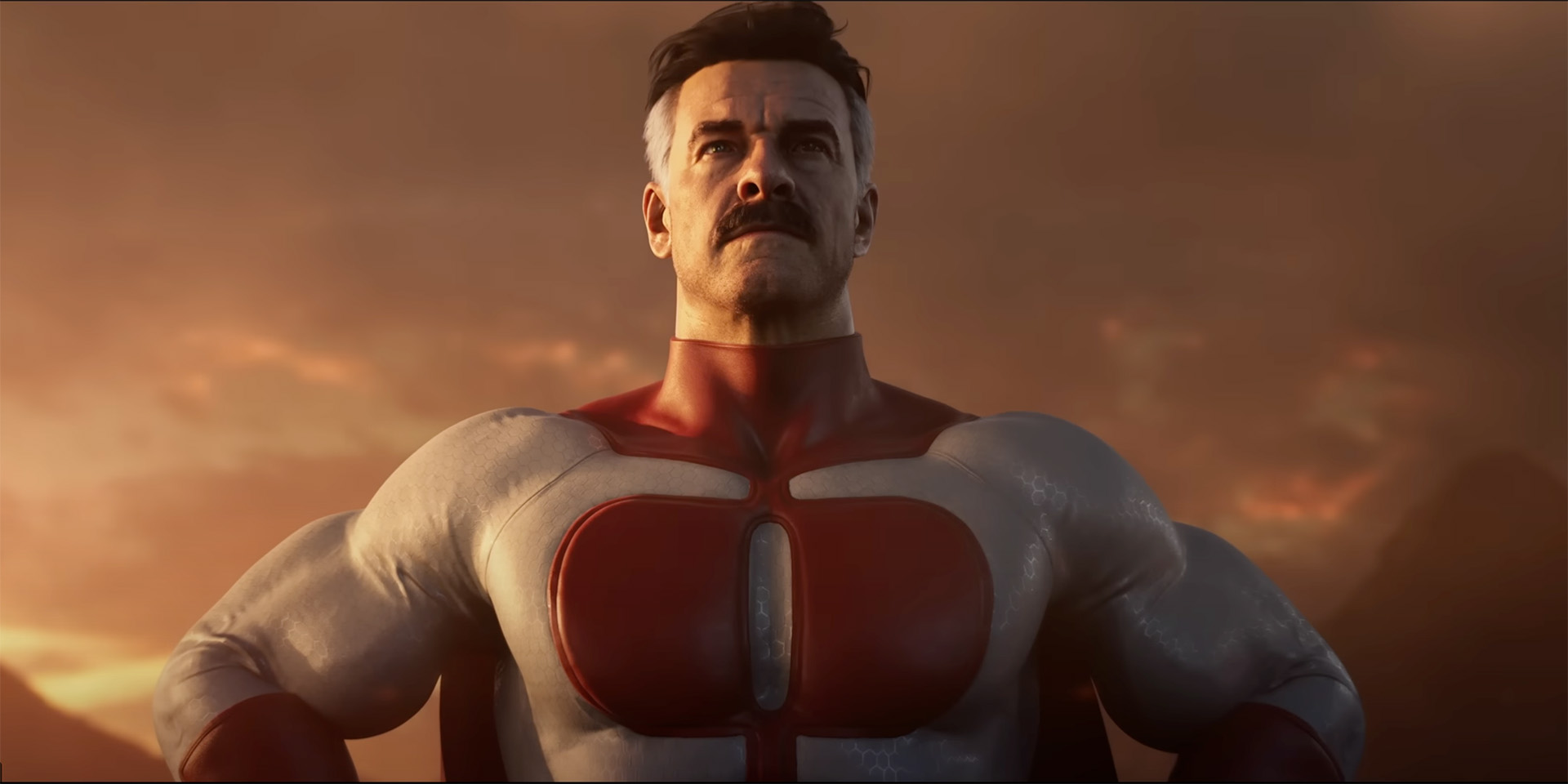 On how Mortal Kombat influenced him…
Mortal Kombat came out in 1990 or '91. That was a big time in my life. That was right before Image Comics debuted. It was only five or so years after I watched Transformers: The Movie. Seeing that display of violence and just being really excited by it and shocked by it…
I remember the first time I saw people playing Mortal Kombat at a local arcade. They started doing fatalities and it was like, "Wait, what happened? What was that?!" When Mortal Kombat debuted, it was like the early days of Twitch – people around the people playing Mortal Kombat would just stand there for hours, watching… Because we had nothing to do. So we would just watch people play Mortal Kombat. [Laughs.] But yeah, it was a huge influence.
It's crazy to be working on the Energon Universe and working with Ed [Boon] on the Mortal Kombat stuff and thinking every single thing I've done in my career can be drawn back to those experiences. Trying to recreate that feeling or the shock of experiencing that.
On the advice he would give to budding creators…
Being willing to pivot. My entire childhood was wanting to grow up to be Erik Larsen. I wanted to write and draw my own comic series. That was, to me, the be-all, end-all that I was striving towards with everything I did and every stitch of work that I did.
I drew my first comic book, a wrestling comic called Between the Ropes that most people have never heard of. I submitted it to Diamond Comics, because I was going to self-publish it. They sent me a nice letter that someone had typed that said, "Not of professional quality," or that said, "Your submission has been denied. We hope that you die in a fire." At least that's what it felt like. It was crushing. Everyone gives this advice, but… You will experience failure. I experienced failure 20, 30 times a year – to this day. I have pitches that go nowhere. I have projects that fall apart. I have things that collapse. You have to train yourself to go, "Okay, that's one," and be able to do that pivot. Don't let anything weigh you down and stop you.
 People will say, "How fast do you write comics?" Well, usually it's three days to a week or it's a month to six months. Because if I don't get it done before my self-doubt kicks in…  My self-doubt slows me down to the point where it cripples me. To this day, I'm racing my self-doubt with every project I start and every issue that I write.
You just gotta learn to manage that. Because we all have that. When we have those crushing failures, that's when that self-doubt can really rush in. But you just have to keep telling yourself, "I just want to do this. It doesn't matter if it's good, and it doesn't matter if people like it. I want to do it for me, because I enjoy this." You just gotta act accordingly.
On why he started making comics…
Because I had no other skills whatsoever. I really wanted to make a living and pay my bills.
My dad was a sheet metal fabricator and welder that had his own small business and they made ductwork for factories. He would sometimes come home covered in metal dust [after] hanging out on a roof in the sun, and I'd go, "I don't want to do that. It's not fun at all." Then I started reading comics, and I saw the credits page in the books, and I thought to myself, "So that's a thing people do as a job? They don't have to hang off a ladder and melt steel onto other steel so there's two pieces of steel holding together?" That's what, that's what welding is. I was like, "I'll make the funny things in the book with the paper." [Laughs.] So that's what I did. But I'm not very bright. I didn't go to college. I don't recommend that! I'd prefer to [have gone]. So I was like, "I'm not really great at anything else." As you can sometimes tell when I speak. [Laughs.]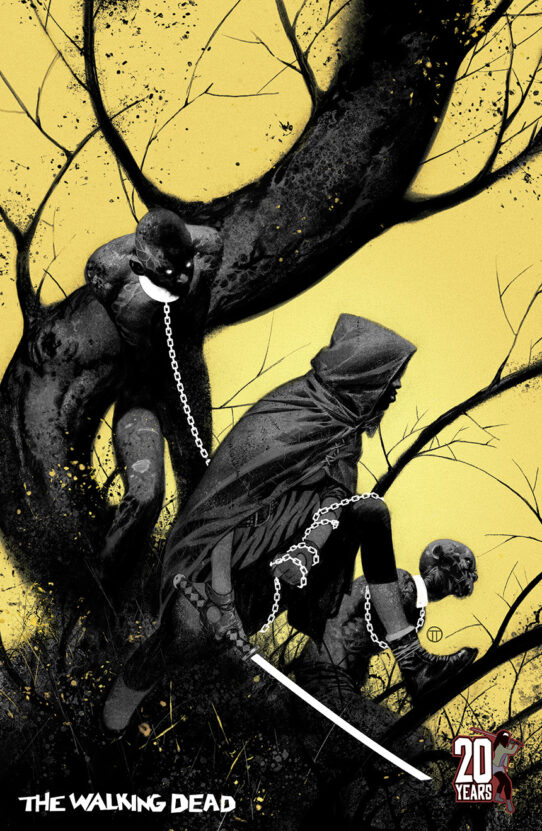 On why we're still talking about The Walking Dead…
Honestly, I don't know. If I really knew, I'd do it a thousand times. I'd just be like, "Oh, I gotta push those buttons…" But I think that it came about at the right time. Post 9/11, there was a bunch of uncertainty in the world, and everyone had a survivalist thing on their mind. I was dealing with my feelings about that in the book. There was a zeitgeist going where everyone had a lot of uncertainty and a lot of fear. So the book explored uncertainty and fear in a manageable way, and it wanted to help people to a certain extent. At least it spoke to people.
And the show debuted at a time when Lost was ending. There was this massive show on TV where people were surviving on an island and there was a lot of struggle. But it [had] really relatable human characters doing extraordinary things. Then that show ended, and four months later AMC was like, "There's this show, and there are people who are surviving, and they wear dirty clothes sometimes and it's cooler because there are zombies…" I think that that helped.
But at its core, The Walking Dead is just a really relatable story. We were always very careful to make sure that it was always a story about people. It was about a husbands and wives and sons and daughters and aunts and uncles and grandpas dealing with family situations and trying to do right by the people that they love. It's the kind of thing that we all experience every day, but it's not as interesting because there's not zombies also trying to eat you. So it's this really relatable story that just happens to have this one fantastical element that spices the story up a little bit. But, you know, all of those things said, it's really hard to replicate that.
[With] the cast of the show, we lucked out. I can't tell you how many television shows behind the scenes are an absolute nightmare because there's one actor or two actors that slow things down or argue with other people or get into fights. Every single actor that's worked on The Walking Dead has been amazing; so those productions were very peaceful and very productive. It's just been a really great group of people behind the scenes working on it. So we've just had luck after luck after luck along the way. I feel very fortunate.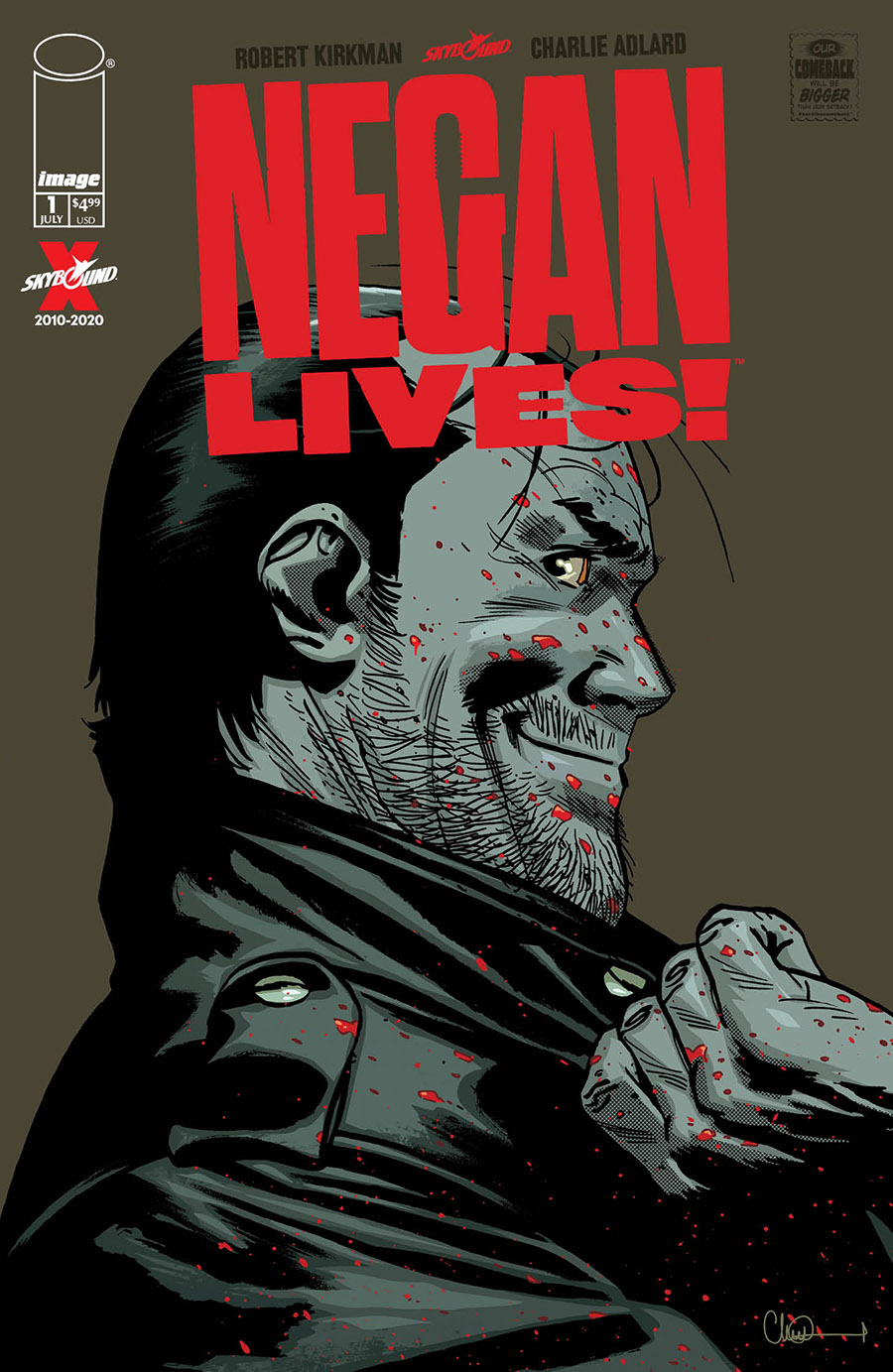 On whether he could return to The Walking Dead comics…
I don't know. I mean, Charlie [Adlard] and I are working on different projects, and we are very busy. If I were to ever come back to The Walking Dead, it would be Negan's story. Because I do know where that story goes and what happens and everything. But I'm hesitant to open that door, just because I've kind of closed that part of my life off, and it feels like it would be almost disrespectful of what we accomplished to come back and do more. That said, I'm not beyond being disrespectful, so who knows? [Laughs.]
There's no plans right now. But when the pandemic hit, a lot of people were like, "Hey, you know, our comics retailers are really hurting, and they're having trouble getting people to come back into stores." The Walking Dead had almost just ended. And I was like, "You know, I do miss Negan deeply…" I love writing that character and I had that story in mind. Because of those unique circumstances of the pandemic, I called Charlie on the phone and was like, "You want to do a Negan issue?" He cared about the comic stores and everything too. And we did that issue in three weeks. I think I called on May 1st and the book was in stores June 12th. It was really fun to just hit the ground running and produce that book [Negan Lives #1]. But [there are] no plans to do it again. Until the next pandemic. Yay! [Laughs.]
On the challenges of translating The Walking Dead comics to a live-action TV show…
I don't know. There were some frustrating things for me. On episodes that I wrote, there would be times where I'd be like, "40 zombies go over here," and then they'd be like, "You get eight." It's like, oh man…
There's a reason I stopped writing episodes of the show, other than because I got busy. I wrote an episode in Season 4 that also took place at night. I'm used to writing comics, [where] we write a script and the artist does all the work. I was doing night shoots for 16 days. I had to get up and stay up until, I don't know, six in the morning. I'm lazy, and you actually have to film at night when you're writing night scenes. That's no fun. That took some getting used to. It was terrifying, me driving home on the Georgia back roads at, having stayed up all this time. Like, "I'm not gonna survive."
Yeah, there are weird practical considerations that you don't think about when you come from comics. [Laughs.]
INVINCIBLE™ © 2023 Robert Kirkman, LLC & Cory Walker. SKYBOUND and all related images are owned by Skybound, LLC. IMAGE COMICS and all related images are owned by Image Comics, Inc. All rights reserved.