We have VERY exciting news! The Walking Dead: Michonne, A Telltale Miniseries Episode 2: 'Give No Shelter' (try saying that 3 times fast) is coming Tuesday, March 29th! It'll be available on the Telltale Online Store, Steam, and other digital distribution services, the PlayStation®Network for PlayStation 4 and PlayStation 3, the Xbox Games Store for Xbox One® and Xbox 360® video game and entertainment system from Microsoft, for compatible iOS devices via the App Store, and for Android-based devices via Google Play and the Amazon Appstore. The miniseries will finish with the third episode, 'What We Deserve,' in April.
According to Telltale, Episode 2 throws users into "a daring escape from the floating colony of Monroe, where we see Michonne, Pete, and Sam running for their lives. An all too brief reprieve is soon shattered; the leaders of Monroe don't forgive and don't forget. With memories of her daughters bleeding ever further into Michonne's blurred reality, her world is becoming increasingly fractured… just at the point when she'll need all of her skills to survive."
Here's the key exciting key art for the episode: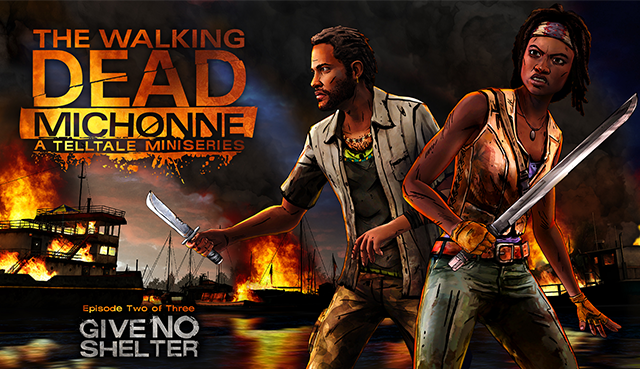 The Walking Dead: Michonne – A Telltale Miniseries Episode 2 – 'Give No Shelter' is rated 'M' (Mature) for Intense Violence, Blood & Gore, and Strong Language by the ESRB.
---
Who's excited for the new episode??