The giant battle and its aftermath came straight out of the comics while adding its own twists. Here are the best comic comparisons from The Walking Dead Season 8 Episode 16.
---
The Calm Before The Storm
The lead up to the final battle between Rick's allies and The Saviors went down much differently in the show than the comics.
SHOW: Rick gathers his allies and follows Dwight's map towards the battlefield. They ambush Saviors setting a trap for them, Morgan hallucinates Jared, while Tara and Alden wait for an attack at The Hilltop.
COMICS: Negan and Rick's final battle actually occurs almost a day after the battle at the Hilltop. Unlike the show, Negan never went missing and Simon didn't exist, so from a comic standpoint this episode should occur right after 813. Also, none of that lead-up at The Sanctuary, drama with Eugene and Father Gabriel, or capture of Dwight happened in the comics.
---
The Battle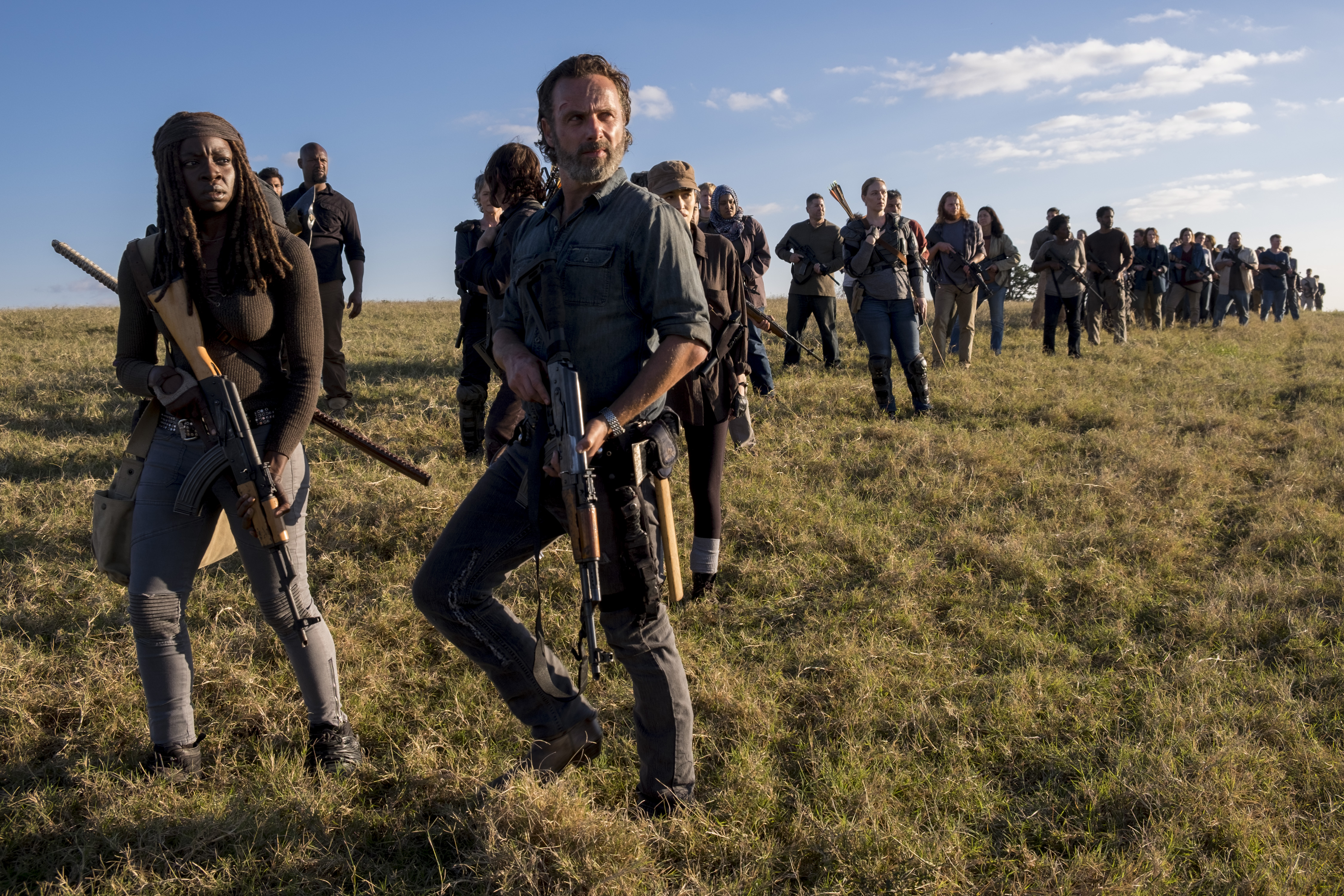 SHOW: Rick and his allies follow Dwight's map to a large field where they hear the familiar Savior whistle ring out. Negan announces on his megaphone in the distance that he's ambushed their ambush, Eugene made it all possible, Father Gabe's about to die, and oh by the way Dwight's been exposed. But right when they're about to fire on Rick their weapons backfire and most of the Saviors are maimed or killed. Negan realizes Eugene rigged their weapons but before he can attack him he gets tackled by Gabe and Dwight. After Rick's group takes out even more Saviors they all surrender, leaving Rick to deal with Negan.
Rick and Negan fight each other until Negan gets the upper hand. On the brink of death, Rick says that Carl wanted them to work peacefully for a better world. Negan considers it and Rick slits his throat. Negan collapses and tells Rick that Carl didn't know a damn thing. Rick then orders Siddiq to save Negan (much to Maggie's dismay) and tells his people that it's time to build a new world.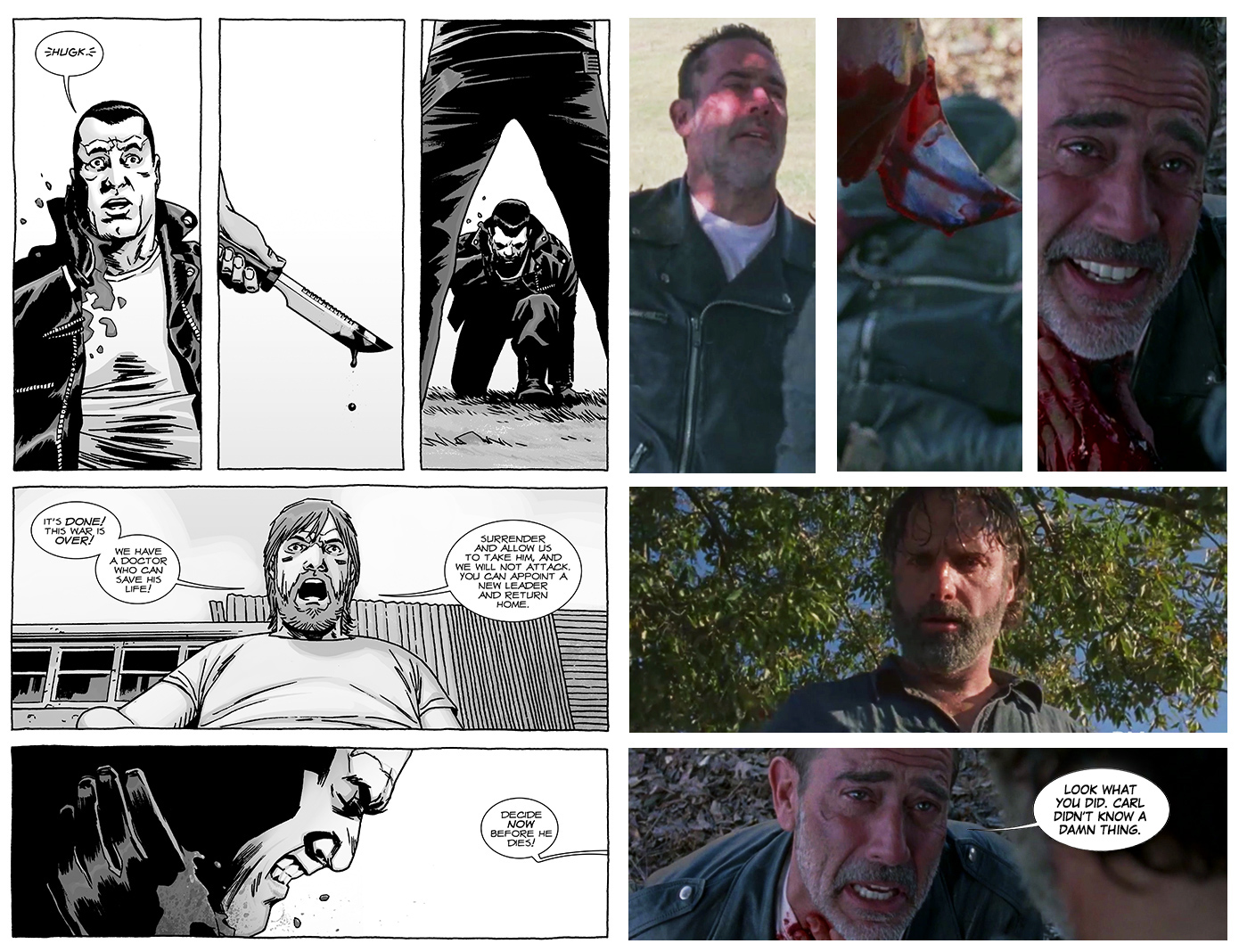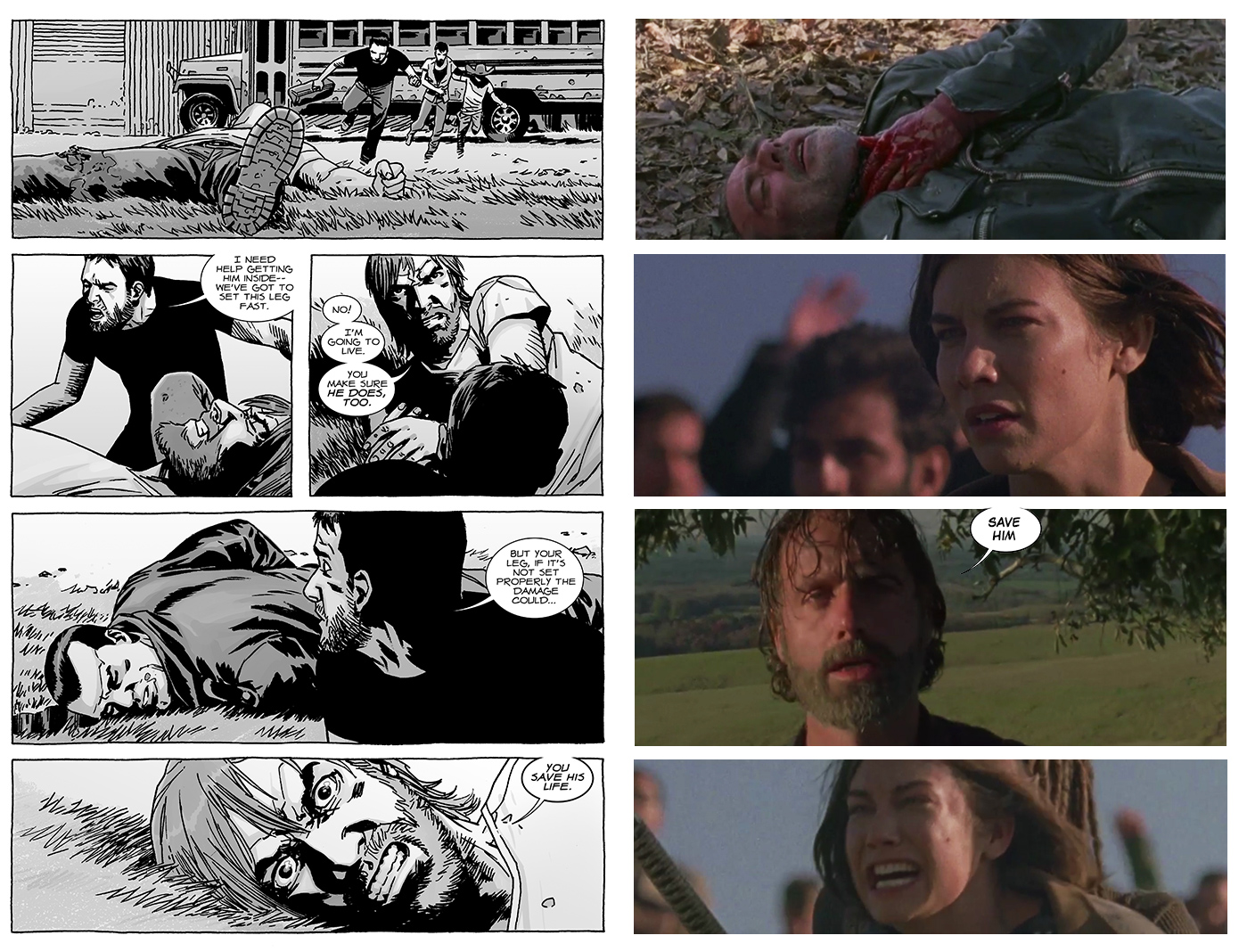 COMICS: Negan returns to the Hilltop gates thinking most of their people (including Rick) have turned from the walker gut-laced arrows. He's obviously mistaken and Rick shows up at the gate to propose a new plan. Instead of battle, Rick offers him the chance to create a barter system between the communities so they can all finally live in peace. Negan legitimately considers it and then Rick slits his throat. Unlike the show, their battle occurs AFTER Rick slits his throat, not before.
Negan and Rick brawl until Negan grabs Rick's leg and breaks it before passing out. Dwight then declares himself the leader of the Saviors and Rick tells his people to save Negan in spite of his broken leg.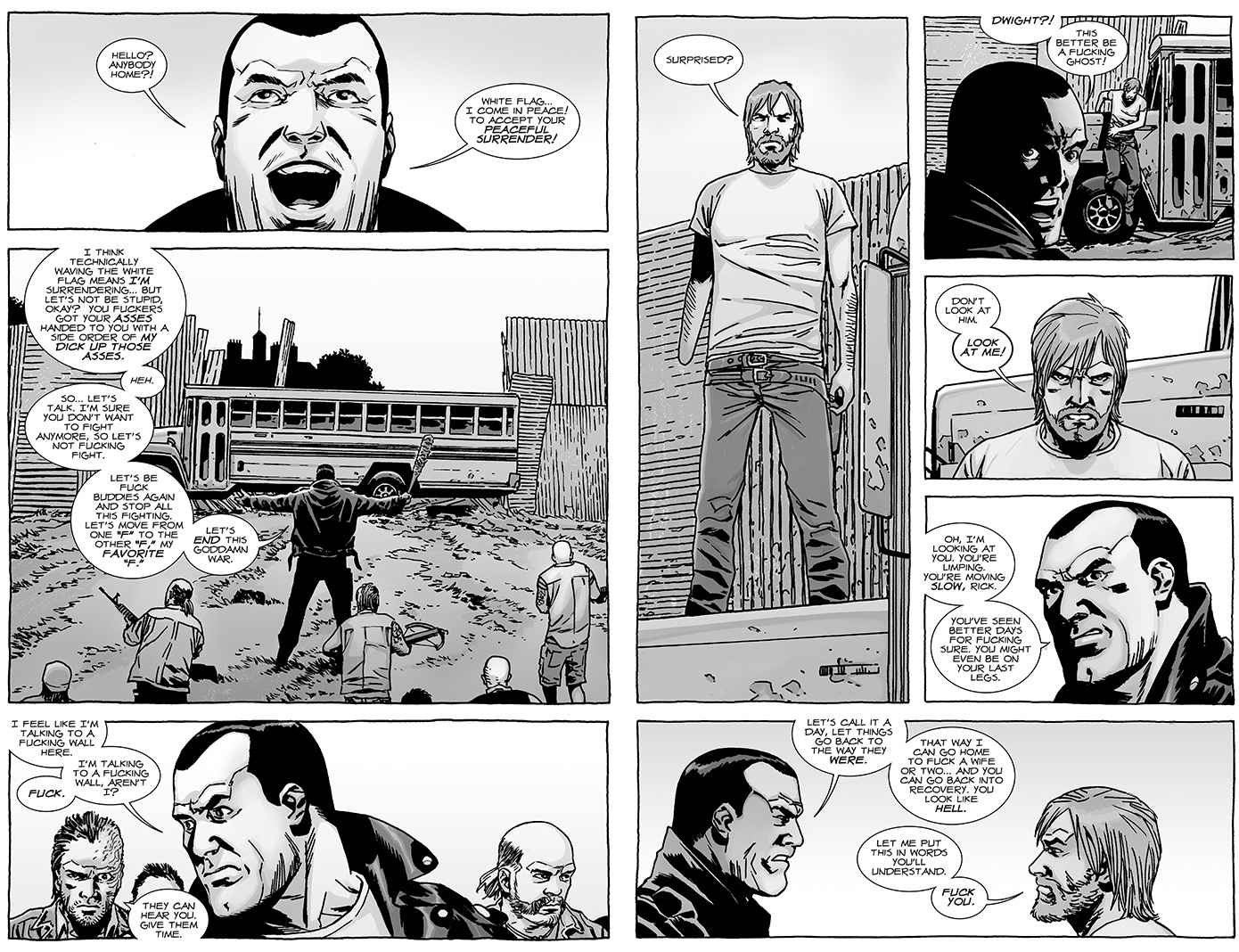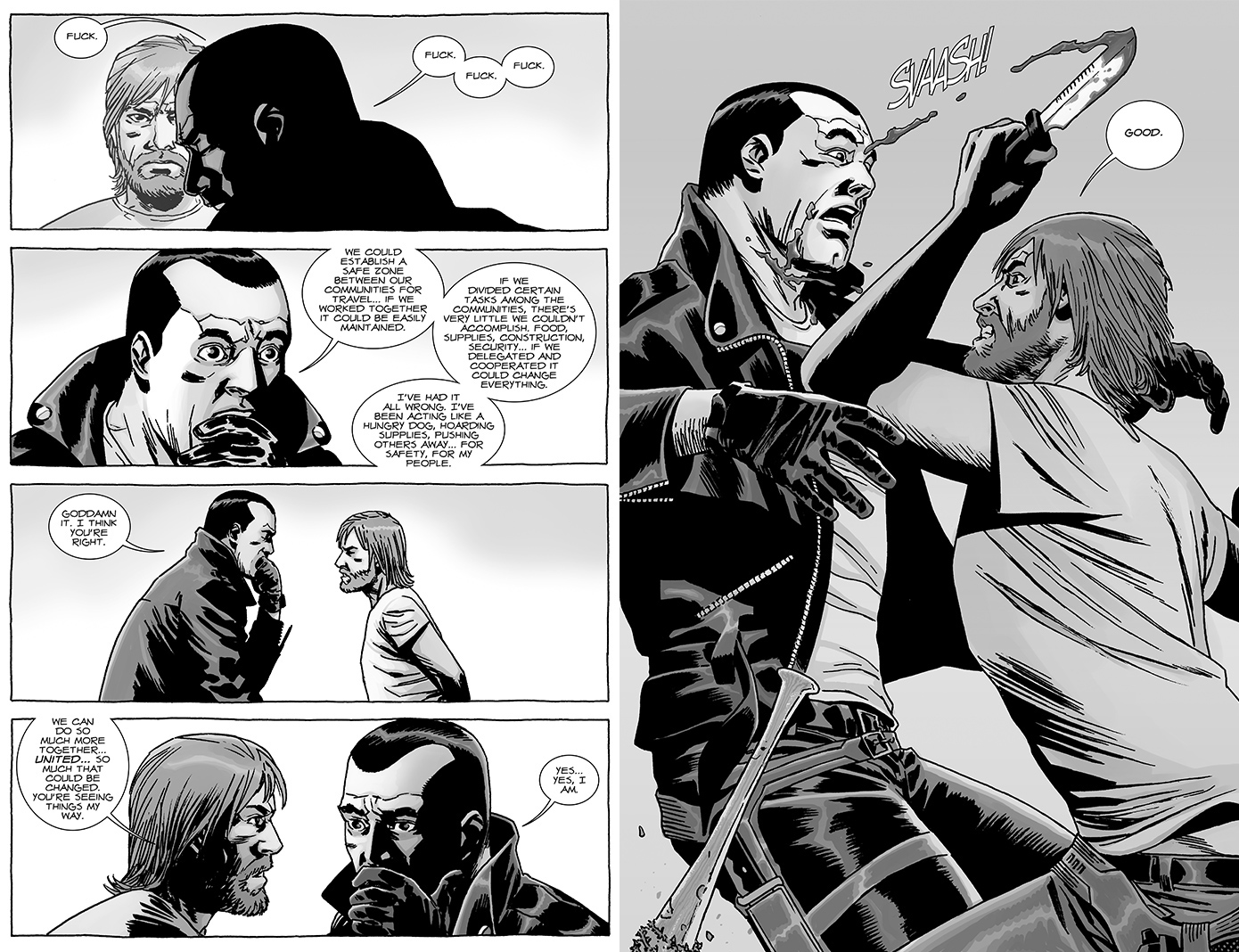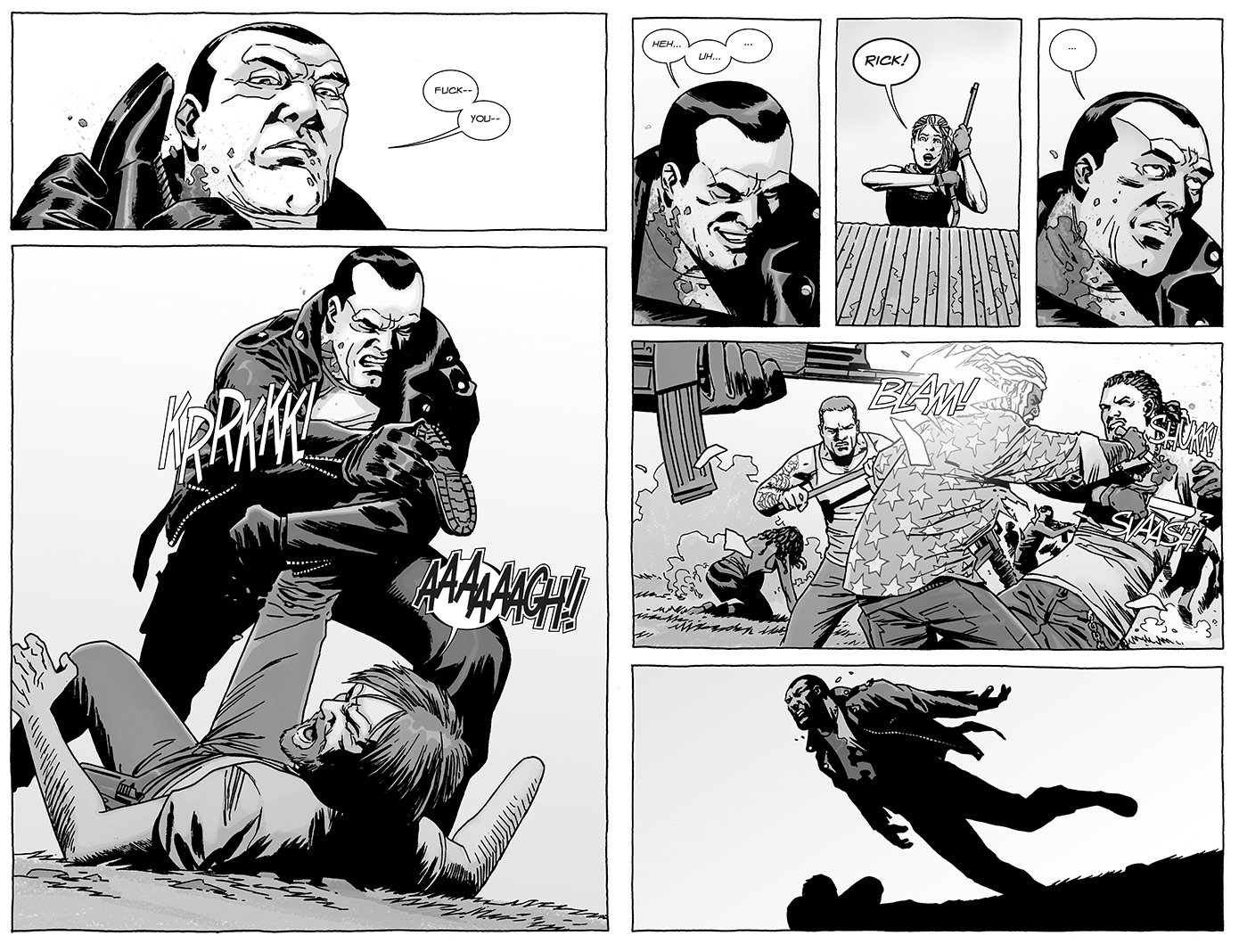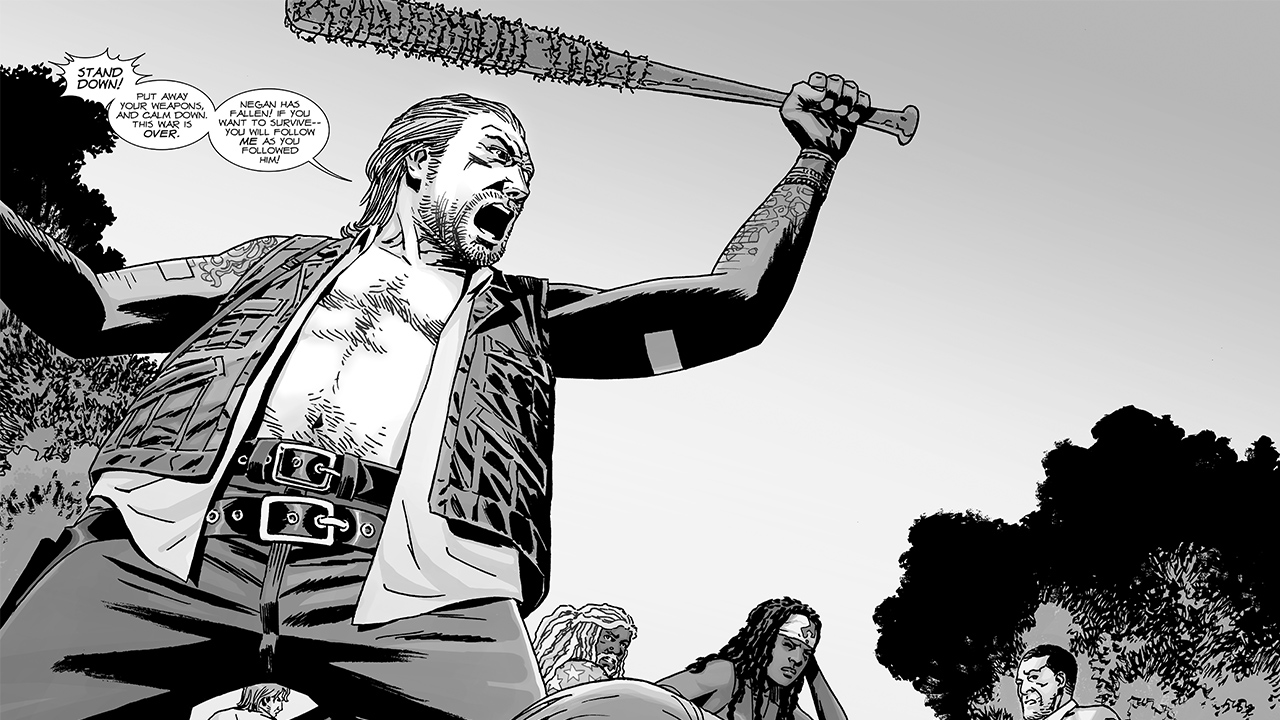 So the major differences are that in the comics, the battle happened at Hilltop (and before Negan's throat was slit), none of the weapons were rigged, Rick's leg got broken, and Maggie wasn't as outwardly upset. Also the mercy over my wrath moment Rick had by the tree was unique to the show.
---
The Aftermath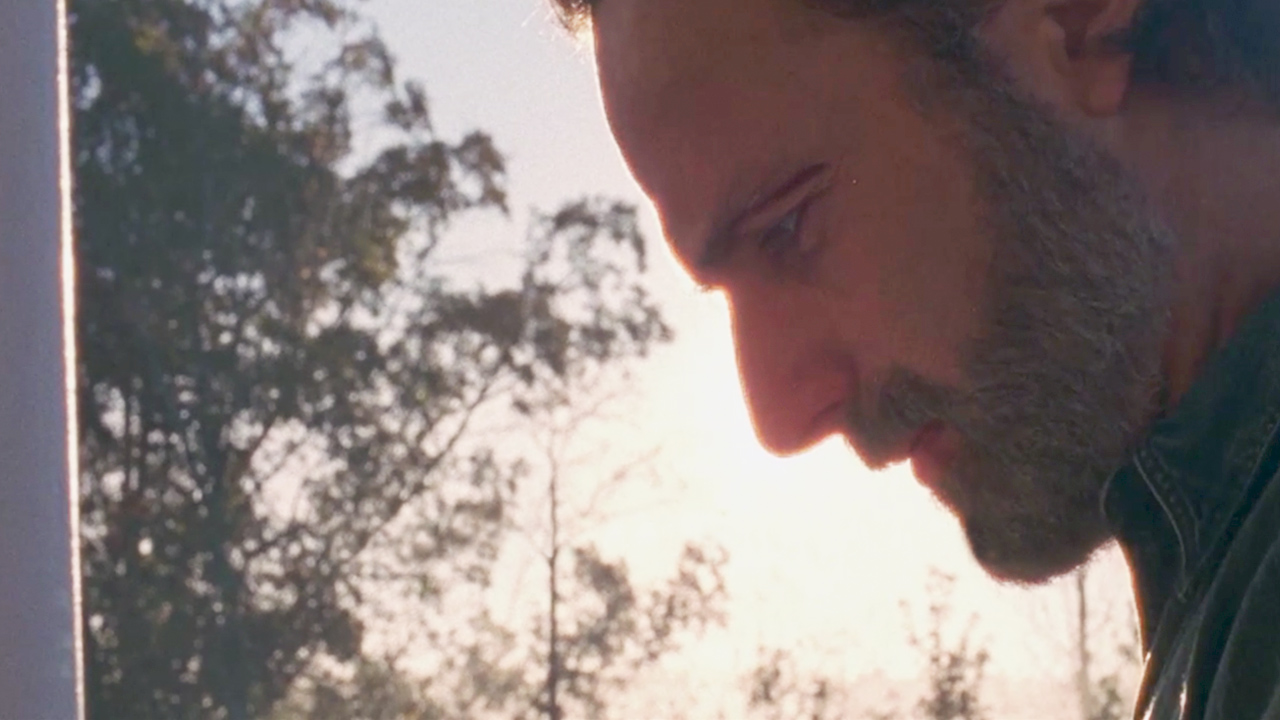 SHOW: Half a dozen storylines got wrapped up in the show, but the biggest comic comparisons came towards the end when Rick visits Negan in the infirmary. He and Michonne tell him how they plan to lock him up while they survive without him.
COMICS: Similarly, Negan wakes up to find himself in the infirmary at the Hilltop. What's different is that since Rick's leg was broken so he, too, wakes up in a hospital (with a massive leg brace). He visits Negan with Michonne, Andrea, and Carl (who are both still alive) to tell him that they're keeping him alive to show him how he can thrive without him. Also, he's going to rot in jail for the rest of his life.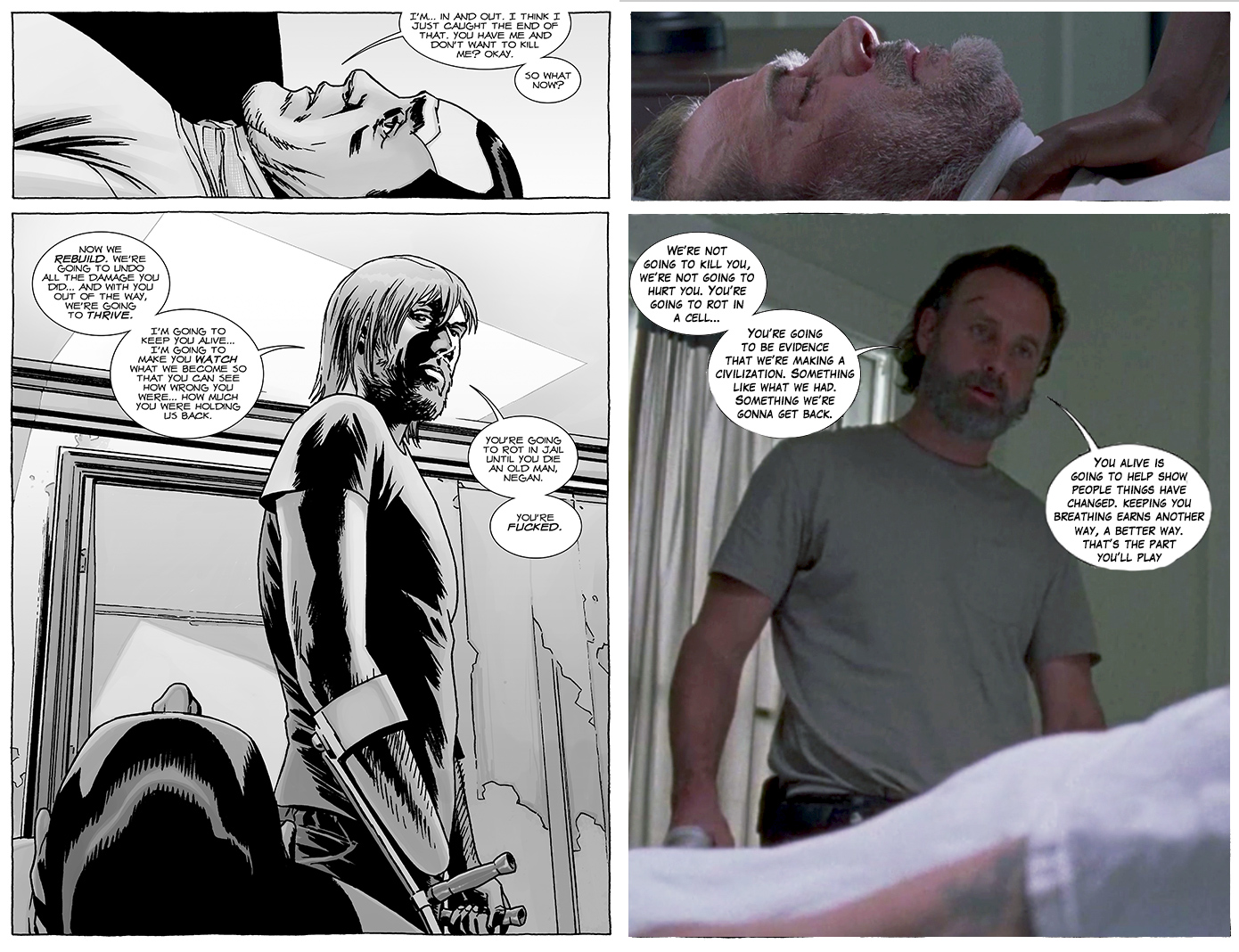 ---
What Didn't Happen In The Comics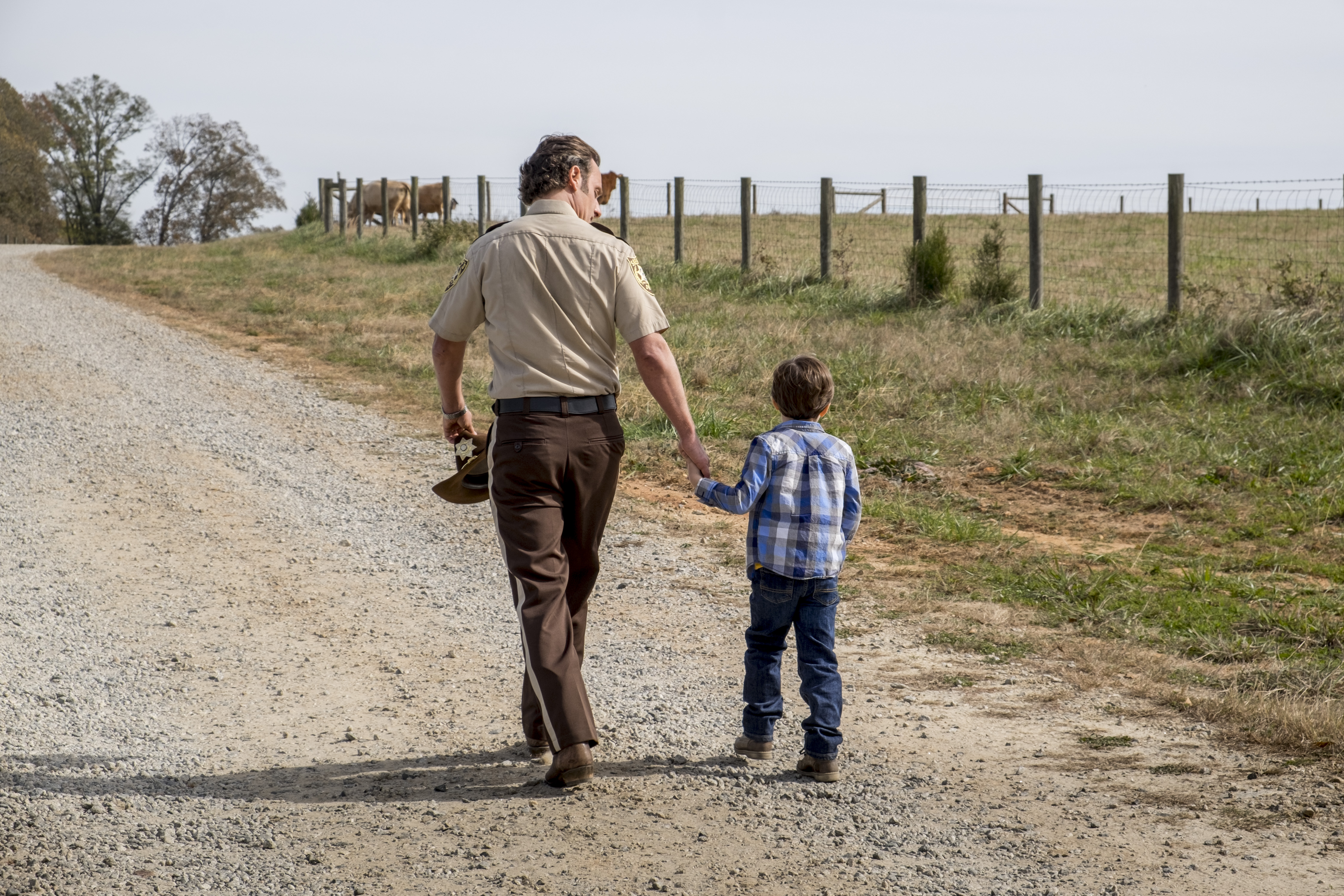 In the comics Carl's still alive, Carol and Morgan are long dead, Oceanside and Siddiq don't show up until years later, and Daryl, Jadis, Tara, Alden, and Henry don't exist. So the following plot lines are NOT in the comics: Rick and Siddiq's conversation, Morgan's attack of Henry/subsequent trip to live at the dump, Father Gabriel's escape and re-capture, the side attack on Hilltop, Rosita's post-battle trip to the Sanctuary, Daryl and Dwight's closure, Dwight's visit to his old house, Maggie's secret plot, and of course Rick's letter to Carl. But other than that, spot on!
---
That wraps up our comic/show comparisons for Season 8! Which comparisons have been your favorite this season? Tell us in the comments and catch our comparisons for Season 9!