"What's Your Story?
Fear's fourth season opens with a cowboy, John, getting startled by a noise nearby his campsite. He calls out to it but hears no response. He rambles on about being on his own for a year after losing a woman he loved. A walker appears and he quick-draws his gun and shoots it at the same time Morgan impales it from behind. John asks Morgan, "So, what's your story?"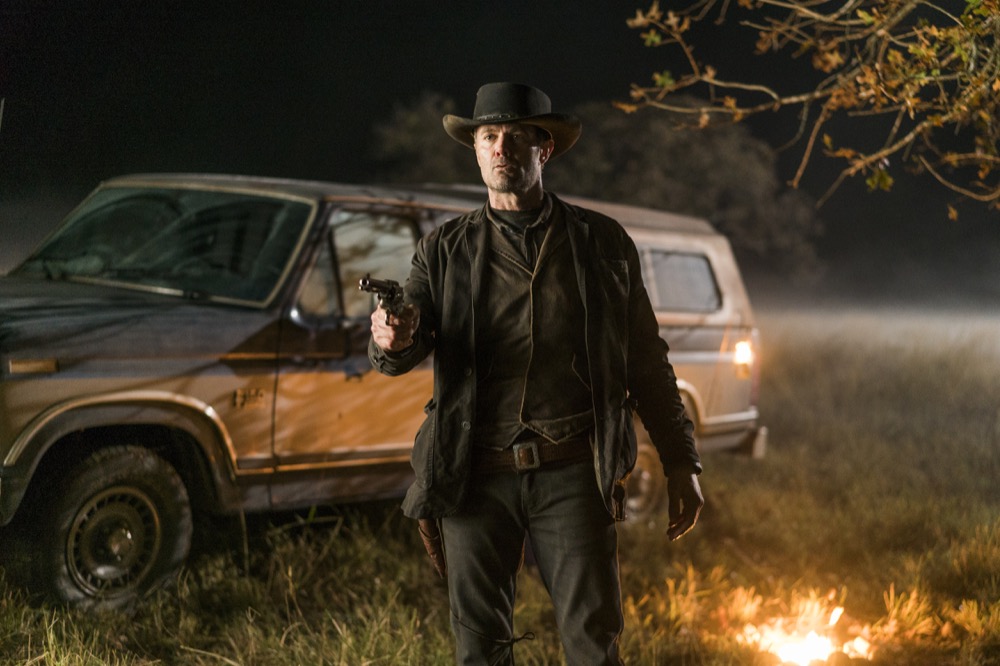 Flash back to the last time we saw Morgan at Jadis' junkyard in The Walking Dead. He hears a knock on one of the bins and opens it to find Jesus. He tries convincing Morgan to return with him, arguing he belongs with people. Later, Carol visits and asks him to return to The Kingdom for the same reason. Rick stops by after and also tries encouraging him to stay, but Morgan once again declines and lets him leave. Morgan packs up his belongings and heads out to forge his own path.
On the road, Morgan struggles with his decision to leave behind his life in Virginia. He tells himself "you know what it is" and continues on his journey. We see him hike through several environments until he finds a barely usable car. He comes upon a town where he discovers a dying man in a truck. Morgan tries offering him medicine but the man tells him to leave.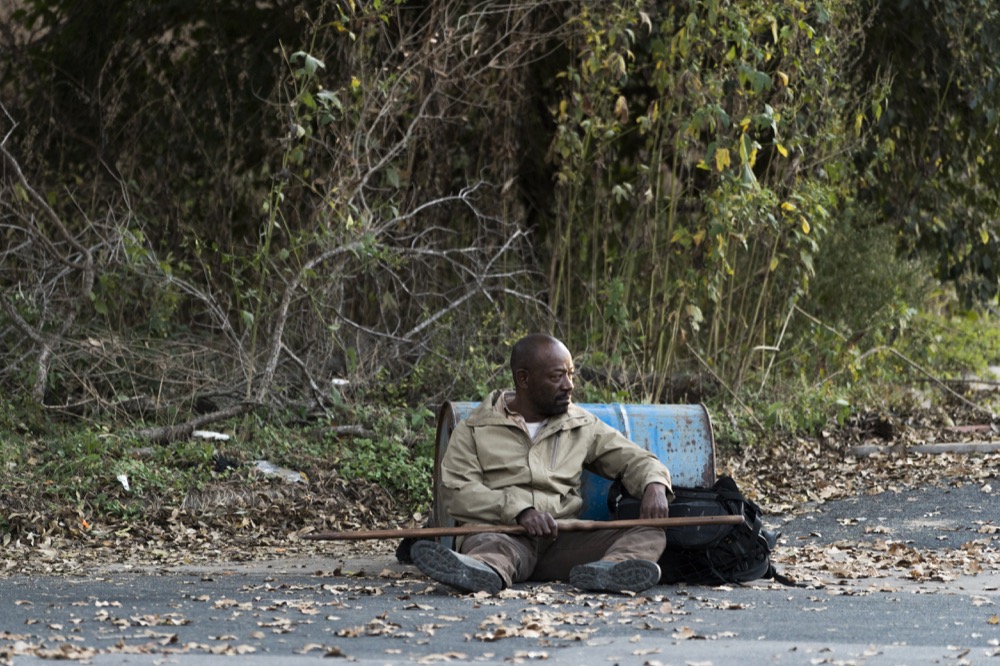 Morgan eventually make it past the Texas border until he comes upon a campsite. We're now full circle, and the cowboy introduces himself as John Dorie. Morgan, who doesn't trust him, tells him he's from back East. John asks him if he's encountered a woman who had an identical gun as his, but Morgan says he hasn't. They get into John's truck together for rest but Morgan slips after John falls asleep. Morgan investigates another nearby campsite until he's knocked out from behind.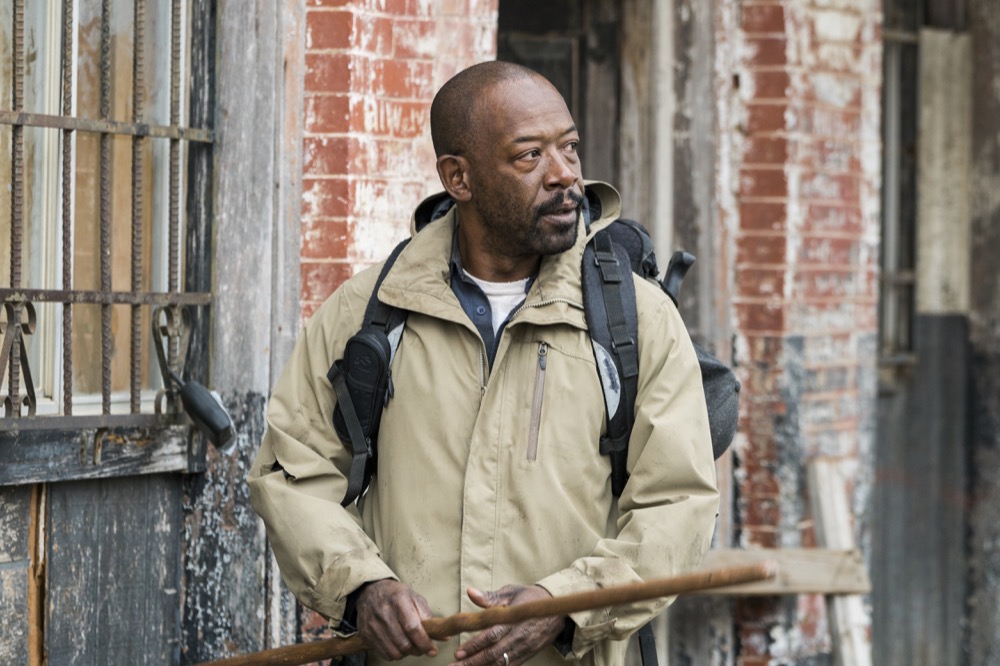 Morgan wakes up to two men holding him up at gun point. John shows up and shoots the gun out of the stranger's hand. The Stranger's friends show up and John and Morgan are held at gunpoint yet again. A giant SWAT truck pulls up and the female driver questions the men what they're up to. They tell her to just leave but she pulls a lever and the back hatch of the truck opens up revealing two machine guns. The strangers give in and let her take Morgan and John with her.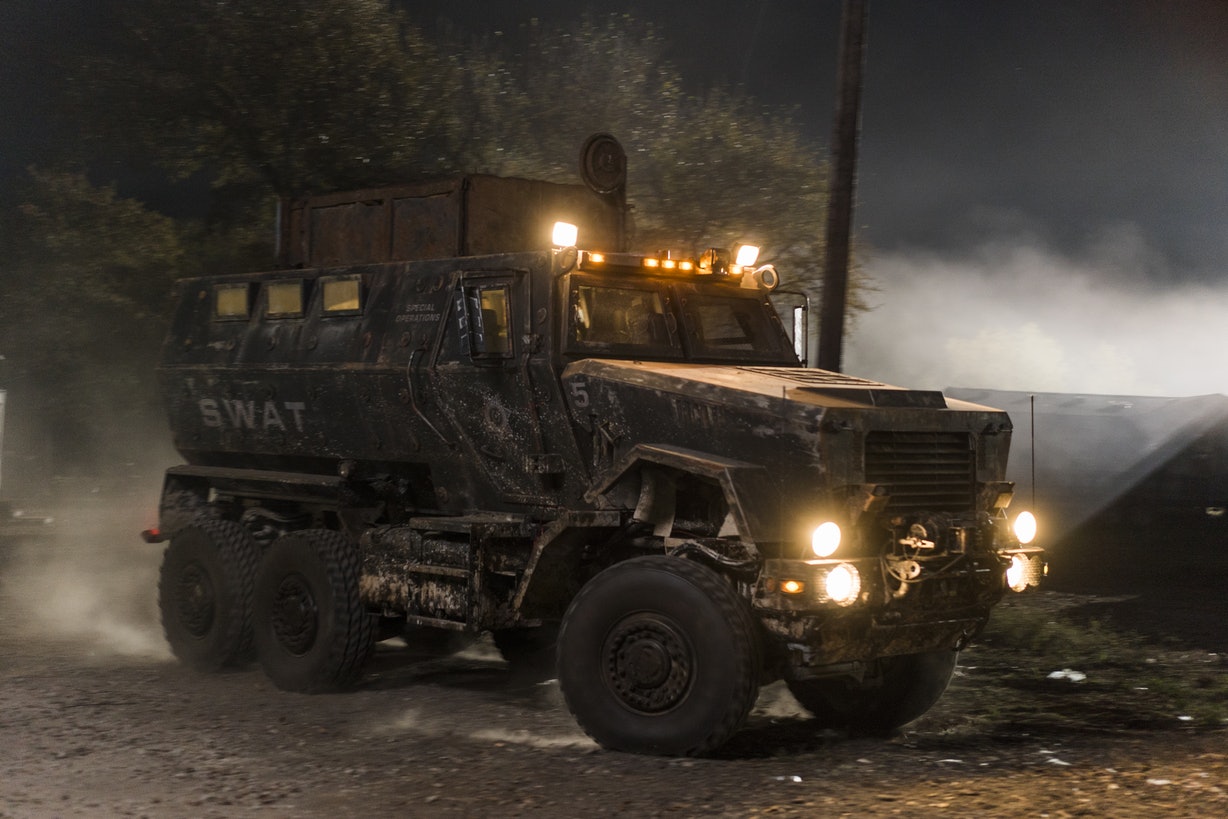 On the road, the woman introduces herself to them as Althea. Morgan asks if he can get out but Althea explains they now owe her for rescuing them. They arrive at another campsite, she retrieves her camera, and tells them she's a journalist who wants to record their stories. John tells his story about his lost lover Laura while Morgan's more reluctant to open up. She starts recording but Morgan's fed up and leaves. John catches up with him and offers him fresh socks. Morgan gladly accepts them and suddenly, they're surrounded by the strangers from the previous night.
They hold Morgan at gunpoint and ask for the stick but Morgan fights back while John shoots their guard and Althea elbows another. She tries to reach the lever for the machine guns but is pulled back into the dirt. She tosses the truck keys away as Morgan sneak-attacks one of them and John unleashes a trailer full of walkers. Leyland gets snake bitten and almost walker bitten until one of his snipers save him. Morgan parkours to the sniper and fights him on a roof until they fall in the trailer beneath. While the sniper gets eaten by walkers Morgan drops a grenade and takes cover in the other room. He makes it out alive, but his leg is messed up from the fall. John saves Althea from Leland, which allows her to get back in the truck and machine gun the remaining walkers.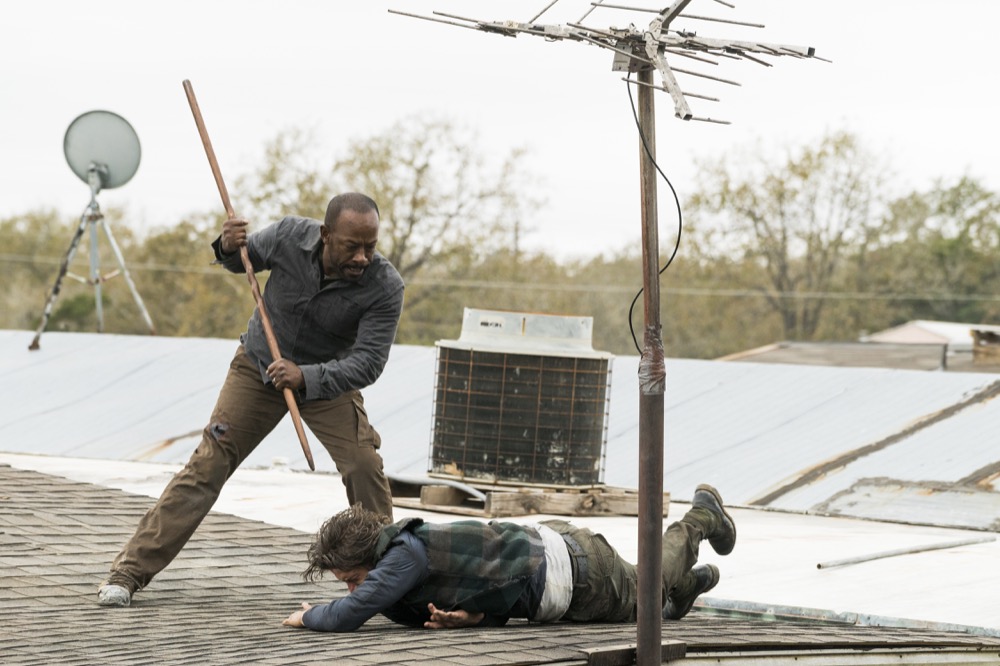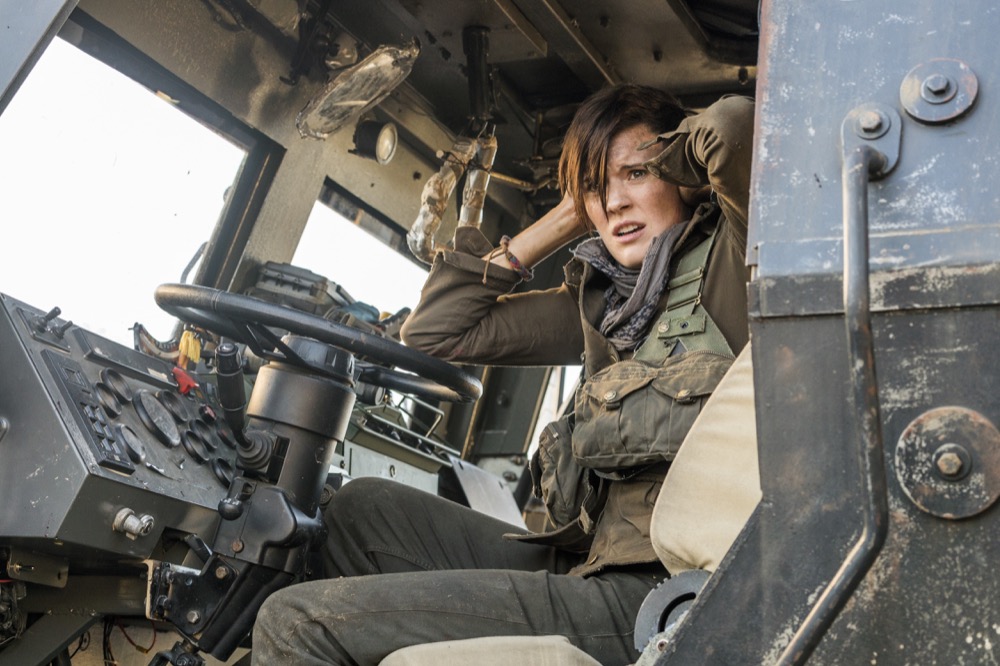 On the road, John asks about the 51 flag at the camp and Althea says she's seen them elsewhere but doesn't know where they come from. They talk about the undead and Morgan reveals he calls them walkers, which makes Althea happy because it means he's finally opening up. They stop and Morgan finally agrees to tell his story to her on camera. He discusses Alexandria and the Kingdom and how they waged war with the Saviors. He goes on to say that even though his people won, he left. When she prods more he asks why she's so interested. After a pause he gathers his things and prepares to leave again, but Althea asks why he left again. "I lose people and then I lose myself," he says as he hobbles away.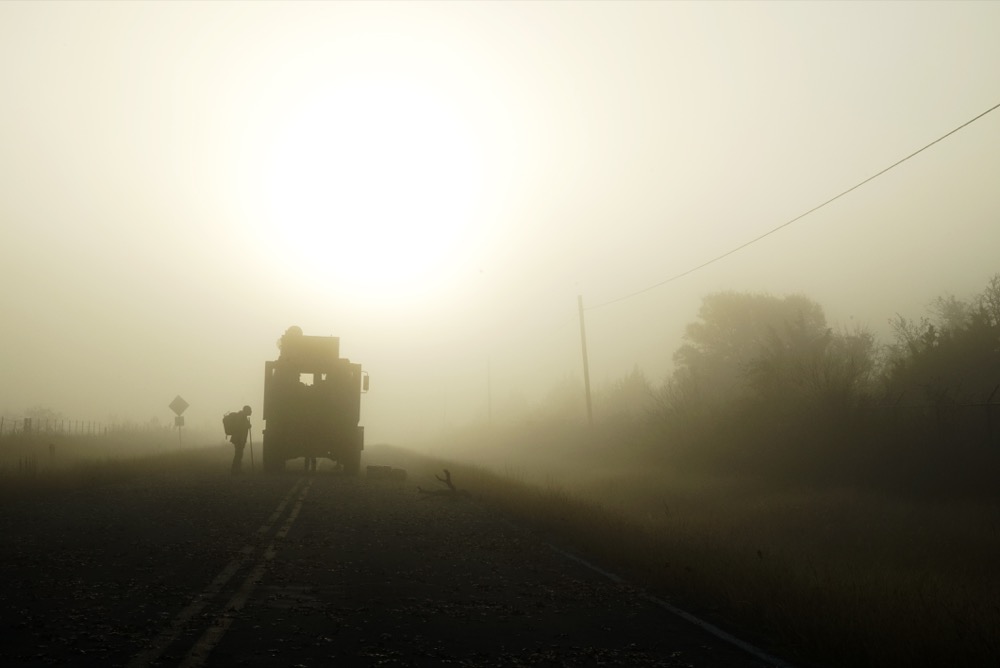 Later, Morgan discovers the truck he saw earlier, but the dying man is missing. He spots him as a walker down the road and walks toward him. Nearby, walkers hear him and begin a slow chase behind. Morgan trips and falls but thankfully John appears and kills them. He helps Morgan up and together they catch up with the dying/dead man. Disappointed, Morgan kills and buries him.
He decides to re-join John and Althea in the SWAT truck until his leg heals. John explains he'll tell more of his story in exchange for Althea helping find Laura – she agrees. They spot a person standing in the middle of the road up ahead. They stop and get out to investigate the seemingly injured survivor. Althea approaches – it's Alicia looking much more dirty than when we left her. She grabs Althea and then Strand, Luciana, and Nick appear from all sides with their guns drawn. Althea asks Alicia, "So what the hell's your story?"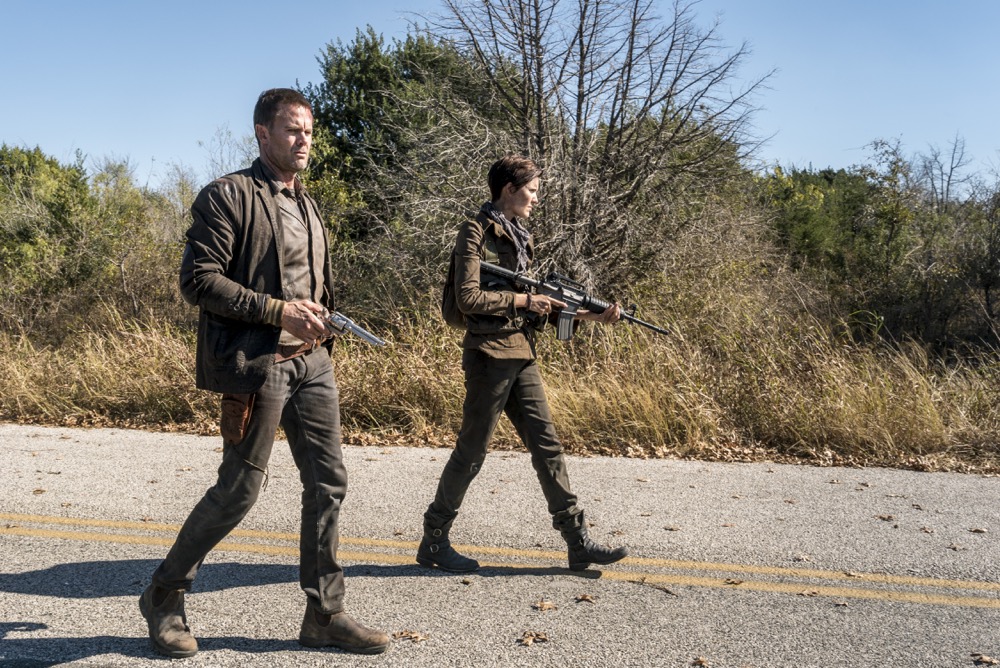 ---
What did you think of Fear the Walking Dead's wildly different premiere? Do you enjoy where the show is going? Where's Madison? Let us know all your reactions in the comments!