We have some fantastic news – NEGAN LIVES, Robert Kirkman and Charlie Adlard's one-shot Negan story is getting a second printing! See the new cover and press release below and don't forget to pick up Kirkman's new series FIRE POWER while you're at it.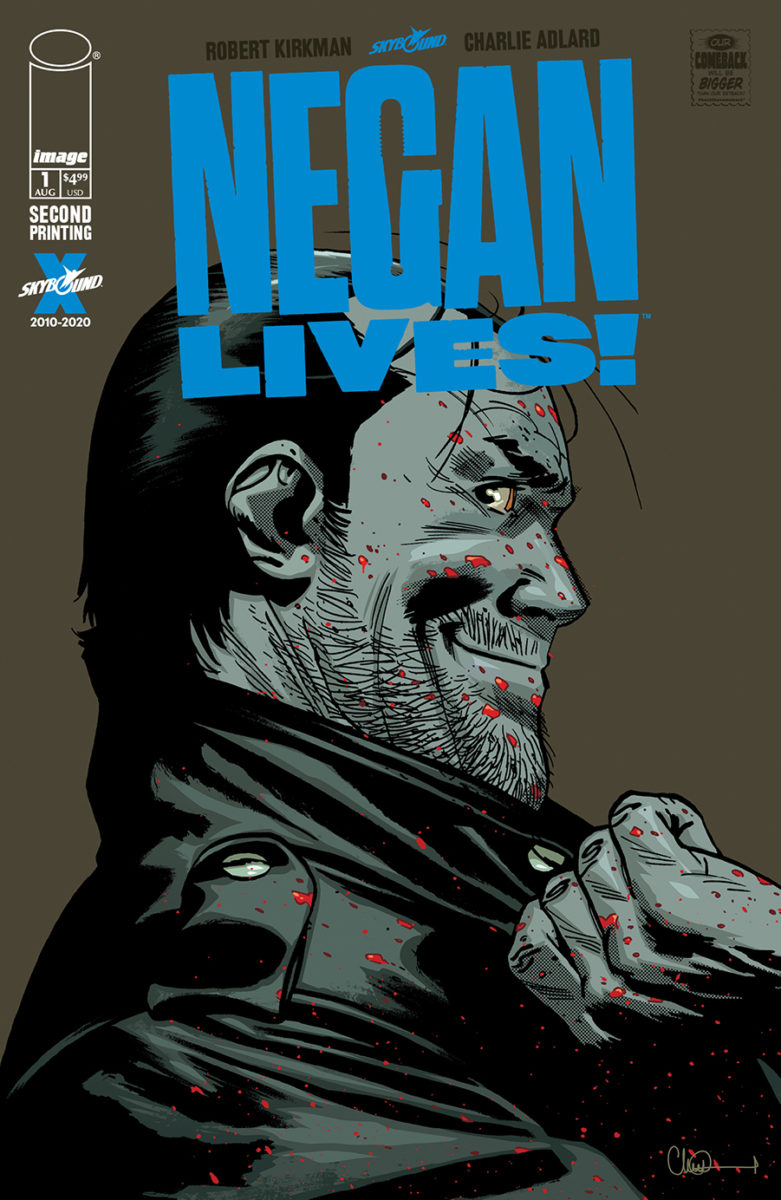 ---
IMAGE/SKYBOUND ENTERTAINMENT KICKS OFF JULY WITH NEGAN LIVES #1 STORY RUSHED BACK TO PRINT ON SAME DAY AS OVER 150K FIRE POWER #1 PROMOTIONAL ISSUES ARE WIPED OUT BY FANS
The surprise WALKING DEAD one-shot from Robert Kirkman & Charlie Adlard sells out instantly at the distributor level and the FIRE POWER #1 by Kirkman & Chris Samnee primes the fandom for August launch
PORTLAND, Oregon — The New York Times bestselling, award winning creative team behind The Walking Dead phenomenon—Robert Kirkman (Fire Power, Oblivion Song) and Charlie Adlard (Vampire State Building)—have done it again with an instant sell-out at the distributor level of the surprise release, Negan Lives #1, last week. A new printing has been greenlit for retailers to reorder stock of the buzzy one-shot story and will be available on Wednesday, August 5.
Fans snagging their Negan Lives #1 issue last week were simultaneously introduced to an all-new series from Kirkman and Chris Samnee, Fire Power. Over 150K promotional copies of Fire Power #1 were quickly wiped out and fans eagerly added their Fire Power, Vol. 1: Prelude trade paperbacks (Diamond Code FEB200019, ISBN 9781534316553) to buy piles in anticipation of the August single issue series launch.
Fire Power #1 (Diamond Code JUN200038), Fire Power #2 (Diamond Code JUN200076), and Negan Lives #1 second printing (Diamond Code APR208954) will be available for purchase on Wednesday, August 5.
Negan Lives #1 will not be available digitally and will be available exclusively at comic book shops.