The Walking Dead Season 9 trailer was packed with more comic references than any Comic-Con trailer we've seen. From Maggie's baby, to Prison Negan, to Magna's group, to The Whisperers, this trailer made fans of the source material VERY excited. Whether you haven't read the comics or need a refresher, here's our comic book breakdown of the Season 9 Comic-Con trailer.
---
Prison Negan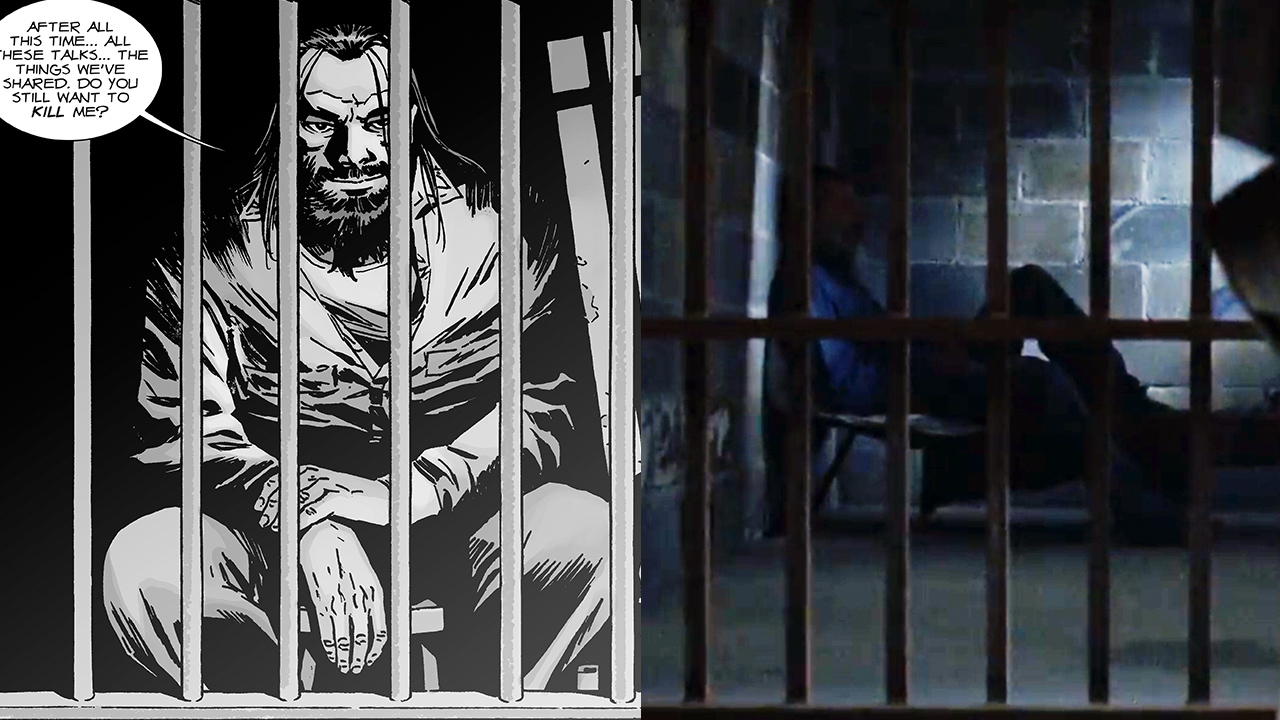 The trailer opens with a tease of one of the more intriguing post-time jump storylines in the comics – Prison Negan. Although a caged up, Lucille-less, disenfranchised Negan doesn't SEEM fun, it is. In the comics Negan is visited by a lot of characters other than Rick, some good and some bad. Notably, Negan forms a bond with Carl. With Chandler Riggs' character out of the show, we'll have to see if that storyline is given to another character or they re-write his arc completely.
---
The Time Jump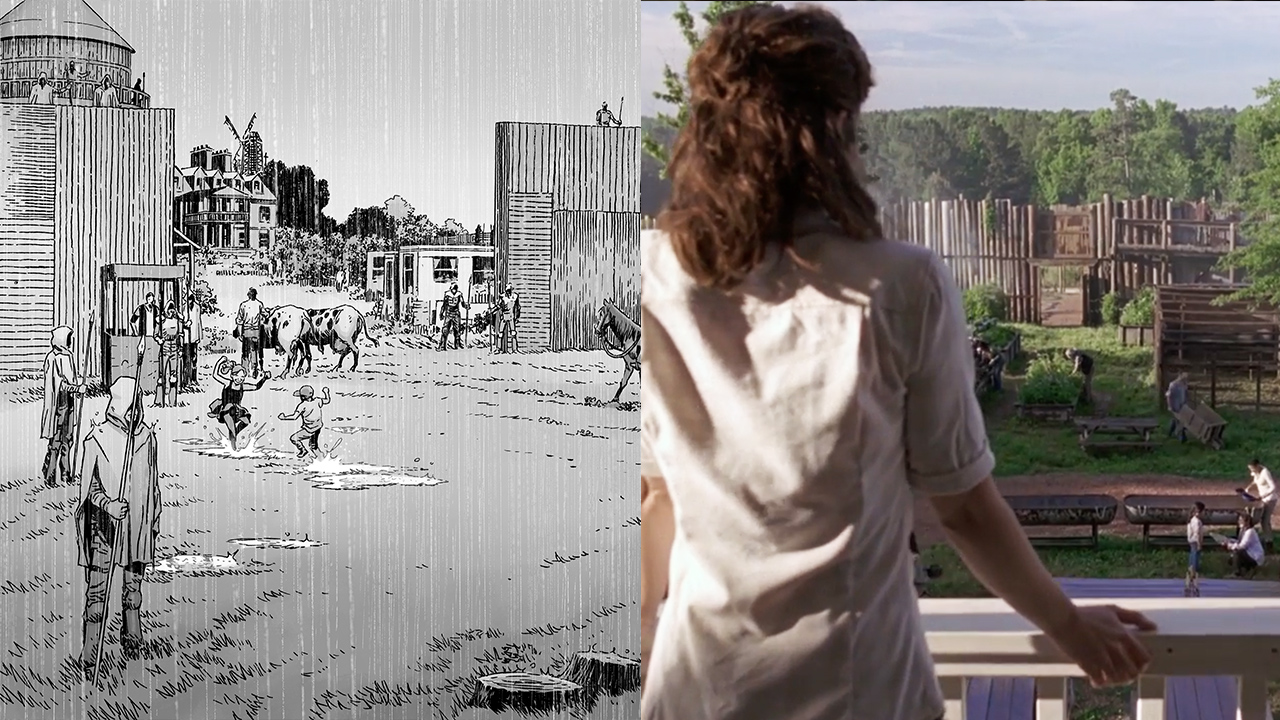 Now that prison Negan's out of the way, let's get to one of the largest storylines of the season – the time jump. The comics skip ahead 3 or 4 years following All Out War, while the show will only skip ahead a year or so (for now).
---
Maggie's Baby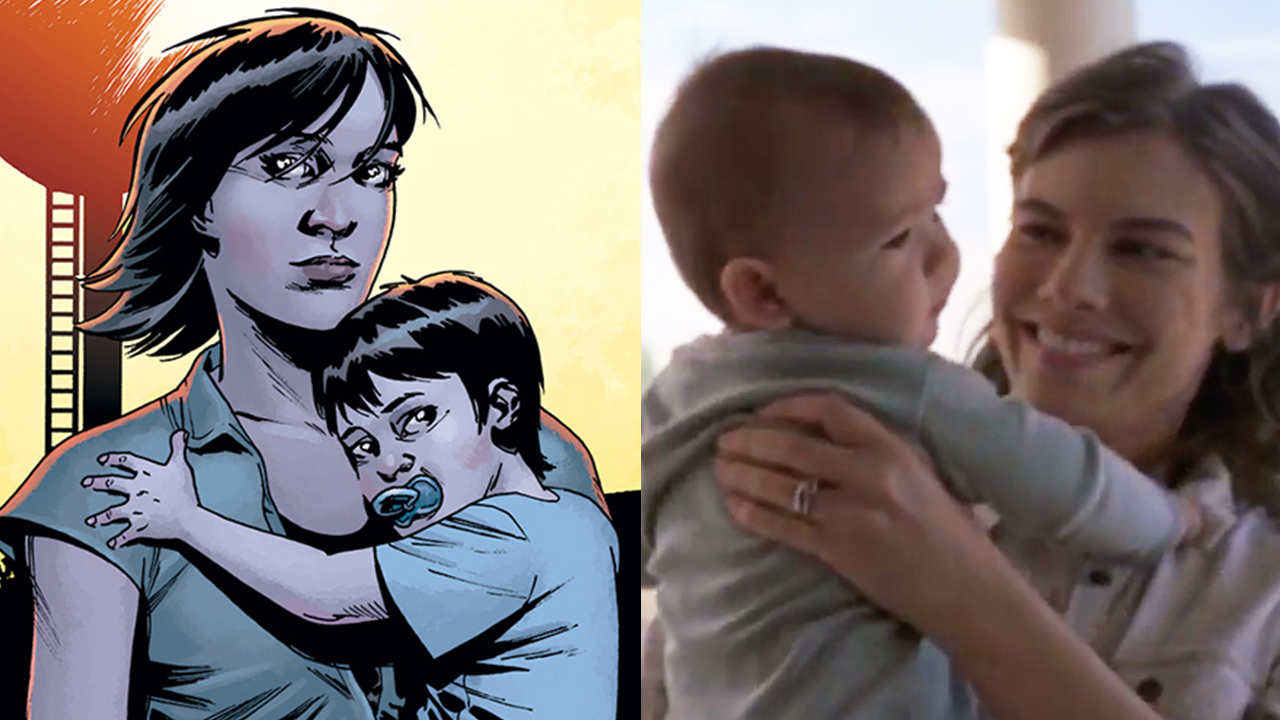 Maggie finally had her baby! After spending the past two seasons pregnant we finally got to see Maggie interact with her baby, who she names after her father Hershel. Just like the comics, Maggie's baby is delivered during the time jump. The only difference here is that in the source material Hershel is about two years old while in the trailer he's still a baby.
---
The Toledo Sign
We can't confirm or deny if this MASH-inspired sign points to Toledo as a joke or it's an actual community that they've discovered. Some fans have theorized that Toledo could be a hint at the Commonwealth, the massive 50,000+ modern community in Ohio that was recently introduced in the comics. This is helped by talk that Georgie, who we met last season, could be Commonwealth leader Governor Pamela Milton. We know Maggie still trades with Georgie, so it's possible the Toledo sign is in reference to that.
---
Gregory's Mutiny?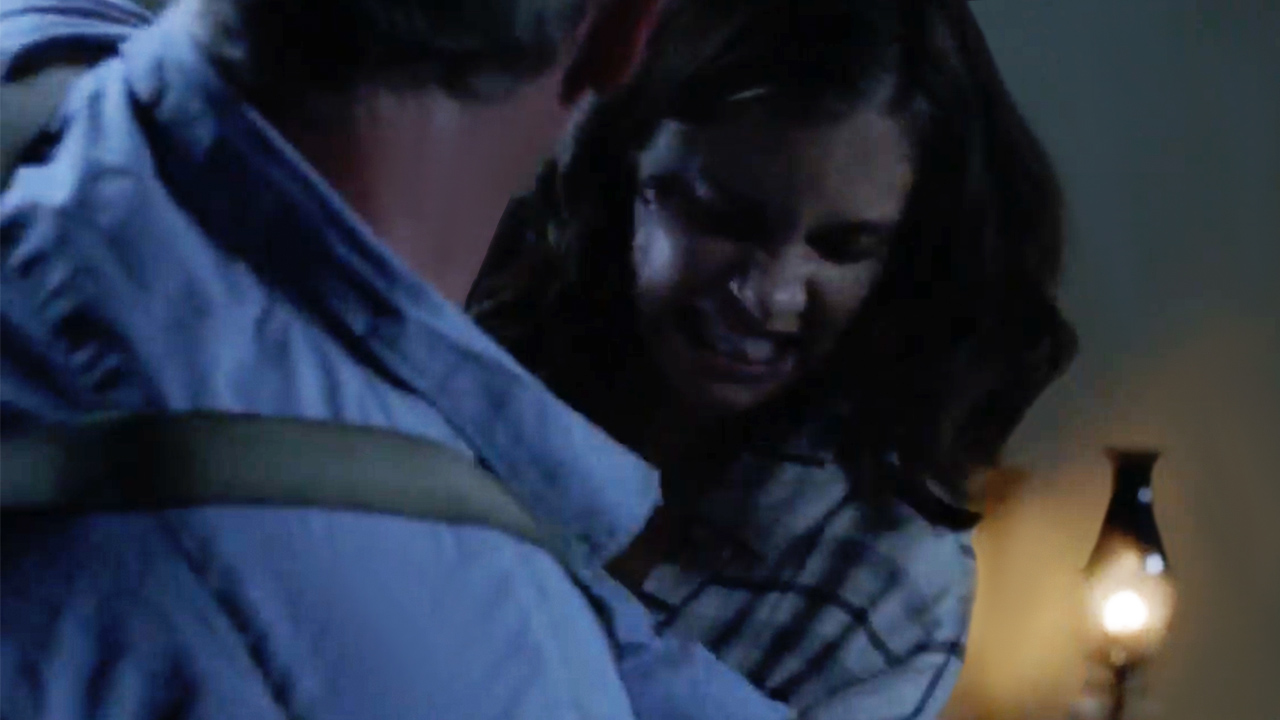 In a blink-and-you-missed-it moment from the trailer, you can see Gregory attacking Maggie. That possibly hints at a major comic storyline where Gregory, who's fed up with Maggie being in charge of his old community, tries to poison her and regain control. It fails and Maggie hangs him to teach anyone who tries to come at her a lesson. Whether that plays out the same way in the show is a different story.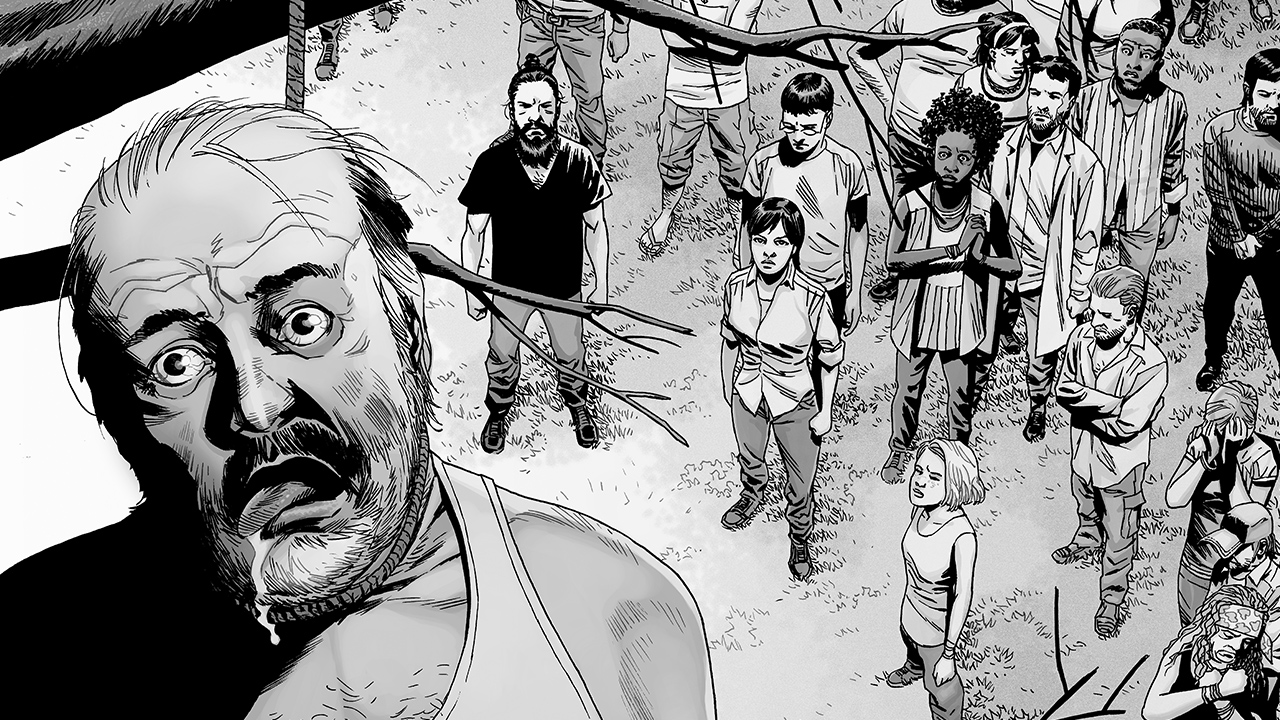 ---
Tammy and Earl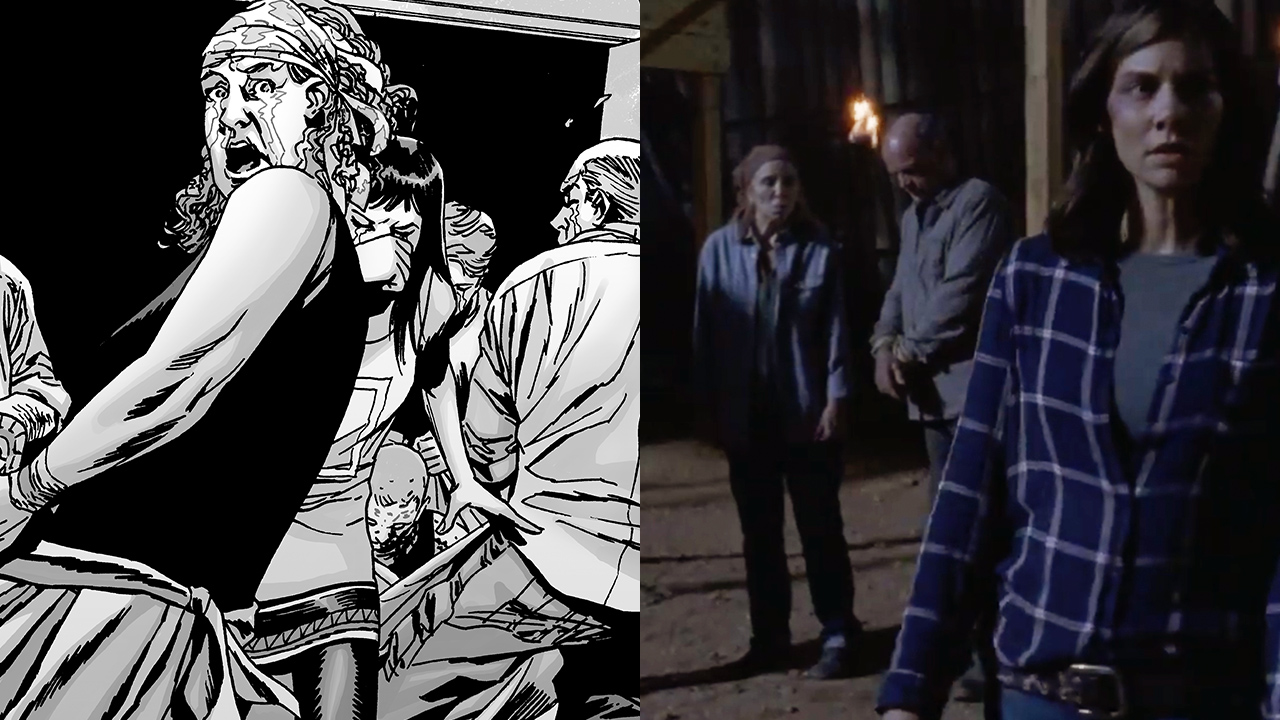 Angela Kang announced during The Walking Dead Comic-Con panel that we would see comic characters Tammy and Earl show up this season. For those new to the comics, Tammy and Earl are members of the Hilltop that are introduced after the time jump. In the comics, Tammy is married to Morton, but in the show she's married to Earl. It seems the show will combine Morton and Earl's characters into one, but we can't reveal more about these characters.
A little more background on the comic version of Tammy – she and her husband Morton are a cantankerous older couple who regularly butt heads with Maggie. In one instance, her son Brandon attacks Sophia (who's still alive in the comics) so Carl retaliates and beats him to a pulp. Tammy lays all the blame on Carl and demands that Maggie lock him up for what he did to her boy. Maggie actually does to smooth things over, but Carl gets out. Eventually, Tammy gets beheaded by Whisperer leader Alpha while her husband Morton dies trying to kill Rick for not immediately going to war with The Whisperers.
---
Magna's Group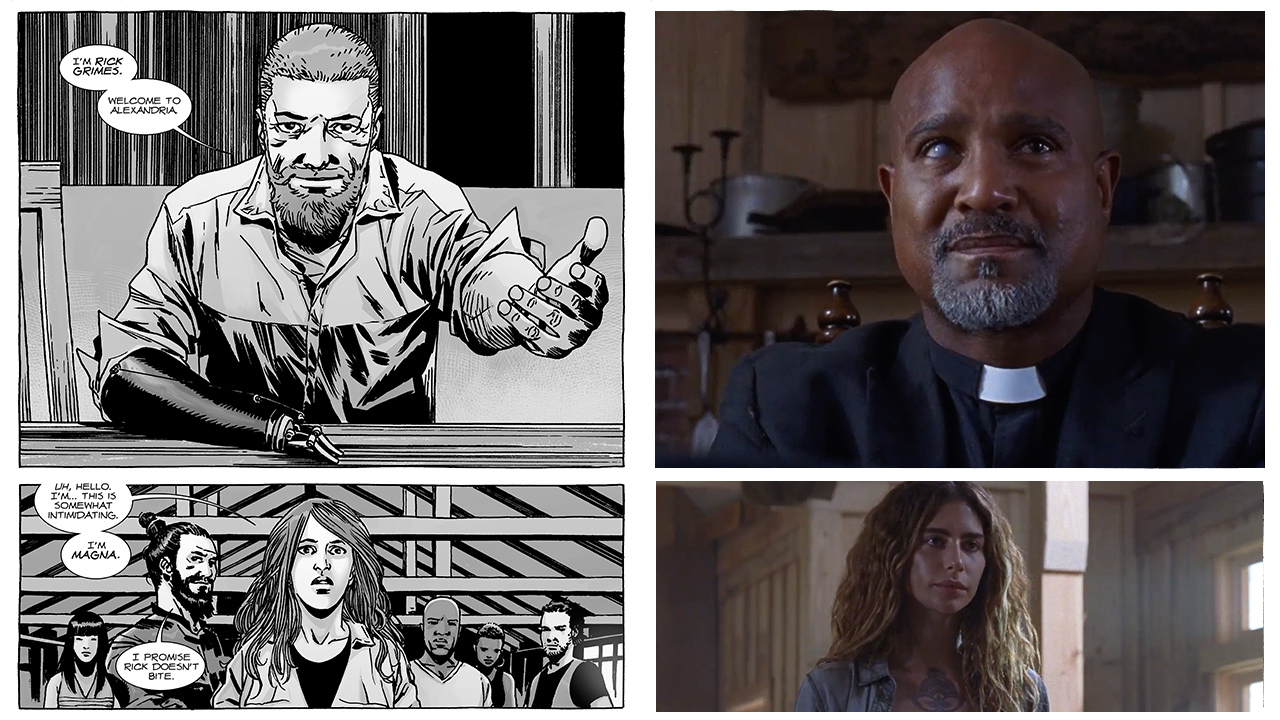 The first characters we meet after the comic time jump are Magna's group, a small crew of survivors from Richmond, Virginia who get saved from walkers by Jesus and his soldiers. The trailer gave us a sneak peek at all of them: Magna (played by Nadia Hilker), Yumiko (Eleanor Matsuura), Luke (Dan Fogler), Connie (Lauren Ridloff), and Kelly, who's played by a woman in the show. The trailer also shows us their initiation into Alexandria via Father Gabriel. It was Rick who welcomed them in the comics, so perhaps this is a post-Rick scene!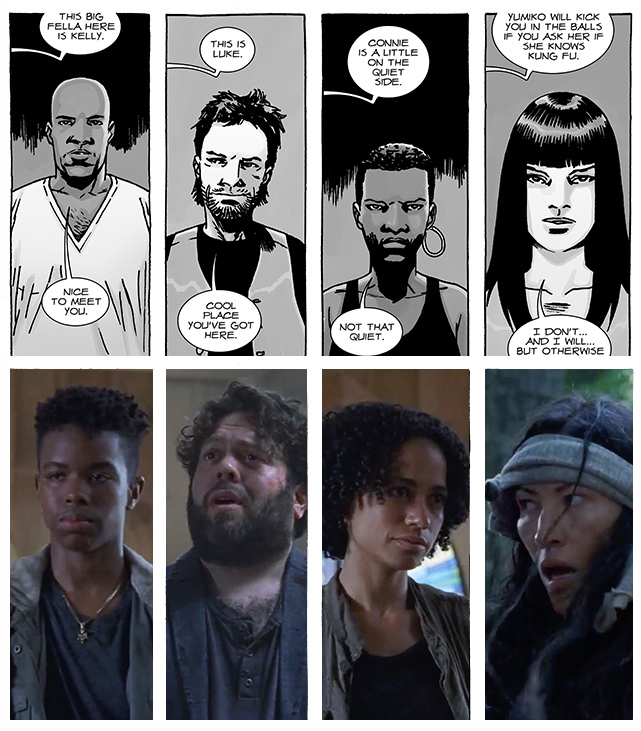 Just like in the comics, Magna is seen sneaking around Alexandria and may pose some sort of threat to the community. She's not a villain in the comics, but she is suspicious of things that seem too good to be true. We'll have to wait and see how her acclimation into Alexandria/Hilltop play out this Fall.
---
The Whisperers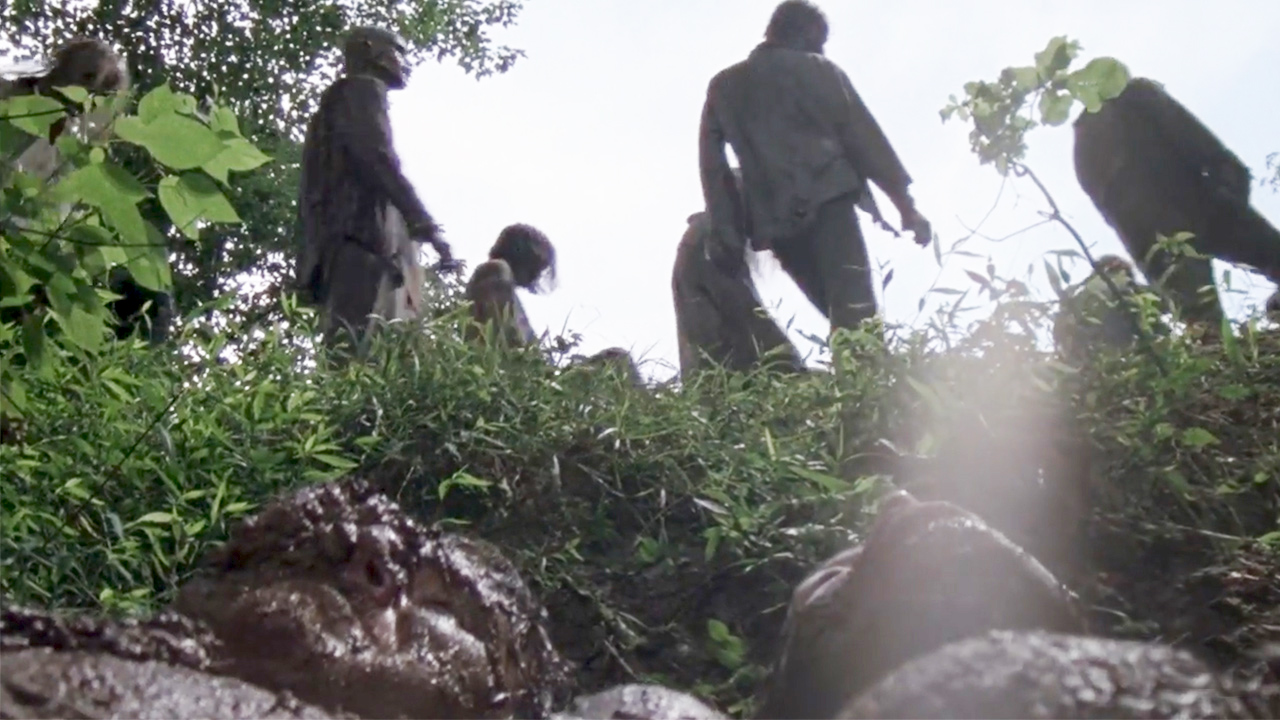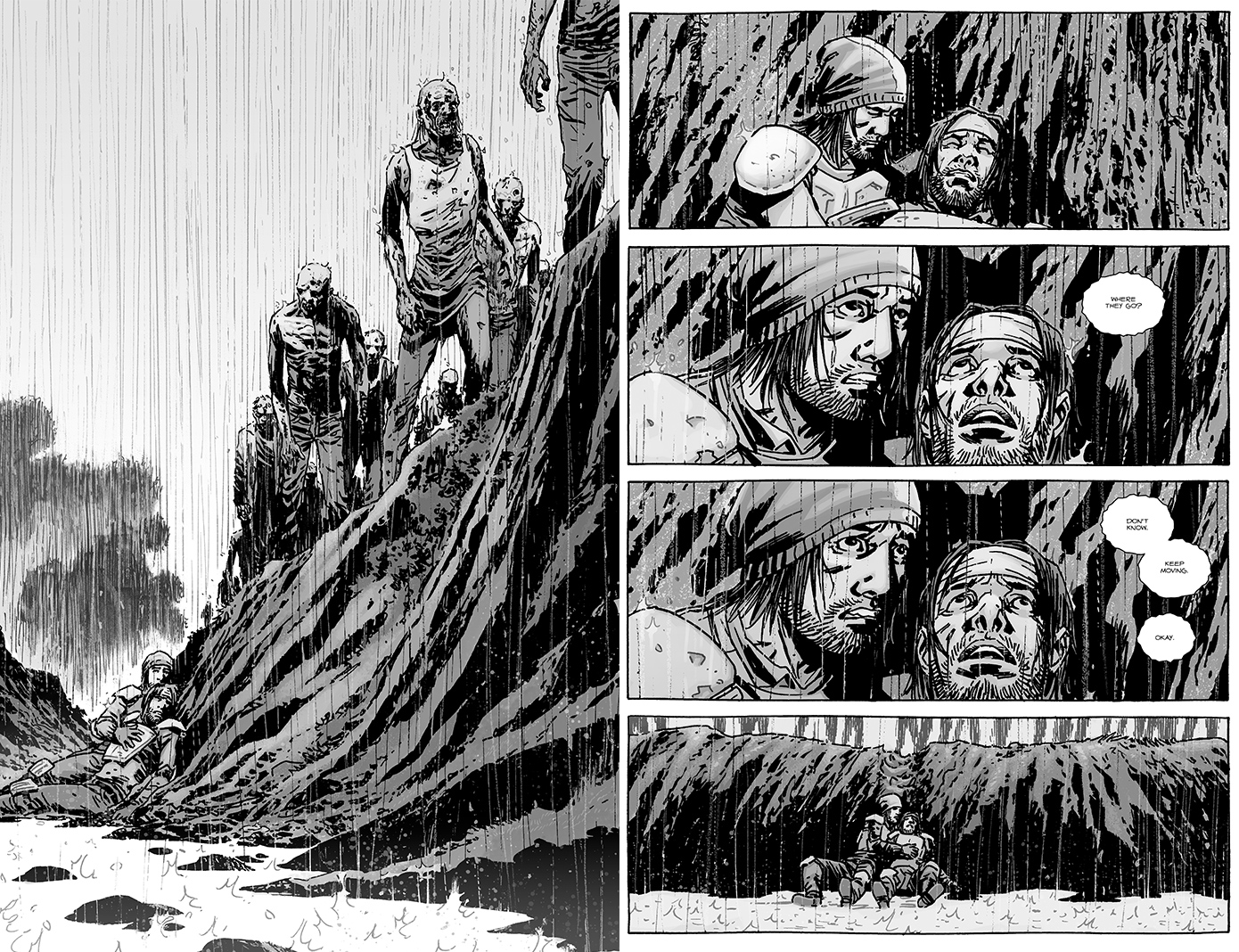 We FINALLY got our first taste of The Whisperers, the massive group of people cleverly who wear human skin over their own to blend in with walker hordes. The scene at the end of the trailer with Eugene and Rosita hiding in the ditch as the Whisperers walk by is straight out of the comics (except it was Marco and Ken in the ditch, but otherwise the same). If you listen closely in the trailer (shown below) you can hear the "walkers" say in a raspy voice, "Whereeee arrrre theyyyy?"
Some might think, "Holy crap, are those walkers talking?" Nope! It's just an antagonistic group of people led by a woman named Alpha who means business. Also announced this week was the news that British actress Samantha Morton has been cast to play the bald-headed maniac. We can't wait for you to see how she brings Alpha to life on screen.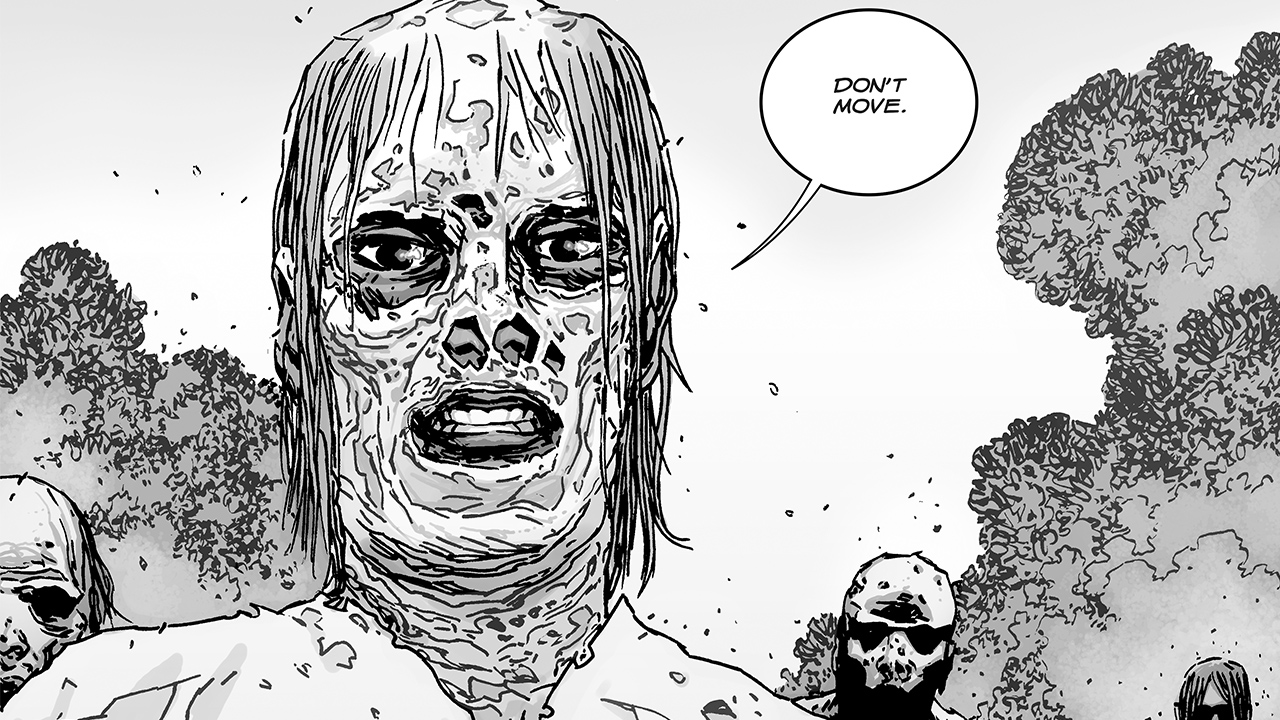 PS: One final reference: Eugene and Rosita are romantically involved for a short time in the comics and are seen together in this trailer. It doesn't mean that they'll be together in the show, it is worth noting.
---
That wraps up our comic comparisons to The Walking Dead Season 9 trailer! Watch the full trailer below and let us know which comic moments you're most looking forward to seeing in the show.