A New Chapter in The LEGO® NINJAGO® Saga Begins April 2022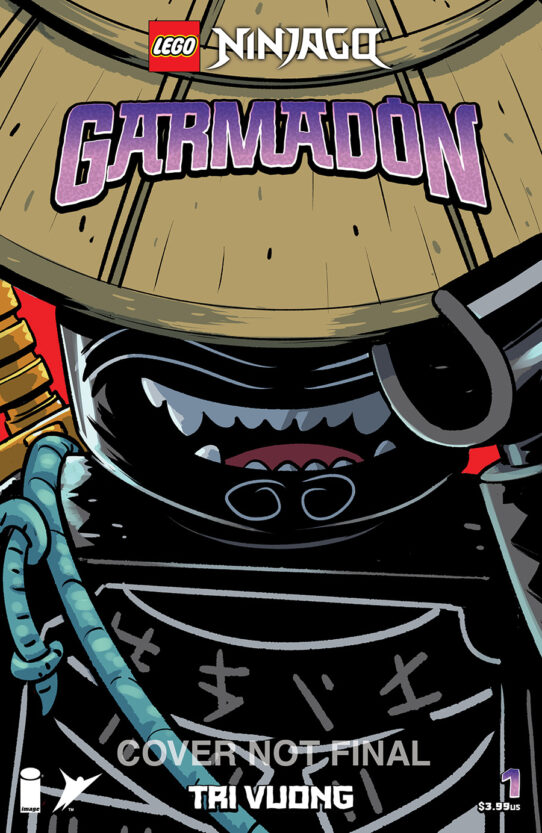 Today at The Skybound Halloween Xpo, Image Comics and Skybound announced LEGO® NINJAGO® GARMADON #1, an official new chapter in the worldwide phenomenon that arrives in stores April 6, 2022 from rising star writer/artist Tri Vuong (the upcoming Everyday Hero Machine Boy)! 
 This is the first LEGO® branded comic book series release from the landmark partnership between multiplatform content company Skybound Entertainment and global children's book publisher AMEET, with additional top–secret new series to be announced in the coming year. 
"When it came to our first LEGO® comic book series launch, we knew it had to be full of action, adventure and heartfelt drama. Everything that's made the LEGO® NINJAGO® franchise so iconic," said Sean Mackiewicz, Senior Vice President, Editor-in-Chief at Skybound Entertainment.  "We're excited to expand the official NINJAGO mythos in partnership with our friends at AMEET and the LEGO Group to bring you the grand return of the bad guy you love to hate—Lord Garmadon!" 
 Far away from Ninjago City, a village is terrorized by a mysterious new threat when they're saved by a stranger with incredible powers known as… Garmadon, Lord of Destruction?! Has Garmadon turned over a new leaf since his disappearance, or is this just the first step in his master plan of finally defeating Master Wu and the ninja forever?  
 "It's been such a great opportunity to play within the LEGO universe," said writer/artist Tri Vuong. "The LEGO® NINJAGO® franchise has all the qualities that I love in a story; action, adventure, humor and compelling characters.  In our new series, we're paying homage to the LEGO® NINJAGO® franchise while expanding the mythology with new stories on this beloved property." 
LEGO® NINJAGO® GARMADON #1 (of 5) (AUG219151) will be available at comic book shops and digital platforms including Amazon Kindle, Apple Books, comiXology, and Google Play on Wednesday, April 6, 2022.  
Stay tuned for more info and updates!
Skybound Entertainment is a multiplatform content company that works closely with creators and their intellectual properties, extending their stories to further platforms including comics, television, film, tabletop and video games, books, digital content, events, and beyond. The company is the home of notable properties including The Walking Dead, Invincible, and Super Dinosaur. Skybound holds strategic partnerships across the entertainment industry, and has the in-house capabilities to serve as publisher, producer, and global distributor for tabletop and video games. On screen, Skybound holds a first-look television deal with Amazon Studios and a first-look movie deal with Universal. Additional partnerships include comic book publishing with Image Comics, book publishing with Simon & Schuster, and a first-look narrative audio deal with Audible.  
The LEGO Group's mission is to inspire and develop the builders of tomorrow through the power of play. The LEGO System in Play, with its foundation in LEGO bricks, allows children and fans to build and rebuild anything they can imagine. The LEGO Group was founded in Billund, Denmark in 1932 by Ole Kirk Kristiansen, its name derived from the two Danish words LEg GOdt, which mean "Play Well". Today, the LEGO Group remains a family-owned company headquartered in Billund, Denmark. However, its products are now sold in more than 140 countries worldwide. www.LEGO.com  
AMEET is a global publisher of children's books. With an international sales and editorial team—and an in-house art studio and R&D department—AMEET works closely with publishing partners and booksellers around the world to create unique, high-quality books inspiring imaginative play in over 50 countries. Focused on fostering creativity through hands-on experiences with beloved brands, AMEET is committed to providing fun, educational, and innovative books for the next generation. www.AMEET.eu