Image/Skybound Entertainment's long-running, fan favorite epic fantasy series BIRTHRIGHT by Joshua Williamson (NAILBITER, THE FLASH) and artists Andrei Bressan and Adriano Lucas will kick off its final story arc this February with issue #46.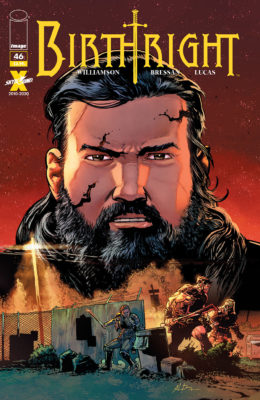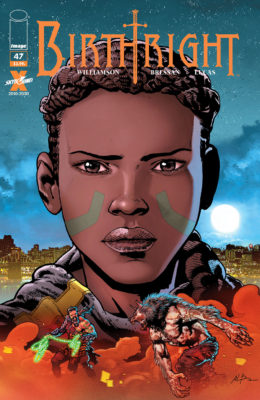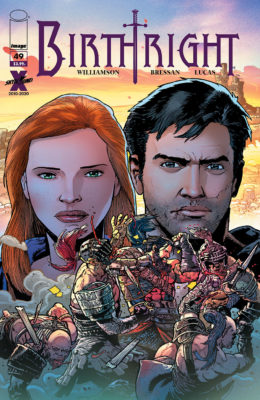 Since 2014, Williamson and Bressan's popular fantasy BIRTHRIGHT has enthralled readers, and now it is time for the Rhodes family to embark on one last thrilling adventure. The final story arc, titled "Epilogue," will last five issues and BIRTHRIGHT #50 is slated as the final issue in the series.
"I can't believe we're at the final arc of BIRTHRIGHT! The big battle and defeat of the big bad was in the last arc, but the story is far from over. This arc is called 'Epilogue' as we wrap up all our story threads and end this series in a big emotional way. BIRTHRIGHT has meant a lot to me as a writer. It holds a piece of my heart. And I'm really excited to finally share the end of our epic fantasy series," said Williamson. "The work that Andrei and Adriano have done on the whole series has been breathtaking and they really kick it up a few notches for our final story. It's rare for people to be able to tell a massive epic like this. I feel incredibly lucky to have been able to tell the story of the growing family of BIRTHRIGHT. The last page of #50 has been planned for the start and it's so awesome we're there."
When he was a child, Mikey Rhodes disappeared. Lost in the land of Terrenos, he grew into a warrior of legend and waged war against the God King Lore—a war that even ravaged Earth. Now, that war is over, and Mikey is victorious. But no victory is without sacrifice…
Bressan added: "When going forward, there's just no way to avoid looking back. And I think it is actually pretty curious to see that after each ten issues, we had an 'Arc' themed cover. It wasn't something we planned, it took us a lot of time to frame that, but it feels great when we look back to where we started knowing there is only one last Arc to enter. It gave us a nostalgic feeling, no doubt, but hey… we are in Myth zone here. Cycles are vital. Just like those characters we changed together all along. I'm really excited and grateful for everything we had so far! So… let's keep rocking!"
BIRTHRIGHT #46 (Diamond Code DEC200191) will be available at comic book shops on Wednesday, February 10.
BIRTHRIGHT is also available for purchase across many digital platforms, including Amazon Kindle, Apple Books, comiXology, and Google Play.