The post-apocalyptic drama, Impact Winter, is coming back with a bang this summer! On July 13th, Audible Inc., Skybound, and Anonymous Content are excited to debut the second season of this hit audio series. Here's the official word on season 2 and its star-studded cast… 
Audible Inc., the leading creator and provider of premium audio storytelling, multiplatform content company Skybound Entertainment, and visionary media company Anonymous Content today announced the cast and premiere date for the second season of the epic post-apocalyptic drama, Impact Winter, debuting on July 13. At its launch in February 2022, Impact Winter was Audible Plus' #1 bestseller across all categories and the #1 Audible Original fiction bestseller in its debut week, in addition to taking the #3 fiction spot on Apple podcast charts. Following the incredible fan reception, Impact Winter's third season has been officially greenlit.
From executive producers of The Walking Dead and the writer of Pacific Rim, Audible's groundbreaking vampire-apocalypse series is back. Eight years after a cataclysmic comet impact blotted out the sun and triggered an endless winter in which vampires rule the Earth, two sisters — one training to fulfill her apparent destiny as humanity's savior, and the other finding purpose and her true self while protecting a group of survivors in her elder sibling's stead — are confronted with an inescapable truth: even if they succeed in fending off the biggest threat to humanity's future, they still have to face their fate.
 "The hit first season of Impact Winter combined extraordinary storytelling with the highest-quality production value and performances. We're delighted to deliver two new seasons of this powerful series that has captivated audiences across the globe," said Zola Mashariki, Head of Audible Studios. "With the addition of new characters and a similarly immersive soundscape, we are confident that this epic tale will continue to provide listeners with a uniquely entertaining experience."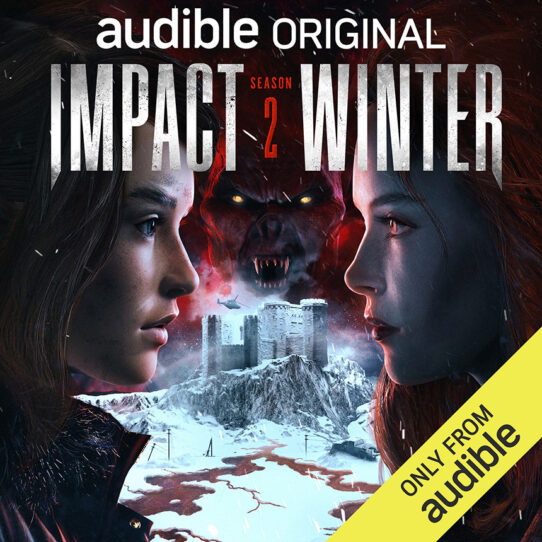 Returning cast members include Holliday Grainger (CB Strike, My Cousin Rachel), Esmé Creed-Miles (Hanna), David Gyasi (The Diplomat, Interstellar), Caroline Ford (Carnival Row), Bella Ramsey (The Last of Us, Game of Thrones) and Liam Cunningham (Game of Thrones) who will all be joined by newcomers Sacha Dhawan (Doctor Who, The Great), Ralph Ineson (Game of Thrones, The Witch), Ellie Bamber (Willow), Danielle Galligan (Shadow and Bone) and Andrew Gower (Being Human, Outlander), amongst others. Skybound and Anonymous Content serve as co-studios on the project which is co-produced in collaboration with Cliff Roberts (The Midnight Sky). From Travis Beacham, the mind behind Carnival Row and Pacific Rim, season 2 of this ambitious series brings listeners a combination of masterful storytelling, incredible binaural audio, superb performances, and extraordinary world-building, to continue the immersive story that originally enchanted audiences in 2022.
Revisit season 1 of Impact Winter, now on Audible: audible.com/ImpactWinter, and listen to season 2 of Impact Winteron Audible or wherever you get your podcasts, beginning July 13. In addition, Impact Winter S2 joins Audible's growing catalog of Originals Audible members can listen to in immersive spatial audio with Dolby Atmos from the Audible app at no additional cost. Visit audible.com/dolbyatmos for more information.
This upcoming Audible Original joins a powerful slate of original audio dramas including Audible's first foray with Skybound Entertainment, the best-selling series Death By Unknown Event, narrated by Pamela Adlon; James Patterson's The Coldest Case: A Black Book Audio Drama, a prequel to his #1 New York Times Bestseller The Black Book and performed by Aaron Paul; the #1 New York Times best-selling audio fiction The Sandman from Neil Gaiman, performed by James McAvoy, Kat Dennings, Michael Sheen and a full cast; the highly anticipated sequels The Sandman: Act II; and The Sandman: Act III; The Dispatcher series from New York Times best-selling author John Scalzi; Carnival Row, set in the world of the Amazon Original series Carnival Row, created by Travis Beacham and René Echevarria; and many more.