The Walking Dead's Danai Gurira has officially been invited to join the Academy of Motion Pictures, Arts, and Sciences! This year the Academy's Board of Governors invited a whopping 928 new members to join its ranks, much higher than the 774 new members added in 2017. Outside of her work on The Walking Dead, Gurira portrayed Tupac's mother Afeni in 2017's All Eyez On Me as well as Okoye in 2018's blockbuster hits Black Panther and Avengers: Infinity War.
Gurira also uses her voice to advocate for change with charities like Almasi Arts Alliance, Love Our Girls, and the One Campaign. Gurira attended the Oscars this year with her Marvel co-stars Lupita Nyong'o, Chadwick Boseman, and Winston Duke.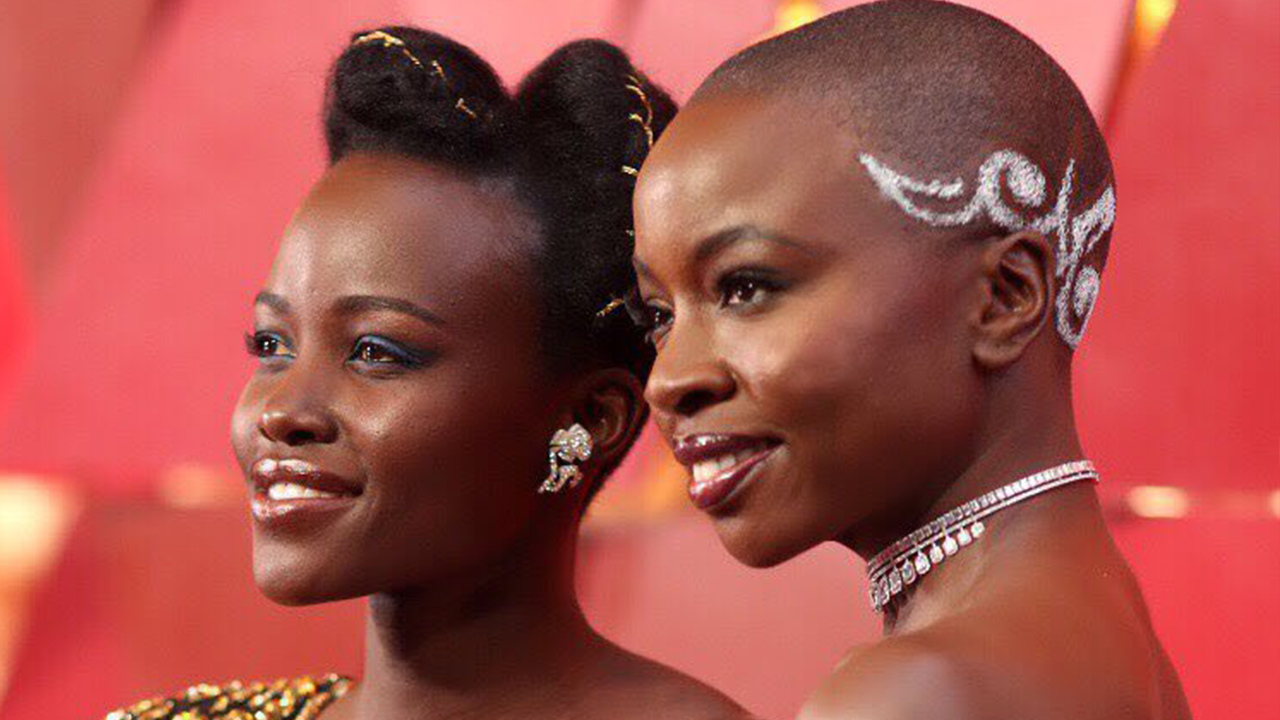 According to IndieWire, the new members are more diverse than ever, with people of color making up 38% and women taking 49%. Since 2015, people of color have doubled their ranks in the Academy from 8% to 16%, while women moved from 25% to 31%. This infusion of inclusion will hopefully begin to correct the white male dominance of the Academy's membership that reached a boiling point during the #OscarsSoWhite trend of 2016.
Some other notable invitees of this year's class include Get Out's" Daniel Kaluuya, The Big Sick's Kumail Nanjiani and Emily Gordon, The Handmaid's Tale Ann Dowd, Girls Trip's Tiffany Haddish, and Westworld's Evan Rachel Wood (see the full list here). Aside from actors, the Academy is also comprised of writers, producers, editors, stylists, designers, cinematographers, composers, musicians, executives, sound engineers, animators, visual effects artists, and directors. Other than voting on the Oscars, the Academy (which will now swell to 8,200 members), also rewards screenwriting fellowships, student academy awards, and lifetime achievement awards. To celebrate Danai, we included your best reactions to the news below. Get it, Danai!
---
UPDATE
Fear the Walking Dead's Kim Dickens has ALSO been invited to join The Academy this year! Get it!!!
---
This new list of Academy members?! ? Whoo-hoo! Too many friends got the nod to even name! I am OVERJOYED for you all especially Ali Brie, Ken (bubby), Gina, Tiffany, Sorors Vanessa & Tika , Rashida, Michael K., Bill, Regina, Danai, Wendell, Audra, Melanie L., George & Jenifer!

— yvette nicole brown (@YNB) June 25, 2018
She deserves it so much!! Keep slaying queen! ?? pic.twitter.com/DFIuZBZDaw

— Scarleth ? (@MirandaFlandez) June 26, 2018
Congrats @DanaiGurira you are so amazing!!!

— Rhonda Lynn DeLuca (@rldeluca78) June 26, 2018
Congrats for this well deserved honor! Danai is so beyond a great actor! She is intelligent, well spoken, and a wonderful advocate for women's rights. She sets a wonderful example for women everywhere!

— Pam Casteel (@pambamaol) June 26, 2018
Congratulations all the way from home Zimbabwe ??

— Zillah Chilowa (@Co_Tangerine) June 26, 2018
Congratulations, @DanaiGurira ! Her hard work, dedication & passion for all the work she does is awesome. Keep being you, D!??? pic.twitter.com/4QbAAz3yZu

— Natasha (Tasha for short) (@SunnydaysandTea) June 26, 2018
THAT'S MY SHERO!! LOVE YOU QUEEN!

— Tash? Batty Natty… (@Osforthewin) June 26, 2018
Congrats it's definitely well deserved

— Shauna Reynolds (@ShaunaR09) June 26, 2018
— Okoye's Wig ??‍♀️??‍♀️??‍♀️ (@Brad_Lee13) June 26, 2018
Congrats @DanaiGurira you are so amazing!!!

— Rhonda Lynn DeLuca (@rldeluca78) June 26, 2018
Congratulations Danai! pic.twitter.com/OHdZxoqi9M

— walkingdeadmua (@mommamichonne) June 26, 2018
Congrats, @DanaiGurira. So very deserving. Can't wait to see you at the Oscars again next year as best supporting actress nominee for Okoye. pic.twitter.com/Z0obFZyHJO

— Natty (@Natty_Danai) June 26, 2018
Academy member @Lupita_Nyongo congratulates our new class, with a special shout-out to Actors Branch invitee @DanaiGurira. #WeAreTheAcademy pic.twitter.com/YusnoGnTRf

— The Academy (@TheAcademy) June 25, 2018