Last night, The Walking Dead creators and stars (both current and deceased) gathered for a panel at the Academy of Television Arts and Sciences.
In attendance were executive producers Robert Kirkman, Scott Gimple, and Greg Nicotero, along with actors Andy Lincoln, Norman Reedus, Steven Yeun, Danai Gurira, Melissa McBride, Chad Coleman, Sonequa Martin-Green, and Michael Cudlitz.
Here are some highlights from the panel:
Asked about the death of Tyreese, Chad Coleman said, "It's understanding the magnitude of living out your ideology, not just saying words, but actually living it out. That's an incredibly challenging thing to do for any human being… I thought when [Tyreese] died, he absolutely had found his absoluteness in this life."
Andy Lincoln was floored by Chad's performance. "It is inevitable that we're all gonna get it at some point and the manner in which you deal with that is the mark of who you are. When I watched him in that episode, it was extraordinary. He gave an acting performance that was like a master class."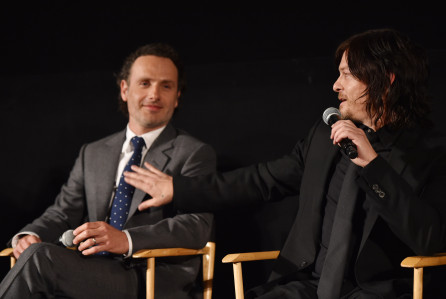 On favorite episodes, Danai Gurira listed the pilot, season three's "Clear", and episode 509 (in which Tyreese is killed) as her personal favorites. And Norman Reedus discussed how, coming late to the show, he felt isolated at first from the rest of the cast and used that for Daryl Dixon.
On a lighter note, when Andy Lincoln was asked which character he'd like to play other than Rick, he jokingly answered Hershel or Daryl, because Daryl has no lines. Norman then said he'd like to be Rick so he has more lines then changed his answer to Glenn because he's getting some action. Chad Coleman joked that he's pushing Gimple for a 5-episode flashback, which prompted Robert to promise that Tyreese would return as a ghost that can kill zombies with ghost powers.
Finally, Robert cleared up definitively why the word "zombie" is never used on the show: "We decided very early on that there's a lot zombie fiction out there, there's a lot of zombie movies, and that leads to a lot of questions. Why are these characters never going 'oh yeah, you gotta shoot them in the head, because I saw that on Night of the Living Dead." He added that if the word "zombie" is never used it highlights this fact, and the world is more believable.
Looking for more interesting tidbits and facts about The Walking Dead? Watch You Think You Know The Walking Dead? and see how much you really know about the show!