In case you accidentally clicked on this article without seeing Avengers Infinity War, we're going to go ahead and give you space to turn back because SPOILERS ARE AHEAD! To guard against these spoilers we created a giant buffer of an Infinity War interview, gif, and then some songs by Chandler Riggs (AKA Eclipse). The actual article will begin after that.
---
---
This Is Your Final Spoiler Warning!!!
You've been warned – now let's jump in. Avengers: Infinity War was packed with characters and heroes from all over the MCU, and even featured our girl Danai Gurira returning as Dora Milaje leader Okoye. But she wasn't the only Walking Dead actor to be featured in the film…
Friends, I have so many thoughts (and feels) to share about last night's @Avengers premiere…whether or not you're a big ol' @Marvel nerd like me, you gotta see this film. It's pure brilliance and I highly recommend you see it this weekend!! pic.twitter.com/j0ud6joGFi

— Ross Marquand (@RossMarquand) April 25, 2018
You might be thinking to yourself, "Hey, it's Ross Marquand from The Walking Dead! So cool he got a ticket to the premiere. Actors get all the best perks!" You'd be right, but there's a far more important reason the Aaron actor showed up at the Premiere…Ross Marquand was IN Avengers: Infinity War! And not as a blink-and-you-missed-it Arrested Development easter egg, BUT AS A MAJOR CAMEO! Oh snap, it's the spoiler warning again…
(Full disclosure: we typed in "Walking Dead Dancing" into Giphy and this was the first result – so we went with it).
One of the most shocking moments from Infinity War came when Thanos traveled with his daughter Gamora to the distant planet Vormir to search for the Soul Stone. It's there he's greeted by none other than….*SPOILER* Red Skull! Wait, the noseless baddie from Captain America: The First Avenger who got raptured into space at the end of the movie? WOW! So cool of Hugo Weaving to reprise that role! Well that's the thing…he didn't. Ross Marquand did (check his IMDb if you don't believe us). It's not a huge surprise that Weaving didn't return – he told Collider back in 2012:
"[I]t's not something I would want to do again. I'm glad I did it. I did sign up for a number of pictures and I suppose, contractually, I would be obliged to, if they forced me to, but they wouldn't want to force someone to do it, if they didn't want to. I think I've done my dash with that sort of film. It was good to do it and try it out, but to be honest, it's not the sort of film I seek out and really am excited by."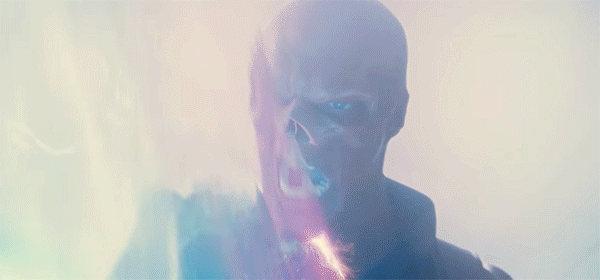 ---
However it played out, Ross Marquand, who also happens to be an excellent celebrity impression extraordinaire (see Vanity Fair clip below), stepped in to fill the shoes as Red Skull.
Although Marquand didn't actually act alongside Josh Brolin (Thanos) or Zoe Saldana (Gamora) (via Comicbook.com), he did don the red makeup and special effects layers to look identical to the Hydra leader. We're so proud that he's officially part of the MCU. What did you think of this cameo? Tell us below in the comments!
Folks…it's my absolute pleasure to announce that I've joined the @marvel universe. This is truly a lifelong dream come true for me and I urge you to see the new @avengers film as soon as possible…it honestly exceeded every expectation I could've had. Enjoy it!! pic.twitter.com/LKGEvKHROZ

— Ross Marquand (@RossMarquand) April 27, 2018