After a two year hiatus our Tattuesday posts are BACK (you're welcome). Every Tuesday from here on out we'll post an incredible Walking Dead-inspired tattoo that we love. We asked our Twitter followers to post THEIR TWD tats and we got a TON of amazing responses. Our featured tattoo this week comes from Walking Dead fan Becca Powell from Ellwood City, Pennsylvania. Behold:

#McCudlitz and #Abragene for life @Cudlitz @JoshMcDermitt #TWD #eugeneporter #abrahamford pic.twitter.com/DP9khjmwR5

— Becca Powell (@Powellrebecca3) December 12, 2015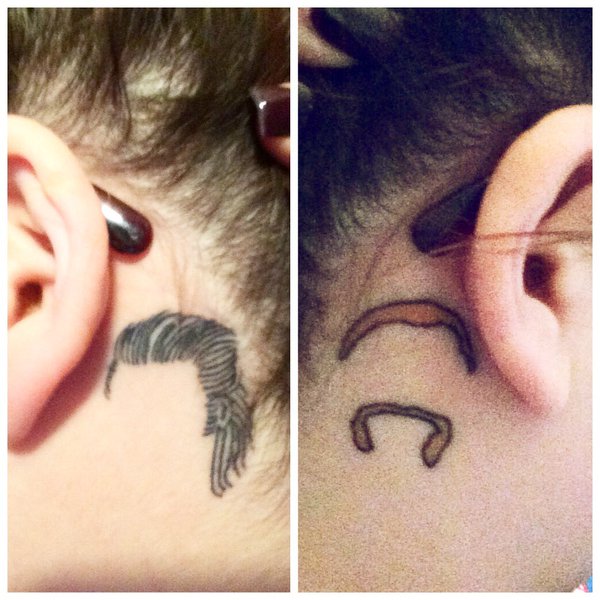 For us her tattoo is subtle but awesome. (Imagine the one-liners happening between her ears)! We asked Becca how and why she got inked and she told us, "I got it because I love the dynamic that Abraham and Eugene had in the comics, and when they finally came to the show, they nailed it. And to add onto that Cudlitz and Josh are just about the best people I've ever met. Love love love them. So I got them behind my ears.
I'll be with cuddles and Joshy this weekend at motor city comic con, gonna get a photo of them with their respective tattoos Cudlitz saw the tatts back in March and loved them, even made Bernthal come over and look at them."
We're not the only ones who loved it; here's what Twitter had to say:
@Powellrebecca3 @Cudlitz @JoshMcDermitt OMGGGG THIS IS BADASS I LOVE ITTTTTT AWESOME!!!!

— Kat (@reedusxarmy) December 12, 2015
@Powellrebecca3 @Cudlitz @JoshMcDermitt You take the prize for #1 Fan of the #MCudlitz #Abragene fan club!!!!

— leanne (@leanne137) December 12, 2015
@Powellrebecca3 @Cudlitz @JoshMcDermitt good to know that I am not the only weird one here lol. This is seriously nuts and I ❤️ it

— Carina…YOO-jeen❤️ (@MoulinRouge2510) April 16, 2016
---
Looks like Walking Dead tattoos help make the Internet a more positive place! Make sure to follow Becca @Powellrebecca3! If YOU or a friend have an awesome Walking Dead tattoo then we want to see it! Send it to us on social or even post it in the comments. Until next week!