The Walking Dead Season 8 trailer concluded with a shocking scene of Rick waking up as an old man. Some fans theorized that it was a dream, some said a coma from Season 1, and other assumed it was the time jump that occurs in the comics post-All Out War. So what exactly is going on? Following the AMC panel at this year's Television Critics Association (TCA) Robert Kirkman clarified to the press that whatever the answer was it would be revealed sometime during the Season 8 Premiere (Oct. 22nd). "I'm pretty sure you'll learn in the first episode what that means," he hinted.
Although the time jump makes the most sense given that it occurs in the comics, it is still WAY too early for fans to see it at the onset of All Out War. "Scott Gimple will give me very harsh words if I were to comment on that in any way, but you're supposed to be talking about that," Kirkman explained. "That is an intriguing tidbit that we did throw out there on purpose, and we're hoping that people continue to question how it is that fits into the story line and what it is." He continued, "Comic book fans know where a scene that kind of looked like that would fall, but it also doesn't seem like we would be getting to that just yet if you were a comic book fan, so there's a mystery to that."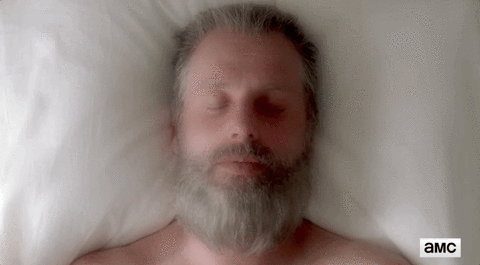 Speaking of Scott Gimple, he addressed a possible time jump back in April before the trailer even came out. Speaking to NME, he said, "I will say there are things that happen in that time jump that are referred to that are super interesting. And thus we might see some of that stuff…It might not be the same sort of jump, or we'll do that two to five years in real time…I've had a general plan for a long time, and invariably when I do that, there are little things that catch and change that plan."
If it's not the time jump, it wouldn't be the first time there were red herrings in The Walking Dead (remember Tyreese's trippy death scene, Glenn's dumpster fake-out, or the fantasy dinner dream in the Season 7 Premiere?) "I don't know, maybe it was Rick waking up from his coma. Wouldn't that be weird?" Robert playfully joked at the presser.
---
What do YOU believe it was? Theorize in the comments below!