Greg Nicotero is an every-man on The Walking Dead…most know him as the make-up/special effects wizard, but he also serves as a Director, consultant, and Executive Producer on the show. Aside from working on zombies, you can also see Nicotero's talents in Breaking Bad, Transformers, Chronicles of Narnia, Sin City, a number of Tarantino films, and literally dozens of other projects. Deadline's AwardsLine recently sat down with Nicotero to discuss his roles on The Walking Dead and what fans can expect from Season 7.
---
AwardsLine: You wear a lot of hats in this show…is makeup still your true love? How does directing influence your make-up work, if at all?

Nicotero: Well, you know, what The Walking Dead has given me is the freedom to be an artist in a completely different way. I'm still first and foremost a makeup effects artist, because that's been my dream and my passion since I was ten years old. I still own my company, KNB EFX, and I'm happy to say that we're still one of the most prominent makeup effects studios in the world. It's a very proud thing for me to be able to have the kind of control I have on The Walking Dead, and it pushes me, and it makes me a better artist all around.
I think stepping into the director's chair has made me a better makeup person, because I have a much more astute understanding of camera angles and design. So, in the last six years, I feel like I've become a much better makeup effects designer, because I'm able to look at things from a director's viewpoint as well as from a makeup effects standpoint.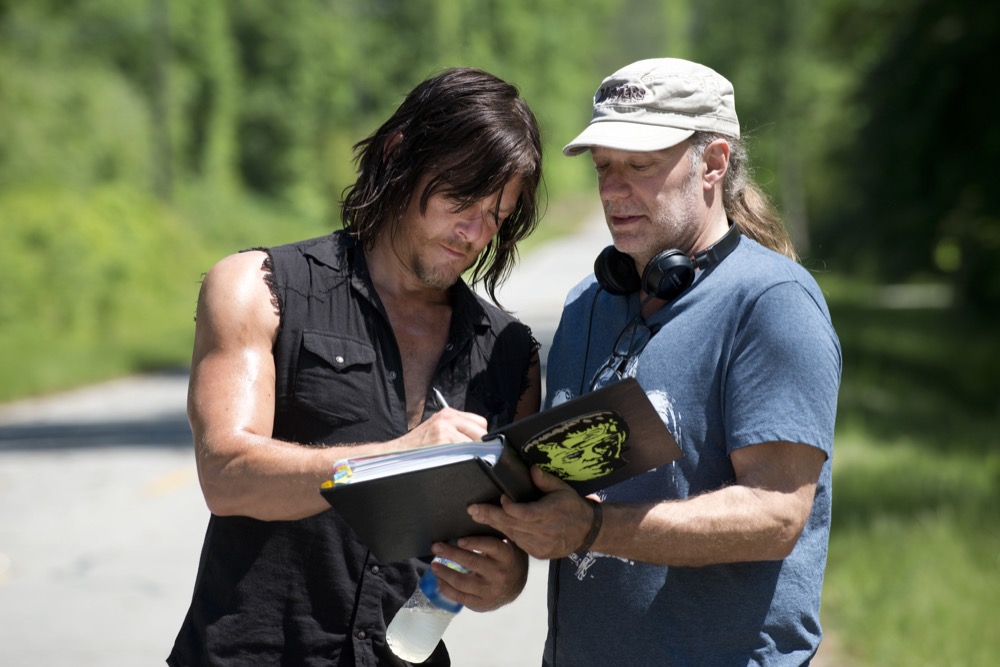 ---
AwardsLine: I can only imagine the experimentation that happens in your house to come up with these things.

Nicotero: Well, you know, I was pre-med before I got into the film industry, so there is some level of realism that I feel has always permeated the work that I've done, way back, even including some of our first movies, like Dances With Wolves. We've been in business for 28 years, and it's still a challenge, and it's still fun and it's still exciting. We shoot for seven months, and we have eight days to prep each episode, and I really feel like sometimes that gets lost in the breakdown of the categories, you know?
It's a seven-month commitment for these makeup guys to get into the trailer at four o'clock in the morning and do a half-a-dozen makeups each, and then be the last guys to leave, and this is every single day for seven months.
---
AwardsLine: You once had to travel with Hershel's head in a box. What does a TSA officer have to say about something like that?

Nicotero: You know, I'm surprised I haven't been stopped more. Because it's just silicone and foam, they're not looking for that kind of stuff. When we were shooting Inglorious Basterds, I remember flying from Berlin to Los Angeles after a night of shooting, and I had fake blood all over my shoes, and I was standing in line to go through the checker, and it's like, all somebody had to do was look at my shoes to see droplets of blood, dried blood on them, and I'm screwed. It never happens.
I will say though, the TSA people that I've met, they're probably the biggest group of Walking Dead fans. So, if I had a severed head in my bag, they'd go, "That's great. I love it. That's incredible." Very passionate fans, those TSA people.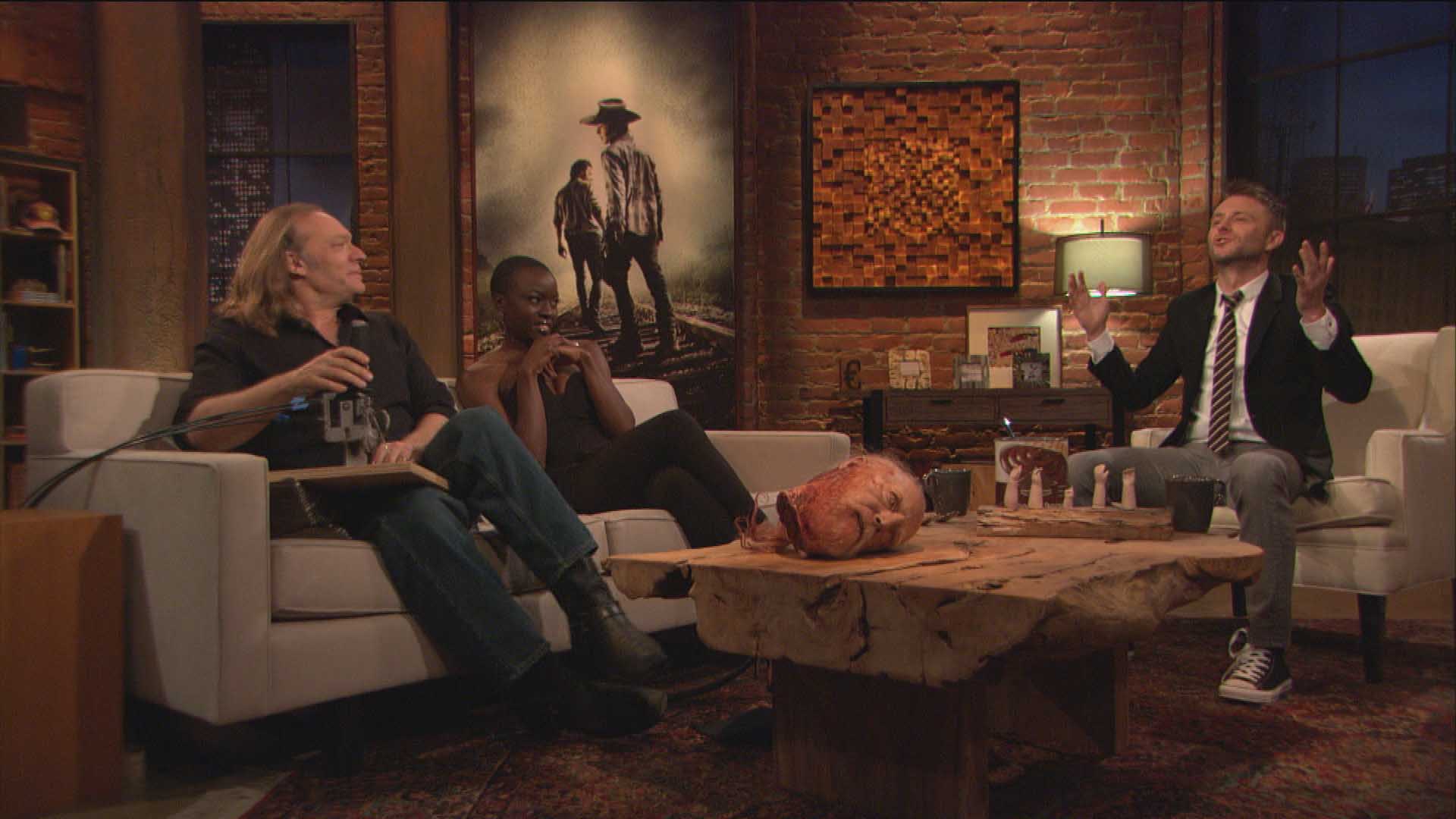 ---
AwardsLine: The Season 7 trailer screened at Comic Con but can you hint at anything else that's coming up?

Nicotero: I think it's going to get a lot worse before it gets better for our group, and it's pretty intense. I mean, the show, we're sort of opening a new chapter. I mean, it's really, Rick is now, if you really think about his journey in the comic books, he shares the spotlight with Negan in the comic book. Negan now has some ownership over what the show is about.
It's the anticipation and the excitement of new worlds that we're going to, like the Hilltop, like the Kingdom, like the Sanctuary where Negan lives. Everybody's putting so much of their heart and soul into it. You know, after directing the premiere episode, I was fucked up for two weeks, you know? I really felt like I dragged a lot of my dearest friends into these really deep, dark places shooting that episode, and it's been definitely an experience unlike anything that I've ever handled before.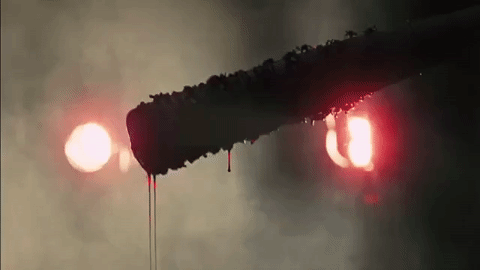 ---
Tell us how you appreciate Greg Nicotero in the comments below. Also make sure to catch the rest of the interview over at AwardsLine!