McFarlane Toys just released the new painted Walking Dead Series 9 TV action figures (try saying that 10 times quickly). Check out the pictures and descriptions below (all courtesy of McFarlane)!
---
Beth Greene
With a kind smile, Beth Greene served as a pillar of hope and strength to the group of survivors. Using kindness, paired with the medical knowledge passed on to her by her father Hershel, Beth helped heal both the body and soul of those around her. Her death shook the very core of the group of survivors; almost as if all hope died with her. This figure features Beth in her outfit at the end of Season 4 and includes approximately 22 points of articulation, assault rifle, and knife.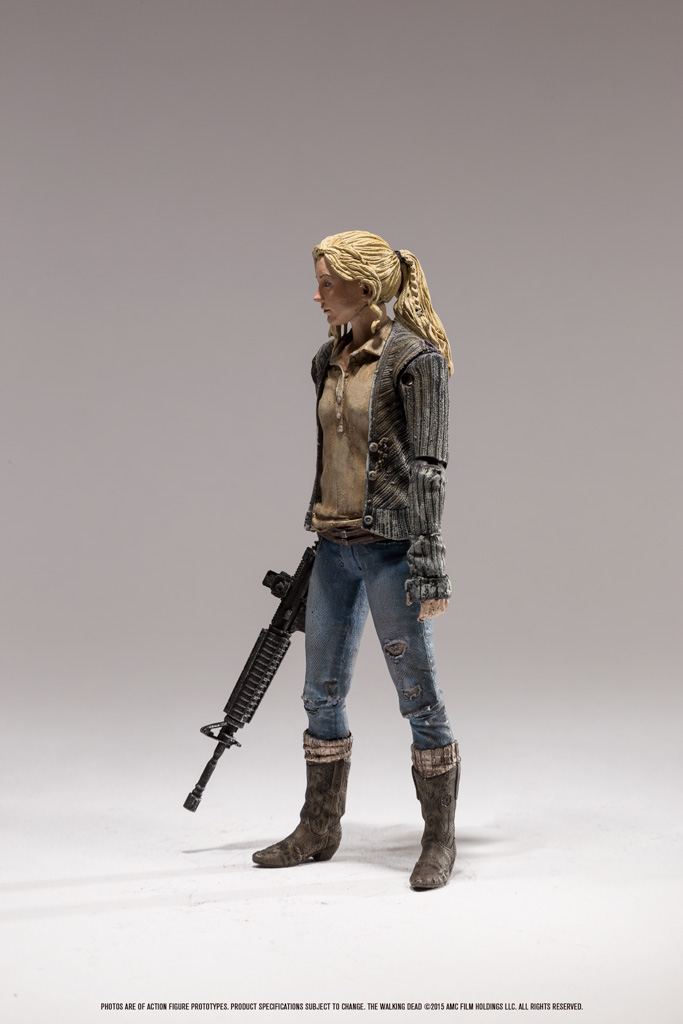 ---
Grave Digger Daryl Dixon
If the apocalypse has taught us anything, it's that you are never safe…even from the flu. Daryl Dixon, a long-time survivor within Rick's group, has become a pillar of support for those who came to rely on him. If that means burying the dead, then so be it. This version depicts a dirt-covered Daryl from the Season 4, wearing his gloves and bandana while digging the grave for another fallen companion. The figure also includes approximately 22 points of articulation, wooden cross/grave marker, and shovel.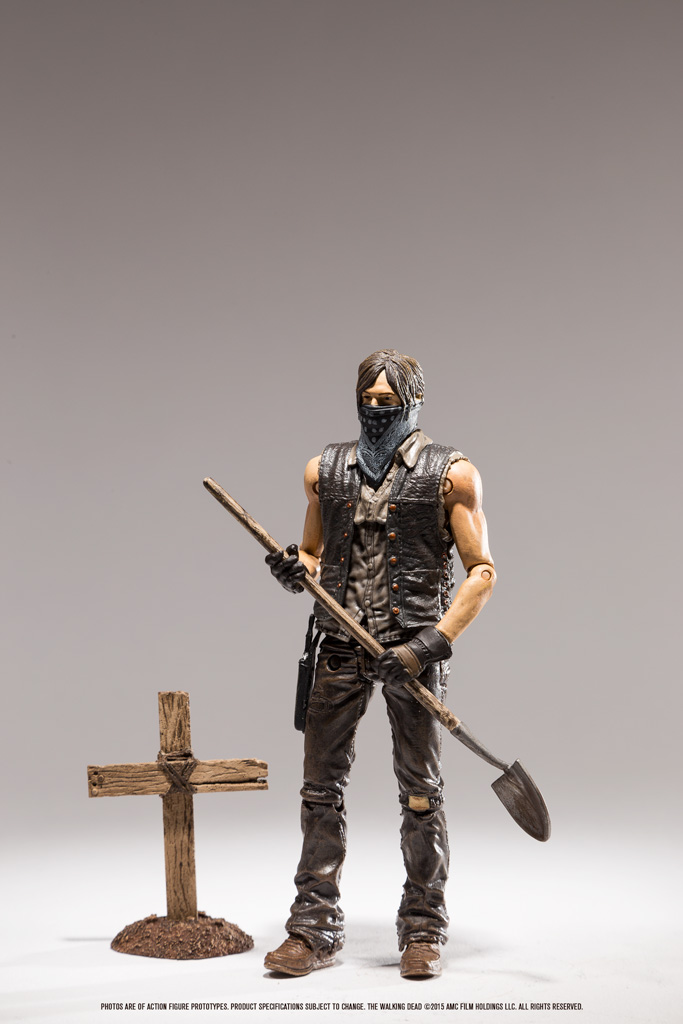 ---
Constable Michonne
What job could you possibly give one of the most lethal members of Rick's group when she arrived in Alexandria? Side by side with Rick, Michonne enforced law and order as constables. Patrolling the streets, Michonne made sure everyone stayed safe, even if that included quelling Rick. This version of Michonne depicts the character in her full constable uniform, Figure also includes approximately 22 points of articulation, iconic katana with sheath, and pistol.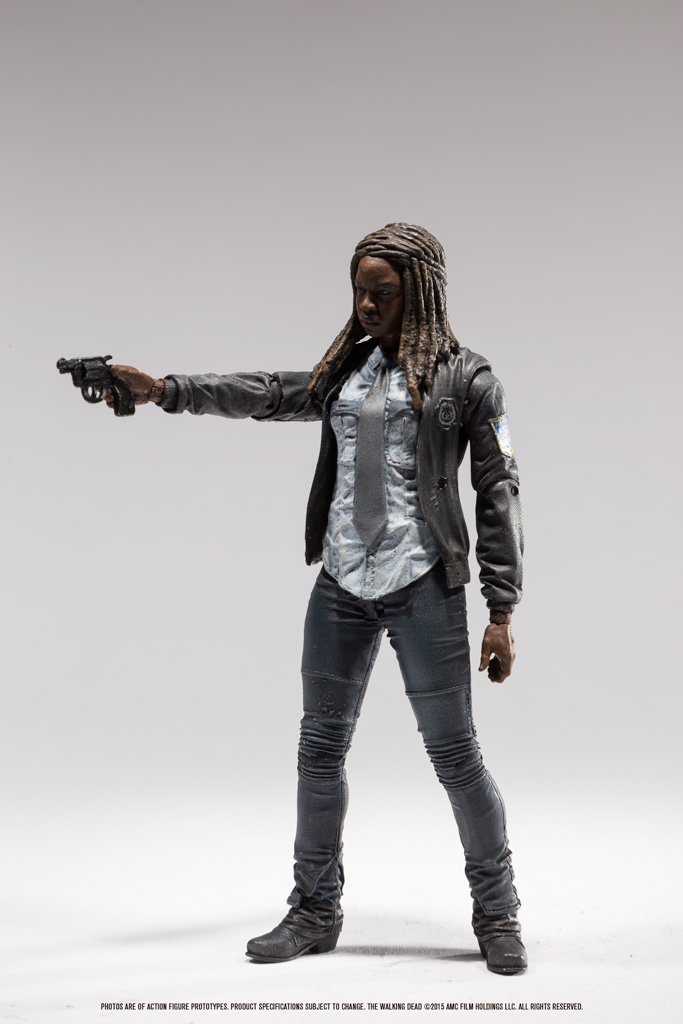 ---
T-Dog
One of the original Atlanta survivors, T-Dog was a kindhearted and well-intentioned member of Rick's group. He never hesitated to charge in and help those in need. Even when all seemed lost he put others before himself and ultimately sacrificed himself to save Carol from Walkers overrunning the prison. This heroic T-Dog figure is ready for battle in his removable Riot Gear Vest. Figure also includes approximately 22 points of articulation, pistol, fire poker, and industrial bolt cutters.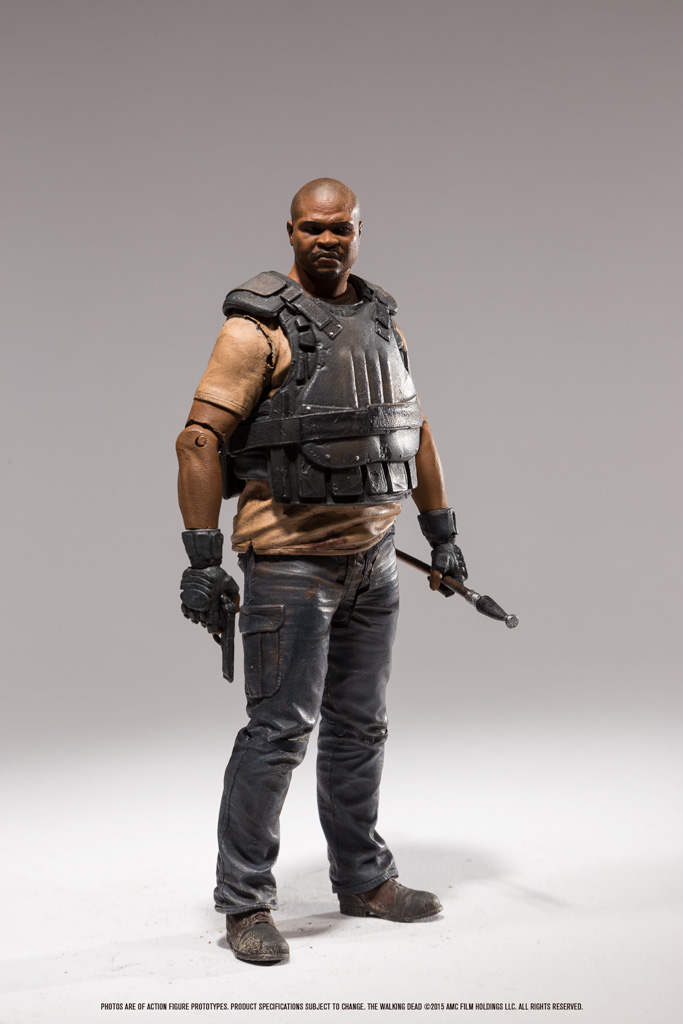 ---
Wet Walker
The only thing worse than a Walker you see coming, is the one you don't see! Searching for supplies in an abandoned flooded food bank in Season 5, the survivors are unaware of the real dangers that lurk beneath the water. Trapped in this cesspool of standing water, the Water Walker's flesh is literally melting off his body as it waits for its next victim. Figure includes approximately 22 points of articulation, food can, and glass jar debris.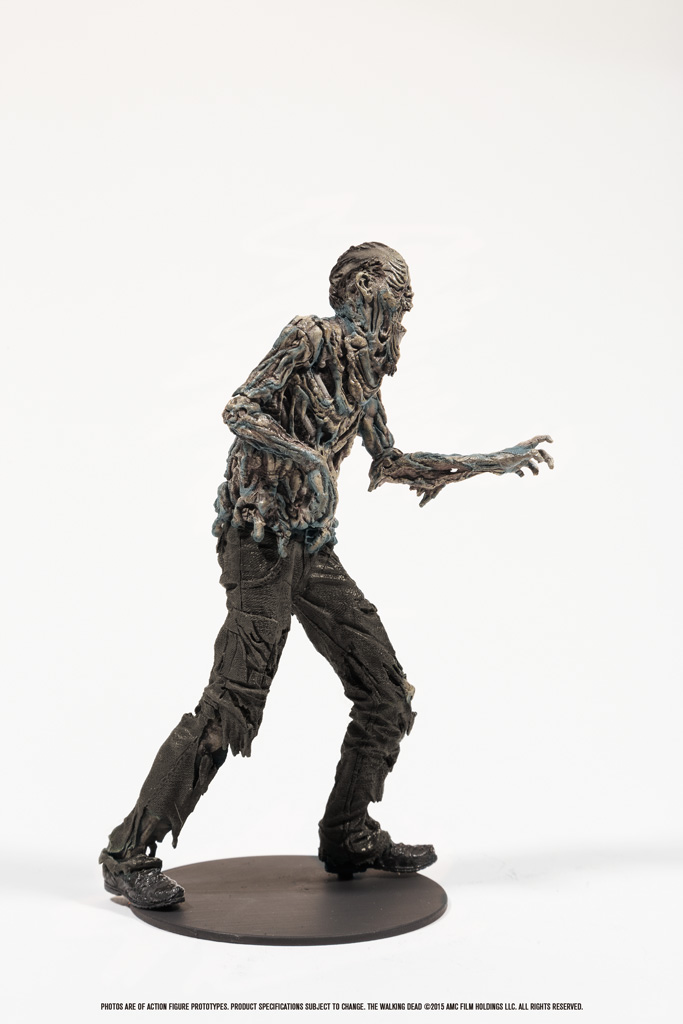 ---
Death Scene Dale
Dale always tried to do what was best for his group, even if it meant speaking against them. To him, everyone's life was important and deserved a chance. After debating with a less convinced Rick, a frustrated Dale left the safety of the Farm to patrol the grounds and gather his thoughts. Out of the darkness, Dale met a gory end by Walker disembowelment and eventual mercy killing at the hands of Daryl. This figure depicts Dale's moment of death, disemboweled by the roaming Walker. He also includes approximately 22 points of articulation, binoculars, removable bucket hat, and rifle.