There's no getting around it – Carl Grimes will soon die in The Walking Dead and the show will be forever changed as a result. Although fans will have had two months to process the news (some still have their conspiracy theories) there will still be an adjustment period. Despite his physical absence, Chandler Riggs' Carl will still be very much felt throughout the rest of the season and beyond.
Scott Gimple made sure to clarify that Carl's impending death was necessary for the story moving forward. "Carl's presence is felt very deeply throughout the story," Gimple told Entertainment Weekly. "It's a critical aspect of the season." Chandler himself agreed, "He's definitely leaving behind a really long-lasting legacy," Riggs told EW, "which was the coolest part about playing those final moments — knowing that Carl was going to have such a lasting impact on the story." This was the first time Riggs had addressed the controversial scene since December, when he briefly tweeted about it.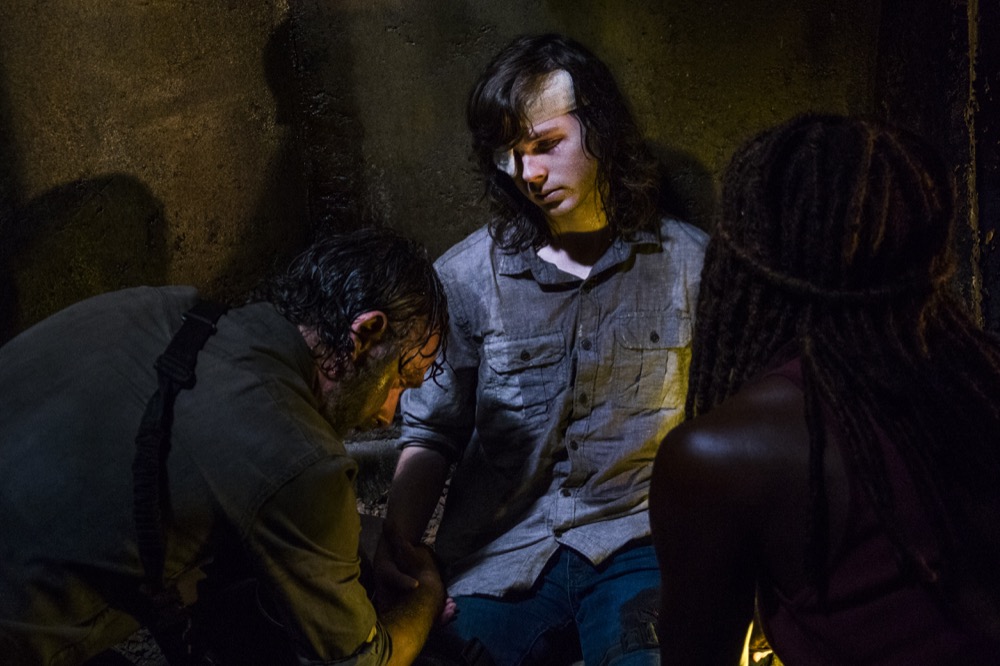 Carl's inevitable death marks the biggest deviation from the comics since Andrea died back in Season 3 (Andrea's journey is VASTLY different while Carl is still alive and well in the comics, which is significantly ahead of the show). With this deviation comes ripples, and the character most affected by the loss will be Rick. "The back half (of the season) is him trying to live through the unbelievable pain," Andrew Lincoln explained of his character to
EW
. "This is his worst nightmare being realized."
As upset as fans were about the moment in the Mid-Season Finale, Chandler has had a great sense of humor about it, tweeting shortly after the episode:
don't worry guys, i'll be in the 2nd half of the season. in a white dress on a bridge. pic.twitter.com/08L2fPbReS

— chandler riggs (@chandlerriggs) December 13, 2017
Since then, Riggs has primarily focused on his promising music career, releasing three tracks on Spotify and Soundcloud under the DJ name Eclipse (while also getting a haircut in the process).
— eclipse (@eclipse_sounds) December 31, 2017
new hair who dis pic.twitter.com/fHq22R5I3C

— chandler riggs (@chandlerriggs) December 16, 2017
---
Get more reactions from the cast AND news on Fear the Walking Dead's highly-anticipated fourth season in January's new issue of Entertainment Weekly.