Fear the Walking Dead and World Beyond may have wrapped for now, but fans won't have to wait too long for new Walking Dead content. According to AMC, the six bonus episodes tacked on the end of Season 10 will begin premiering on February 28th, 2021 and continue through April (AMC plus subscribers can catch them on Thursdays). Additionally, FOX UK (one of TWD's international distributors) released this image revealing the titles of the upcoming episodes (yes, we edited it to make it more US-friendly):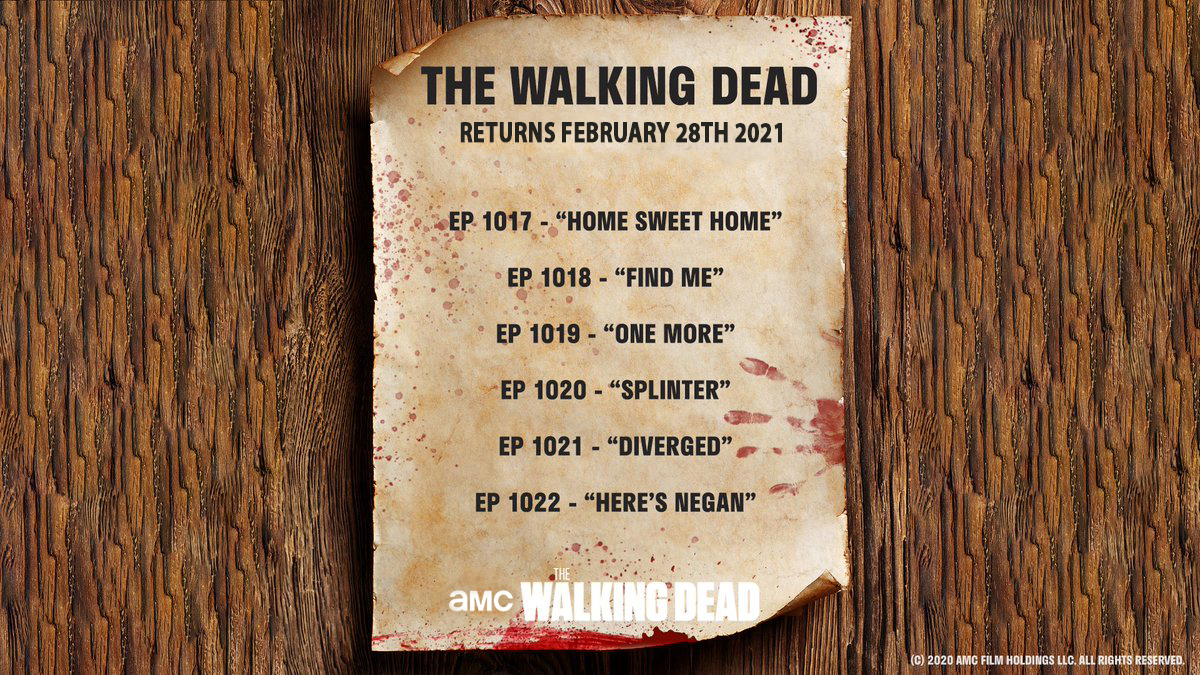 ---
So what can we expect from these episodes? Insider's Kirsten Acuna chatted with showrunner Angela Kang, who said, "There are things that are going on with our people and their communities and so there are things that start to tie those into what will become the major story in season 11." Chief Content Officer Scott M. Gimple told Acuna, "These six episodes were in many ways written with producibility in mind in the times that we're in…They were conceived as great stories, but they kept in mind that the safest way to do it. And what I find fascinating is with those constraints, these are six of like the best scripts we've done."
Plot details about the bonus episodes have begun trickling out over the past month, like Terminator 2's Robert Patrick casting announcement:
Well now….take a look at this news! https://t.co/efhaUkrL0C

— Robert Patrick ?? (@robertpatrickT2) November 19, 2020
Then came the trailer, which gave us our first glimpse of Maggie's son Hershel along with a peek into the highly-anticipated "Here's Negan" episode, an homage to Negan's standalone backstory from the comics. It's here we get our first look at Jeffrey Dean Morgan's real-life wife Hilarie Burton as Negan's wife Lucille.
Finally, we learned the masked man is named Elijah and played by Okea Eme-Akwari (sorry Morgan hopefuls), while Angela Kang teased more Commonwealth content:
NEWS: Okea Eme-Akwari has been cast as Elijah AKA the Masked Stranger in #TheWalkingDead! pic.twitter.com/tdmcP1oQc1

— The Walking Dead World (@TWalkingDWorld) November 19, 2020
You ready to see what they've been up to? #TWD https://t.co/0a3tz2aPev pic.twitter.com/dhJcBnTdJM

— Angela Kang (@angelakang) December 2, 2020
---
That's all we can reveal for now, but from what we've seen there's a LOT to be excited about. Keep it here to get more updates on the bonus episodes and let us know what storylines you're most excited to see play out.