This week's Mid-Season Premiere introduced us to major comic character Lydia, played by Cassady McClincy. Known for her roles on Castle Rock and Ozark, McClincy had to wait a while to find out if she got cast on the show she grew up watching. "I got a taped audition (for The Walking Dead) and I didn't hear anything for a couple months," McClincy told Entertainment Weekly. "And then out of the blue I got another tape with different sides. And then I found out I booked it about a week later. And I had to be on set the next morning."
Lydia's capture in the comics planted the seeds for an eventual war between The Whisperers and our heroes at Hilltop. Since the show tends to remix comic storylines, Executive Producer Greg Nicotero encouraged McClincy to only use the source material as a guide. "I had a meeting with (Nicotero) and he gave me this huge compendium filled with all the Lydia comics," McClincy told EW. "But he wanted me to use it as a blueprint, not gospel. Those were his exact words. So I just tried to do Lydia justice. But, obviously, there's differences from the comic and the TV show, so I tried to change what makes sense for the change in characteristics."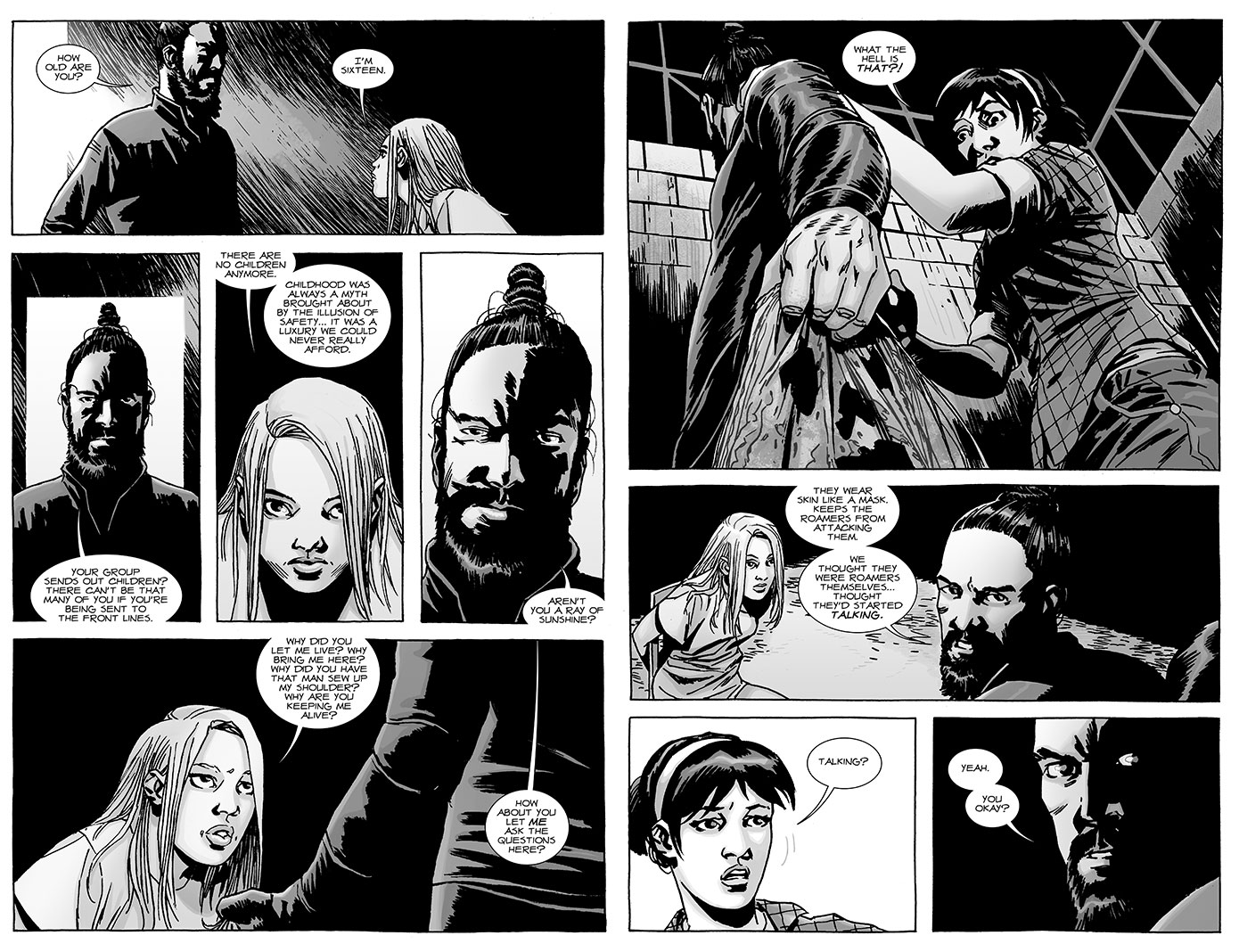 Lydia's imprisonment and interrogation from The Walking Dead Issue #135.
She's right – Lydia's portrayal in the show will sometimes deviate from the source material. In fact, this Sunday fans will get to see a bit of Lydia and Alpha's backstory at the onset of the apocalypse that was never explored in the comics. So what can we expect to see from that and Lydia's storyline moving forward? "People will see how screwed up the zombie apocalypse can make people," McClincy said.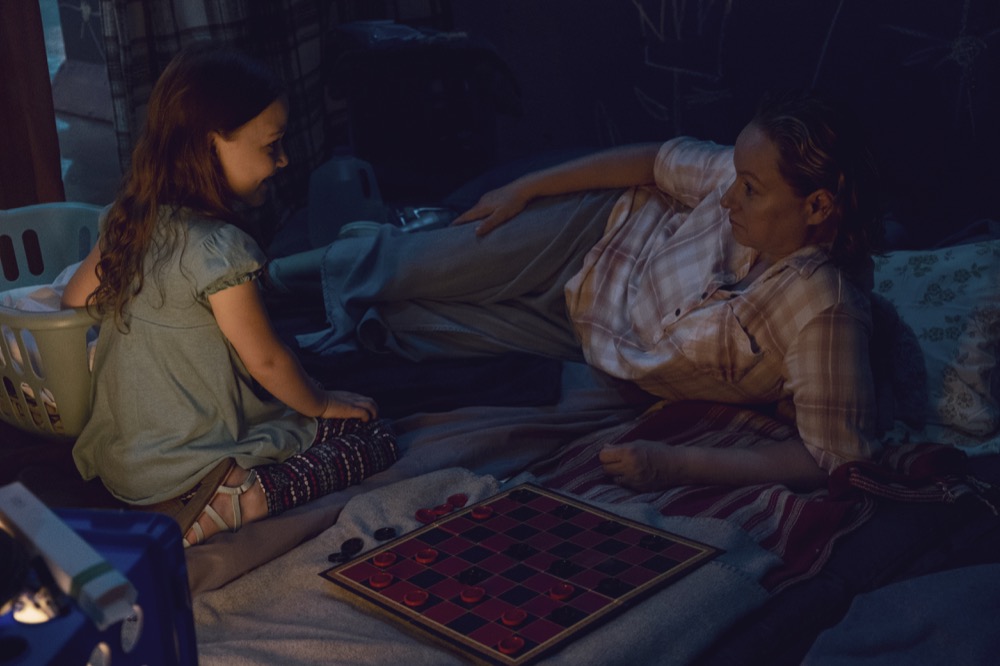 Lydia and her mother play checkers in this flashback from The Walking Dead Season 9 Episode 10
The comic/show differences affords McClincy to give her own spin on the character. "I think that (Lydia) is very smart. And she knows how to use her vulnerable, childlike persona of being a teenage girl to her advantage to keep herself safe," McClincy said. "So she tries the whole crybaby act at first. And then she's just throwing out all the cards." Along with that, we're seeing her form a bond with Henry, akin to the one Lydia forms with Carl in the comics. So is it real, or just a charade? "I think, probably, a bit of both…because she's never seen him. I think maybe there's a bit of connection when he saves her from Daryl, but we'll have to see."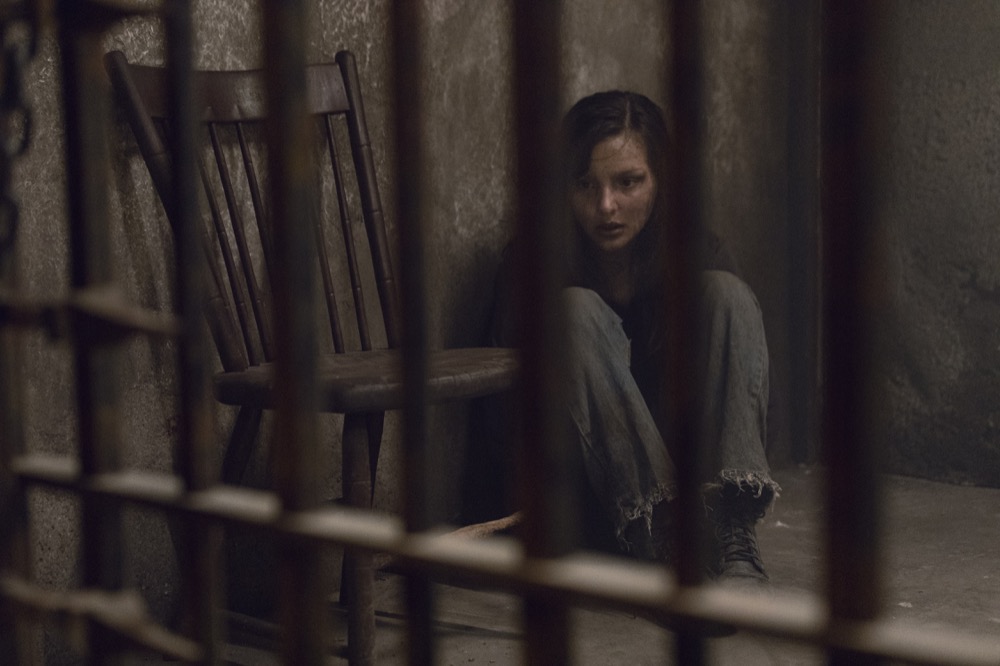 Lydia sits quietly in her cell in The Walking Dead Season 9 Episode 9
---
Catch the rest of the interview over at Entertainment Weekly and make sure to follow Cassady McClincy on Instagram and Twitter! The Walking Dead airs new episodes on AMC Sundays at 9PM.