Robot Chicken co-creator creators Seth Green and Matt Senreich said their Walking Dead Special actually came about "as a joke." The idea came to them during their annual dinner at San Diego Comic Con last year, and after getting Walking Dead creator Robert Kirkman and show runner Scott Gimple aboard the project, they began writing.
The Adult Swim stop-motion special, called "Look Who's Walking" features voice acting from stars like Andrew Lincoln, Jeffrey Dean Morgan, Danai Gurira, and spoofs famous scenes from all seven seasons. "We laid out on a white board all of the primary impacting things of each season," Green said. "And then we say, 'What are good story points? What're good jokes in here?' And it wasn't until like three weeks in that the framework for the museum came up." (Warning: Spoilers ahead).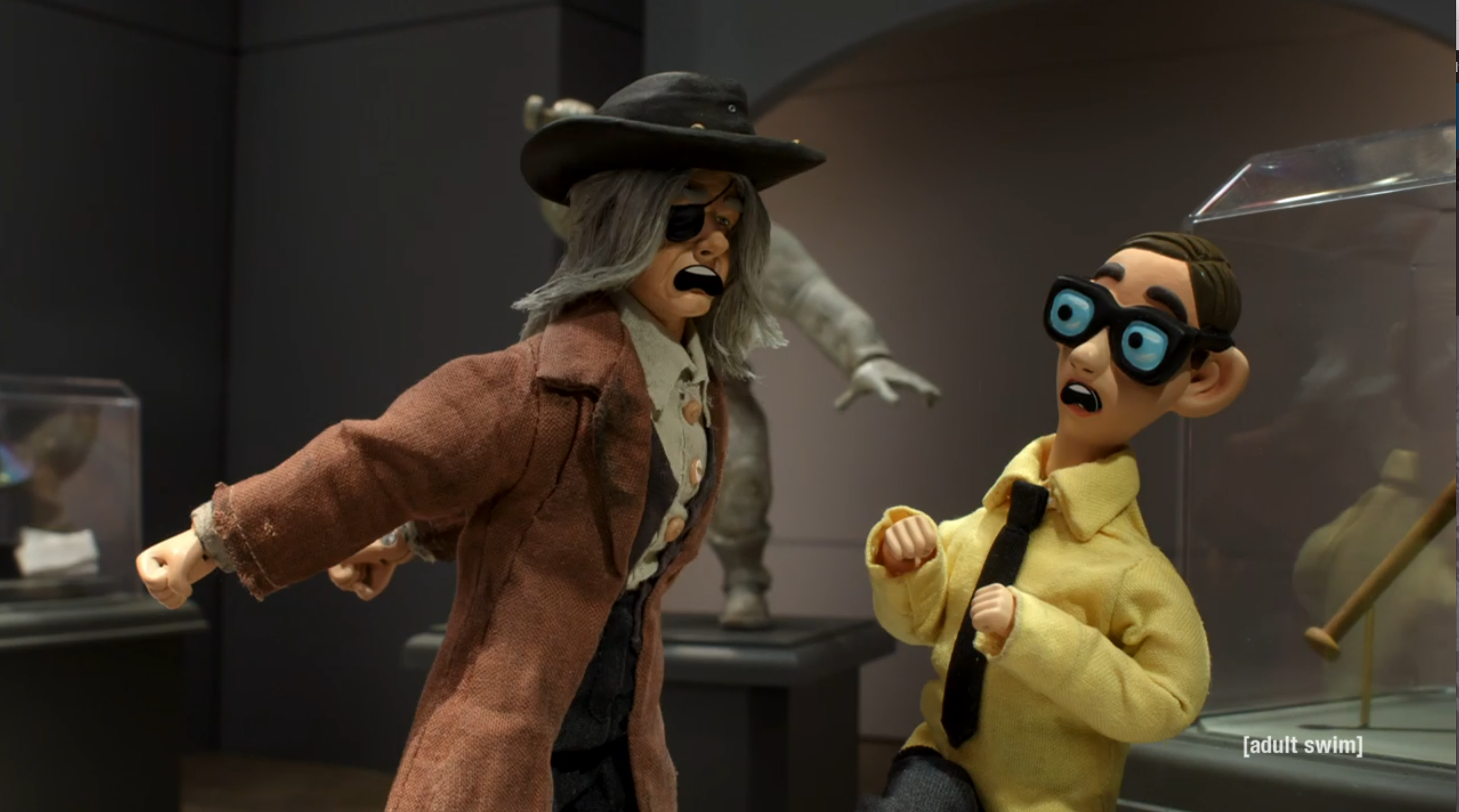 The special is told through the eyes of an elderly Carl, who appears in a post-post apocalyptic Walking Dead museum to explain to the Nerd what REALLY happened during the apocalypse. "The framework for the museum came up weeks into writing, and then the idea to make Carl the mouthpiece for it came around the same time," Green said. "But he's the best character to tell the story because it's probably through wild misinterpretation. Like a child's eyes on all of this."
The bit was made better by the fact it was played by Carl actor Chandler Riggs, who was one of a dozen Walking Dead actors who lent their voices to the special. "I can't believe this happened," Green said. "It definitely helped AMC, Kirkman, and Gimple were on board. I think it helped that we are such loving fans of this content and everybody just sort of understands we got a little bit of a history having done this with larger properties." Senreich clarifies, "We're not making fun of, we're having fun with."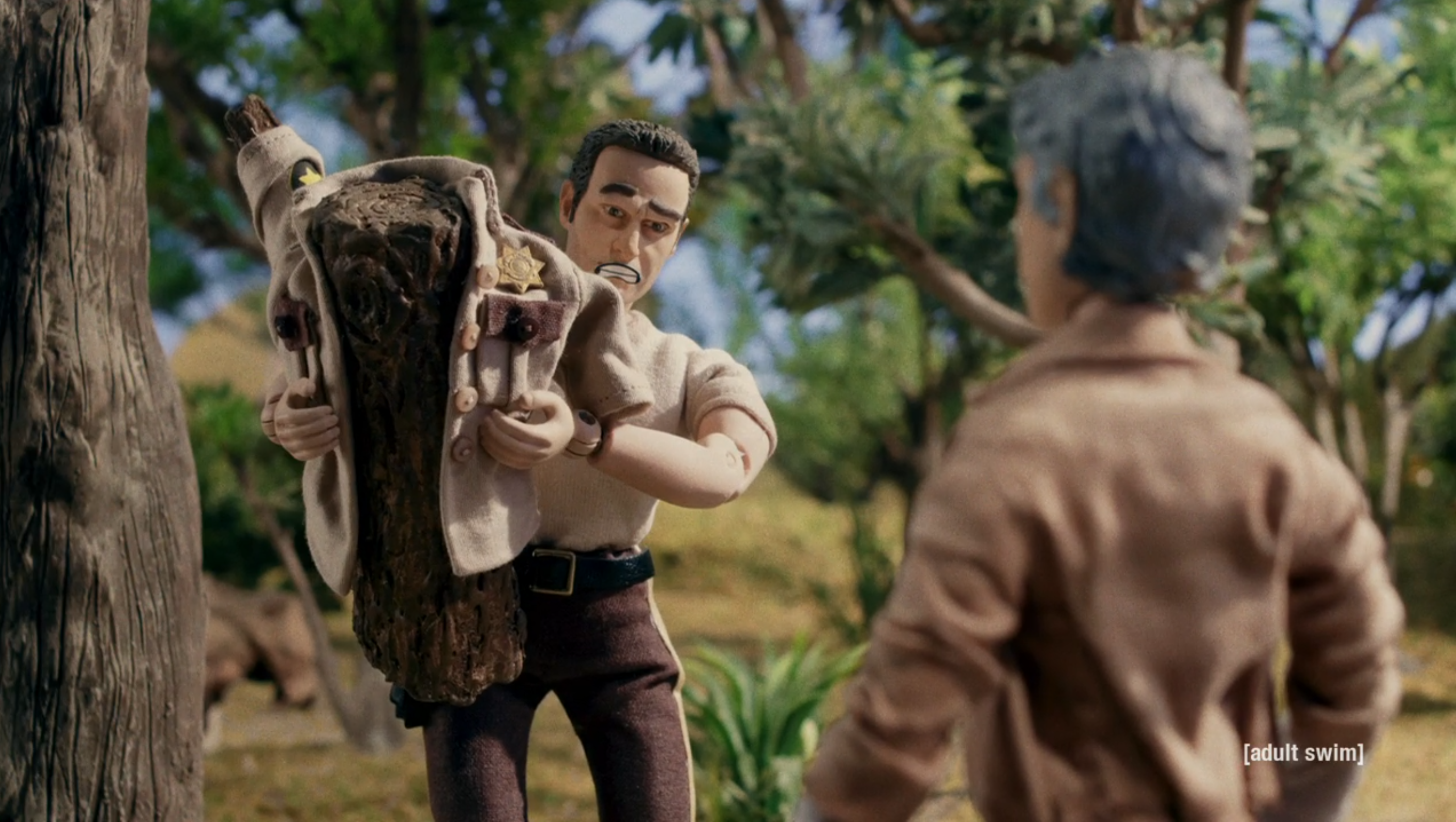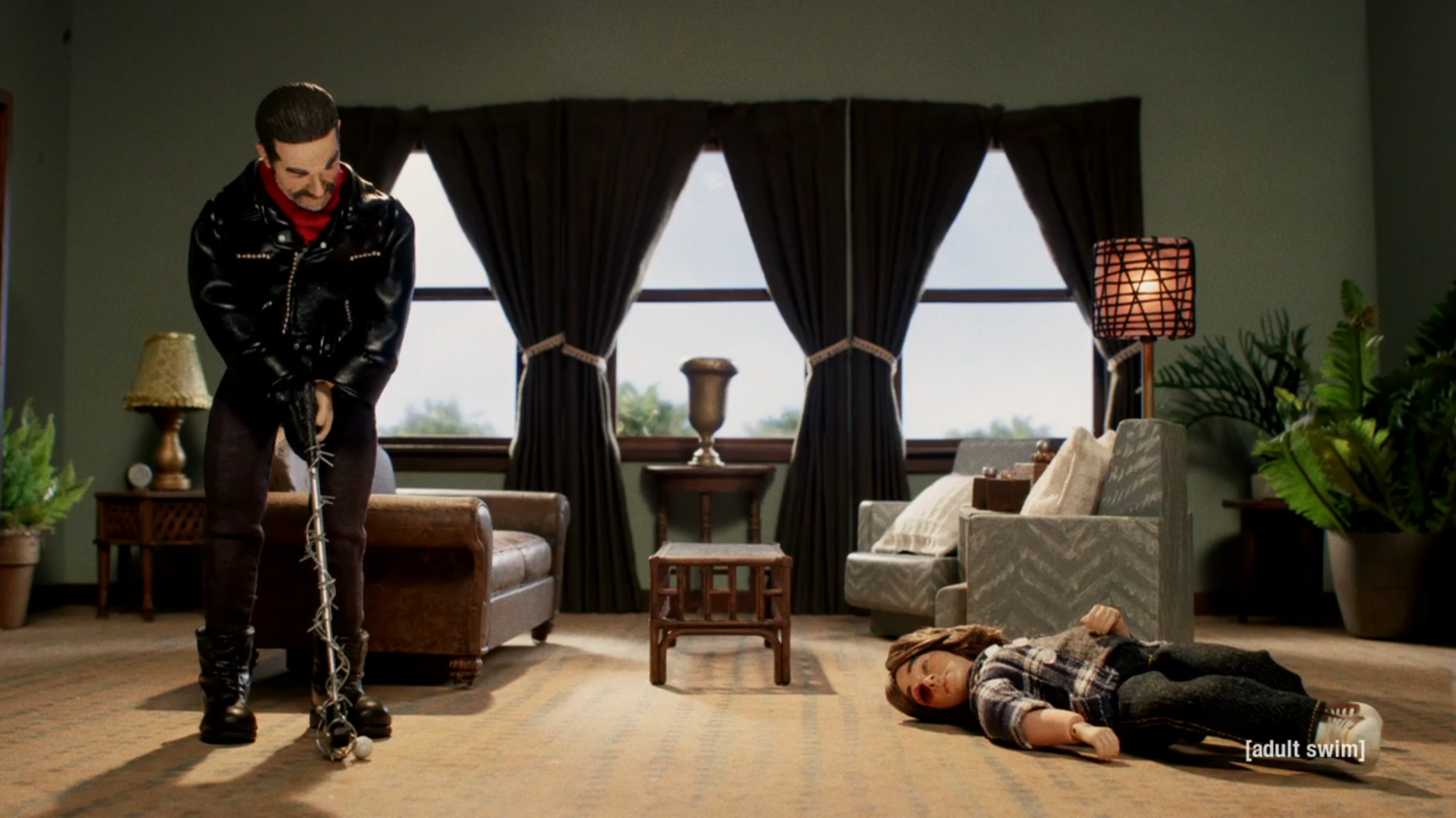 Aside from the creators, the actors were also game to make light of the series. "They all improvised," Senreich recalls. "They all came in and did something different that you wouldn't expect." When asked who they were most shocked by, Green quickly brought up Michael Rooker, who reprised his role of Merle and sung a ballad as he was handcuffed to a pipe "I think (he) was the biggest surprise because he hit that falsetto so clean." It wasn't easy getting Rooker to do that, though. "He gave me so much shit," Green continued. "I'm calling him like weeks before and he'd explain to me, (Michael Rooker voice) 'You're going to hate this. Make me into T-Pain.' And then he came in to sing and his first take was all the way through the song with the falsetto. And I'm like 'fuck you, dude. You are lying to me about this. (laughs)"
The special ranged from light humor to dark satire. In one bit, Glenn, who's last words after getting bludgeoned by Negan were, "Maggie I'll find you," plays hide and seek with her with his head still bashed in. "It was so dark. I've seen it over 150 times and I still laugh every time," Senreich beams. In another bit, Melissa McBride plays Carol and tells Lizzie to look at the flowers, Lennie to look at the bunny, etc. We asked what else they they had planned for that bit. "Oh God. I think we had something from Schindler's list, it was just like too dark. There's such a line…and we always know when we're towing the line and when we're crossing it. We always try to stay on the toe side of it."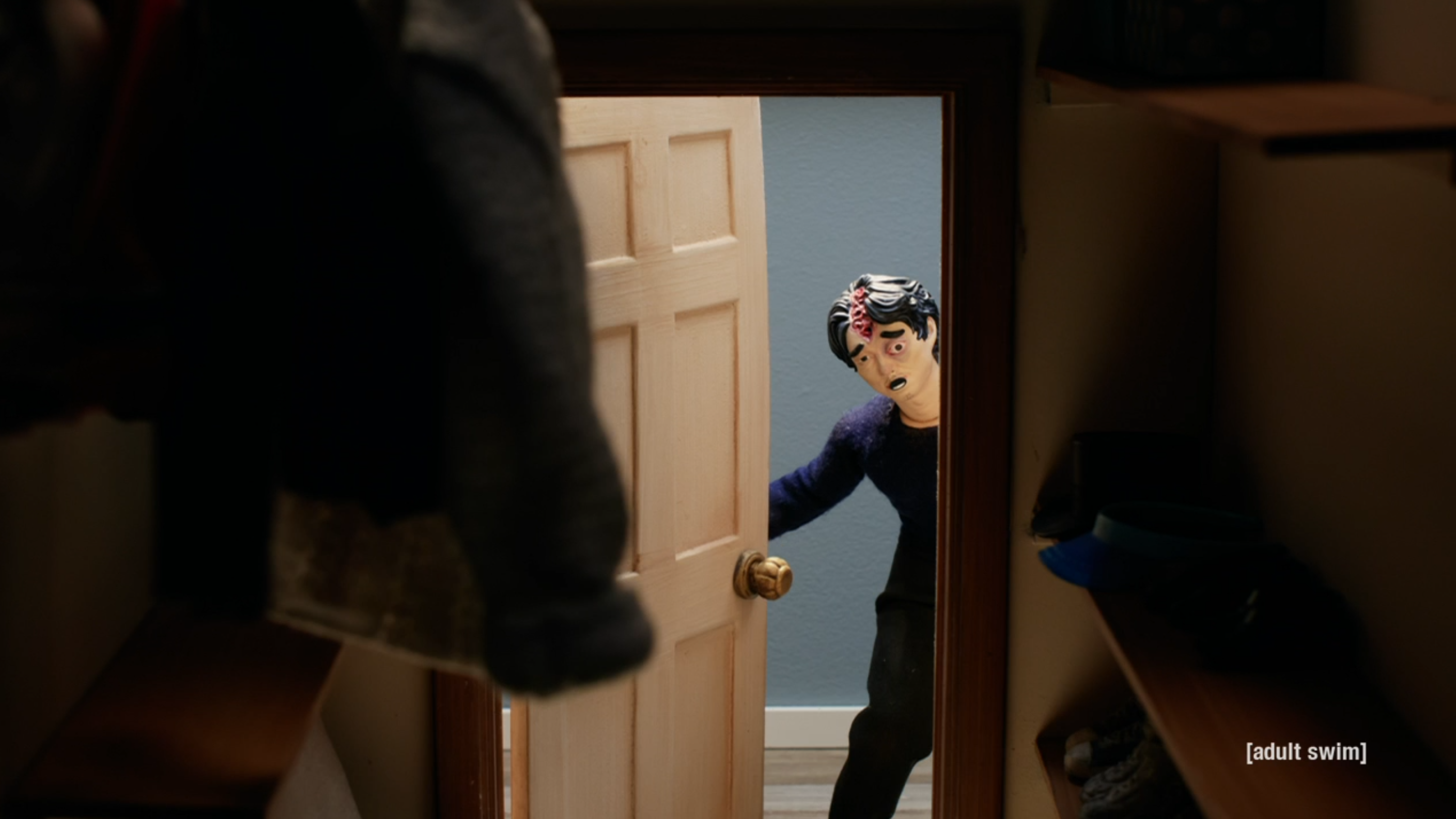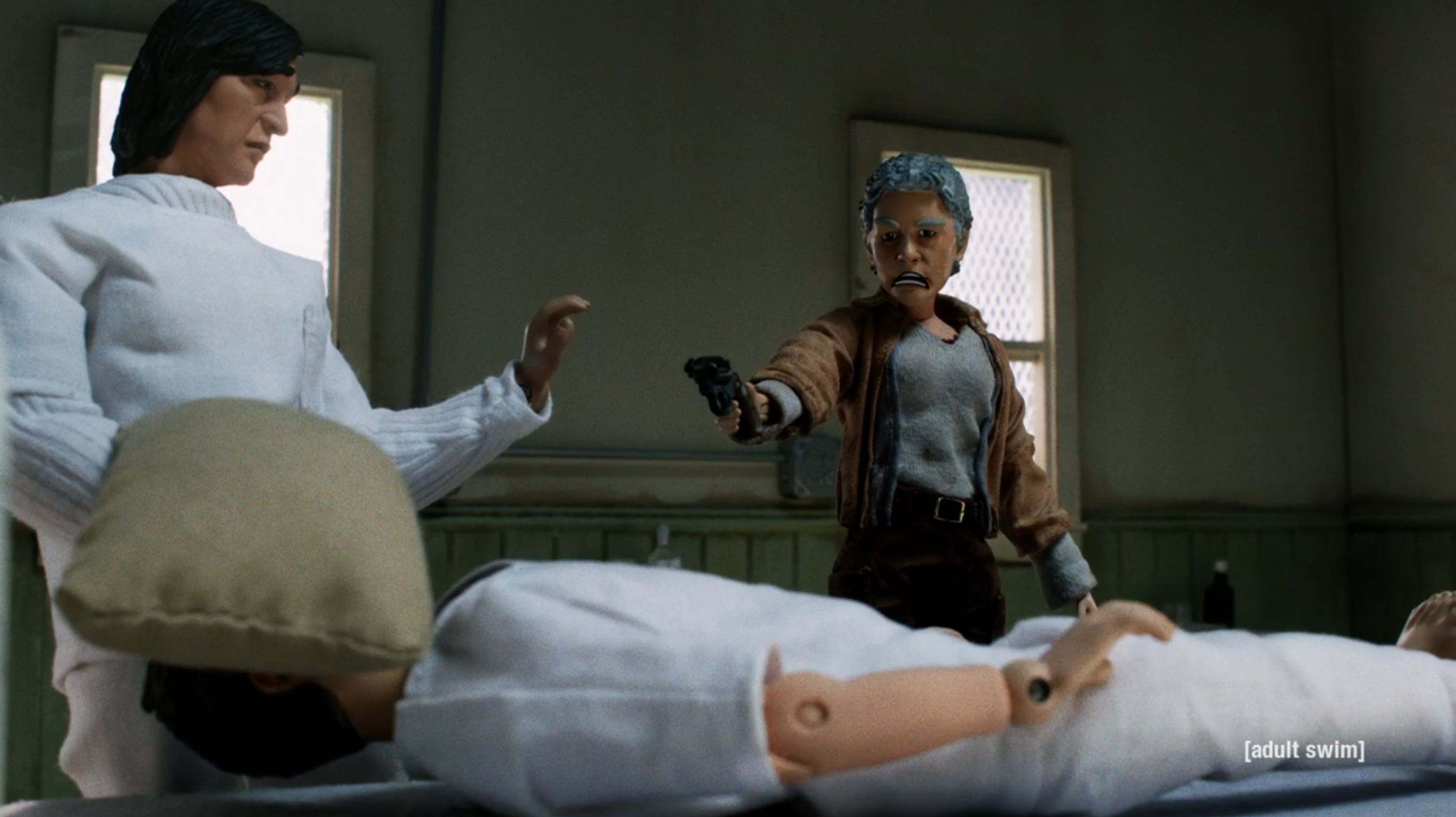 Another dark twist was the inclusion of Robot Chicken's pervvy unicorn (voiced by Space Ghost's George Lowe), who tries to help Rick get to Atlanta in exchange for sex. Not surprisingly, Andrew Lincoln loved the idea. "He had so much fun with it," Green boasts. "He brought that same level of intensity that he brings to his character to all his comedy. I was thrilled by it." Senreich adds, "His record was one of the best ones because we did it by Skype, and you're like watching him do it and he's like reading this stuff over and he puts on the straight face to play the character. And while he's trying to keep that straight face he keeps laughing in the middle of it and he's like, 'I have something better, I have something better.'
The special concluded with Chris Hardwick (actually played by Chris Hardwick), hosting his infamous Talking Dead after-show. "Chris and I have known each other since we were teenagers, Green said. "And I said we've got to do a Talking Dead, we have to. And once we agreed we were going to, it just became about what that bit was." In the bit, Hardwick interviews a serious actor playing the CGI tiger Shiva. "That's Lennie James!" Green beamed about the Morgan actor. "We were like, 'Lennie, come in and just use your regular accent. Make this guy a real serious actor. This is a guy who lost his purpose and then discovered it again.'" Robert Kirkman was also on the couch – dressed as a pimp. (Laughing) "He said, 'Make me fancy!' Green said. Senreich adds, "He wanted to be over-the-top. Meanwhile, Gimple was like 'I need the tie, it has to be very specific.'"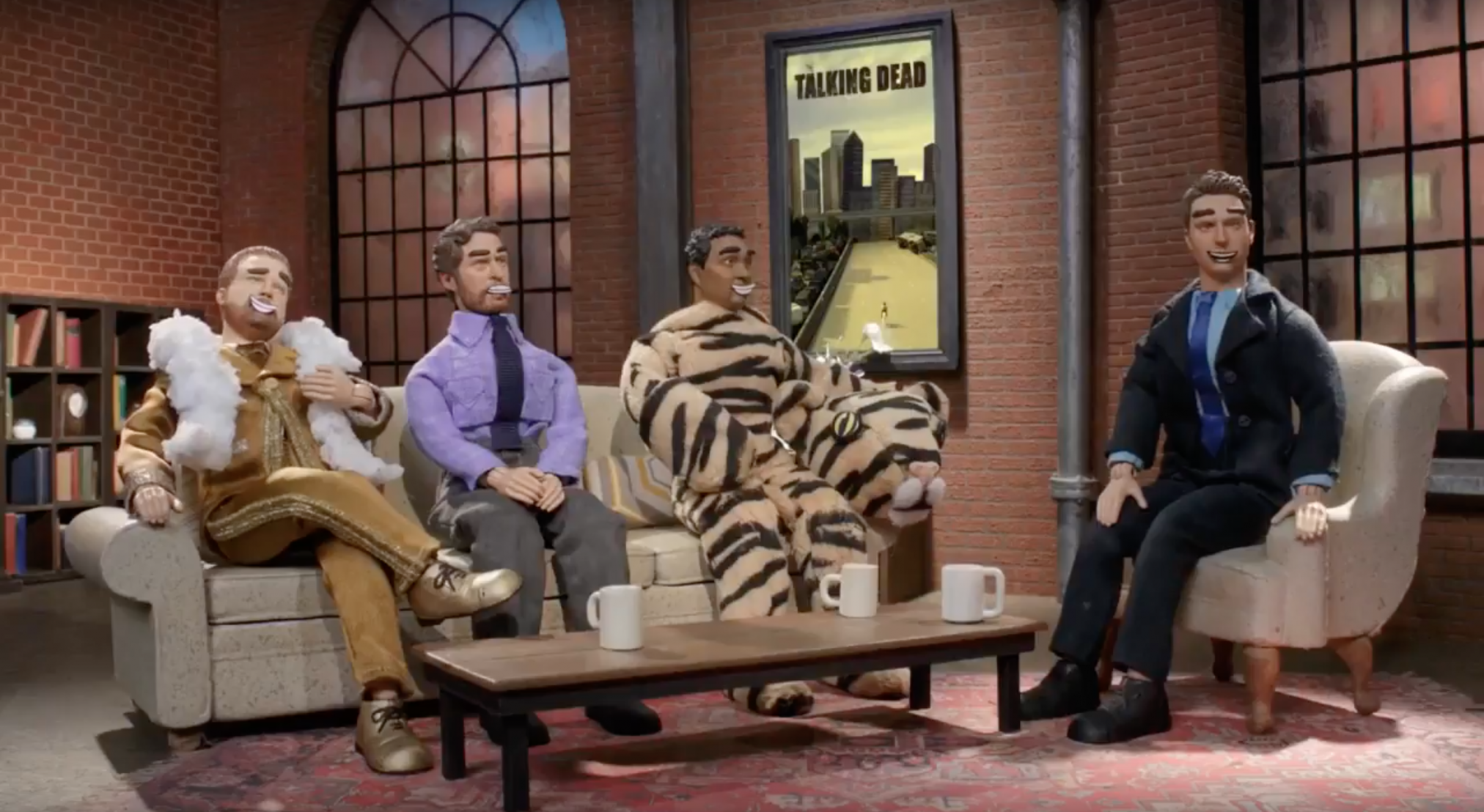 Despite the eclectic variety of Walking Dead bits, there were still several scenes left on the cutting-room floor. "We edited a full 20 minutes out of the animatic and like 40 pages out of the original script just to get us down to time," Green said. Senreich adds, "It's the weird and the bizarre that end up falling on the cutting-room floor. Like we had a bit in the barn where Hershel's hiding his dead family and they burst in there and it's all square dancing. Like this horrible square dancing sequence and Rick's like, 'Walkers I can handle, but square dancing?'"
In the end, Green and Senreich want their show to make an impact. "I like to think Robot Chicken is the stuff that sticks to you. It's the stuff that you remember," Seth explained. "It's timeless", Senreich added. The Walking Dead Robot Chicken special Look Who's Walking is now available to stream on Adult Swim.