Lost in the chaos of The Walking Dead Mid-Season Finale was Negan's secret escape from his cell in Alexandria. And as we saw in the trailer for the second half, Negan will use his freedom to journey back to Sanctuary. "We get to tell a really, I think, pretty cool story with Negan, as he goes on an adventure of his own," Showrunner Angela Kang told Entertainment Weekly. In the comics, Negan also finds his cell door open, but instead of leaving, he stays in his cell to prove to Rick he can be trusted (as you can see below it doesn't exactly work).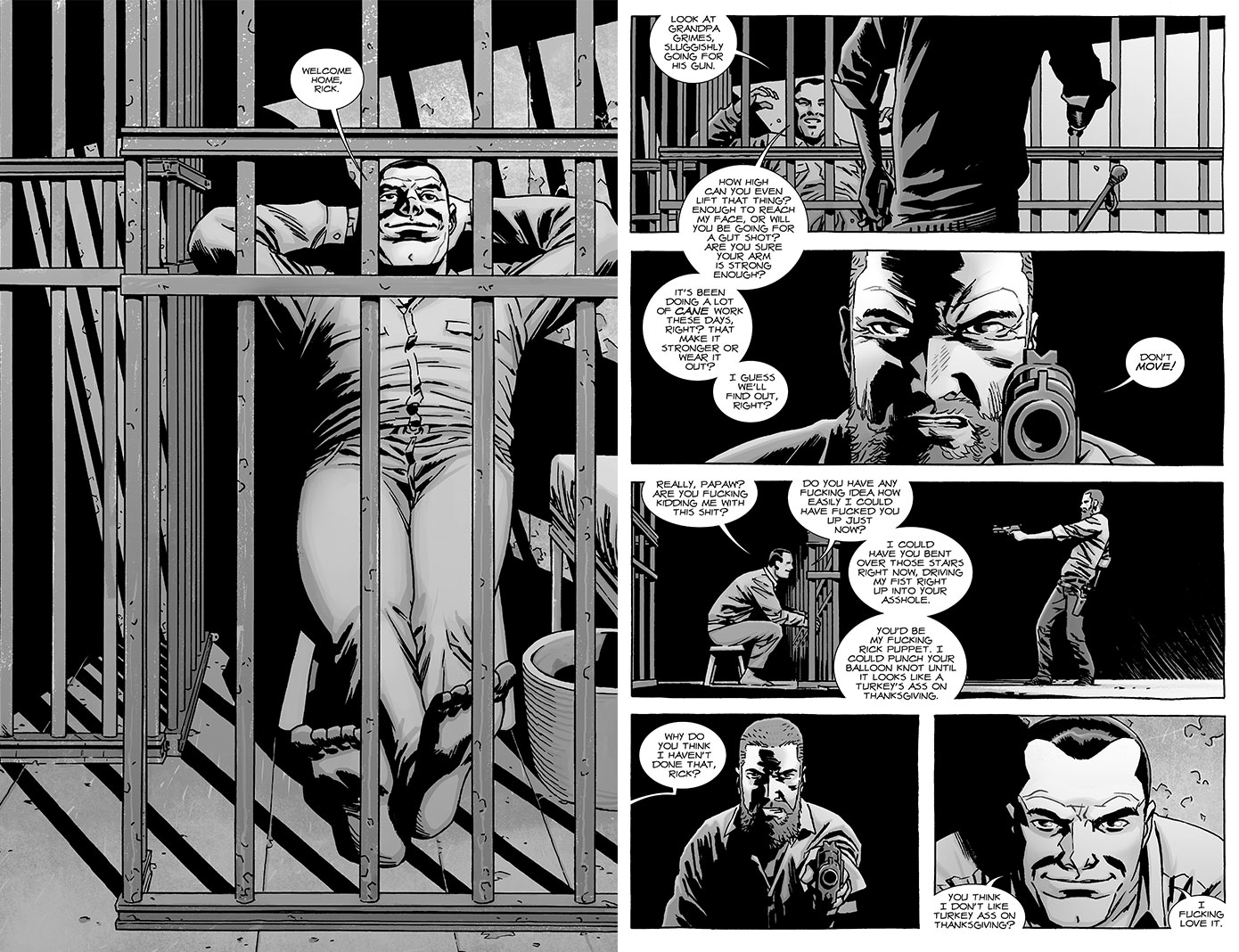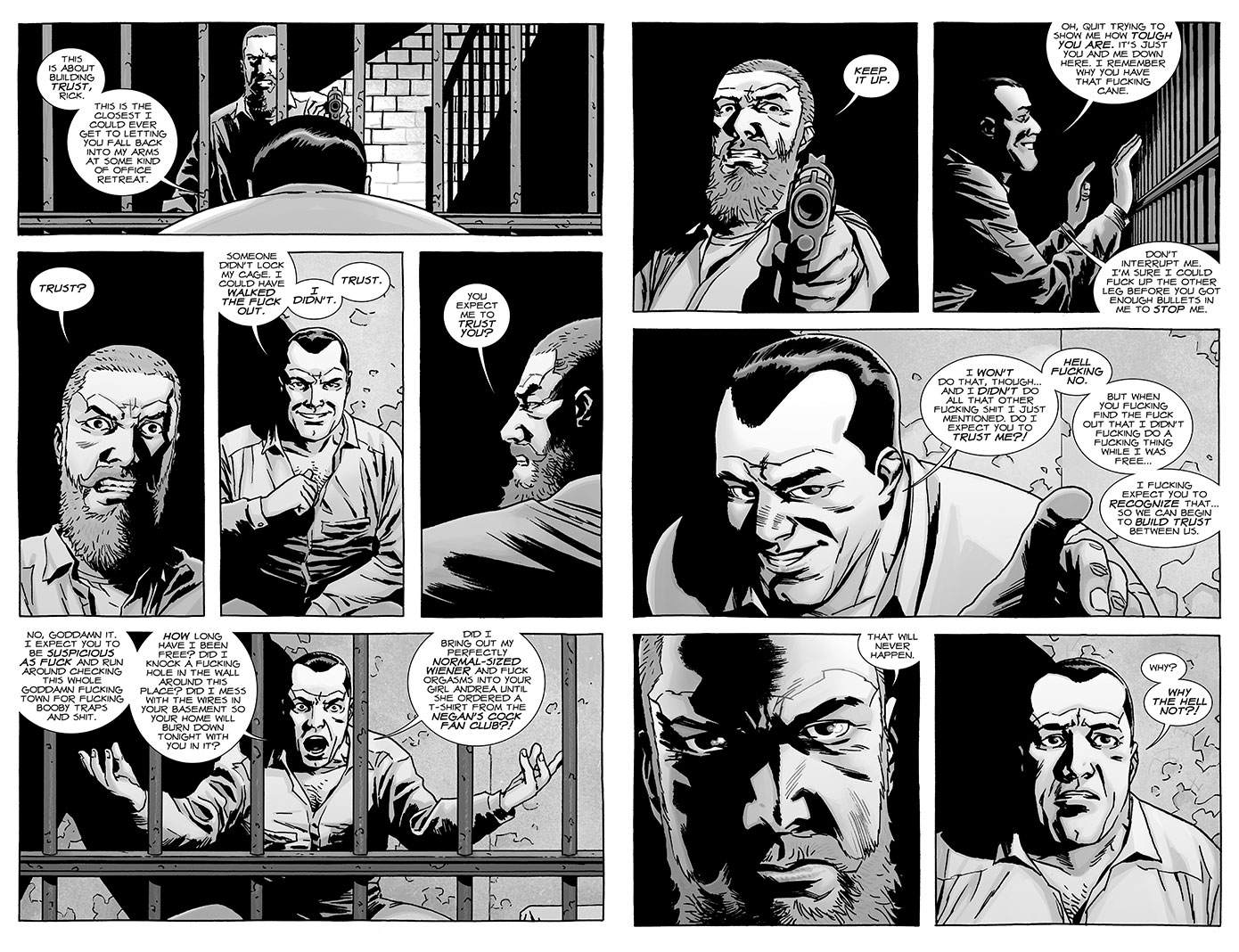 (The Walking Dead Issue 141, Pages 8-11. In the comics, Negan DOES eventually escape jail thanks to help from a local teen named Brandon. However, that happens MUCH later, and his getaway in the show is more of a variation on the scene pictured above from the comics).
With Rick gone in the show it's impossible to tell the same story from the source material. "Yeah, it's not exactly the story that was in the comics, but we thought that it would be really interesting to see," Kang told EW. "Negan has wanted out of that cell. He kind of got to a point where he was like, 'Just kill me.' Then we saw him after the big time jump kind of in a place of semi-acceptance of his fate, but he's always wanted something more…What he finds is a really interesting and different world out there from the time that he came into prison."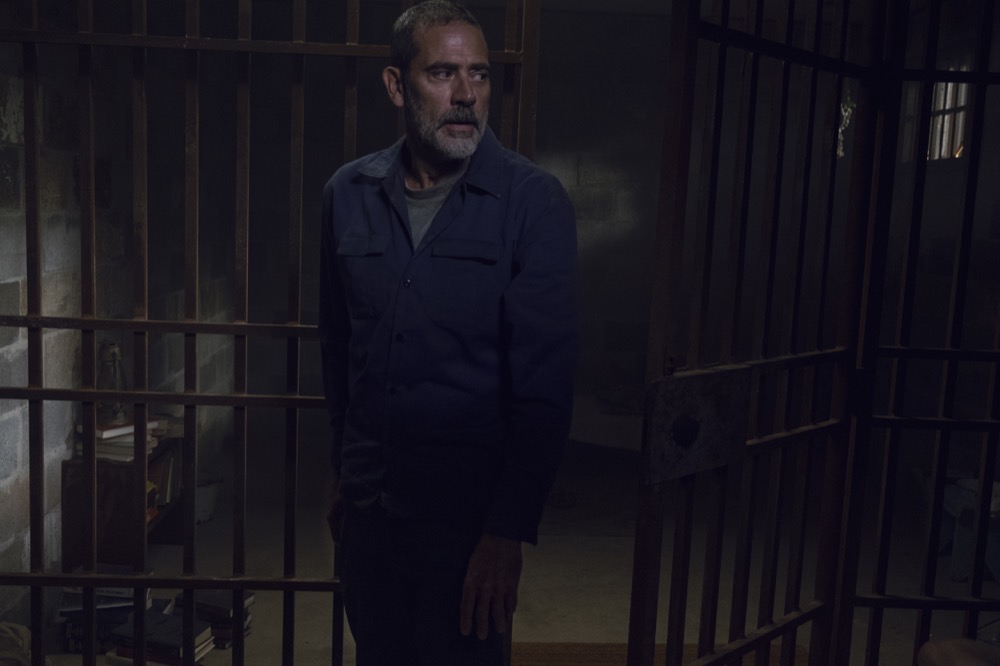 A lot has changed in the seven-and-a-half years since Negan's been thrown in jail. Not only has nature re-captured old landmarks, but Negan's Saviors are a thing of the past. Angela Kang explained, "Because if you think about it, for (Negan), so many years have passed, whereas our people have been adapting to the changing world, he's just been in the cell this whole time. He learns some pretty interesting things while he's out there. I think it's really great to see Jeffrey do this really interesting almost Western-esque journey that I think will be fun for fans of Negan to see."
---
Fans won't have to wait long to see Negan's new adventure – it begins during The Walking Dead Mid-Season 9 Premiere, which airs on AMC Sunday, February 10 at 9PM. Catch the rest of the interview over at Entertainment Weekly.