The Walking Dead's new villain group The Whisperers are far more dangerous than any antagonist group we've ever encountered. We got a taste of their brutality in the Mid-Season Finale when one murdered Jesus in cold blood. But that guy was just a disciple – the REAL threat lies in their leaders Alpha (Samantha Morton) and Beta (Ryan Hurst), who we'll meet in the back half of Season 9. Angela Kang recently spoke with Entertainment Weekly to discuss the Whisperer leaders and what their arrival means for the show.
"We will get to meet the amazing Samantha Morton as Alpha and Ryan Hurst as Beta, as our heroes are really grappling with how to deal with a threat that's unlike anything they've ever faced with people with such a different philosophy," Kang said. "Part of the story will reveal — pretty early on in the back half of the season — the way that Alpha thinks and the way that she moves about the world. I think what is really interesting about them is that to put on the skin of a dead person and walk around in the world and walk around amidst walkers, that really takes a certain kind of a person."
Samantha Morton as Alpha putting on her walker mask in an AMC promo video.
Kang stressed the importance of properly adapting this villain group from the Robert Kirkman's source material. "It's this amazing idea from the comics and we really delve deep into what that means," Kang said. "It really takes a pretty brutal philosophy to believe that it's not even worth trying to be something that approximates human in the way that we think of it. I think that really brings them right up against the things that our people are thinking about as they're trying to rebuild something that's like a civilization, and just the fact that this group just doesn't even think any of that is worth preserving. It's something that's really dangerous for our people to grapple with."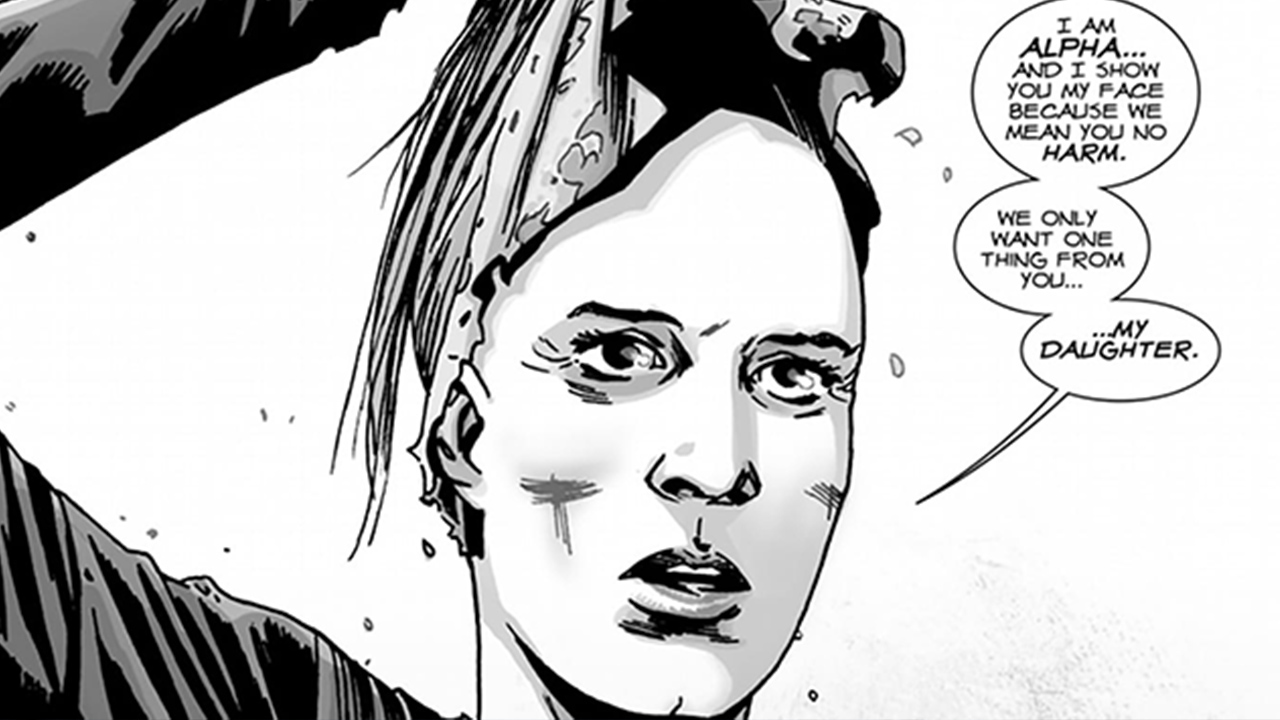 Alpha in The Walking Dead comics.
So what can we expect from Alpha actress Samantha Morton's arrival? "She's fantastic," Kang said. "I'm so surprised by the things that she does, in a way where I'm like, 'That's so much better than what I imagined this woman could be.' She's just such an interesting and deep actor. We've really loved having her. She's so nice, too. Could not be a nicer person. The entire cast just loves her. The crew loves her. She's been absolutely wonderful and such a good presence to have and very serious about what she does, in the best way. She deep-dives, man. She's awesome."
---
Catch the rest of the interview over at Entertainment Weekly! The Walking Dead returns on AMC Sunday, February 10th and Monday, February 11th in some international FOX markets.