Is it just us, or did Season 5 of The Walking Dead have even more hidden gems than usual? Listed below is everything we've spotted, from fun production design to walker cameos. Read on:
THE RETURN OF SAM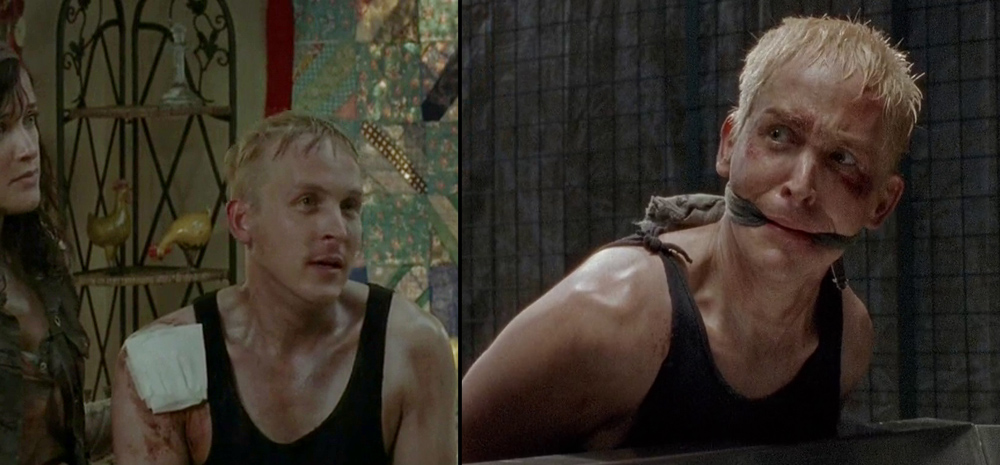 Sam was one half of the scared couple locked upstairs in Episode 404, and he returned for a brief, brief cameo in Episode 501. In "No Sanctuary," Sam is plunked down, first in line at the trough in the opening scene. Hence the knowing look he and Rick exchange.
Bonus: Carol finds the watch that Rick gave Sam in the loot room.
GARETH'S BROTHER… FOR DINNER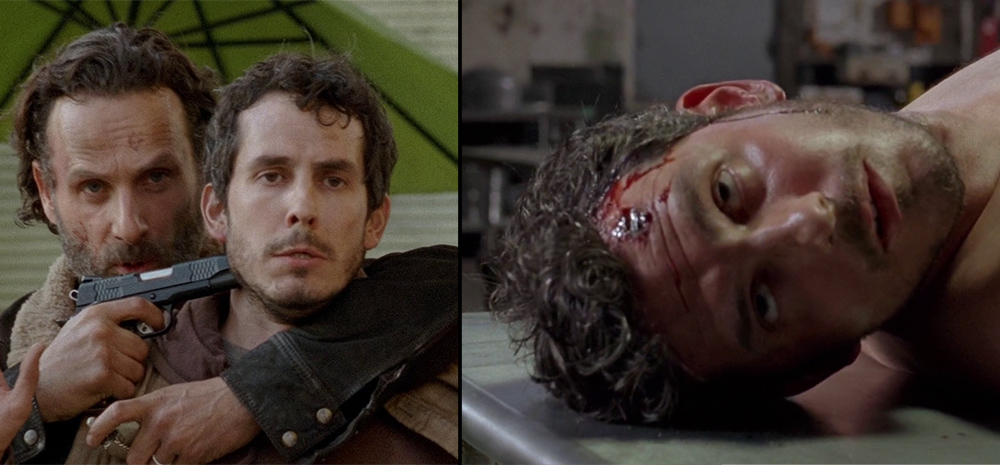 If that corpse on the slab in Episode 501 looked familiar, it's because he was the guy that Rick used as a human shield in the Terminus shoot out in Episode 416. Scott Gimple later confirmed on The Talking Dead that it was Gareth's brother. Oh man… were they really going to eat him? Or would Gareth have opted for a salad instead?
THE CREEPSHOW CRATE
In a CREEPSHOW story directed by George Romero in 1982 (titled… "The Crate) this creepy crate is featured: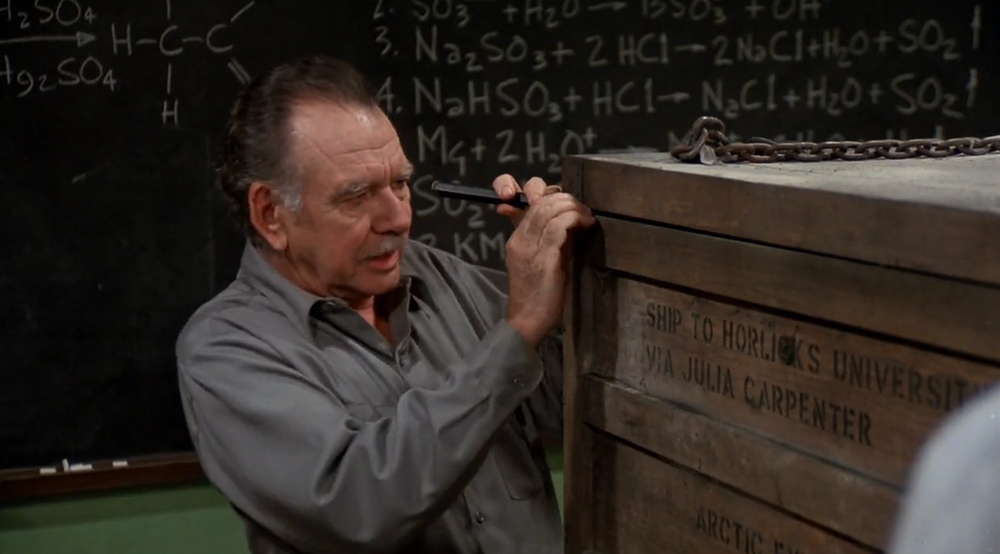 "SHIP TO HORLICK'S UNIVERSITY
VIA JULIA CARPENTER
ARCTIC EXPEDITION"
Greg Nicotero confirmed in a Walker Stalker interview that a facsimile of the crate is visible in the premiere! Here it is in Episode 501: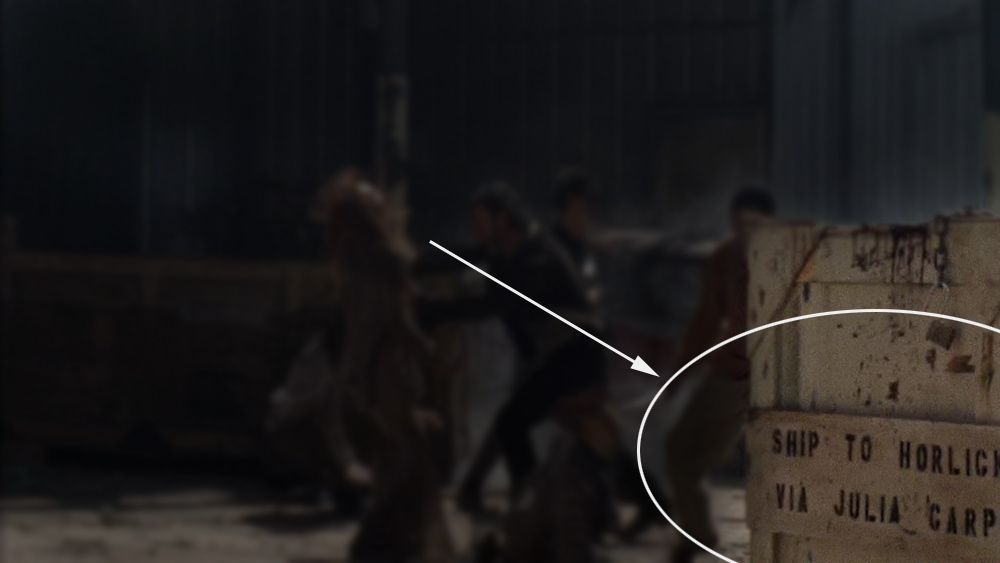 FATHER GABRIEL'S CHURCH VERSES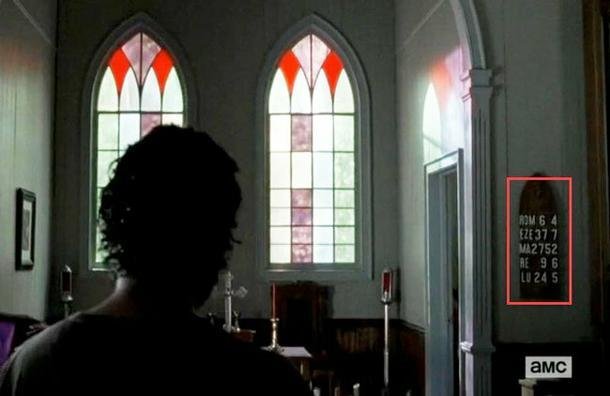 The biblical refrains displayed throughout Father Gabriel's church were chosen for their very specific meanings. Here are some of those referenced in the production design:
Romans 6:4 — We were therefore buried with him through baptism into death in order that, just as Christ was raised from the dead through the glory of the Father.
Ezekiel 37:7 — So I prophesied as I was commanded. And as I was prophesying, there was a noise, a rattling sound, and the bones came together, bone to bone. I looked, and tendons and flesh appeared on them and skin covered them, but there was no breath in them.
Matthew 27:52 — And the tombs broke open. The bodies of many holy people who had died were raised to life.
Revelation 9:6 — During those days people will seek death but will not find it; they will long to die, but death will elude them.
Luke 24:5 — In their fright the women bowed down with their faces to the ground, but the men said to them, "Why do you look for the living among the dead?
MORLEY CIGARETTES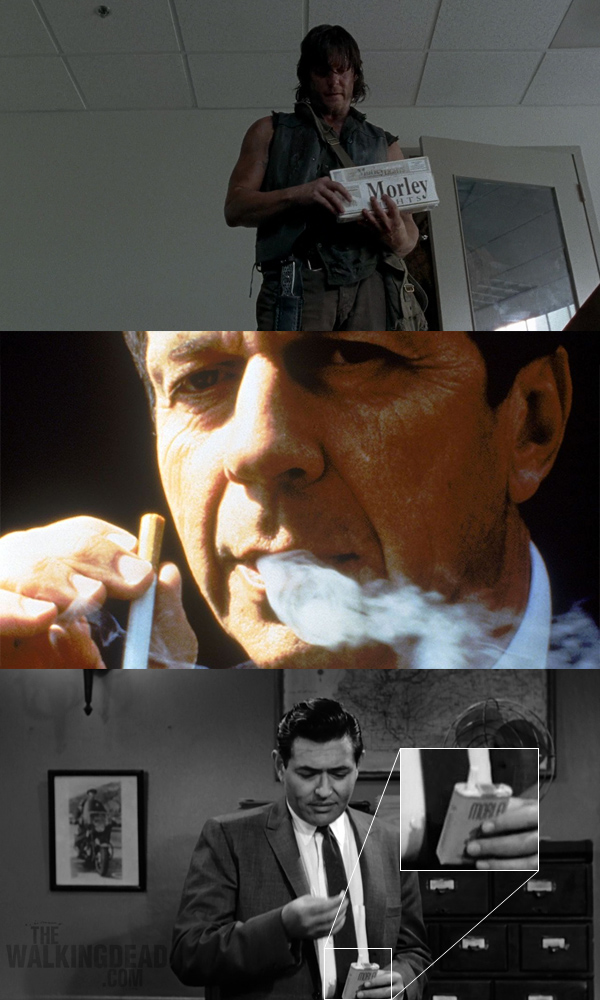 Morley has been used as a generic, rights-free stand-in for Marlboro (which apparently used to be referred to as Marleys) for ages, and we spotted it in The Walking Dead Episode 506.
Some other instances of the famous false brand include Psycho (1961), which is the bottom photo of our above montage. They also appeared in The Twilight Zone, The Dick Van Dyke Show, Beverly Hills: 90210, Buffy, 24, and more. In fact, they've also appeared in network sibling Breaking Bad, and they've appeared before in TWD. Dale smokes 'em in season 2.
Read more about Morley Cigarettes here.
TOM SAWYER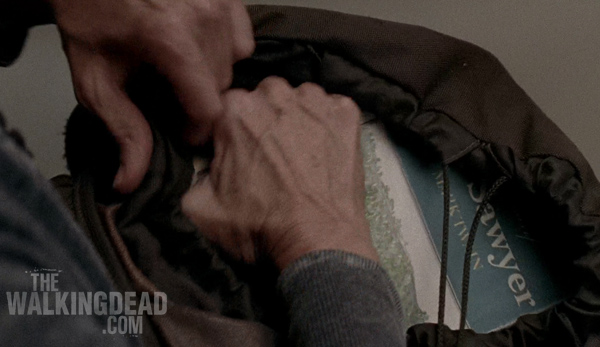 The Adventures of Tom Sawyer are constantly popping up on the show! Carol teaches it at the Prison, Hershel has Lizzie reading it for homework, the girls and Carol talk about it on the train tracks. And voila, in Season 5, Carol is packing a copy of it. How do you think the classic relates to the themes of The Walking Dead? Sounds like we need to do some homework…
ANDREW LINCOLN: RADIO BROADCASTER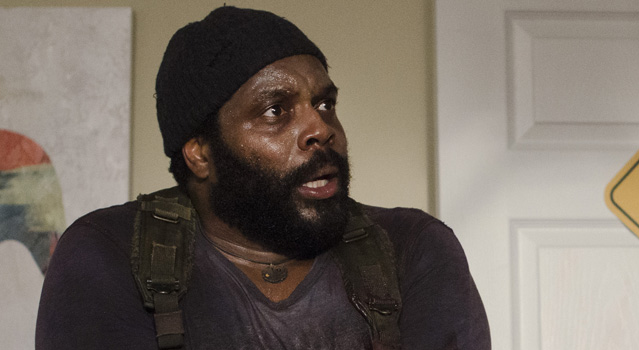 If you thought that those soothing, British vocals were familiar during Tyreese's hallucinations in Episode 509, you may have been onto something. Andrew Lincoln recorded the radio broadcast with his natural accent!
HIDDEN COMICS
It's a long-standing tradition on The Walking Dead to hide Robert Kirkman's other comic books on set (see our list of 5 Easter Eggs from Season 4 here). When Carl meets Enid, he's immediately smitten because not only does this girl love comics, she loves GOOD comics like Invincible:
And what else is stashed up here in this teen hideout? On the back of a comic is an advertisement for good ole Robert Kirkman's THE ASTOUNDING WOLF-MAN: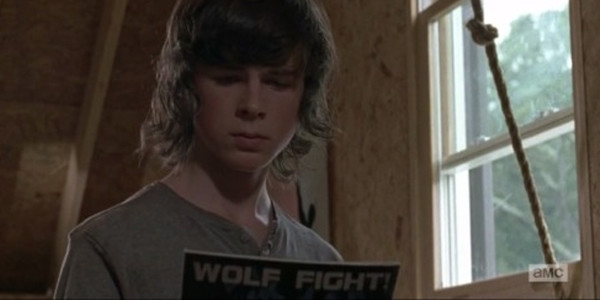 SCOTT IAN CAMEO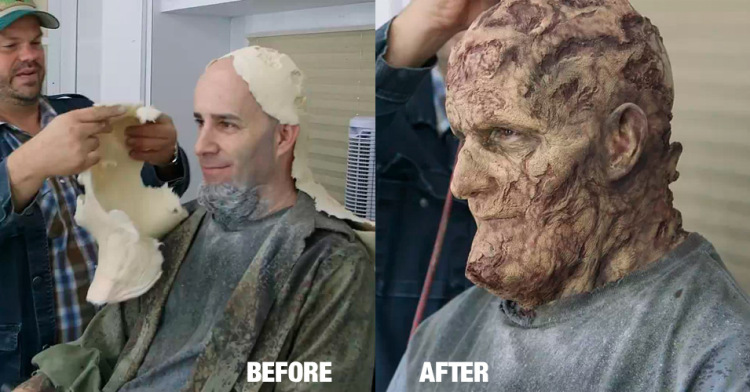 Metal legend Scott Ian was made up by Greg Nicotero for a special cameo at the end of Episode 512! The musician/singer was transformed into a walker by the team and then got the fun job of jumping out of a heap of garbage and attacking Rick. Thankfully, Carl made quick work of him.
BONUS: This wasn't actually Scott's first cameo; he originally appeared in a TWD webisode back in 2011, with slightly less gruesome make-up!
DAWN OF THE DEAD MACHETE HIT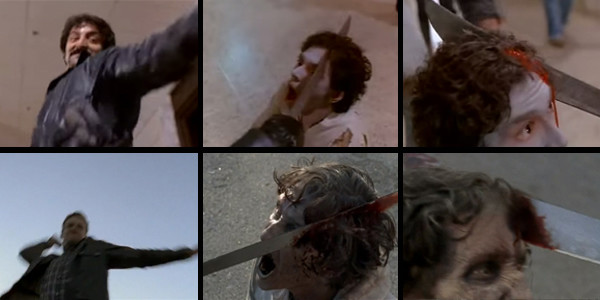 It's no big surprise that we here at The Walking Dead have a little crush on George Romero. Fans of his work may or may not have caught a shot-by-shot recreation from Dawn of the Dead, where Aaron delivers swift machete justice in the exact same way as the classic film!
---
These are the major Easter Eggs we spotted this season, but did you see anything else? Send us photos and theories in the comments if we missed anything!
Need more? Don't worry, you can always travel back in time and look at our 5 Easter Eggs from Season 4!