Invincible got a birthday party befitting its status as the Best Superhero Comic Book in the Universe today at SDCC 2023. As the men responsible for the franchise — Robert Kirkman, Cory Walker, and Ryan Ottley — took the stage in the massive room 6BCF of the San Diego Convention Center to celebrate Invincible's 20th anniversary. The three comic creators were joined by Marge Dean (Head of Studio, Skybound Animation) and Mike Rogers (Creative Director, Skybound) for a look at the franchise's past and a look forward at its future in the many mediums it now inhabits, including collectibles, video games, and tabletop games.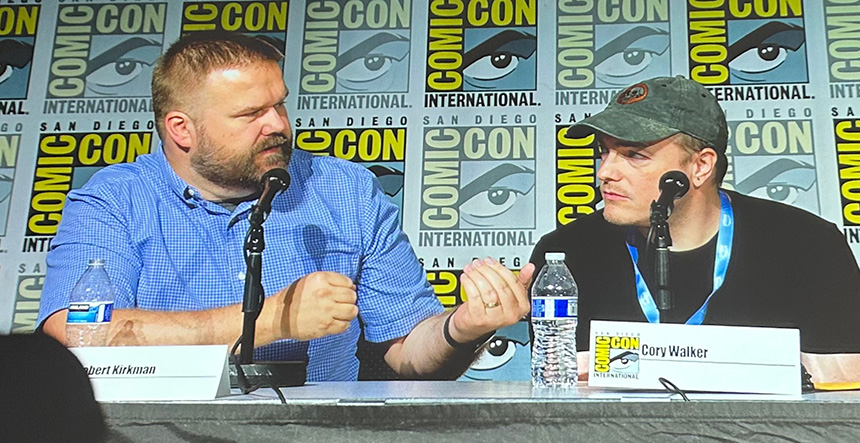 First up was a look at the Invincible Nendoroid from the Good Smile Company. Pre-orders launch in September of 2023 for this figure, which includes 3 alternate faces, 2 sets of hands, 2 sets of arms, 2 sets of legs, and a flight stand. A grey prototype of the Invincible Nendoroid is on display throughout SDCC 2023 at Good Smile's booth (#4045).
The next reveal was Invincible: Escape from Mars — an Invincible deduction game by Skybound Tabletop, billed as "The Best Superhero Deduction Game in the Universe!" Expected in the first quarter of 2024, this lightweight hidden identity game is based on the fan-favorite fourth episode of the first season, "Neil Armstrong, Eat Your Heart Out." Fans can play as one of three unique teams with their own victory conditions: 1.) play as a hero, and attempt to keep all the astronauts safe, 2.) be an astronaut and attempt to escape from Mars without being infected by a Sequid, or 3.) become infected with a Sequid and attempt to infiltrate the rocket and spread the Sequid invasion to Earth!
Those hungry for more Invincible tabletop gaming can also look forward to Invincible: The Hero-Building Game by Dire Wolf Digital. Here, fans can play as Mark Grayson and the Teen Team as they learn to use their powers and work together to protect the Earth. A fusion of bag-building and tableau-building allows players to customize their hero with each game, as they push their luck and risk crashing to deal with numerous threats and rescue both civilians and their fellow heroes. Its campaign-based gameplay takes players through the key events of the story.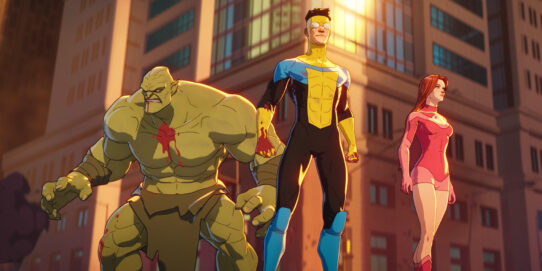 Skybound had recently announced its first Invincible video game, the Invincible: Guarding the Globe mobile game, for which fans can pre-register on Ubisoft.com/invincible. And those looking for more digital fun can soon look forward to the Invincible Presents Atom Eve game, an announcement trailer for which debuted during the panel. Fans can now wishlist this game on Steam for exclusive news and updates. "There are aspects to [Atom Eve's] character that we learn in the game that we have never seen in the comics," remarked Kirkman.
Another kind of Invincible competition is Skybound's Invincible Cover Clash, in which fans can pick their favorite covers and enter for a chance to win exclusive prizes. Sign up now at Cover-clash.com!
To cap the panel, Mortal Kombat creator Ed Boon appeared, and announced that a playable Omni-Man will be joining Mortal Kombat 1, the 12th installment in the fighting game series, and a sequel to 2019's Mortal Kombat 11.
"We really had to tone down Omni-Man to make him fit in Mortal Kombat," laughed Boon.
"I could die a happy man just having anything to do with Mortal Kombat," said Kirkman.
For more on SDCC 2023, check out Skybound's full schedule.
Follow Skybound on Threads (@skyboundent) Twitter (@Skybound), YouTube (Skybound), Facebook (@SkyboundEntertainment), Instagram (@skyboundent), Discord (Skybound), Reddit (Skybound), and at www.skybound.com for updates in real time from the convention floor.
INVINCIBLE™ © 2023 Robert Kirkman, LLC & Cory Walker. SKYBOUND and all related images are owned by Skybound, LLC. IMAGE COMICS and all related images are owned by Image Comics, Inc. All rights reserved.