SKYBOUND ENTERTAINMENT AND DIAMOND SELECT TOYS TEAM UP FOR INVINCIBLE ACTION FIGURES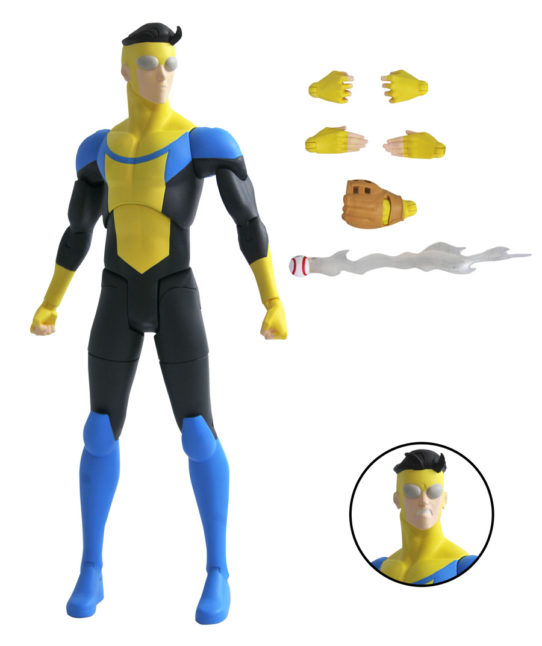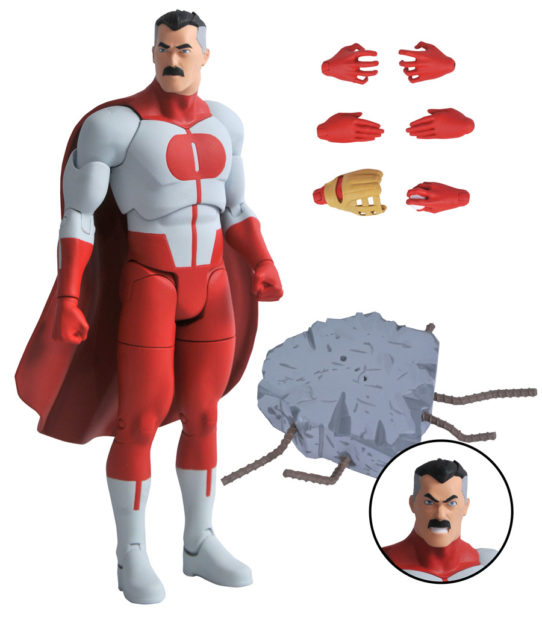 Today Skybound Entertainment and Diamond Select Toys announced new INVINCIBLE action figures hitting stores in Summer 2021. From the Skybound/Image superhero comic book by Robert Kirkman, Cory Walker, and Ryan Ottley, the new line will feature Invincible and his father Omni-Man, each with interchangeable parts and accessories.
The figures will stand at seven inches, and each will come with a second angry head, multiple interchangeable hands, and baseball gloves. Invincible will come with a baseball and a Reanimen head, while Omni-Man will come with a chunk of concrete and a Flaxan arm. Each figure will feature approximately 18 points of articulation.
INVINCIBLE follows Mark Grayson, who as a teenager inherits his father's superhuman strength. The comic book series ran for 144 issues and an animated series will debut on Amazon Prime in 2021.
"It's a thrill to be working on Invincible action figures for the new animated series," said DST president Chuck Terceira. "The comic was groundbreaking, and the animated version should be unlike anything that has been seen before. It's the perfect time to launch a toy line, and I think collectors will be very happy with the product we've developed."
Available for pre-order through comic shops and specialty stores on December 23rd, the accessory-packed figures will arrive in summer of 2021, with streamlined versions coming to Walgreens stores.
---
About Skybound Entertainment:
Skybound Entertainment is a multiplatform content company that works closely with creators and their intellectual properties, extending their stories to further platforms including comics, television, film, tabletop and video games, books, digital content, events, and beyond. The company is the home of notable properties including The Walking Dead, Invincible, and Super Dinosaur.
Skybound holds strategic partnerships across the entertainment industry, and has the in-house capabilities to serve as publisher, producer, and global distributor for tabletop and video games. On screen, Skybound holds a first-look television deal with Amazon Studios and a first-look movie deal with Universal. Additional partnerships include comic book publishing with Image Comics, book publishing with Simon & Schuster, and a first-look narrative audio deal with Audible. Skybound also houses a variety of unique creators and their IP, including Kristian Harloff and his pop-culture movie trivia platform the Schmoedown Entertainment Network, and printmaking expert Peter Santa Maria's Attack Peter brand.
About Diamond Select Toys and Collectibles, LLC:
Diamond Select Toys and Collectibles, LLC, was founded in 1999 to create unique and exciting collectibles for children and adults alike, and with the acquisition of Art Asylum in 2007 and Gentle Giant Ltd. in 2019, they have become the premier source for pop-culture products. "DST" licenses a variety of entertainment properties from partners Marvel, Disney, Lucasfilm, Universal, 20th Century Fox, Warner Bros., Lionsgate, Nickelodeon, Sega, Skybound, Netflix and Sony Pictures. Products include Gallery Dioramas, Select action figures, Vinimates vinyl figures, Minimates mini-figures, statues, busts and more. They are headquartered in Hunt Valley, MD. For more information, visit diamondselecttoys.com and gentlegiantltd.com.