With a keen knowledge of the comics medium and industry, Morgan Perry is well suited for her role as Brand Manager of Editorial at Skybound Entertainment. But it's her limitless love of the art form that distinguishes her work. As part of our continuing series of interviews celebrating Women's History Month, we chatted with Morgan about her many projects — including promoting Skybound Comet and storyboarding trailers for Skybound's comics and graphic novels. Here's what she had to say…
What's your origin story?
How far back do I start, haha?
Comics have always been a part of my life because I have a core memory of always reading the daily newspaper funnies with my grandparents, and I also loved drawing from a very young age. I didn't really put it together that YOU could be the person making the comics until age 11 or 12 when I found a random issue of Shonen Jump at the local Walgreens.
So like, I had no idea what this book was, but I was really into Yu-Gi-Oh at the time, which was on the cover. My mom had no idea what it was. But it looked like comics and it was 5 dollars so how bad could it be?
We bring the Shonen Jump home, and I realize three things:
There's more than Yu-Gi-Oh! in here. Okay, fine.
I have to read from right to left. Okay, fine.
Wait…that's it? Where's the rest of the story? This is a scam!
This was my first introduction to manga and serialized comics because we didn't really have a comic shop in my small town. It was a lot of trial-and-error and figuring out where to get my fix on my own, haha. This was also what set me down my original path of wanting to become a comic book artist.
I went to the Savannah College of Art and Design, majoring in Sequential Art. An internship with Nickelodeon brought be out to Los Angeles before graduation, and I was working part-time at a comic & games store when I picked up a second internship for the marketing department at BOOM! Studios. This was all while I was trying to graduate and do the freelance grind. I was like, "Let's try it out and learn the behind-the-scenes part of the business from a publisher. It can't hurt."
So fast forward, my internship with BOOM! Studios ended, I was working at a nerd fashion brand doing all their marketing, social, and PR, and I absolutely hated it. The one thing about the job I didn't hate was that I got to go and work their booth at the major conventions like SDCC and NYCC, and because they had the Marvel license, I would always nerd out with people who came by to purchase the newest apparel items, talking comics with them. That's when it hit me — I miss comics. What am I doing here?
So, I resigned with the goal of really focusing on making comics and breaking into the industry.
But because it's Los Angeles and rent is a thing, I found myself needing at least a part-time job. That's when I went to my local comic shop, Earth-2 Comics, and did the whole "Hey, are you guys hiring?" thing. They were looking for a part-time sales associate at the time, and after interviewing with the owners, Carr and Susan, I got the job.
Having worked in a comics and games store previously, I kind of knew what to expect in a small business retail environment, but what I didn't anticipate was falling in love with comics retail specifically. It wasn't just about interacting with customers daily, pitching new books to regulars, geeking out about the latest movie/tv show…it was also organizing the racks every Monday in anticipation of New Comic Book Day, unloading the shipment on Tuesday and recording damages, going through Previews every month, checking the sell-out cards to see what books were moving, processing returns, the agony and frustration and joy that is putting together Free Comic Book Day…
By this time, I was the assistant manager, and I wanted to be a comic shop manager for life. I absolutely loved it!
And one day Carr called me at the shop and said that BOOM! Studios had called him asking if they knew of anyone or had anyone on staff that would be a good fit as their new direct market representative because the current employee was leaving soon. He told them that he did, and he gave them my name, telling them that quote, "I'm probably an idiot for recommending one of my best employees, but my assistant manager would be perfect for this." And I think was response was, "Carr, respectfully, who's gonna keep the place from burning down if I'm not here?"
And the response was something like "We'll figure it out. We want more for you, and we think this might be it. But if you get the job, you have to break the news to Kris." (The general manager).
So I did the rounds of interviews, one of which was, ironically enough, with Arune Singh who was VP of Marketing at the time because it was for his team, and I was offered the position a couple of weeks later. I truly thought I had tanked it. I pitched them back one of my favorite BOOM! Studios books, Weavers, and was like, "It's like if Guillermo Del Toro did the Sopranos," and was beating myself up for not using actual comic comps in the pitch.
I still remember getting the call while I was on shift at my second job and calling the president of publishing and marketing back, while sitting in the mall food court, expecting to be told "We've gone with someone else…" but instead hearing "Hey, we'd like to offer you the job!" and immediately blurting out, "HAHAHAA….wait…are you sure?"
And they were.
Also, they loved the way I pitched Weavers. And that's how I found myself in comics
How did you come to work as a Brand Manager for Skybound?
So I had been at BOOM! Studios for five years since the "Origin Story," progressing from their direct market representative to their retail sales lead.
During those five years, I learned a lot and contributed to the success of the company and the company's reputation among direct market comic shop retailers.
I had been running there BOOM! Guarantee Retailer Rewards Program, which was considered the platinum standard for retailer returnability programs and doing everything to make sure retailers had what they needed to order with confidence at FOC (Final Order Cutoff) while also collaborating with the various teams within BOOM! Studios to make the books and their creators be as successful as possible, which included researching and providing accurate comp titles, pulling and analyzing various sales reports to advise on print run or variant cover strategies, developing new strategies for the Direct Market, and building and leading their entire Retailer Exclusive Variant Program. During the start of the Covid-19 pandemic, I also started the first Comic Shop Safe Services thread on Twitter and pushed for line-wide returnability during that time. If you think this is a lot, this is the condensed version but yes, it was a lot — haha, but I loved it — truly.
So I was doing all of that, and Skybound reached out asking if I would be interested in the Brand Manager of Editorial position. I had always really respected how Robert Kirkman treated the direct market and held comic shops in a high regard in addition to also enjoying his work as a creator. I also knew Arune had transitioned to Skybound about a year prior, and having worked with him previously, I knew how we already worked together, but this would be a different team dynamic and environment.
On top that, Skybound was in the process of launching Skybound Comet, the YA and middle grade graphic novel line, which was a fascinating new challenge to be potentially a part of, and as a brand manager, there was a lot of opportunities to grow in my career in ways at a company like Skybound that I may not have had in my previous role. That was an exciting proposition to me.
Look, if you have the opportunity to work with Robert Kirkman, you say yes.
If you have the opportunity to work with Arune Singh, you say yes.
What do you like best about working for Skybound?
The people.
Truly, the editorial team at Skybound, is one of the most passionate group of people in comics. They absolutely care about comics as a medium and want to tell stories that they, as fans too, will also enjoy. There is so much thought and consideration put into each series launch from greenlight to casting to final physical product, and it's also just a great group of humans.
What Skybound project are you proudest of?
Oh dang…there's two.
The first is the Invincible #1 Undeluxe Edition, which was something I joked about in an Editorial meeting when we were brainstorming ideas about the Invincible 20th Anniversary product. But Robert liked it and so it was done. The coolest part though was being openly acknowledged for the idea by Robert in the backmatter of the issue, which is something I've never experienced in that way in my career thus far. It was super cool.
The second is I storyboard all of the comic and graphic novel trailers for Skybound, which then our awesome video editor, Adam, goes full warlock on to animate and create the trailer videos for. I think out of the trailers I've done, I'm the proudest of the ones for Ava's Demon and Arcade Kings.
To bring it full circle from the origin story, Arcade Kings is the first solo creative comic project by Dylan Burnett, who was the artist on Ant-Man and Cosmic Ghost Rider — but also, he was the artist on Weavers (we're bringing it all back around).
Look, I'm just really stoked to be the hype train for books I love. I wanted these trailers to be my way of pulling together what I think makes these books special and unique for everyone — retailers, customers, librarians, educators, etc.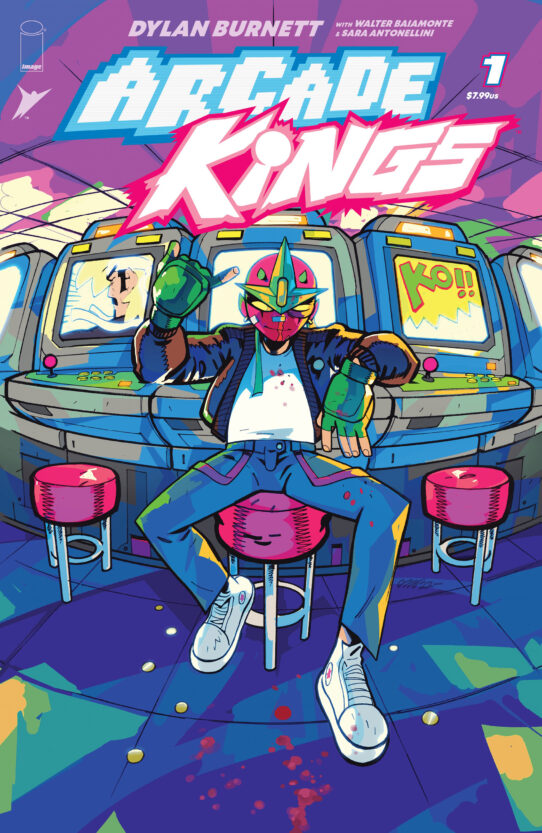 What are your other favorite Skybound titles?
Assassin Nation and I Hate This Place. Literally, I will read whatever Kyle Starks writes. I also think he's an inhuman comics warlock.
Oh! And Everyday Hero Machine Boy!
Also, Dark Ride is an incredibly fun world to enter every month (no Annual Pass required). There's also some other things coming up that I can't wait to share with folks!
Look, you asked this question to the wrong person…
What other pop culture do you nerd out over?
I absolutely love manga and anime, and I have a particular soft spot for My Hero Academia because it reignited my love for manga and anime after I had shunned it for so long.
I also really love Pokemon and survival horror video games, even though I am horrendously bad at them. I can't wait for the Silent Hill 2 remake, and I LOVED the HBO adaptation of The Last of Us.
Do you have any advice for young women considering a career in your field?
Be passionate about comics.
Don't be afraid to ask questions, learn from others, or talk to people in the positions you see yourself in.
Don't psych yourself out of applying or taking the interview.
Comics can be a really difficult industry for women and marginalized folks to break into, and you don't have to have a degree or background in marketing or sales to be considered worthy of an entry level position, in my opinion. The thing I look for the most in interviews is if the person is passionate about comics — all types of comics (superheroes, manga, webtoons, graphic novels) or the comics publishing industry — and if they have a willingness to learn this side of the business and to always want to keep learning and growing from those around them.
Also be aware of what's going on in the industry, read ICV2, listen to retailer focused or industry podcasts like Contest of Challengers or SKTCHD, and be aware of what's being published and who's publishing it.
And don't psych yourself out by thinking you're underqualified for a position if your experience fits 80 to 90% of the job requirements and not 100%. Put yourself out there.