Comics creator Tillie Walden has very little left to prove. The winner of the 2018 Eisner Award for "Best Reality-Based Work" for her graphic novel Spinning, and (as of April 13th), Vermont's fifth Cartoonist Laureate, Walden produced her first graphic novel, The End of Summer, when she was just 19. Since then, she's crafted a string of successful books, culminating in her latest work, Clementine, for Skybound Comet. With the second of Clementine's three volumes due out in October, we chatted with Tillie Walden as part of our ongoing series of interviews celebrating Women's History Month. Here's what she had to say about being the first woman to write and draw The Walking Dead comics, and what fans can expect from Clementine: Book Two…
How did you discover comics?
I always feel strange telling my origin story because I feel like it's very different from other cartoonists. My wife is a cartoonist too, and she's the kind of cartoonist, like most, who's been drawing her whole life and her love of drawing is innate and inside of her forever. Whereas I…
I liked drawing, but I think I liked pancakes more. [Laughs.] I've never thought of myself as the most artistic one in the room, and I never really thrived in art class. I actually come from a family of musicians, and so music, and ice skating, all this other stuff was so much more of a priority for me.
But that got flipped on its head. Growing up, my dad was really into comics and he would buy me a lot of manga to read. So I would read manga. I read a lot of Tezuka and shonen manga that I really liked. But again, I was reading it and I was like, "I don't know how to do this. This is just fun to read." But my dad is such a big fan of comics, and he loved Scott McCloud, especially early Scott McCloud. Because of that, because he found Scott McLeod's work, a billion years later, when I was 16, he signed me up to take a class with Scott McCloud, a two-day comics workshop that I think he really wanted to take, but he had to go to work. I was a kid, and he knew I liked reading comics, so I went and took the class. That class is the entire reason I made comics.
It was like a night and day shift. Scott was really, really nice to me. I made some terrible comics, but it just made sense. It felt natural. I was pretty behind as far as drawing ability went because I was already getting close to my senior year in high school. People were like, "What are you gonna do for college?" Scott told me, "I think you should make comics. I think you've got something here." Even though I've looked back at the comics I made and he was lying, there was no kernel of anything in those times. [Laughs.] But he changed my life because he was so kind to me. I have since thanked him when I've run into him, years later.
But then I decided I should try spending a year dedicating myself to comics and see what happens. "If I don't like it, I'll go to college and be normal. If I do like it, I won't go to college and I won't be normal and I'll just draw comics forever." After a year of drawing comics every day, I was like, "Alright, I'm gonna choose the not normal." I didn't go to college. Instead I went to this two-year comics program in Vermont, the Center for Cartoon Studies. From there, I started publishing books.
I met my wife through the comic school. I now live in Vermont. I mean, comics have ended up defining so much of my life beyond just my job. But it felt really random… I don't know, I don't think I would've started making comics if, if someone like Scott McCloud hadn't given me the encouragement to do it.
What was it about comics that connected with you?
I found comics to be a really individualistic pursuit. I tell my students this all the time… Every time you make a comic, you just get a little bit better. And you can see it, you can see it happening. You can see your pacing and your drawing and your writing just inch forward towards something. I loved that in that first year that I was making comics, I was getting better if I worked really hard at it. Compared to music and skating, which was so "I didn't like how you played that concerto. You're not there yet." With comics, I was able to decide when they were good, and that was very empowering.
How did you come to work with Skybound and join the Walking Dead Universe?
Working with Skybound was a really hard left turn. I knew about The Walking Dead. I really liked the comics. I liked the show. I had not played the games, so I didn't know about Clementine. I think had they not emailed me, I would've just kept on this trajectory of indie graphic novels. But I would hope that I'd continue to try to reinvent myself… It was one of those things where the timing was just beautiful. They emailed me at a moment when I had no projects going on. I was feeling very hesitant about taking on any new books. I had just finished my fifth or sixth graphic novel. I was on a really intense break where I told my agent like, "Don't let anyone come anywhere near me. I don't want to do anything. I want to take a break from comics."
I went to EMT school. I worked as an EMT for a while. I was like, "I just need to do some different stuff. I'm feeling a little burned out with comics." That's when I got the email from Skybound. What drew me into the project so quickly was how surprised I was that they would even ask me to do this. It really took me a while to process and understand what their vision was in asking a lesbian indie cartoonist to step into The Walking Dead.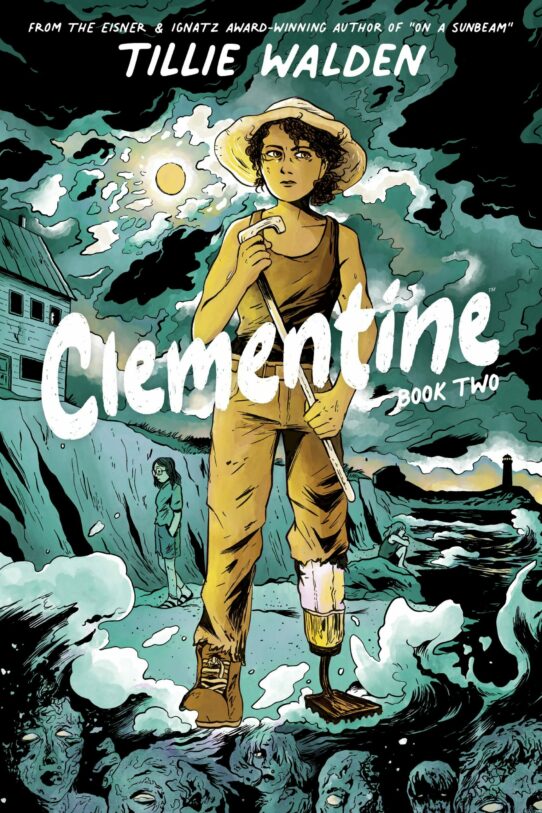 But the more I thought about it – and we talked about it a lot, and then I played the games and got to know Clementine – the more I realized, "Oh my God, of course this is the next logical step for The Walking Dead. Of course this is where this franchise needs to go!" Because a woman's never made The Walking Dead before – drawn it or written it. I felt this huge responsibility, but also a huge honor, in being able to usher in this kind of new era of what The Walking Dead could be, and what the apocalypse can be.
It's great to be a part of the franchise because already The Walking Dead has stood out for how diverse it's been, its characters and in its storylines. But this felt really special, and it felt really special too because everyone at Skybound said to me, so clearly, "These are your books. You have to go in line with the games. This is connected, Clementine is not a character that you came up with. But we trust you to take Clementine wherever you wanna take her."
That's crazy. I mean, what, what kind of company just gives a creator carte blanche to take a story wherever they need to? I mean, the stuff I'm doing in book two is wild. I can't believe I'm able to put this stuff in a Walking Dead book. But I think they knew, and maybe they've always known, that what makes these stories special is when someone is passionate about what they're writing about. And Skybound knows how to support creators. They've supported me wholeheartedly, even when fans and people on the internet haven't. They've continued to stand behind me. And this also felt like a great opportunity for me to get better at writing, by writing a series.
Now that I'm just wrapping up book two and I'll soon work on book three… This will be an era of my life having worked on these books. I'll have so many memories with them.
How will book two fit into your overall trilogy?
It's probably the most complex book I've ever written. Book two has taken a lot longer than book one because in a lot of ways book one was a very straightforward story. A group of characters get together, face adversity in a certain situation, triumph, die, kill, and move on. Book one felt a lot like the establishment of this series. But in book two, the cast is huge. What's going on with each character is very complex, beyond just Clementine. She's got a lot going on, but every character has a lot going on, and that's a huge challenge as a writer.
I redrew this book, re-penciled it, like three times and…wow. It has gone through so many stages of work because the story that I set out to write was… I kept falling short. The fact that we've finally gotten here and I'm inking the last twenty pages – once this call is over, I'll go back to inking – it feels really good. I do think book two is gonna stand apart.
Book three will be more of a reflection of book one, because I like to think that the series has these two pillars, and the inside is this utter chaos. I really tried to take everything that book one sets up and yank it far away from what we would expect. Also, I'm a different person than I was when I was working on book one. I've had a lot of life experiences between these books that have really changed me, and I think it's really changed how I write. It just makes me excited.
I don't know what people are gonna make of it. I'll be very interested, I think even more so than how people reacted to book one. I'm very curious to see what people make of this one.
How much of the trilogy did you conceive in the beginning?
Oh God, I had no idea. Alex, my editor, just wanted me to figure out book one to start. These books have had to be made on a very tight schedule in order to have them keep coming out yearly. So the only thing I knew about the series going into it is I knew what the final scene of the series would be. I knew what part of the world Clementine would be in. I knew her location and I knew what that scene would be. That hasn't changed. That stayed true. But I have no idea why I had this vision of where she was gonna end up. And I had no idea how I was gonna get her there.
Book two was a labor of love in trying to make what is gonna happen in book three possible. We're testing the limits of the Walking Dead Universe, certainly. I've gotten permission to do some things and go to some places that have truly shocked me. I was really expecting to get shot down with some of my ideas for what to do with the next two books, but everyone was fine with it.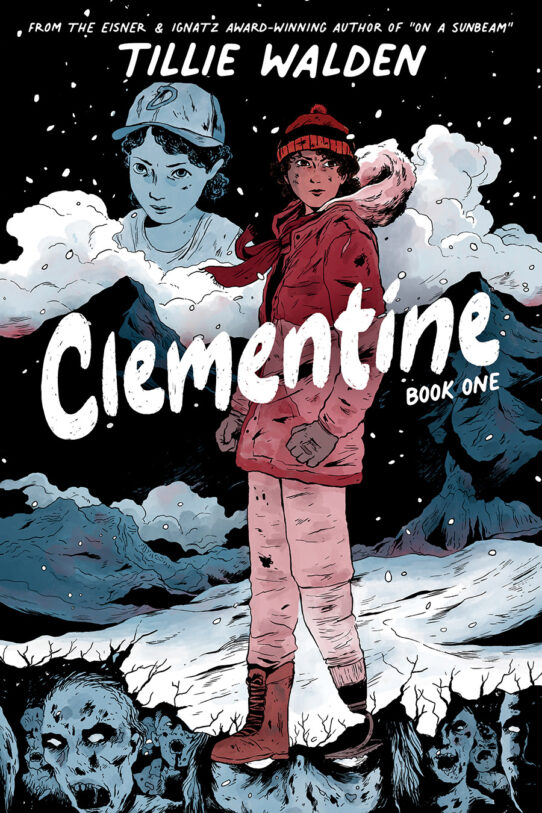 Can you take us through your process in crafting each book?
The first thing I do is make an outline for Alex. Which I then ignore completely, and pencil an entirely different book, much to his frustration. [Laughs.] But he's a good guy. He works with me. The real first step is digitally penciling on an iPad. In the past I've always penciled my books traditionally, but because of the speed with which I had to make this book, I decided to try penciling digitally, and it's worked out totally fine.
I don't thumbnail or plan the pages out ahead of time. I just start drawing them page by page, and I write the dialogue as I draw. So my penciling process is like a discovery draft. I'm making up the book as I go along. Then that draft is redrawn and redrawn and redrawn until we get it into its final form.
Then I switch to paper and pen once it's ready to be drawn. I usually print out blue-line versions of the pencils. But it's just like with the outlines – I just ignore the blue lines. I put them on the page and they comfort me. If you look at my originals, it's hysterical seeing the blue line underneath Clementine over here while I'm inking her over here. I think it's because I feel this need to constantly work on the book and improve on what I established before. So I ink with just these little metal-tipped pens, and I use a brush for the spot black.
Then I scan it in and then off it goes to Cliff [Rathburn], because I don't do those tones. They're too nice. I could never do that. Cliff does the tones and he does them at an inhuman, godly pace. It's a great process. Because my favorite part of drawing is drawing on paper with my pens, and that gets to be the final step for me.
That would explain the book's improvisational feel. You let the characters breathe.
Totally. I think a lot of it comes from the fact that I write my scenes without too much pressure on what they need to be. The editorial process for me is having an editor help me bring to the surface the intention. But if I had my way with things and I didn't have editors, everyone would just be taking nice, slow walks through things. [Laughs.] That's just my natural pace with drawing. Pacing in comics is something I think about a lot, and it's something I teach my students very aggressively. Because it's the heart of what we do. Pacing is everything to me.
Can you talk about what else you're up to right now?
While I was working on Clementine book one, I was working on a very different book. It was really funny working on them at the same time, because they couldn't be more different. It was a book written by Tegan and Sara, the Canadian lesbian pop duo. It's this cute little cartoony, sweet book about their childhood in Calgary, Canada. I loved working on it alongside The Walking Dead, because I'd go from zombies to a little Canadian child playing guitar.
There's a second book, after junior high. It's a duology because they're twins. So there's gotta be two books. [Laughs.] I'm not working on it right now because Clementine: Book Two is taking up my every waking minute as it should. But while I start work on book three, I'll also be working on junior high book two again, and I have a feeling it'll be the same sensation I got with working on book one. When you have contrast in your life as an artist, it makes everything so much stronger.
So I'd have a break from Clementine by drawing sweet moments and then have to go back into the darkness. But then they ended up influencing each other where I ended up putting in some darker, sadder moments in junior high. Then junior high encouraged me to put more funny moments and sweet moments in Clementine.
That's my whole life, other than teaching, and I only teach one day a week.
That's enough. You've paid your dues. [Laughs.] What are your favorite Skybound comics?
That's an easy one for me – Everyday Hero Machine Boy. I just loved it. It's funny, it's not the kind of comic that I think I could ever make, but I read it in one sitting. I don't read a lot of comics quickly these days because I get so bogged down with the craft of it. What surprised me was how tight the craft was. I blew through it, page by page. I was like, "I'm still going. I'm reading this. I'm loving this." That's the one that I, I think everyone should get a copy of.
This is a question I'm sure you address every day in the classes you teach… What advice would you give to a young woman considering a career in comics?
I would say to anyone, women or not, considering a career in comics to sit down and start drawing. There is no better way to find out if you're suited for comics than to draw as many as you can for a while. If you find you do truly love making comics, the next piece of advice I would give is to try and get engaged in the comics community. Whether that's cons, or just making friends at a local bookstore, don't hide your interest in this medium! Share it with others, and from there a life in comics really begins. I have found, overall, comics to be a very welcoming place for folks of all identities, so I have no trouble saying that there are great people to be met here.