The key to any successful business, including Skybound, is collaboration. And the key to any successful collaboration is people. As part of our ongoing series of interviews celebration APIDA Heritage Month, we sat down with one of the many people who've made Skybound the fastest-growing entertainment company in Hollywood, our Senior Global Marketing Manager Hosun Lee. In the following interview, Hosun talks about the newly launched video game Renfield: Bring Your Own Blood and his own perspective on the art of collaboration…
What's your origin story?
I moved to the US from Korea when I was pretty young. I was young enough to be able to watch Korean dramas but not old enough to realize they're terrible. Since then, I've been lucky to explore a lot of the world. I've lived and worked in 20 cities, 6 states, 5 countries and failed 1 security clearance check. As far as I can tell, the only super power I've managed to develop is an encyclopedic knowledge of useless facts that will never come up at a dinner party, and the ability to get very easily distracted.
How did you come to work at Skybound?
It was a cold call. I saw that Skybound had a position open. I always admired Skybound, and working at a company that made comic books had been a dream of mine ever since I started collecting comic books in the 3rd grade. The thing that ultimately prompted me to step inside was that Skybound had established itself as a true transmedia publisher, focusing on the content first and the channels second. I'd been at companies that were very focused on making a very specific product without realizing there were ways to extend that experience to multiple mediums. Skybound is a rare company where the mediums are extensions, not limits. 
What do you like best about working for Skybound?
I get to work with some of the most creative, clever, and collaborative chums I've ever had the fortune to meet in the entertainment industry. So you take great people and add on top the chance to work on globally beloved characters and stories (and upcoming worlds which may be even more famous), it makes me want to keep coming back every day to learn new things and help create awesome works. I'm also fortunate that my role gives me an opportunity work with many partners outside of Skybound, who are trying to find clever and creative ways to help us expand our brands in new ways. Ultimately, every day keeps me on my toes and gives me new opportunities.
What Skybound project are you proudest of?
We just shipped a game based on the Universal film Renfield, called Renfield: Bring Your Own Blood. It's a small game (for now) in early access and we worked with a great development partner to design, develop and publish it in record time. It's not a process I'd necessarily recommend, but it was a wonderful collaboration because everyone on the project was firing on all cylinders. No egos or agendas, just a desire to make a great game that ties into a fun film. What really struck me about the experience is how we all gelled together, even though some of us had rarely worked together. Not a single toe tripped, ego bruised, or deadline missed. That doesn't always happen, but when it does, it feels great. And the game is rad.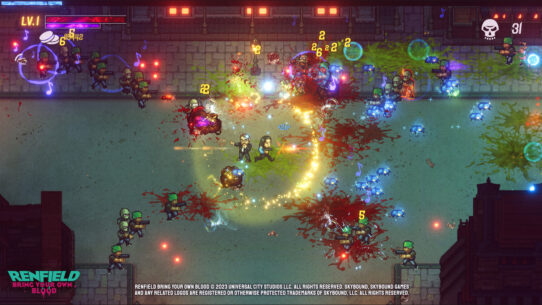 Do you have any other favorite Skybound titles?
The easy ones are The Walking Dead and Invincible. I was a fan of both titles from issue #1. However, my favorite Skybound comic is probably Tech Jacket. I've always loved armored superheroes, but what sets Tech Jacket apart is the nurturing relationship of the protagonist with his father, as well as the origin story. Sure, Zack gets an awesome alien super armor, but it was meant to be a so-so armor which accidentally ends up giving him incredible powers. If you're asking about video games, then I'm going take the easy route again and stick with the Telltale The Walking Dead series. The first game was a gut-wrenching but heartwarming story about families and survival. I thought about the repercussions of my in-game actions for a long time.
What other pop culture do you nerd out over? 
I've been a comic book fan since I was in grade school. I loved going to my local comic book conventions to hang out when I was a kid, back before they became media events. In parallel, I consumed Asian content from anime, manga, and manhwa. I'm old enough that I remember feeling lucky that I found a friend who had a VHS copy of the original episodes of Sailor Moon 45 and 46, which ended up getting combined into a single episode in the US. Nowadays I love that I can stream most of it at home, or buy it online, but I do miss the chase of trying to find that one issue or OVA. I'm also a huge fan of the McRib. I've flown cross-country for them before and know which countries have them on the menu at any given point.
Do you have any advice for someone considering a career in your field?
Some folks will say "Have passion for what you work on," and I do believe that's important. Passion is what pushes you through and motivates you to keep learning. However, the advice I give to just about everyone is don't be afraid to speak up or ask questions. When I first entered the workforce, at a big tech company, I was intimidated like heck. I was barely in my 20s surrounded by industry veterans who had years of experience. I was convinced that every question I had was dumb because someone had already thought of it. I also believed that my job was to do whatever I was told on my own, otherwise I'd look dumb.
What I've realized since then is, barring a few exceptional people, most of us don't join an existing team to save them from abject failure and guide them to glory. We're brought in to help an existing team be stronger. We all have our strengths, and denying those strengths out of fear hurts everyone. Just as importantly, no one expects you to know everything. That's the whole point of joining a team. So it's okay to speak up and say something you think is blindingly obvious, because odds are, it's not obvious. And it's okay to raise your hand and say you didn't understand the question or you're not sure how to tackle a task. Being self-aware is one of the greatest strengths we can develop in a team. Nobody expects you to know everything, but they do expect you'll speak up.