Tabletop game fans, rejoice! At the end of May, Skybound is releasing No Context, featuring the art of J.L. Westover (of Mr. Lovenstein fame). It's the latest game designed by the award-winning Banana Chan, partnering with Building the Game podcast host Jason Slingerland. To get ready for the game's release (and as part of our celebration of APIDA Heritage Month), we sat down with the two gaming experts and they told us how they became designers and what fans can expect from No Context. Here's what they had to say…   
How would you describe No Context to newcomers?
Jason Slingerland: It's a party game, and the idea around the game is that you are describing a comic panel with other comic panels. You're describing specifically a random comic panel you've been secretly assigned to describe to other players. And you're using other random comic panels to describe it, not by anything specific, but simply by saying, "Yes, this describes it," or "No, this doesn't describe it." You're gonna get three comic panels that you lay out under any combination of yeses and nos. It could be all yeses, all nos, or a mix.
With that, you're hoping that the other players can figure out what panel you're trying to describe to them. I think my favorite thing about the game is it's so subjective. It's ridiculously subjective, to the point where… Skybound put out an awesome info page on their website that explains it. The idea of the game is that interpretation with subjectivity is just ridiculous and fun.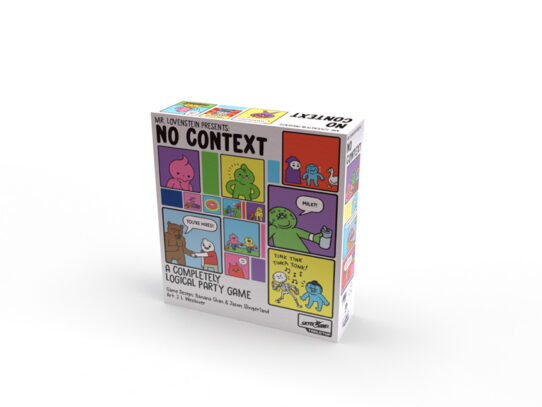 How did each of you enter the world of gaming?
Banana Chan: I started off creating games through LARPing. I started off doing LARPs, playing a lot of board games. That's how I entered the field. As I started meeting more people and playing more games, I really got into Tabletop RPGs. I was still playing board and card games, but the storytelling aspect was definitely something that drew me into role playing games and some narrative games as well. That's how I entered the field, and eventually Jason and I met, and we just started talking. Eventually, Jason had me onto his podcast, and we started chatting.
JS: About 11 years ago, a friend and I decided we really liked board games. We wanted to try and see if we could design them, and we looked for some resources and couldn't find any back then. Now there are tons of them. But we couldn't find resources for game designers. So we had the idea to just start recording ourselves and to make a documentary podcast, while we were trying to learn the ropes of being game designers. That podcast is about building the game. I'm now on episode 567, that's releasing this week.
That really is what drew me into games. I met so many people through doing the podcast. I learned so much. The podcast served as both good information for people learning lessons, but also gave some warnings. Like, "Hey, here are the ways to screw this up."
So I started off caring more about just doing board games, card games. Kind of the opposite of Banana. Then I started to get more into the RPG side of things and being more interested in that as well. Um, yeah, yeah, that's me. And, and if I may take a step even further back, what, what was it?
What was it about games that attracted you in the first place?
BC: I went to art school, and from art school I always had that excitement for creating stories and excitement for creating something that someone can feel immersed in. I started off just like watching a lot of movies, watching a lot of TV shows, creating video art.
That was my gateway into it. Then eventually I discovered board games, card games, tabletop role playing games. That's when I realized that there are different types of mediums out there, where you can tell a story and you can immerse yourself in different types of stories, especially in a collaborative format.
I got into the industry when I realized there are different types of mediums that you can use as a vehicle for storytelling. So from there, I created my own tabletop RPG, created stranger types of games that use different genres. Because I think that games, at their core, they are just a medium. What you do with them, how you tell the story, that's the genre.
JS: I grew up playing a lot of classic card games, things like pinochle, all sorts of different card games with my mom. That got me into a love of games and a lot of my designs are still inspired by those classic-style card games.
This sounds so cliche, but… I had played a lot of games, and then I went to my first Gen Con and one of my friends pulled out a game called Settlers of Catan, and I played it and was like, "What is this?! This is different than what I've been playing!" It was a lot of just regular mass market stuff. Then I started diving into more and more different types of games. But the game that finally made it click for me was a game called Lawless by Bruno Cathala.
It's one of the first games that he ever did, and it was not commercially super-popular or anything. I happened to find it at like at a discount booth at GenCon one year and thought, "This looks kind of interesting." I've played that game probably a hundred times at this point. When I played that game, I was immediately like, "I want to create this experience for people."
For me, the big sell on board games, like with Banana, it's about creating experiences for people, ways that they can connect with other people. Because my family grew up playing games and our friends played games, that was a way to make good connections with people. So for me, that's always been a big priority. Then I realized I could tell a lot of stories and work with a lot of themes that interested me by using board game mechanics.
What's your collaboration with Skybound been like?
JS: I think that one of the best pieces of feedback we've heard was from some people who were standing there looking at the game and said, "I feel like if I walked up to the table and you were playing this game, I would immediately know how to play this game." That was before Skybound took it and made it make even more sense. The way the board layout works now, it's slightly different than what we started with. It's a lot more streamlined. I think now it's even more that case where you can literally walk up and watch someone play this game for about half a round and say, "Oh, I get this, I get what you're trying to do."
So that's a really good feeling when you're trying to get a game that draws people in and that has a real low barrier for entry, but also a lot of longevity when it comes to wanting to play it again.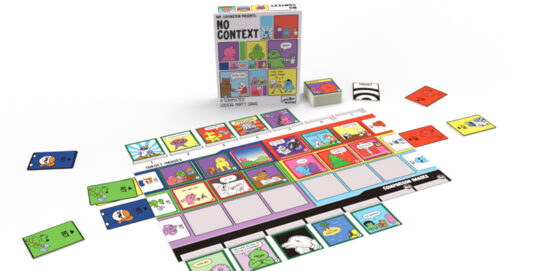 What advice do you give to those who are trying to design their own game?
JS: You have to understand how to act on feedback, how to accept it, how to know when it's the right feedback for your game. I always say. "Know what you want for your game. Know what your game is and know what you can change and what you can't change and go from there and that'll lead you to the way to go."
BC: Piggybacking off of what you just said… Another key area is knowing why we make the game and what it's for. Know who you're making it for. What's the core demographic? What is your plan for the game? It doesn't have to be extremely detailed. But we knew with No Context that this was going to a publisher who would be able to take it and turn it into a fun and silly game,
JS: Something mass market friendly. That was the key with this. We thought "This is a mass market game. We need to find the publisher that knows that."
BC: Exactly. And going to a publisher who might not have that experience or who might not know how to publish a mass market game, that wasn't necessarily something we were interested in. So knowing who to target your game to is something that's really important as well.
What other projects are you working on right now?
JS: The newest game I have coming out right now is called Tír na nÓg. It's a drafting game about Irish myth cycles in the land of Tír na nÓg. It's a fantastic game. I co-designed it with Isaac Shalev, and it's from Grand Gamers Guild. That's actually doing crowdfunding as we speak, and is gonna wrap up here soon. Then I've got three or four more games that are gonna be coming out in the next year or so that I can't talk about yet.
I've also been focusing on some small RPG stuff that I wanna get out there, self-publishing wise, and some small solo journaling games. That's something different to try.
BC: Speaking of solo RPGs, I have three RPGs that I'm working on, that are set to release soon; and one board game. The one solo RPG that I have out on Indiegogo right now is self-published. It's called Forgery. It is a solo horror tabletop role playing game, where you use paint by numbers as a mechanic. It's about an art forger who's down on her luck and she is commissioned to recreate a cursed painting. It's very R-rated, so it is not for children. It deals with very dark themes.
The other game that I have is The Revenant Society, which I co-designed with Sen-Foong Lim. The game is set in either the, either the 1910s or the 1920s, in Paris or New York. You can choose which setting you wanna play in. Basically you're trapped in a time loop, until you can solve your own murder/death and how it's connected to a large shattering event. So the time loop repeats itself every time the sun rises again.
The third game I'm working on is called Tiān Dēng: Diaspora in Space, and it's by myself, Calvin Wong Tze Loon, Hong Di-Anne and Sen-Foong Lim. It is about a Chinese diasporic found family traveling through space. It's in the future. The game is about space gig economy. You have a ship that has incurred a lot of debt and you're trying to pay off that debt. The ship is also sentient, and it's programmed to act like a Chinese god. So it might bark orders at you or take you to the wrong place if it's upset.
The final game that's coming out soon – I believe sometime next year – it's called Guardians of Matrimonia, and it is being published through Critical Role's Darrington Press. It's by Yeonsoo Julian Kim and myself. It's basically a silly board game where you're playing event planners at a fantasy wedding and things go wrong and you're trying to manage all of that. It's got a little bit of resource management involved.
MR. LOVENSTEIN PRESENTS: FAILURE © 2023 J.L. Westover. SKYBOUND and all related images are owned by Skybound Entertainment. IMAGE COMICS and all related images are owned by Image Comics, Inc. All rights reserved.